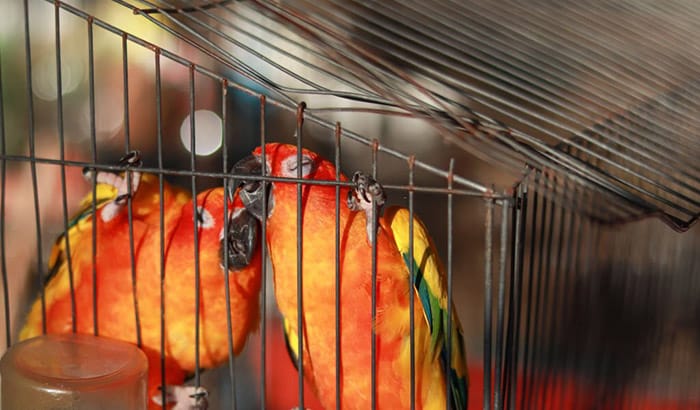 For those who are unaware of what a conure is, it is a type of parrot commonly found in Central and South America. These birds typically come in small to medium sizes, meaning they can grow up to 10 inches in length. Take their size into account when looking for the best conure cage.
Unlike lovebirds, cockatiels, and the like, conures typically like to live alone. They prefer to be alone in their cages, only accompanied by toys and such. It is also easy to train conures and they are quite intelligent. I have heard tales of crafty conures that somehow broke free from their cage multiple times.
This article will show you what makes good sun conures cages. Follow these guidelines and you can be sure that you will not be wasting your money on cheap enclosures that will only stress out your little feathery friend.
Best Conure Cage Reviews
1. Prevue Hendryx Wrought Iron Flight Conure Cages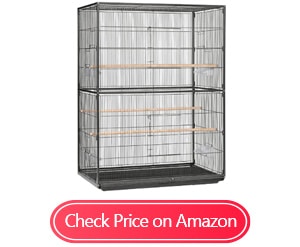 A conure needs quite a lot of room to fly around, and this birdcage certainly provides just that. This cage is 37-inch wide by 23-inch deep by 60-inch high (including the stand). A single conure will have more than enough space to fly around and play. There is also more than enough room to spare for additional perches and toys.
This cage primarily uses powder-coated wrought iron material. The bars are also thick enough that you will struggle to bend them by hand. They have far enough spacing to allow conures to grasp, but not so much that they can squeeze through the gaps. The frame utilizes thick iron for its material, so it does not wobble at all.
This item also has 2 large front doors, allowing you to reach into the cage with ease. If you have a tamed conure, you can just leave the cage door open so he can get in or out at his leisure. The large doors are also convenient when you need to place or remove objects from inside the cage.
I am glad to say that the main doors are big enough that you can fit a handheld vacuum inside to do a more intense cleaning job. You should take your conure out first obviously.
As mentioned earlier, this cage is massive. This is why it is nice that this cage comes mounted on a stand with casters. The wheels just make it so easy to move the cage around, as long as it is on level ground.
Just like other large bird cages, you will have a hard time with the green cheek conure cage setup by yourself. In my experience, the assembly process was made even more difficult because some of the parts were slightly bent out of shape.
Pros
Provides plenty of room and space for a conure
The cage has a sturdy build quality
Comes with two large main doors and several access doors for food and water
The cage has a built-in stand with swivel casters
Has a nice storage tray underneath the cage
Cons
Might be a bit too big, especially if you are keeping just one conure
Because of the large size, assembling it can be quite challenging
Keeping more than one conure can be quite a challenge, but if you plan to do so, this cage can be a good choice. On the other hand, this might be a bit of an overkill for a single conure cage, especially if you have a tamed one. Just looking at the cage, you can tell that it is quite sturdy and will last many years, so it should be worth considering.
2. SUPER DEAL Rolling Stand Conure Bird Cages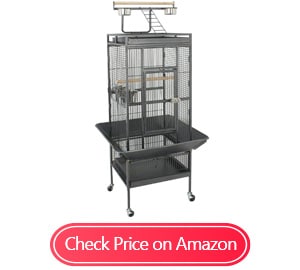 One of the most important things that you need to look for when shopping for an enclosure for your bird is conure cage size. This cage is almost 33-inch tall, 18-inch wide, and 18-inch deep, so there is plenty of room for your conure to fly around and play.
This cage is also quite low-maintenance thanks to the seed/debris catchers installed along the sides of the cage. The cowl that is around the cage catches birdseed and other debris from the inside of the cage. My conure is a messy eater, so having this feature helped me out with cleaning after my pet.
Another nice thing about this cage is that the feed and water bowls that came with it are from stainless steel material. Most other cages come with plastic bowls that are not that great considering they can let bacteria grow on the surface. The bowls that came with this cage are quite good quality, and I think I'll be using them for quite a long time.
In addition, the floor grate is raised a couple of inches above the waste/debris pan. This is an ideal setup because it places the birds well away from the waste, keeping them healthier. Of course, the debris pan can slide out for easy cleaning, as does the floor grate.
As much as I liked this cage, it is not even near to being the most common conure cage. The biggest issue that I have with this item is that the bars are a bit flimsy. I could easily bend the bars just by pinching two of them using my fingers. Conure cage setup was quite difficult as well because of the many parts you have to put together.
Pros
This cage is plenty large for a single conure to live in
There are large debris catchers outside the cage to catch dirt effectively
The set comes with stainless steel food bowls
The floor grate is elevated high above the debris pan for hygiene
There's a playpen at the top of the cage to aid in training and playing with your bird
Cons
Lots of pieces to assemble
The cage bars are a bit too flimsy
This is just the right size for a conure. However, it is also bulky with the addition of debris catchers around the sides. On the other hand, if you can find enough room in your home, this cage can provide not just plenty of room for your conure but also a place where you can further their training.
3. Yaheetech Standing Conure Flight Bird Cages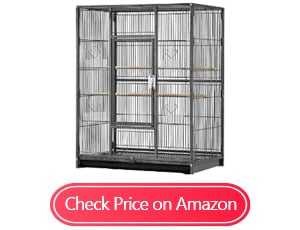 If you are looking for a cage made with durability in mind, this is the right choice. It is possibly the top green cheek conure cage. Unlike some of the cheaper, yet flimsier, bird cages I have used throughout the years, this one seems quite durable.
The cage is mainly made from wrought iron, and the welds are all precise and well-done. However, some of the bars came a bit bent and it was quite difficult to pull back into shape.
I was a bit skeptical about the cage being painted. I would have preferred that this was powder-coated. However, I was pleasantly surprised that the paint used for this cage was quite durable. I have been using my cage for a couple of months, and I have not seen any chips or scratches on the bars.
I also liked that this cage is mounted on a stand with casters. This cage is quite heavy, and placing it on top of casters makes it easier to move. This is most convenient whenever I need to clean around the cage, or when my pet needs sunlight.
Another thing that I liked about this cage is that the bars are set far apart enough that my conure can grasp and hang by the bars easily. Still, they are not too far that they can squeeze their heads through the gaps. The bars are also quite stiff. Your conure will not be able to bend them easily.
This cage is among the most difficult I had to assemble. The large size of the individual parts made it hard to put them together, especially when you do not have anyone to help you.
Pros
Durable construction
Painted using non-toxic and durable paint
Mounted on 4 swivel casters
Properly spaced bars, letting birds perch but not enough that they can squeeze out
Easy to clean – The debris pan and bottom grate slide out
Cons
Quite difficult to assemble without help
Some of the bars were already bent right out of the box
This is just the right size for a single conure. However, it was extremely difficult to put it together by myself. This is a good deal for the price, and it will make your conure quite happy to have such a big cage all to itself.
4. Nova Microdermabrasion Play Top Large Bird Cage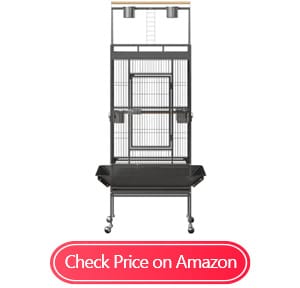 Although this cage is not the best cage for sun conure, it is big enough for a solitary conure. There will be plenty of space to fly around a bit and play. You could probably fit a couple of toys in there to keep your pet bird engaged and quite happy.
In addition, this is not a super heavy-duty cage, but it serves its purpose. The cage is made from wrought iron, and the wires used for making the bars are quite thick. Although this isn't powder-coated, it is finished using epoxy paint, which is still quite durable.
If you have a tamed conure, you would love the play area built into the top of the cage. There is a ladder, provisions for food and water bowls, and a small perch. You can use this play area to further train and bond with your conure. My conure loved using the playpen, and I have made use of it as a way to teach my conure a couple of tricks.
Unlike most of the other cages that I have seen, this cage came with nice stainless steel feeding bowls. I don't like the plastic ones because they would inevitably get stained, and the pitting in the plastic surface is a haven for bacteria. The stainless-steel cups are easier to clean and are infinitely more hygienic.
I like this cage quite a lot, but I think a couple of things need improvement. For starters, the packaging was not up to par. The cage I received was dented in some places, mainly due to a lack of padding in the packaging.
Pros
The cage is more than large enough for one conure
Made of strong wrought iron and finished using epoxy paint
The cage comes with a play area on top of the cage
The kit includes nice stainless steel feeder bowls
The cage is mounted on a rolling stand, giving it just the right height
Cons
Needed more protective packaging – Mine had bent parts due to shipping issues
The instructions for assembly are hard to understand
If I were to give one piece of advice, it would be to assemble this cage in the room where it will be kept. Because once the seed guards go on, you would not be able to fit this cage through the door. Overall, this is a nice, good-sized cage for conures, and the accessories that came with it were a nice bonus.
5. VIVOHOME Wrought Iron Rolling Stand Conure Cages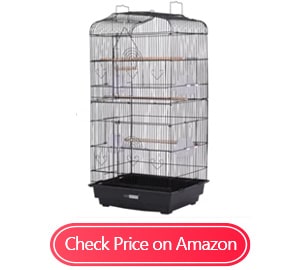 This cage might not be that wide but it more than makes up for it by adding more vertical space. This cage is tall, so conures can fly up and down comfortably. There are also two perch levels where your conure can rest and sleep.
Unlike most of the other bird cages on the market today, this one has a nice and curved design. Nothing against traditional cages but the sharp angles give them a cold and unnatural look. This cage has a lovely curved top, giving it a softer look and making it go well with any interior décor.
Speaking of the top, it opens and turns into another perch for your conure. If you have a tamed conure or are in the process of training it, this can work as an aid. You can let your conure outside of its cage and coax it into using the exterior perch. This is nice because it meant I did not need to buy a separate perch and it also saves space.
The cage comes with a detachable rolling stand, which adds quite a lot of convenience. They sit on durable casters, so I can move the cage whenever I need to, like when I am cleaning underneath the cage. The stand also comes with an extra storage tray, which is where I keep my conure's food and supplements.
I would have wanted to make this cage one of my favorites but several issues are hard to overlook. For instance, the cage shakes and wobbles a lot when you are rolling it around. Also, you should check the welds on the bars. Some were not ground down before painting, so there might be some sharp points and edges.
Pros
Plenty of room for a single conure
The cage has a fancy design
The top of the cage opens and turns into another perch
Provides lots of openings
Comes with a detachable rolling stand
Cons
The cage is a bit wobbly
Some of the welds were shoddy – You may need to file them down
This is quite a tall cage, which is ideal for a conure. Also, it has a small footprint, so you can easily find space for it in your home. I do wish that the manufacturer put a bit more effort into quality control as the overall construction is not quite up to par.
6. Mcage Breeding Flight Conure Cages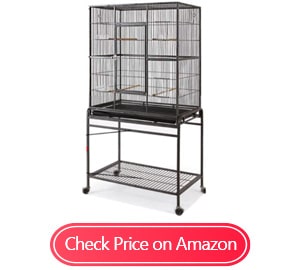 A single conure needs a lot of space to be happy and healthy, and this cage can provide it with just that. You might even find that this is way too big for just one bird. With that said, if you have successfully acclimated two conures to live together, this is a perfectly-sized cage for them.
You just need to look at this massive cage and you can already tell that it will last many years. It uses high-quality wrought iron and the welds are all clean and strong. The bars are quite thick and sturdy, too. I cannot bend them using my hands. This might be the last cage that you will buy for your conure.
One of the nicest things about this cage is that it also comes with a rolling, wrought-iron stand. As mentioned earlier, this cage is massive, and it is quite heavy, so it helps that you can simply push and pull it around to where you want to place it. Also, because of the weight of the cage, it does not wobble at all when rolling.
I also liked the perfect bar spacing used by this cage. The bars are set ½-inch apart, which is small enough to prevent my conure from trying to squeeze its head through the bars. However, it is not so small that it can affect the ventilation inside the cage.
If you are thinking of getting this cage, make sure that you have someone to help you with the assembly. The parts that you have to put together are huge and heavy, which might cause a smashed fingernail, or two if you are really clumsy. This is not a project for the faint of heart.
Pros
Massive and spacious
Manufactured with durability in mind
Comes with a sturdy, detachable stand
Perfect bar spacing
Comes with a breeding access door for nest boxes
Cons
Takes a lot of space
Difficult to assemble for one person
If you are only taking care of one conure then this cage might seem like overkill, but if you have a pair, then this is just the right size. The only problem that you need to figure out then is if you have enough space in your home for this massive cage.
7. PetcageMart Bird Parrot Cages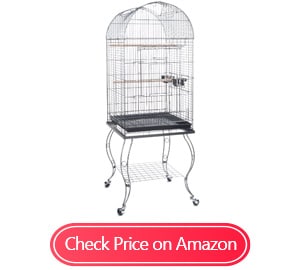 What I liked the most about this birdcage is its beautiful design. This cage has a Victorian-era design concept that makes it stand out from the other cages I've tried so far, which were all blocky and angular. This one has elegant curves that make it a great living room centerpiece.
If you have already trained your conure to go out of its cage to exercise, then you would like the pop-up top of the cage. This turns the top of the cage into another perch so your conure will have a place to rest after flying around the room.
This cage is mounted on a wrought iron stand set on durable casters. This makes it easier to move the cage around when needed. The narrowness of the cage allows you to push it through doors easily. This is great when you want your conure to get some fresh air and sunshine.
The stand sets the cage at a comfortable viewing level. You do not need to crouch to take a peek at your feathered friend. It also makes it easier to clean the cage and refill the food bowls.
There is also a small shelf underneath the cage that you can use to store all the supplies needed for keeping your conure. Having the birdseed and other treats right below the cage itself can save you from all the trouble of going to and from the cupboard every day.
I do have a bit of a problem with this cage. It is a bit top-heavy and gets wobbly. I had to place a couple of heavy books on the shelf underneath the cage to stabilize it. Also, the cage is not as secured to the base as I would have wanted it to be, so I zip-tied them together.
Pros
The elegant design works perfectly well as an indoor cage
The top opens to form a playpen for your conure
Mounted on durable casters
The cage has a removable waste tray and bottom grate for easier cleaning
The included stand sets the cage at around eye level for most people
Cons
Barely has enough space for a single conure
The cage is a bit unstable
Although this cage barely provided the space requirements for a conure, it does have a lot of things working for it, like its elegant design. Unlike other cages that are quite boxy, having one that has curves is quite a treat.
8. MidWest Poquito Avian Hotel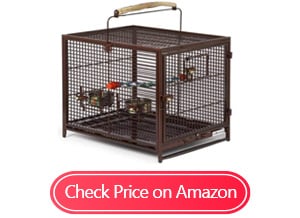 Although it needs a bit of assembly upon delivery, this cage is quite solid. The bars and hinges are welded securely onto the frame. You just need to look at the cage and you can tell that this can last for quite a long time.
One thing to take note of is that this birdcage is not for long-term use for your birds. This is a cage meant for short travels, like trips to the veterinarian, or when you need to stay overnight at a friend's house. You do not need to worry about your conure's cage not fitting in the car. This item can fit securely on the front or desktop.
I also liked this is quite easy to assemble. You don't need any tools because you won't need them at all. There are no nuts, bolts, and screws to tighten, everything will be held using friction and clips.
Another feature that I liked a lot is the bird proof locks. My conure is an escape artist of sorts, like most of its kind. However, the latches used by this cage are quite sophisticated. The release mechanism is sealed inside a metal case, and the button for opening the latch is placed outside of the cage.
The problem I have with this item is that some of the parts are bent out of shape, but fortunately nothing too serious. However, some parts were missing; the package I got had a missing spring for the door.
Pros
Solidly built
Perfect size for transporting a conure
Easy to assemble – There are no nuts and bolts involved
The doors have bird proof locks
The cage has a beautiful powder-coat finish
Cons
A significant number of parts were bent out of shape
There were a few missing parts in the cage I received
I would have held this birdcage in higher regard if the manufacturer invested in better quality control. This would have meant no missing or damaged parts going out of the factory. Other than the unfortunate issue about the missing/damaged parts, this is a nice travel cage for my conure.
9. HCY Store Standing Conure Cages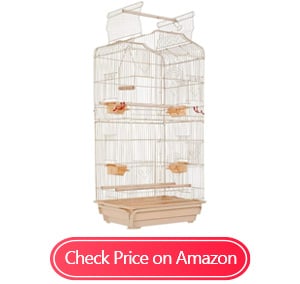 One of the nice things about this birdcage is that it has an open-top design. This means the top of the cage opens and turns into an extra perch for your tame conure. This will make it easier for you to interact with your tamed conure, and you don't have to buy a separate perch.
Another nice feature of this birdcage is the bird proof locks on all the doors. My conure has escaped from several cheap cages that I've owned through the years, he can reach through the bars and flick up the latches. Larger birds won't be able to reach the button outside the cage, and smaller birds are not strong enough to press the buttons.
This birdcage has two large front doors, which makes it easier to place your conure inside, and also to let it out so it can spread its wings. There are also four other access doors. These are for the food and water bowls.
I also liked how deep the waste pan is. Not because it takes longer to fill up, but because it gives plenty of space between the floor grate and the bottom of the pan. This means that your conure won't be walking in its own filth, thus keeping it clean and healthy.
The thing I didn't like about this birdcage is the fit of the cage and the rolling stand. The included plastic clips that were supposed to secure the cage to the stand were all useless. They were too weak and would come off often. I simply replaced them with zip ties and they were much better.
Pros
The cage has an open-top design
Bird proof locks on the doors
Has two large front doors and four access doors for food and water
Comes with a detachable rolling stand
Has a deep waste pan and a floor grate
Cons
The clips that were supposed to attach the cage to the rolling stand are weak
The stand is a bit wobbly
For the price, this 64-inch birdcage is a good buy. There are a couple of issues, of course, but it also provides a lot of benefits. This cage has more than enough space for one conure. However, if you want to take care of two birds, it will still work quite well.
10. Colorday Good Night Bird Cage Cover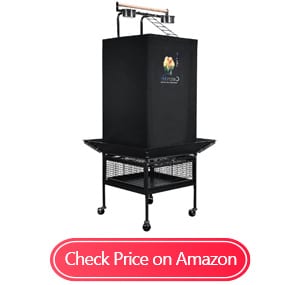 This is a cover that you wrap around your birdcage to darken the inside, sort of like blackout curtains. You might not believe that it can do what it promises to do, but believe me. It is almost pitch black inside the cage when wrapped with this item.
The nice thing about this item is that you do not need to make any modifications to your cage to use this. This cage cover attaches to the top edges using strong magnets. My cage is not the maximum size that this item can cover but you can easily adjust it to fit it perfectly.
Although it darkens the interior of the cage significantly, the fabric used for this cover is quite breathable. I was worried before that it might suffocate my conure, so I would always leave a bit of an opening, which defeats the purpose of the product. I started to close it all the way and it did not harm my conure in any way.
You will notice a positive change in your conure after a week or so of using this item. I live in the downtown area of my city and there are neon lights everywhere. This made my conure quite stressed because he can't sleep as deeply as he wanted because of the lights. After using this cover, he felt and acted happier than before.
The only issue that I have is that these are only usable on square cages with a cover at the top. If your cage has an open grate top, the light will still get in. I did not know this before, so I had to make do by making a makeshift cover out of a pizza box, and it worked quite well.
Pros
Made of heavy fabric to provide absolute darkness
Easy to put on the bird cage
Highly breathable – It will not suffocate your conure
Helps conures relax and sleep better
Comes with strong magnets to attach to the cage
Cons
You can use it on large, square cages only
Even if the cover fits around your cage, the light will still get in if there isn't a play area
This is a great add-on to your conure caring kit. The fabric is lightweight, but can still block out a significant amount of light from getting into the cage, thus helping your conure sleep. This can also help your bird relax if it seems stressed. I highly recommend this product to everyone who keeps any kind of small bird species.
What to Look For When Buying a Conure Cage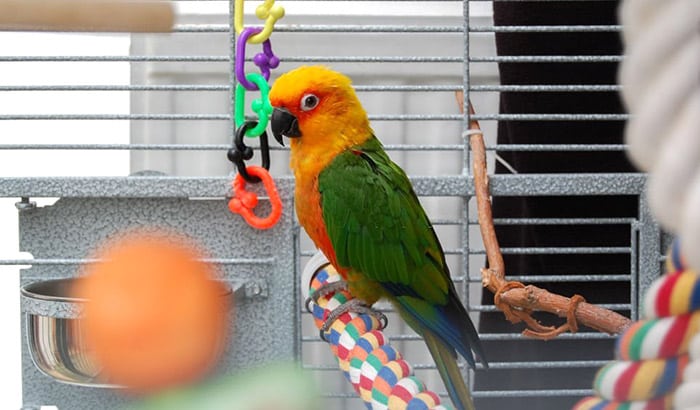 Here are the most important things that you need to consider when you're searching for the most suitable bird cages for conures for your conure.
Size
Even a solitary conure likes to play and explore, so you need to get a cage that can provide it with all the space it needs. With that said, a solitary conure needs a cage that is 24-inch high by 24-inch wide by 24-inch deep. If you want to try keeping two conures together (which is not recommended), you will need a cage twice that size.
Door Locks
Conures are clever birds. They can easily figure out how to open simple door latches. They can even open deadbolt latches easily. Get a cage that has a somewhat complicated locking system to make it difficult for these crafty birds to open the cage doors.
Bar Spacing
Although having a cage with a bar spacing of ¾-inch to 5/8-inch is fine, it is best to pick a cage with a ½" bar spacing. This will discourage the conure to try and squeeze through the bars to escape. I've seen horrifying pictures of pet birds getting their heads stuck in the bars and dying due to extreme stress.
Comes with Accessories
You can buy the accessories separately if you want. However, if you could find a cage that comes with the basic accessories already, that would be better.
Aside from the feeding bowls (which should be stainless steel and not plastic), the set should come with toys for your conure to play with. These include a swinging perch and parrot ladder, among many others.
Ease of Cleaning
You need to keep the cage clean to prevent your conure from catching serious diseases. This means the cage should have a waste tray that is easy to take out and clean. Ideally, the floor grate should be removable as well. Not all your bird's poop goes through the gaps between the bars.
Frequently Asked Questions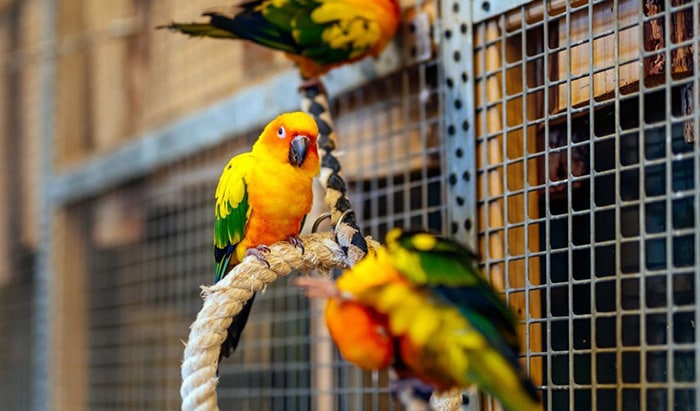 What size Cage does a Conure need?
A single conure can thrive and be happy in a cage that is 24" H x 24" W x 24" D. This size is enough to give the bird enough space to play and enjoy itself, while at the same time be small enough to fit even in a small apartment.
Should you Cover the Conure Cage at Night?
It depends on where you live. If there are lots of street lamps and billboards that shine light through your windows, you need to cover the cage at night to help your conure sleep.
On the other hand, using a cage cover will not harm your conure at all. So, even if it can get quite dark where you live, it can still get darker in the cage when you place a cover over it. In addition, the cover can muffle loud noises from outside the cage, so your conure can get a more restful sleep.
Conclusion
The best conure cage might seem difficult to find, but if you know what qualities you need to look for, it becomes a whole lot easier. It might take a bit more time, and you might need to spend a bit more than what you previously expected you would but seeing your lovely feathered friend happy will make it all worth it.
Now that you have reached the end of this buyer's guide, you will be able to pick out the right birdcage that will keep your conure content and healthy, and you happy and content as well.