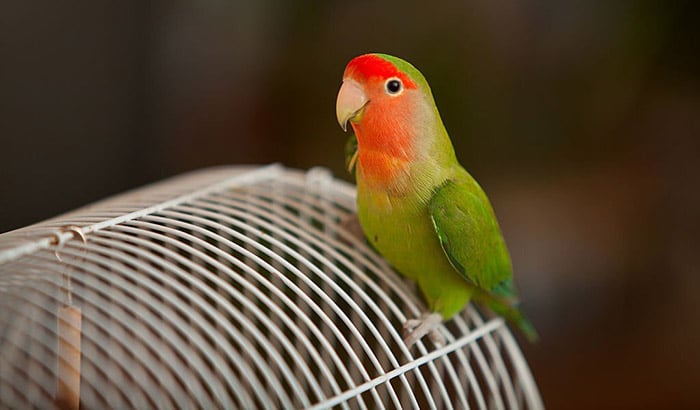 Lovebirds are among the most popular pet birds in the world. They are also among the easiest to take care of. However, the key to keeping happy and healthy birds is to get the best lovebird cage that you can find.
Note that you need to keep lovebirds in pairs all the time. A lone lovebird cannot live quite as long. Although you can keep one lovebird, you will need to socialize it regularly with other lovebirds to keep it healthy. They get quite lonely and they can also get depressed and stressed out.
When you are shopping for a cage for your lovebirds, therefore, you have to make sure that they can fit at least two of them. This article will teach you all the things you need to know when shopping for a cage for your lovebirds. This way, you can be sure that you won't be wasting your money and that your lovebirds are always happy and healthy.
Best Lovebird Cage Reviews
1. Yaheetech Play Open Top Lovebirds Bird Cages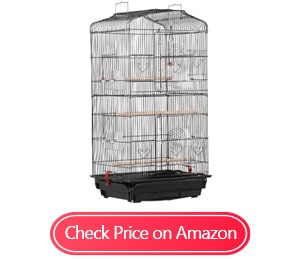 One thing you will instantly notice in this cage is that it is quite large. I think that there is more than enough room for up to four lovebirds. There is more than enough room in the cage for the birds to fly about and play. It is high enough that it will take a couple of flaps of their wings for them to reach the ceiling.
If you have trained and tamed lovebirds, meaning they can leave their cage and come back later, this cage is ideal for them. The top of the cage opens to reveal a provision for an extra perch. This feature is great for when you are also trying to train your birds. This perch is a great way to teach your bird new tricks.
Aside from the opening at the top, there are also plenty of access doors in this birdcage. There is a large main door, which makes it easier to place toys and other objects in the cage. It also makes it easier for you to place and take out the birds from the cage. You do not have to jam them through a small opening.
Another nice thing about this birdcage is that it came with a sturdy stand set on durable swivel casters. This makes it convenient to position and reposition the cage wherever you want. I like this as the casters make it easier to clean under the cage. Another nice thing is that there is a storage shelf under the cage for bird-keeping supplies.
I would like to love this cage more but it is also far from perfect. The biggest issue that I have with this item is that its construction quality is a bit lacking. It has unevenly made hinges. I had to use needle nose pliers to loosen the hinges so that the doors would open and close properly.
Pros
Plenty of room for up to 4 lovebirds
The top opens for additional perch for training
Has access door for nest boxes
Comes with a sturdy stand with durable casters
Has a nice design that works well with any décor
Cons
Confusing and difficult to understand instructions
Not that well-built hinges for the doors
Overall, I still find this product a great choice for lovebirds. There is enough room for up to two pairs of lovebirds if you so choose to keep them together. However, the quality of the overall construction leaves much to be desired.
2. SUPER DEAL Rolling Lovebird Bird Cages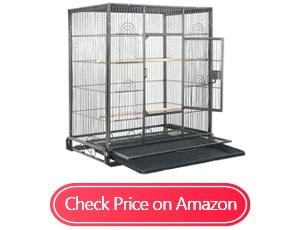 If you will be keeping multiple birds, I think this item is the most suitable bird cage for lovebirds. This cage is 53 inches high, which will give your lovebirds more than ample room to fly and stretch their wings.
I think you will have enough room in this cage for up to 3 pairs of lovebirds. I am currently keeping 4 birds in my cage, and they seem quite healthy and happy with their current living situations.
The thing I liked the most about this item is that it is constructed with longevity in mind. The welds are clean and they all went through the metal. Speaking of its construction, the entire cage uses robust steel for its material.
Every part also has a powder coating, which is a lot tougher compared to traditional paint. So, even if your lovebirds love to gnaw at the bars of their cage, they will not chip the finish in any noticeable way.
This cage is quite heavy, which is why it is great that it comes permanently mounted on a steel, rolling stand. The legs' materials are thick angle bars, and the entire cage sits on 4 robust swivel casters. This promotes ease in cleaning the floor underneath this cage. You just need to roll it out of the way to clean the floor around it.
It is also quite easy to clean the inside of the cage. As usual, you can pull the debris pan out to clean the droppings, feathers, and other dirt and debris made by your lovebirds. You can also pull out the bottom grate, giving it a more thorough cleaning. That last feature is not that common in bird cages, making it easier to do a deeper cleaning.
The only thing I wished the manufacturer did with this cage is to give it more flair. As it is, this cage is just a box sitting on some casters. It would have been nice to give it at least a couple of little embellishments to provide a bit more curb appeal.
Pros
This cage is large and can easily house up to 3 pairs of lovebirds
Robust and durable construction
Mounted on a sturdy rolling stand
Easy to clean – The debris pan and floor grate are removable
Quite easy to assemble
Cons
Because the parts are heavy, you can't assemble the entire cage on your own – You will need someone else to assist you
Not that appealing square and industrial-looking design
It might not look like much with all the right angles it has. Still, when it comes to durability, there might only be a few that can rival this cage. However, if you are getting this, it would be better if you are keeping more than just a pair of lovebirds, as all the extra space might seem wasteful.
3. Topeakmart Open Play Top Lovebirds Bird Cages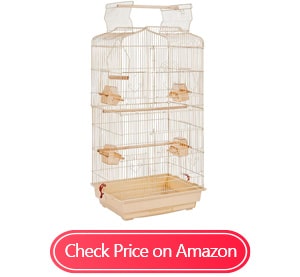 If you are only keeping small birds like lovebirds, this product is just the right size for your needs. The cage is 36-inch tall, 18-inch wide, and 14-inch deep, which is just the right size for a pair of lovebirds. Your birds will certainly not feel cramped while they are inside this cage.
This cage is also quite easy to clean. The entire base, including the debris catcher, mainly comes from plastic material. It is easy to clean as plastic is non-porous, so dirt and debris will not stick on the surface. A bit of soapy water and a stiff-bristled plastic brush is usually enough to clean the base thoroughly.
There are also two large access doors at the front of the cage. This makes it a lot easier to clean inside the cage and put the birds inside. Several other smaller doors are available for the food and water containers. They make it easier to refill the bowls without having to stick your entire arm inside the cage.
I also like the included steel stand that came with the cage. The legs are just long enough to place the cage at a comfortable height for viewing and maintenance. The stand also sits on top of 4 swivel casters.
I find this awesome because I like to place the cage outside for a couple of hours every morning so that my birds get enough sun exposure every day. The casters also make it easier to clean around the cage.
I do like the plastic base but it is not quite as durable as steel. After a month or so, there are noticeable stress marks on the plastic surface. I suspect that after another couple of months, the plastic would start cracking. I wish that the manufacturer used a more durable plastic for this cage to make it last longer.
Pros
Comes with two large main doors
Features a rolling stand and additional storage space
Easy to clean – The entire plastic base is removable for thorough cleaning
Comes with easy-access doors for the feeding bowls
Durable and solid construction
Cons
The base is not that durable and may start to crack after a couple of months
Some of the bars were already bent upon opening
If you are tired of the same old gray or black bird cages that you usually use, this beige one may be more to your fancy. Aside from the color, this bird cage also has some intricate designs that make it go well with all home décors. The bars could have been made of more robust metal, but for small lovebirds, they should be strong enough.
4. PawHut Rolling Flight Cage Bird House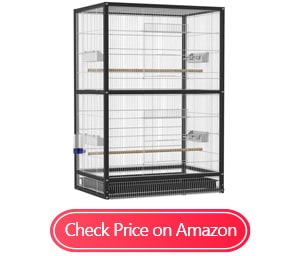 The thing that I primarily look for in a lovebird cage is if it has enough room for my birds. Although lovebirds are quite small, they will still need to have plenty of room to fly around a bit and exercise.
This cage certainly provided more than enough space for my lovebirds. It is 54 inches tall, including the stand, which provides plenty of room for my lovebirds.
The build quality of this cage is quite good. The welds are quite strong and the frame used for the cage comes from durable wrought iron. Just looking at it, you know that it can last at least a couple of years without any serious issues.
There are also lots of small access doors for the food and water bowls, promoting convenience since you do not need to reach into the cage. Two bigger doors are for placing the birds in the cage or letting them out to exercise. The main doors are large enough that lovebirds can get through them quite easily.
The design of this cage is also quite unorthodox when compared to the usual birdcage. For one thing, a grate covers the debris pan for additional security. The two-tone color scheme also looks nice and works well with any interior décor.
I would love to give this bird cage a higher score but it also has a couple of major issues. One of the most serious problems with this cage is that it is difficult to assemble. It is already bad enough that the instructions are quite unclear. Some of the parts are either bent or misaligned with the parts they are supposed to join with.
Pros
Provides more than enough room for lovebirds to stretch their wings
Sturdily built – Undoubtedly, this cage can last for many years
Comes with access doors for the feeder bowls and has a grate that covers the debris pan
Mounted on freewheeling casters with brakes
Powder-coated bars prevent paint chipping
Cons
Kind of difficult to assemble
The casters are not as durable as they needed to be
This is the most common choice for a lovebird cage if you do not have that large of a budget. However, be prepared to test your patience when it comes time to assemble this cage. If you can manage to put this cage together, you will most likely love this cage. There is plenty of room for up to 2 pairs of birds and it is quite easy to maintain.
5. VIVOHOME Wrought Iron Lovebird Bird Cages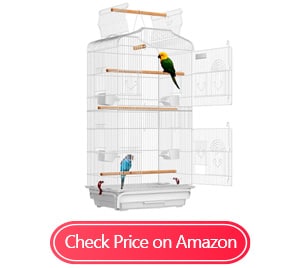 Among all the cages that I have owned so far, this one was one of the easiest to assemble. Most of the parts were already pre-assembled. You just need to snap them together.
I noticed some fitting issues but the parts are easy to reshape by hand to make them fit. You can also remove the cage from the rolling stand to make it easier to clean, which is a nice touch.
The amount of space is the most important factor that you have to consider when buying a birdcage. This is not an issue with this item. If you are planning on just keeping a pair of lovebirds, it will provide more than enough room. My lovebirds are more than happy with the amount of space it has. They can fly around and perch wherever they want.
This cage also comes mounted on a stand with durable casters. I love this feature because it raises the cage to a comfortable height. You do not need to crouch to get a good look at your birds. It also promotes ease in cleaning and refilling the food and water bowls.
Another nice thing about this cage is that it already came with all the accessories that you would need to get started. There are wooden perches, including a shorter one for the play area on top of the cage and a swing. The package also has multiple bowls for food and water. The only other thing that you need to buy separately is birdseed.
As much as I like this birdcage, it also has a few issues, though nothing too serious. For instance, the bars are a bit too thin and flimsy for my taste. You can easily bend them using your fingers. Also, when you move the cage using the included rolling stand, it starts to wobble and shake, which somewhat stresses the little birds inside it.
Pros
Easy to assemble – There are only a couple of parts to deal with
Plenty of space for up to 2 pairs of lovebirds
Mounted on a stand that raises the cage to a convenient height
The cage sits on 4 durable swivel casters but you can still remove it
Comes with a lot of accessories needed to get started
Cons
The bars are a bit too thin
The cage wobbles a lot when rolling
This product is one of the perfect choices for beginner lovebird owners. It is more than big enough for a pair of birds. There are also plenty of features that provided a lot of conveniences. The bars are a bit flimsy but the spacing between them is just right, so a couple of them bending will not affect it much.
6. YINTATECH Wrought Iron Flight Lovebird Cages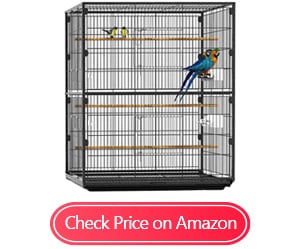 What I liked the most about this cage is not just the size but its orientation. Although it is important to have a cage with ample height, you should also consider its width. This cage is 31 inches wide, giving lovebirds more than enough room to fly around. You don't have to worry about them not getting enough exercise when they are in the cage.
Just look at this cage and you know it was made to last. The bars are thick and the corner angle bars are robust. It also comes with well-made and strong welds holding the pre-assembled parts.
In addition, instead of paint, the entire cage has a powder coating, making it more resistant to corrosion and paint chipping. The last one is quite important as love birds like to rub their beaks on the bars. The powder coating will prevent them from ingesting paint chips.
Although most bird cages nowadays have removable debris pans, this product still did better by having a removable floor grate. If you think that bird dropping would conveniently fall through the grate and all end up in the waste pan, you're sorely mistaken.
Most of the bird poop will fall through, but there will still be a lot stuck on the grate. The removable floor grate makes it easier to give the cage a more thorough cleaning. You can do it even without letting the birds out.
This birdcage also comes mounted on a stand with swivel casters. The stand sets the cage at just the right height for viewing the birds inside and for easier maintenance. You do not need to crouch every time you need to clean the cage.
Just like with other cages that have a similar size, the assembly can be quite challenging, especially if you will be doing it on your own. The weight of the individual pieces already made assembling quite difficult.
However, there is also a problem with the parts not fitting correctly because they got a bit twisted. It might be due to improper handling during the shipping process.
Pros
This birdcage is massive, giving lovebirds plenty of space
Constructed from solid and durable materials
Has a floor grate and debris catcher that slides out easily
Mounted on a stand with rotating casters
There is room for customization if you need it
Cons
Some parts do not fit right
The instructions that came with the kit are unclear and the pieces are somewhat too heavy for a single person
This is one of the most durable bird cages that I have had the pleasure of using. Not only that, it is quite massive. There is more than enough space inside for up to 3 pairs of lovebirds. Although it will take a bit of effort to assemble correctly, it will be good for years' worth of use once you have completed setting it up.
7. Xtreme-Cage LoveBird Stand Cage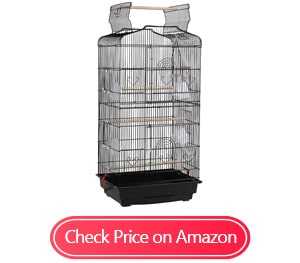 If you live in a small apartment, this birdcage should be just the right size. This cage only has an 18-inch x 14-inch base, which means you can most likely find a place for it in your apartment.
Despite not being that wide or deep, it does make up for this deficiency by being tall. The cage is 36-inch tall, so there is still enough room for a pair of lovebirds.
Another nice thing about this birdcage is that it comes with a rolling stand. With the stand, the cage is 60-inch tall, which is just the right height for viewing the lovebirds. This sets the top of the cage at eye level for most folks. If you don't want to use the stand though, you can opt not to and just hang the cage from a hook in your ceiling instead.
For a cage this small, it sure has a lot of doors. There are two main door openings for placing the birds inside and for letting them out once trained. Speaking of training your lovebirds, you can open the top of the cage and place another perch on it.
As mentioned earlier, this cage comes mounted on a stand with casters. This makes the entirety easier to move around when needed, like when you need to clean around the cage or roll it outside so that your lovebirds can get some sunshine. The casters also use plastic material so they will not scratch or damage your flooring.
For the price, you cannot go wrong with this lovebirds' cage under 500 but be warned that it is quite flimsy. The bars are quite thin and easy to bend. Also, it comes painted and not powder-coated, there is still a big chance for the finish to chip. The manufacturer claims that the paint used is non-toxic but you can never be too sure.
Pros
The perfect size for an indoor birdcage
Mounted on a stand with casters
Has plenty of access doors and there are even ones for nest boxes
The cage is removable from the stand, making it even more convenient
Has an opening top for trained lovebirds to perch
Cons
The cage's paint is prone to chipping and scratching
Quite flimsy construction
If you don't have that much room in your home for a large lovebird cage, this one should be fine for your needs. If you only have a pair of lovebirds, this should suffice. However, you should have them tamed and trained as they might feel cramped after a while. For the price, you cannot complain much about build quality.
8. Mcage Portable Travel Vet Parrot Carrier Cages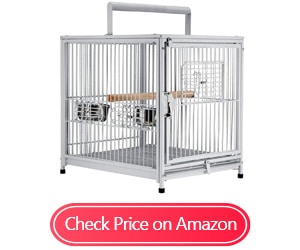 You need to know one thing first. This is not a long-term cage for your lovebirds. This is a single lovebird cage travel carrier. For that purpose, this item works great. You do not need to bring a giant cage along with you when taking your lovebirds to the vet nor should you place them in a dark and cramped cardboard box.
Another use that I found for this cage is to quarantine sick birds. I have been unfortunate enough to have to use this as a quarantine cage a couple of times, and it probably saved the other birds from getting sick as well.
I also liked that even though this is a small cage, it has a solid construction. Just lift the cage and you can immediately tell how durable it is. The metal used for making the cage is all thick, and the welds are clean and well-made. I reckon that you can drop it on a metal floor and it might not even show significant damage.
The cage has a couple of doors. The main door is just big enough that you can put a lovebird through easily. Even the construction of the doors is excellent. The hinge is solid. The latch also closes securely and you can even put a lock on it. Even though the cage is small, there is still an access door for the food and water bowls.
The only issue that I have with this cage is that it is quite heavy, so it can be quite a problem when taking public transportation while carrying the cage. However, if you have a car, it will fit nicely on the front passenger seat.
Pros
Compact size, perfect for transporting a pair of lovebirds
Ideal for use as a quarantine cage for emergencies
Even though it is small, it has a sturdy build
The doors all have secure door latches.
Comes with a handle that also doubles as a perch for your birds
Cons
Barely big enough for two lovebirds – Avoid using it for the long term
Quite heavy, so it will not be a good option when commuting with birds
This is a must-have for lovebird owners. Having a compact carrier cage whenever you need to transport them is quite convenient. If you need to take your birds to the vet for checkups or treatments, you no longer need to bring a huge and bulky cage.
9. HCY Roof Top Flight Lovebirds Cages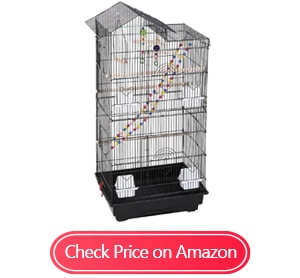 The best thing about this birdcage is the way it looks. Because there is a gable roof, it makes it look like a classic dollhouse. The overall shape and size of the cage make it seem like your birds are living in a doll-sized mansion. The overall look and feel of the cage make it both decorative and practical.
The cage has more than enough space for a pair of small lovebirds. However, you should not place all the toys that came with it as it could make the inside quite crowded. I have a pair of lovebirds kept in my cage, and they seem to love it.
There is more than enough space for them to fly around a bit. I also noticed that there are perches inside where they can just sit and rest.
Speaking of toys, this product came with a lot of them. Aside from the perches, there are also swings and a long parrot ladder. All the toys are quite colorful, making them quite stimulating for the birds.
Also included are a couple of bowls for food and water that you just need to hang onto the bars inside the cage. Essentially, you will be getting all the accessories you need in one package.
This cage is also quite easy to clean and maintain. Of course, the plastic debris pan slides out for easy cleaning. I also liked that it came with a floor grate. This means that the birds will not be walking on their own filth.
In addition, this floor grate also slides out so you can clean it as well. This means you can give the cage a thorough cleaning without disturbing your birds.
Now, you can probably tell just by looking at the cage that it is extremely difficult to assemble. It took me the better part of a Saturday afternoon to finish putting the entire thing by myself.
Pros
Boasts of a beautiful, dollhouse-like design
Spacious enough for a pair of lovebirds
The kit comes with a lot of toys that can keep lovebirds busy.
Lots of access doors
Removable floor grate and plastic debris pan
Cons
The assembly is a bit complicated
The sliding doors do not slide that easily at all
This birdcage looks great and there is plenty of space for a pair of lovebirds. Be forewarned though, that it is quite complicated to assemble. There are lots of parts that need to be put together and they don't fit quite right. Overall, this cage provides all the things that your lovebirds need, making it a great investment for your feathered friends.
10. Bosely Standing Wrought Iron Lovebirds Cage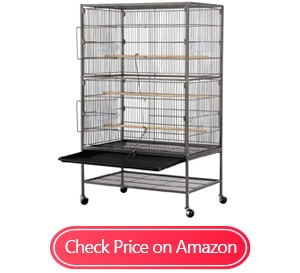 You can just tell by looking at the cage that it can last for more than a couple of years. The bars are quite thick and I tried to bend them a couple of times to test how strong they are, and I found them quite robust. The welds are also quite nice. They go quite deep and they are cleaned properly as there are no sharp points in the welds.
This flight cage for lovebirds is not ideal for indoor use, as you can probably tell by how large it is. There is probably room for 2 pairs of lovebirds and you can maybe bump the numbers up to 6 birds if they are small enough.
There are also plenty of perches included. That way, your birds can have a comfortable place to relax and not hang awkwardly along the sides of the cage.
It is also quite nice that a cage that is this big is quite easy to clean. The debris/waste pan is quite large and you can easily slide it out to replace the liner and clean the pan. Moreover, you can also pull the floor grate, which prevents the birds from walking on their own waste, for thorough cleaning.
Another nice thing about this lovebirds' breeding cage is that it comes mounted on a metal stand that sits on swivel casters. This cage is quite heavy, so it is nice to see this cage being mounted on heavy-duty casters because you will throw your back out trying to lift it. The swivel casters make it easier to move this large cage around.
Now, because of the sheer size of this cage, it is understandable that this will be quite hard to assemble. I was able to assemble this cage myself, but it took me an entire day. I also had to use quite a lot of creativity to hold some parts in place still so I can attach them to another part.
Pros
Made with durability in mind
Has more than enough room for two pairs of lovebirds
Features removable debris tray and floor grate
Mounted on four durable casters
There is an extra shelf underneath the cage for additional storage
Cons
The feeder bowls are flimsy and crack easily
Assembly is a bit difficult because some of the parts came bent
This is not a cage that you keep inside the house mainly because of its size. If you keep more than one pair of lovebirds, you will find that this is one of the best lovebirds' cage models. Although assembly can get a bit tricky because of the size and weight of the parts, it is a great investment that can last for many years.
What to Look For When Buying a Lovebird Cage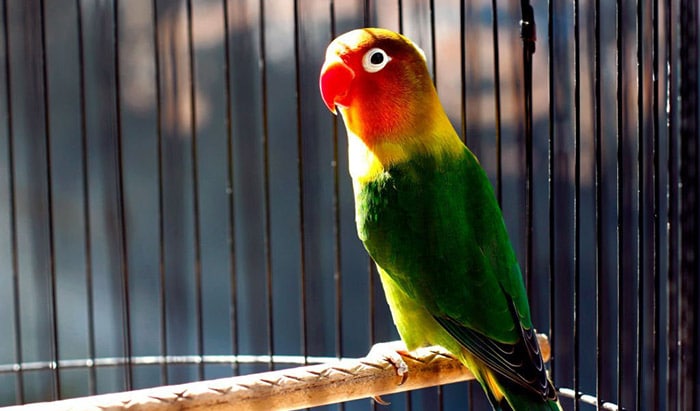 Here are some of the key factors to consider when shopping for lovebird cages.
Size
You are most likely keeping a pair of lovebirds, so get a cage that is at least big enough for two birds. The best size cage for a lovebird is one that is at least 24" x 18" x 24". However, it is always better to provide them with as much space as possible. If they can fly around the cage, it is already large enough to keep them happy.
Durability
Although lovebirds are quite small and timid, they can be quite strong when they want to. Some lovebirds have quite a feisty temperament and they could bend the bars of their cage if they are flimsy. Check the cage if the bars are stiff and if the welds are done well. This can help assess the durability of the cage.
Accessories Included
Some cages already come with all the basic love bird cage accessories that you will need to get started. At least, it should come with feeder bowls and perches. If it comes with toys, then the better.
Cage Finish
As much as possible, get a powder-coated love bird cage set up instead of a painted one. Traditional paint easily chips and because lovebirds tend to scrape their beaks over the bars of their cage, paint chipping can be troublesome.
Ease of Maintenance
You will need to keep your lovebirds' cage as clean as possible, and it should be easy to do. The most basic maintenance feature included in bird cages is a slide-out debris/waste tray.
However, you should also get a cage that has a pull-out floor grate. This will allow you to clean the cage thoroughly, thereby ensuring that your lovebirds are always healthy.
Frequently Asked Question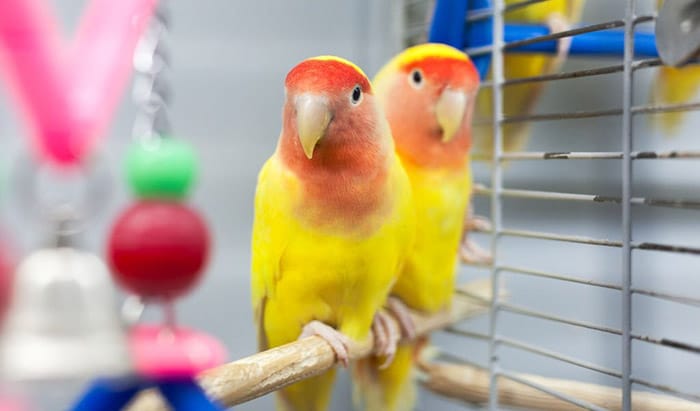 How big of a Cage does a Lovebird need?
Lovebirds are quite active animals, and they need a large cage to remain healthy and happy. A single lovebird needs a cage that is at least 18" x 18" x 18" in size. If you are planning to keep a pair of lovebirds, you would need a cage that is twice as large.
Can Lovebirds and Parakeets be in the same Cage?
No, lovebirds are quite temperamental when it comes to other bird species, so you should not keep them in the same cage as parakeets. Sometimes, lovebirds can even be ornery against their kind.
Conclusion
The best lovebird cage is one that is large enough for them to fly around a bit. These birds are quite active and playful, so they will need enough room to move. Other than the size, you should also make sure that the cage is durable and convenient to use.
Now that you have reached the end of this article you now know all the things needed in choosing the right cage.