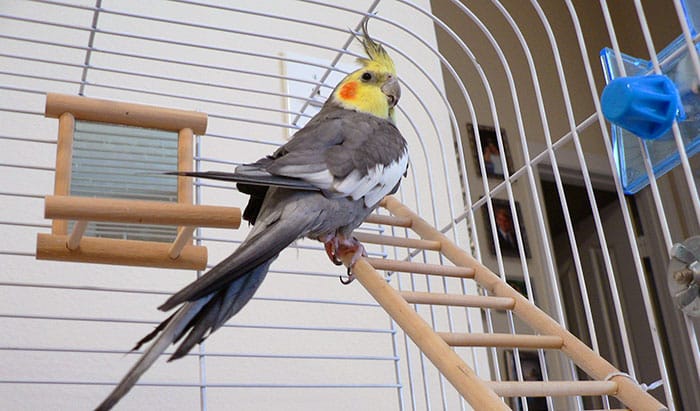 If you care about your feathered friends, then you surely want to give them only the best bird cages for cockatiels. However, there are so many brands and designs that you can choose from, so it might seem like a difficult task to pick just one.
You should consider many things when choosing a bird cage for your cockatiel. These include how many birds you are planning to keep in it and the size of the birds that you are keeping. In addition, the birdcage should be quite durable because you do not want your precious cockatiels escaping, at least not until you finish training them.
This article will teach you how to choose the right birdcage for your precious feathered friends. After reading and understanding the contents, you will be able to figure out which birdcage will fit your needs and your budget.
Best Bird Cages for Cockatiels Reviews
1. VIVOHOME Cockatiel Travel Carrier Cages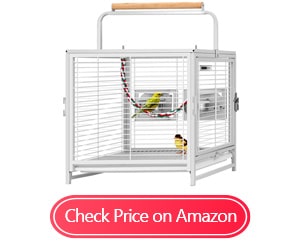 Although this cage is just a little over 19 inches long, it makes use of quite durable materials. The metal frame and grates consist of heavy-duty low-carbon steel. This material makes it extremely strong yet flexible, making it capable of withstanding forces that would break others apart.
Although this cage consists almost entirely of steel, it is quite lightweight and very portable. This cage works as a travel crate for your birds. This is not a long-term cage for your beloved cockatiels as it is not large enough.
To make it easier to transport, this birdcage also has a convenient handle on top. You do not need to worry about your birds nipping at your fingers whenever you need to bring them someplace.
This birdcage might look like it is complicated to put together but it will surely not take you more than 30 minutes. The instructions provided were not that easy to understand, though, but it was still quite easy to assemble. The only tricky part that I had trouble with is figuring out which type of screw goes to which part.
I loved the convenient trays for the food and water bowls. Not only do the brackets hold the bowls perfectly but there is also a hinged mechanism at the back that allows easy access to them.
You no longer need to stick your hand inside the cage when you need to take out the feed or water bowls. This is great for when your birds are not yet trained because it will decrease the chances of them escaping.
The only issue that I have with this birdcage is that it is quite small. This item is only for temporary housing for your birds. It is too small for long-term stays. This is more like a traveling crate meant for transporting your birds, like when you need to take them to the veterinarian.
Pros
Durable construction as it uses strong steel and rust-resistant, lead-free paint
Lightweight and portable, making it ideal for transporting birds
Easy to clean, thanks to the sliding waste pan
Convenient food and water bowl trays
Easy to assemble – It will usually take less than 30 minutes to put together
Cons
Only large enough for one cockatiel – You can't add more
Not for long-term use – It is only ideal for transporting birds
Although this birdcage seems nice, it is not ideal for long-term use. However, you should get this birdcage because you can still use this as a quarantine or breeding cage for your birds.
Also, because it has a convenient handle at the top, it works as a good travel crate for your birds. This might not be great for housing cockatiels in the long run but you can still use it as a backup and others.
2. Best Choice Cockatiel Enclosure Bird Cages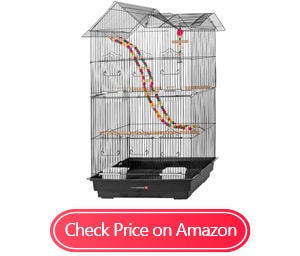 The first thing that I look at when choosing a bird cage is the size of the bars. I want to make sure that the spacing is far enough so that my birds can grasp the bars. However, it should not also be too far, so that they can already squeeze through the gaps.
The thing about this item is that it has perfectly spaced-out bars, around half an inch apart. The bars are also thick enough that my birds can wrap their toes around them. This is almost perfect on that account.
The waste and debris tray is also nice. At first, I thought that you had to pry off the entire base to clean it, but I was quite surprised when I found the tray drawer. It slides out quite easily. It also uses a plastic material, so it is easy to clean. Although most bird cages have to slide out debris trays, this one has the best design I have seen so far.
Another thing about the bars of the cage is that they are quite sturdy. My birds have stripped the paint and bent the bars of their other cages in the past, but they haven't done so yet with this cage.
The bars use heavy gauge GI wires from what I can tell. I also noticed that they do not come painted but are powder-coated. Powder coating is significantly more durable than paint, so my birds could not strip it off even if they wanted to.
I also find the hanging food trays convenient as they are easily accessible. You just need to slide the doors up to get at the food and water trays. You do not have to reach into the cage. Also, the securely clipped trays on the bars will ensure that your birds cannot spill out the contents.
The only gripe I had about this birdcage is that although it is high, it is not that wide. You can only fit maybe two cockatiels in this cage or maybe a couple of finches. If you do not have that much space in your house, you might like this. However, if you keep a lot of birds and you want to keep them in one cage, this might not work.
Pros
Comes with perfectly spaced bars for small and medium birds
Features a slide-out waste tray for easy cleaning
Comes with a couple of toys that will keep your birds busy for hours
GI wire material used for the bars – It also has a powder coating to prevent rusting
Easy to access the birdseed and water bowls
Cons
The easy-access doors do not have a locking latch
Although this cage is quite tall, there is still not enough room for more than two cockatiels. However, if you are only keeping one or two birds, this item should be good enough for your needs. This cage is tall enough that your birds will be able to stretch their wings. There is also enough space for toys and activities.
3. Yaheetech Flight Cockatiels Bird Cages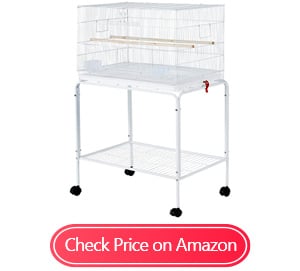 Although this cage is not quite as high as the others on this list, this item is quite wide and has enough room for up to 4 cockatiels. Unlike other products that claim to have the same capacity, this cage indeed has ample space for small birds. They can fly from one end to the other when chasing each other, giving them ample exercise.
This cage also has two extra supplemental doors. These are just small enough to fit the hanging feed and water bowls, so you do not need to worry about your birds escaping when refilling.
However, I recommend finding some way to secure the doors to prevent the birds from opening them. Cockatiels are quite smart and I found mine almost successfully opening the doors to their cage. This causes the need to place a clip to keep them closed.
The best thing about this item, in my opinion, is that it comes with a wheeled stand. This way, I can move the cage whenever needed. For instance, when I need to bathe the birds during the summers (a bit of spraying water is enough), and then bring them inside when it gets a bit too hot.
The stand also has a tray underneath to store bird keeping supplies or other things that you might want to keep there.
The main door is quite large, so it promotes ease in placing the birds inside the cage. This also makes it easier to clean the cage. I also liked that the main door's opening is large enough to insert large toys and accessories inside the cage. I was able to place a birdbath inside the cage without any difficulty whatsoever.
However, I do have a problem with the main door of this birdcage. It does not have any way to keep it closed. You will need to buy a separate lock to keep it shut tight. I have a cat and sometimes, he likes to jump into the cage. Most of the time, when he bumps the cage, it causes the door to pop open a bit.
Pros
Has enough room for up to four cockatiels
Easy access to the feeding bowls
Comes with a wheeled stand
Has a larger main door that opens in two ways – It also has supplemental doors
Easy to clean and maintain
Cons
The main door does not close securely
I like this birdcage quite a lot. It has enough space for several birds. I also find it mobile so I can move it around when needed, like when my birds need a bit of sun to get their energy levels up. I am a bit disappointed, though, with the quite weak latch.
4. HCY Small Cockatiel Bird Cages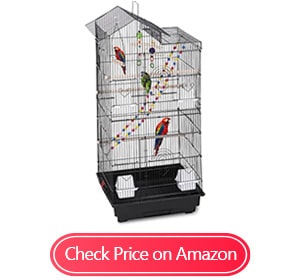 This cage is quite tall at 29 inches high. Although it is not that wide that your cockatiels have ample space to fly, they would at least have plenty of climbing space. This is essentially two small cages placed on top of each other to make a sort of tower. My cockatiels do not like to fly too much, so they are perfectly happy with this cage.
Another nice thing about this item is that it already comes with accessories. There is a cute parrot ladder where your cockatiels can perch. It also has movable parts that they can play with. This means you do not need to buy additional accessories for your birds or at least not for the meantime. This is great if you are a beginner birdkeeper.
As I mentioned earlier, this item comes with two cages stacked on top of each other. This is the reason why it has two large main doors. This might seem like it is a design oversight but it somehow works.
I found that having two large openings in my cockatiels' cage is quite convenient. I like letting my birds fly around the house from time to time and these large doors make it easy to train them to come back into their cage.
Even though there are large doors and a couple of supplementary openings for the feeding bowls, there is no chance that the birds could open them. The doors have a design that requires you to hold them in a particular way to let them slide up and open the grates.
However, I would not underestimate the intelligence of cockatiels, you should still get clips to keep them closed, just to be sure.
Although the assembly of this bird cage was quite straightforward, some parts do not snap together as tightly as I wanted them. For instance, the joint between the two cages is a bit wobbly, so I needed to use a couple of small zip ties to hold them securely. This is an easy fix, so I will not say that you should not give this product a try.
Pros
The cage is 39 inches high, which is enough for cockatiels to stretch their wings
Comes with toys for your birds
The two main doors are highly secure as the birds won't be able to open them
Easy to clean and maintain
Can be hung from the ceiling or placed on any flat surface
Cons
Some parts need to be zip-tied together
Can only fit two birds comfortably
This is a great cage for your cockatiels if you do not have that much space in your home for wide cages. However, you should take into consideration the fact that there is only enough room for a pair of cockatiels in this cage. Three would already be a crowd and four birds would be pushing it already.
5. ZENY Rolling Stand Cockatiel Bird Cages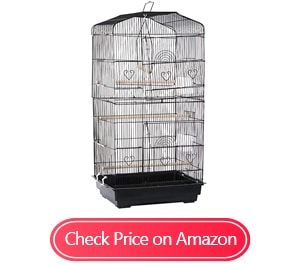 I like to move my birds around from time to time, especially during the summer. I give my birds a "bath" by letting a small garden hose trickle water from the top of the cage. The included wrought-iron stand comes with durable casters, making the process of pushing the cage almost effortless.
The cage itself is 36-inches tall, which gives cockatiels enough space to climb and play. There is also just enough space for small birds to stretch their wings a bit. I placed a small parrot ladder inside for my birds to play with and the space is enough. If you're keeping a pair of cockatiels for breeding purposes, you can even place a nest box in it.
Just because this item came with a rolling stand, it does not necessarily mean that you have to use it that way. You can choose not to place the cage on the stand. You can just put the cage on a flat surface or hang it from the ceiling using the handle on top of the cage. You can display this birdcage in whatever method you want.
I also like how this birdcage makes cleaning after your feathered friends quite easy. There is a grate on the floor of the cage, preventing the birds from walking all over their waste, which keeps the birds healthy.
If you want to clean the bottom of the cage, you do not need to remove the entire thing. Just slide out the debris tray so you can empty it and give it a good cleaning.
The only complaint that I have with this product is the flimsy packaging that it came with. The thin cardboard box that this cage was shipped in was so thin that it came with holes all over it. In addition, the bottom tray came a bit bent on the edges. Fortunately, the damage was not that big and I was able to fix it using a pair of pliers.
Pros
Comes with a rolling stand with swivel casters
The cage has a total height of 36 inches
Comes with birdseed and water bowls and wooden perches
Ideal for use with and without the swivel stand
Easy cleaning facilitated by the sliding debris tray
Cons
The packaging the cage came in was horrible
The size is suitable for 2 to 3 small birds only
Although this is such a tall cage, especially if you are using the included stand, it is only big enough for three birds. If you are not planning to keep more than a pair of cockatiels, this would be just the right size for what you want. This birdcage is quite well-designed and has a lot of convenient features that will make bird keeping a breeze.
6. BestPet Standing Cockatiel Cages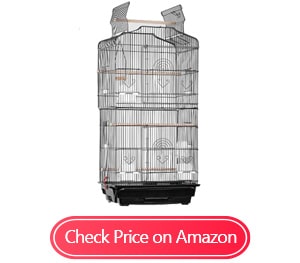 A nice feature that this birdcage has that I have not seen in others, so far at least, is that the top opens to let your birds hang outside. My cockatiels are trained and I do not keep them cooped up in their cage the whole day.
The top of this cage opens up and turns into an extra perch for my pets. It also makes them feel more at home in their cage, making it easier to get them to come back at the end of the day.
I also like the included food and water bowls. They hang on the bars of the cage securely, so even if the birds in the cage fight over the food, the bowls will not detach and spill their contents.
Speaking of the food and water bowls, they have small doors that make them easier to reach from the outside. You do not have to open the main doors and risk having your birds escape if they did not go training yet.
This cage may look intricate and complicated to put together but you would be surprised at how quickly you can assemble it. I have put together several bird cages in the years that I have been keeping cockatiels and it took me just 15 minutes to assemble this item.
Even if you are not experienced at building these kinds of things, it is unlikely that you would take more than 30 minutes to finish.
The stand, aside from having casters to make moving the cage easy, also has a convenient storage shelf underneath. I use the tray to hold the bird seed container, cleaning supplies, and treats for my birds. This is quite convenient because everything that I need to take care of my birds is in just one place.
I wanted to like this birdcage more but the thing is that this cage was not built with quality in mind. After assembling this cage, I noticed that some of the spot welds were only halfway done.
I think I could easily rip them out if I wanted to. Also, the base uses a thin plastic material, so you should be careful not to drop it on the floor as it will surely crack.
Pros
Has a lot of openings for ease of access
Comes with a rolling stand
Convenient feeding and watering bowls included
Easy to assemble despite looking complicated
The rolling stand comes with a nifty storage tray underneath
Cons
The construction of the cage is not that sturdy – Some of the welds seemed weak
The base is made of flimsy plastic
This would have been a great birdcage if only the build quality was better. If you are careful and your birds are not rambunctious, then this item might last a couple of years. This is such a shame since I liked its features quite a lot.
7. SUPER DEAL Rolling Stand Bird Cages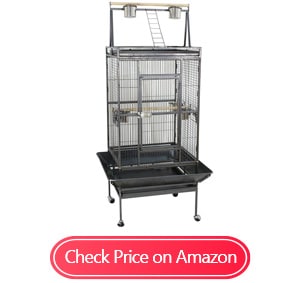 The best thing about this bird cage is that you can tell how good its overall construction is. The bars and sheet metal parts are quite thick. You will not be able to bend the bars unless you apply quite a bit of force. In addition, instead of paint, the cage is entirely powder-coated, which is more durable and easier to clean.
Another nice addition to your usual bird cage that is in this item is the training pen on top of the cage. There is a parrot ladder, a perch, and two feed bowls.
If you plan on training your birds to go out of their cage and teach them tricks, then you would love this feature. I have been training my cockatiels for around a month now and it certainly is easier with the playpen.
My cockatiels do not make that much waste. However, if you have a larger bird, like a parrot, you would love having this product if only for the efficient waste catcher
There are overhangs at the bottom of the cage to ensure that all debris and waste go to the catcher at the bottom of the cage. Other bird cages do not have this feature and it helps keep the floor clean.
I also like the heavy-duty latch that locks the bird cage door shut. This is not the regular latch that you see on other similar products. This one comes spring-loaded and is quite secure.
You will not be able to open the door accidentally. The reason is that you will need to deliberately push the release button to release the locking mechanism.
I genuinely like this cage but it should be like other cockatiel cages with a stand in the sense that there should have been at least one storage shelf underneath. There is more than enough space for around two storage shelves and doing so could have added more stability.
Pros
Heavy-duty metal construction
Comes with a playpen on top for training
Has a large and efficient waste catcher
The door latch is secure and heavy-duty
Plenty of space inside the cage for up to 4 cockatiels
Cons
The cage is not detachable from the stand
There is no additional storage space underneath the cage
Whether you are keeping a large bird or a couple of smaller ones, then this bird cage is right for you. However, you need to make sure that you have enough room in your house as this is a large birdcage with a wide footprint. Other than that, you will be getting a bird enclosure that can virtually last forever.
8. Topeakmart Flight Parrot Bird Cages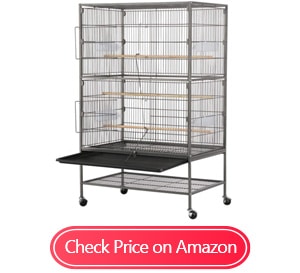 If you live in a small apartment with not that much floor space, you might want to skip this one, because this flight cage for cockatiels is huge. It occupies around 4 square feet of space and is 52-inch high, so you need to plan if you wish to get this item. Meanwhile, my cockatiels (all 4 of them) love having so much space to stretch their wings.
Unlike some of the other cheaper bird cages that I have owned, this item is quite sturdy. The bars are not flimsy GI wires and everything is powder-coated grey. This means that you don't have to worry about paint chipping off and the bars rusting.
The corner posts also use sturdy angle bars, making the entire thing quite stable. This cage can easily last up to ten years with proper care and maintenance.
Another nice thing about this cage is that it comes mounted on a wheeled base. The cage itself is raised 15 inches off the floor and the frame rests on 4 swivel casters. This makes moving the cage around quite easy.
This is especially useful when you need to clean underneath and around the birdcage. There is also a storage shelf underneath the cage where you can store your pets' supplies and maybe other useful items.
Cleaning the cage is also easy, thanks to the large waste pan underneath the cage. Unlike other cages where the waste-catching pan mainly uses a plastic material, this one is sheet metal coated with waterproof and non-stick paint.
Bird droppings are notoriously hard to remove from painted surfaces, but the tray that came with the cage only needs a good rinsing from a garden hose.
The only thing that you need to worry about is the weight of this cage. This is from solid steel material, so you may want to position felt pads underneath the casters if you will be placing this on hardwood floors.
Pros
The extra-large size can hold up to 6 birds at once
Durable and stable construction
Comes with a rolling base so you can move the cage easily whenever needed
Features a large waste-catching pan
Has a large storage tray underneath the cage for supplies
Cons
A bit on the heavy side, which might damage hardwood floors
Assembly is simple but some pieces need to be forced together
This is a utilitarian bird cage, which is completely fine for me, but others might want something that has a bit of flair. All in all, the cage is great. It can accommodate up to 6 small birds and has enough space for them to fly around. My cockatiels love it and I think yours will, too.
9. ABONERY Portable Bird Travel Cages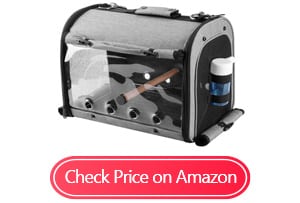 I got this travel bird cage for cockatiels as a convenient way to transport my birds. Taking the entire cage is not very ideal. The birdcage is quite bulky and there is no way to secure them to the seats of my car. This is no longer a problem with this bird carrier since it is roughly the same size as a gym bag. It also has convenient carrying straps.
Are you worried that your birds will suffocate in this bag? Don't worry. The carrier uses thick canvas material for its entirety. Moreover, there are large vents along the sides. Even during hot summer days, the inside of the carrier remains relatively cool, especially if you are moving around as it helps air circulation.
You may be surprised when you first receive this item because it comes in a flat package. This bird carrier completely folds flat and assembles easily using zippers along the sides. I was able to set up mine in less than ten minutes, including inserting the food bowl and water bottle, so anyone should not have any trouble at all.
One entire side of the carrier uses a clear acrylic plastic material, so your bird/s will be able to see outside during transport. Now, if they need to take a break or are getting a bit restless, there is a built-in "curtain" that you can use to cover up the viewing window and sides of the bag.
Although this bird carrier is only for temporary use, I would have liked it better if they used more durable materials. For instance, the mesh covering the sides of the bag is from plastic material, and my cockatiels had no trouble biting through it. I had to duct tape a metal mesh over the sides to prevent my birds from ripping through the canvas.
Pros
Large enough to keep your bird/s comfortable and not feel cramped
Has large vent holes for proper ventilation
Easy to assemble and collapses completely flat for easy storage
Has a large and clear viewing window
Very lightweight yet sturdily built
Cons
The mesh covering the sides of the bag uses plastic material
The perch only has one position
Aside from bird cages for cockatiels, a good transporting carrier is also a great accessory for bird keepers, especially those who like to bring their pets everywhere they go. This also works great when you need to take your feathered friends to the vet. You no longer need to bring their entire cage.
10. Flyline Corner Cockatiel Bird Cages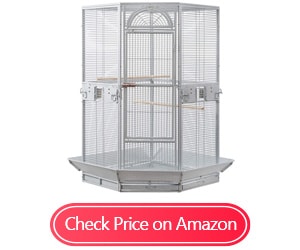 The thing that I love the most about this large cockatiel bird cage is that you can set it up in the corner of a room. This saves a lot of space and it utilizes the space that it does occupy in a very efficient way.
I also like how beautiful it looks. The bars come evenly spaced while having pentagon shapes, making them lovely to look at. Also, I like the light-gray powder coating used for the entire cage. It just looks great with any décor.
This cage does not just look pretty but also durable. Once assembled properly, no part of the cage wobbles. You cannot even bend the bars with your hands unless, of course, you put your back into it. The gray powder coat finish is also quite tough. I have been using this cage for a couple of months and my birds could not even chip the surface.
You may think that the unusual shape of the cage will make it difficult to clean but it is surprisingly easy. Several debris pans underneath the cage slide out for easy cleaning. They even have handles to make them easier to grasp. The floor grates also slide out so you do not need to take out your birds whenever you need to clean the cage.
I love this birdcage. However, it was quite a frustrating task to assemble it by myself. This cage is huge, so you might want to ask another person to help you set it up. I was able to assemble this cage myself but it took me an entire afternoon and a lot of cursing before I was done.
Pros
Lovely design aesthetics
Made from durable materials and has excellent construction quality
Has multiple doors for easy access to the inside
Comes with three debris pans and slide-out grates for easy cleaning
Fits perfectly in the square corner of any room
Cons
Takes a bit of time to assemble because of the sheer number of parts included
The instructions are a bit unclear
For the amount of space this bird cage provides, it does not take that much space at all. The reason is that it is possible to wedge it into a corner, preventing any floor space from being wasted. In addition, this bird cage is one of the prettiest that I have ever owned and my birds love it as well.
What to Look For When Buying a Bird Cages for Cockatiels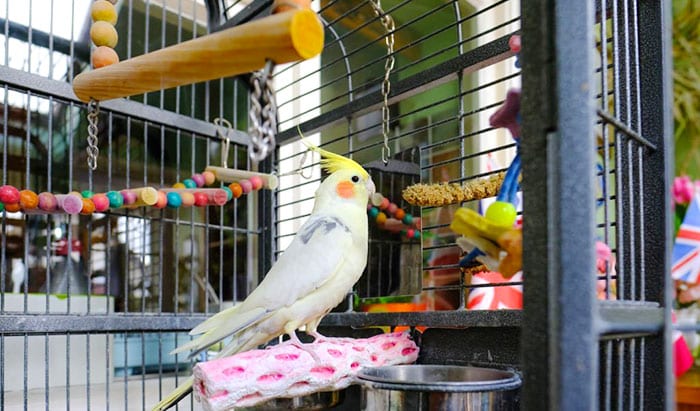 In your search for the most suitable bird cage for cockatiels, you need to be very careful. To help you, here are some factors that will simplify the selection process.
Size
How many cockatiels do you have? If you need a bird cage for two cockatiels, then something that is around 20 inches wide and 24 inches high is just about right. You would need a cage that is twice as big if you are keeping three birds.
You should also take into consideration the amount of space that you can spare in your home. If you do not have that much floor space to spare, consider keeping only one or two cockatiels.
Convenience
Ideally, the cage you get should have a large main door. This will make placing the birds inside the cage much easier. The large door will also promote ease in cleaning the inside of the cage later.
There should also be smaller access windows for the bird seed and water bowls. They should be big enough that you can remove the bowls easily, but not so much that you leave enough space for your birds to get out.
Ease of Maintenance
The most beneficial cockatiel cage setup nowadays comes with slide-out waste trays. These are large pans placed underneath the bird cage that will catch spilled bird seed and bird droppings, so they do not end up on your floors.
The pan should slide out smoothly and should be easy to clean. Ideally, the floor grate should also be able to slide out without having to dismantle the entire cage.
Frequently Asked Questions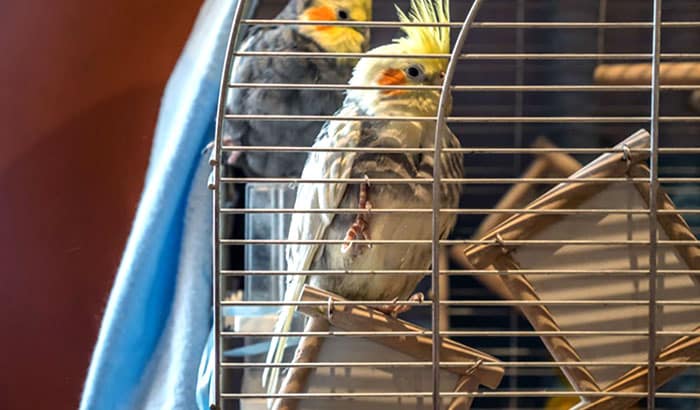 What Birds can be Kept with Cockatiels?
Parakeets usually go together well with cockatiels. However, you should base your decision on the temperament of the birds. Although it is possible to keep another bird with a cockatiel, it is not advisable.
What is the Best size Cage for a Cockatiel?
Ideally, the most preferred cages for cockatiels are at least twice the wingspan of the bird. The most commonly used cages for small birds like the cockatiel are 20-inch deep, 20-inch wide, and 24-inch high. This is usually for a single bird.
Conclusion
Cockatiels are beautiful and intelligent little birds. If you are planning on keeping one or two as a pet, you need to provide them with the best bird cages for cockatiels. Once you are out starting to shop for a bird cage, you should consider how many birds you will be keeping first and foremost.
The cage should be big enough for them to fly around and stretch their wings. Now, the question is how will you know if you've gotten the right cage? You can tell by how happy and healthy your birds are.