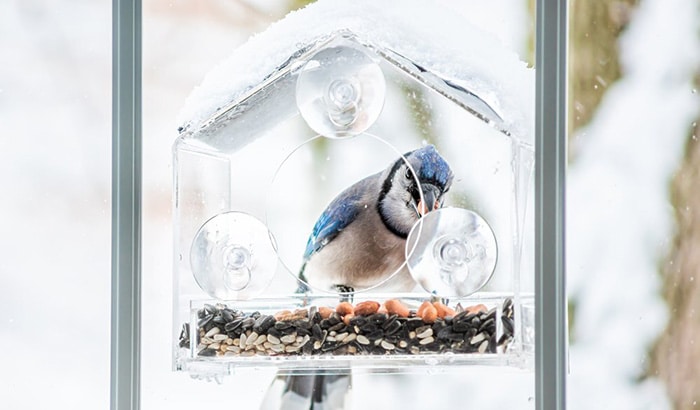 My favorite part of the house is my full floor to ceiling glass window overlooking my green and red and yellow backyard garden. Some mornings, I have the privilege to watch bees buzzing around, butterflies hopping over the flowers playfully, and birds bouncing around looking for food. I call them my three "B's" that complete my early daily routine.
Ah, life is good. All morning is beautiful.
And thanks to my birds. My task is to keep them stay there or comes back as often as they should so I have to provide them with the best window bird feeder from the bird pet market. I have a few of them hanging as well as stuck to my glass panel and I am convinced they are few of my best investments to date.
For new bird watchers, knowing what seeds or what feeder to use can be a daunting task. A trip to the pet store, Walmart, Lowe's or even your local Home Depot will usually give hundreds of choices and create endless confusion. Sometimes, worry.
To make it simple, here are some top picked and tested window bird feeders.
Best Window Bird Feeder Reviews
1. Nature's Hangout Window Bird Feeders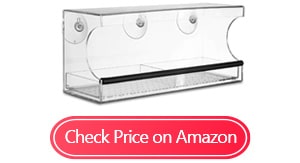 Armed with my morning coffee, I get treated to a complete view of a beautiful finch pecking on my window through this transparent window feeder by Nature's hangout. This is the perfect window bird feeder with suction cups if you have a wide glass panel. The transparent suction cups make it appear that it is a part of the glass so there is an unrestricted view of the birds. This is probably the best feature, and I won't deny that I do love it.
Another thing Nature's Hangout got right is space for the mixed seeds. Yes, you can mix a few types of seeds if your area is frequented by nice, chirpy bird varieties. I have few finches and cardinals so that means some sunflower seeds, some thistles, some berries, or if you have extras treat them to some insects. Insects are a good source of protein so mixing them in their diet will surely help them become more beautiful and be ready for the nesting season.
This stunning window bird feeder does not require any installation as the suction is strong enough to hold the feeder's acrylic transparent lightweight glass. I wonder if there's anything I dislike about this product – probably the open seed tray, that is, if the squirrel gets to them.
Pros
Large bird tray holds 3-4 cups of mixed bird seeds
Easy to clean and place on a clean glass panel
Transparent overall so you can see every movement of the birds
Safe. Can take pictures even when inside the house
Cons
Squirrel climbs window panes so place it in the middle of the glass panel
Squirrels are fascinating creatures. When they are hungry, they will find a way to get fed even if it means destroying, damaging, and stealing bird seeds. They climb through trees, even feeder poles, and practically anything they can claw on. To avoid that, place your suction cup bird feeder in the middle to deter squirrels from getting into the seed tray. They will slide down beautiful in a glass window but that is fun to watch too!
2. Nature Gear Window Bird Feeders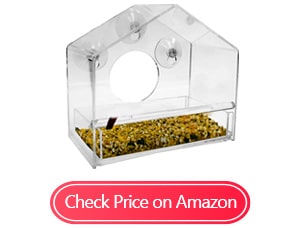 Songbirds, one of the most coveted bird variety for many reasons: their quirky yet special foot shape and their singing hence the name. When people are asked what birds are they familiar with, songbirds always make it to the top ten picks. Thanks to the colorful singing birds in Disney's Snow White.
I am personally drawn to them and to draw them back to me, I have this window mounted bird feeder in the middle of my full-sized glass viewing panel. It overlooks my garden so I get to soak in two different yet equally great views every morning. I love that Nature Gear made this transparent window attached bird feeder shaped like a house – a perfect accommodation for my beautiful feathery guests.
My glass wall, sadly, is not roofed so I am ecstatic that Nature Gear made the roof exactly like a house, protecting the birds and the seeds from elements – rain and sunshine. The large tray can be filled with mixed seeds. And who wouldn't like a dash of wild berries once in a while.
What I probably dislike is when the squirrels come to try to steal some of the seeds. I made sure the window feeder is not near the roofing, the gutter, nor the wall. They never successfully get into the seed tray but I hate seeing them with the birds on a good day.
Pros
Fully transparent acrylic plastic
Easy to clean and refill
House roof design protects the seeds from the rain
Tray is equipped with holes to drain liquid or reduce moisture
Cons
Squirrels see the treats too and join the birds once in a while
Songbirds got a real treat from Nature Gear through this product. The very practical and functional design brings in endless fun for the birds and the bird watchers. I say it is almost a perfect product for my kind of birds.
3. Gray Bunny Window Bird Feeders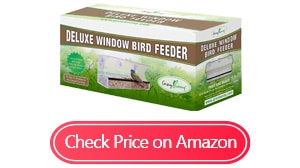 Hanging feeders are nice but window bird feeders are better. Whether you have finches or songbirds, watching them close by is the best way to pet them. To do this, use window attached bird feeders. Thanks to Gray Bunny, this comes as an easy decision. Gray Bunny deluxe clear window bird feeder is perfect if you have multiple birds coming in for a quick visit. I love the strong suction cups, that holds the feeder in place, and the transparent plastic made of strong acrylic. The birds are literally inches away from my eyes.
So far, the birds even got used to my palm pretending to touch them from the inside part of my window pane. It's a fascinating and relaxing experience, especially on bad days!
I like that the simple design is fully functional: a large seed container, a wide feeder area, a ledge to perch and a transparent roof-life design to protect the precious sunflower seeds, mixed seeds, and the birds from the sun and the rain.
The only catch is to make sure it is high enough through the high window to avoid squirrels finding the seeds. Risk-taking squirrels can always try but slide down frustratingly through the glass.
Pros
Easy to clean and fill
Large seed tray
Clear transparent plastic allows easy viewing
Strong suction
Cons
Be careful of placement. Avoid ledge for squirrels to climb through
Getting the most excellent window bird feeder is sometimes a challenge. There are many product choices around but it is important to know functionality including the strength of the suction cups. For Gray Bunny, this probably needs some working on, quality-wise.
4. Nature's Hangout Bird House Window Feeders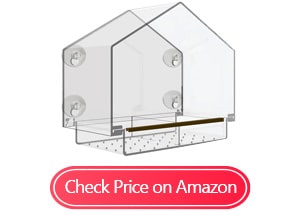 Every birder is a nature lover. This means that they understand what birds really need. That includes safe, clean, and comfortable. Thanks to Nature's Hangout, their best squirrel proof window bird feeder, is an answer to the safety of my feathery guests. The squirrels have no way of getting into the seeds so that is less headache for me.
I love the innovation put in this product, the design is a classic yet remains very functional – a birdhouse, in clear strong acrylic plastic. My birds just don't love it, I do too! I love the space between the seed tray and the transparent roofing. The songbirds are having fun moving and perching during feeding time in this nature Hangout window bird feeder hanger.
It is definitely a beauty to behold and such a good choice as it does not distract other views from my window. The garden at the far end is still visible whenever I am looking out, relaxing. The chickadees, songbirds, and finches that visit this window feeder attached by strong suctions are good mood builders on rough days.
I also like the tiny holes under the seed tray as it prevents mold by providing both ventilation and water drainage system. It siginificantly promotes bird's health.
Pros
Easy to clean and fill as bird tray slides out
Classic design but modern look
Four strong suction cups keep the feeder in place
Design, high roof can accommodate few birds at the same time
Cons
Slide tray has to be secured so birds won't accidentally slides it out
Having a transparent window bird feeder is a luxury for bird watchers. It does not only provide many hours of enjoyment watching the birds up close but also provides a space for birds to eat freely without the worry of competing with bees or squirrels in the garden. For this product, a window bird feeder house by Nature Hangout with sliding feed tray got my vote!
5. Nature Gear XL Window Bird Feeders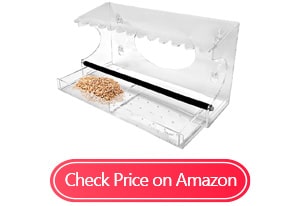 I haven't gotten over the effect of a clear window feeder over my glass panels. Many of the products provide every bird watcher the satisfaction guarantee. Nature Gear even came up with one unique feature, which is a real add-on value as it protects the birds and the seeds fully from the elements. The XL window clear bird feeder is perfect for my rainy city. Urban bird watching can be a challenge as the wet seeds cause molds and may cause of diseases to my flying friends.
So I love such feature and I am quite confident others do too. I also love the fact that it is not just plastic but "weatherproof" plastic allowing it to withstand harsh elements and stays a long time. It is worth the investment. Another feature that makes this Nature Gear's window bird feeder is the dedicated non-slip perch area. My birds are truly hanging in there tight giving me a beautiful sight.
Midews is a common problem especially during the change of seasons so the extended roof is very helpful. What more? This window feeder can be placed anywhere with its sliding feed tray so there's no need to fret over where to place the feeder. The only consideration is, of course, predators like the squirrels – never put it near the window ledge or too low to the ground. The worst feeder is the one messed up by a giant hungry squirrel.
Pros
Easy to slide bird tray for easy fill
Extended roof for rain protection
Secured perch area
Enough space for few birds to feed at the same time
Cons
Remove the suction cups and take the whole window feeder for cleaning
A bit large in size. Not advisable for small glass windows
The suction cups are strong but it's also the product's wear and tear. So be careful when handling it during washing. The screw to of the perch rod can come off if a squirrel step on it so squirrel proof your window bird feeder. Overall, Nature Gear has done a really good job with this easy to install bird feeder attached to a window.
6. Entirely Zen Window Bird Feeders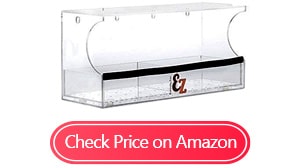 It is called a Zen for a reason – provide a relaxing experience and so far it is doing good. I like the placement of the suction cups in this window feeder. It lets the clear window feeder hang onto the window rail quite nicely.
If your area is visited by squirrels often, this zen also provides for them. It is great that you can place it nearer to them while feeding smaller birds. If you choose not to cater to squirrels, then all you need to do is place the suction cups a bit higher. It is very lightweight so it can be placed anywhere.
It is also nice that Entirely Zen included a larger seed tray to cater to more colorful bird guests and some squirrels. The bigger seed tray feature also reduces frequency of filling. To make the birds more comfortable, they can also use the rubber perch provided for comfortable feeding. I also love the dividers in the seed tray – two compartments allow different seeds to come and feast together.
Pros
Easy to mount with four strong suction cups
Extra suction cups provided for every new purchase
Easy to clean and fill
Extra large seed tray for mixed seeds
Cons
Size is for smaller windows
Squirrel prone
It is probably not the best designed window box bird feeder but it works well for areas that has multiple birds of smaller sizes such as songbirds or finches. This feeder is good for some cardinals too.
7. Juegoal Window Hummingbird Feeder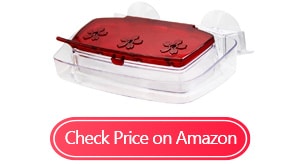 If you are in love with hummers, this is the one for you. It is a highly recommended product for this kind of bird. It is simple yet enough to attract these emerald or golden colored birds in the convenience of your home. I like the open design as it allows the hummers to simply land, perch and feed on the sweet nectar for hummingbirds.
I think that this is possibly the best bird feeder for windows as far as these hummers are concerned. The small size brings an unobstructed view of the birds from the comfort of your home. I love the additional ant moat feature to protect the nectar from spoiling.
If there's one thing that I may not really like about this product is the size of it. The three ports are quite too close to each other alienating other hummers during feeding time.
Pros
Easy to mount with strong suction cups
Ant moat keeps the nectar fresh
Simple design to give unobstructed view of birds
Easy to clean. Dishwasher safe
Cons
Too small for areas frequented by hummingbirds
This simple hummingbird window feeder is something you should not miss. Perfectly made for these hummers. No wonder the reviews or most hummer lovers are very high.
8. Nature Gear Hanging Window Bird Feeders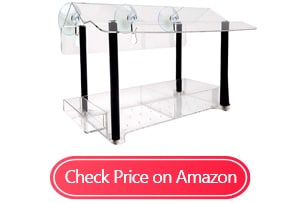 One of the most beautiful bird feeders produced for cardinals, songbirds or even finches. Seed eating birds will have a good time while feasting on the sunflower, nuts or even thistles in this wide, large and clear viewing feeder. I love the two part design – roof and seed tray connected by the mold-proof posts in dark colors. The roof has a sleek design and the tray dissipates water vapor to keep it dry all throughout.
Nature is clearly a leader in creating usable, practical and functional window bird feeders. This pure view is one of the best bird feeders attached to window designs.
If there's something I am not very sold out about this product, it is probably the quality of plastic. It is a clear, shiny plastic but not thick enough to withstand the harsh summer.
Other than that, this one way window bird feeder house by nature remains to be a great choice for small windows, high kitchen windows and even a couple of this for that excellent viewing in a large window looking out the patio.
Pros
Easy to clean. Detachable parts
Easy to install with strong suction cups
Large seed tray
Sleek design with four sturdy posts
Cons
Thinner plastic and may crack easily
If you are concerned about design over quality. This is your best choice. Nature Gear successfully comes up with cheaper yet better displays of birds enjoying their feeding sessions.
9. Perky-Pet Window Mount Feeders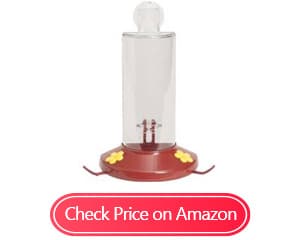 Through the years, I have developed some kind of bias in favor of Perky-Pet's bird feeder products. I love their ability to create simple yet functional bird feeder designs. This window mount hummingbird feeder is one of their best collections. I like that it is a space saver, which means that it is perfect for small windows or on high rise buildings. This easy to assemble window feeder has the tube for the sweet nectar, red base with ports, which can be easily latched to the suction cup. You can simply attach it to your windows and wait for the beautiful golden green hummers to come for their sweet treats.
It may be small but it has at least three ports for the hummers to enjoy. Like the way it's mounted, this feeder can also easily be taken off – they can be dismantled for easy cleaning or washing. For windows that may not be great with suction cups, you can also use a window bird feeder hanger or a nail.
Pros
Can be mounted using the suction cup or hang into a nail
Easy to clean. Remove the parts easily
Has beautiful yellow flower-designed nectar ports
Space saver. Great for small window spaces
Cons
Nectar feeder are prone to leaking so assemble it securely after every cleaning or washing
Finding the best window feeders especially designed for hummingbirds is not easy. Hummers only feed on sweet nectars which are prone to ants. This kinds of feeder attached to the window near the kitchen or the ground means that there's more possibility of ants finding it. Make sure you keep the ant moat guard on all the time.
10. Aspects ASP155 Window Mount Bird Feeders
Aspects may not be the biggest player in the window bird feeder category but they can be on the lineup for the best designed feeders. Yes, I love the house bird design and the small seed tray offers smaller bird varieties that privacy during feeding time. It is perfect for small windows a few storeys up, or even on your office window.
The clear plastic design complements the glass window and even with the birds, you can hardly notice that it is there. I love that blue jays and songbirds look like they are floating on air while feasting on the seeds. It certainly is the best stick on window bird feeder.
Pros
It got three strong suction cups keeping it secure in place
The design is perfect for that unobstructed view of the bird and the sky
Perfect for small windows
Perch area for birds for comfortable feeding
Cons
Not advisable for large home windows
What is a better way than to see tiny colorful birds dropping by during the day at your workplace. They are not only pretty guests but reduce stress and anxiety as well. Aspects has certainly answered the call to create a smaller version of window bird feeder for smaller windows several storeys from the ground.
11. Sherwoodbase Window Hummingbird Feeder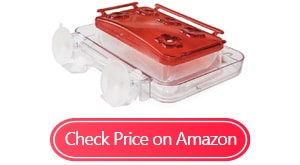 For hummer fans, there are two main enemies of the birds and bird watchers alike – ants and bees. While they are pretty insects too, they can be really annoying to birds and to the sweet nectar especially made for hummingbirds.
I love hummers. Their green, gold, and sometimes a combination of some rainbow hues are enough to keep me and my family entertained. Even my cat stays on the other side of the glass window watching the birds hop from side to side this cuboid clear window bird feeder by Sherwoordbase.
I like the "insect-proof" assurance of the design. The ant moat feature reduces my worry of a spoiled nectar after the ants are done with it. It's smaller size and cuboid design even allows it to be an inside window bird feeder. Simply remove and attach from the inside if you are keeping one or two of the colorful hummers as pets. Of course, you need to provide your indoor birds with their own cage too.
During feeding, the hummers can have a choice of five ports. Socialising is made easier because of the flower-designed ports. I also like the red cover that easily attracts the flying hummers to the feeder too!
Pros
Has sturdy perch for comfortable feeding
Easy to clean and fill
Attract hummers easily
Design is perfect for small or medium size windows
Cons
Only has two suction cups. May not be enough to hold the weight of the nectar and birds. Support it by putting on a window ledge
Every birder wants two things: beautiful design and birds to come to it. And birds are attracted to stronger colors red, yellow, green and orange. Having a red cup or cover surely fulfills the second need. Sherwoodbase made a truly fine window bird feeder.
12. Kettle Moraine Window Mount Bird Feeders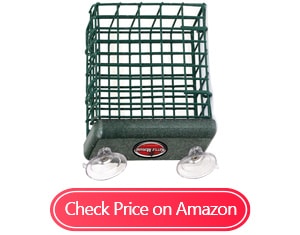 Love some hairy, some red-bellied, some downy birds? Here's a chance to actually attract all of them in your backyard, if you don't have one, your window.
I live in a not-so-tall apartment building. While I have a good view from my window, I do not have a garden to enjoy flowers, bees and birds. But Kettle Moraine got an answer to this lack of space – a window bird feeder that can hold enough suet cake for my woodpeckers and chickadees. If I get lucky I might see some starlings flying by for a snack.
I love that like the hanging version, this suet cake window bird feeder is simple enough and easy to mount. It is equipped with two strong suction cups that hold the feeder, the suet and the perching birds later.
If there's one thing that is probably the downside of this Kettle Moraine design is that it can only hold one suet cake, which means more frequent refill for me.
Pros
Strong suction cups to hold the small suet window feeder
Easy to maintain. It does not require lots of cleaning
Easy to fill. Simply open the top lock and replace the suet cake
Strong vinyl coated wire mesh
Cons
Can only hold one suet cake
For smaller windows, this Kettle Moraine window bird feeder is your best choice so far. It occupies just less than 3 inch with and 6 inch height of your window. You can have all the fun of watching the birds without the hassle of blocking your window view.
13. Roamwild Arch Window Wild Bird Feeders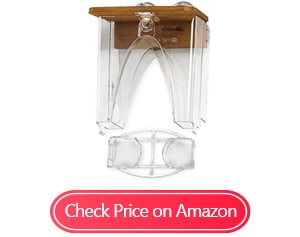 Sometimes, I get crazy about design. After all, the window bird feeder is something I wake up to a smile in the morning or want to look at when I am trying to relax after a stressful day at work, or wake up to a smile in the morning. So Roamwild is definitely in. Their elegant design, wooden roof, arch type clear seed container and the controlled seed dispenser makes this window bird feeder the best in design in the bird feeder market.
First, I am in love with the arch. The space below the arch is perfect for the birds to socialise with another bird while feeding – always a beautiful view. The seed dispenser is a great feature too. It has a systemic control of how much seed the bottom seed tray can accommodate, which also keeps it dry. Filling it is also made easy by the wide mouth protected by the beautiful wooden roof lid. I like the country feel that this feeder gives.
Roamwild definitely got both features right: basic design and basic function. The only thing that is off putting about this window feeder will probably be when the birds are a little bigger than usual. The arch isn't tall enough to accommodate a sparrow but just enough to have songbirds around.
Pros
Beautiful, country inspired window feeder
Strong suction cups
Controlled seed dispenser
Easy to clean and fill
Ultimately, investing in a window feeder depends on the kinds of birds that visit you. Know them well and if they are small enough, this feeder is possibly the one you want to look at everytime you wish to have that best bird watching experience.
14. AmazonBasics Window Suction Bird Feeders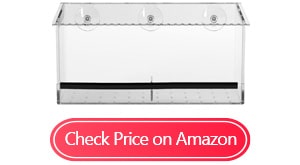 The aesthetic of a window bird feeder is not intended for the birds but for the bird watcher who wishes to see something nice whenever you look out the window. This is the strength of this amazon basic window suction bird feeder. It is both basic yet functional – most important, so far.
Several of the many functional features of this feeder are the strong suction cups, the acrylic plastic and the non-slip perch rod. I love the simplicity and the unobstructed view of the birds from my window.
I certainly like that it carries all features of a basic window bird feeder with one way mirror for that bird watching satisfaction. At the end of the day, it is the birds that matter.
Pros
Easy to clean and fill
Strong suction cups and extra cups
Basic design yet works well to attract birds
Non-slip rubber rod to for perching
Cons
Size makes it a bit heavy so there's fear of falling when all weight are in
AmazonBasics did a great job creating this basic window feeder with strong suction cups. Bird watchers in areas with usually large feathery guests should consider putting this up in their large living room window and enjoy them during feeding sessions. You can also mixed seeds for fun of having multiple birds at once.
15. Wild Birds of Joy Window Bird Feeders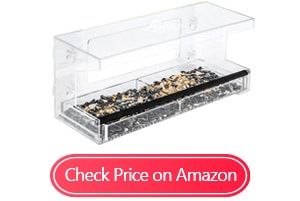 Large birds like blue jays, some finches and sparrows usually get attracted by two things: location and the types of seeds. Some of them love nuts and safflower seeds and also once in a while suet acke. It is always nice to experiment mixing seeds in a large seed tray and enjoy the variety of birds that come for a visit.
I like the simple and rectangular design with a large seed tray. It reduces time for filling as well as cleaning. Once placed in the middle of the window, it blends perfectly into the clean glass. View is never better through the transparent weatherproof acrylic plastic.
The more balanced four suction cups, on all sides, keep the window feeder safe in place and for a long time.
Pros
Big seed tray for mixed seeds
Easy cleaning and filling
Perfect for any window shapes
Large sliding seed tray
Cons
Flat surface is squirrel prone
Sadly, having a window bird feeder has its benefits and disadvantages.As the name indicates, this window bird feeder by Wild Bird of Joy is going to be a real treat for my wild friends.
What is The Perfect Window Bird Feeder for You?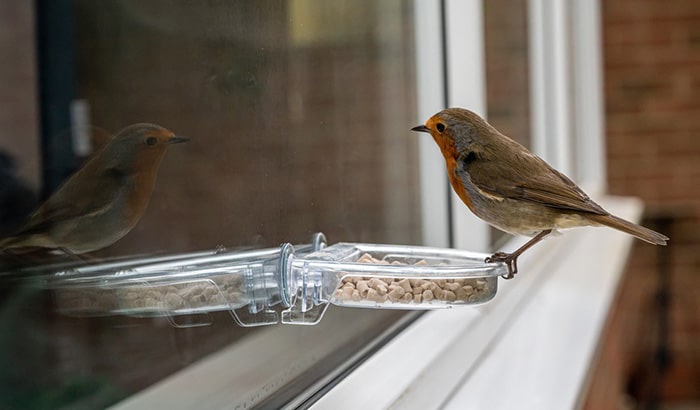 Choosing a best window bird feeder can be a bit complicated. No, confusing with the many designs and brands available in the market. One of my favorites is the Nature Gear brand. Their classic house window bird feeder is one to invest in for aesthetics and functionality. The acrylic plastic used for the entire feeder is also weatherproof. It is also highly recommended by previous users.
Another product I really love in my garden is Nature's Hangout large birdhouse window feeder. It is perfect for double paneled glass windows as it can accommodate a few couples of birds all at once. Its seed tray can accommodate a variety of seeds such as sunflower, nuts, and few mealworms if necessary. The classic design also adds up to the extravagance of this design.
So, personally, I think that Nature's Hangout and Nature's Gear are doing really good in terms of coming out with the most trustworthy window bird feeder.
How does It Work?
Window bird feeders are slightly a bit different from other types of bird feeders. Hanging bird feeders generally require one thing, a hook to hang the feeder on. This can either be a feeder pole or a tree branch. Also, they are not placed as close to the house as window feeders.
So for bird watchers who have no vast garden to attract birds can simply put up one window bird feeder in their glass window pane. Most window bird feeders do not need complicated installation as each product comes with strong suction cups that easily hold the weight of the acrylic plastic feeder, the mixed seeds and the birds. Simply attach the suction cup on a clean glass surface, latch the rest of the window feeder, fill the tray and wait for the finches, cardinals and songbirds from inside the comfort of your home.
What are The Different Types of Window Bird Feeders?
There are few varieties of window bird feeders bird watchers can choose from. Generally, there are two things to consider when it comes to bird feeders: type and design.
Two main types of window bird feeders are: attached to the window using suction cups and placed inside a windowsill. The choice of which window bird feeder a bird watcher can choose depends on the space given. Small windows should use the windowsill type.
Meanwhile, design varies too. Two of the most common are: square window feeders with sliding tray and bird house designed window feeder. Both have wide roofs that protect the seeds and the birds from the rain.
One of the favorites is the Nature's Gear bird house window feeder design. It has a large space for a few colorful birds to come feed at once. The seed tray also has a sliding feature making it easy for cleaning and filling.
Why do You Need a Window Bird Feeder?
Like garden bird feeders, window bird feeders offer the same purposes: to provide a space for the colorful flying friends to feed comfortably, and an excellent way to watch the birds up close and personal as the window feeder is usually made of transparent plastic allowing a clear view from the living room or the kitchen.
Most bird watchers who are in the following conditions should get a window bird feeder:
If you live in an apartment without a garden
If you have a small viewing window
If you want to watch the birds at the comfort of your own home
If you have limited access to outdoors, forest area, or a yard
If you wish to attract different kinds of birds
Factors to Consider When Buying a Window Bird Feeder
Like any investment, it is important to check the product quality before clicking the purchase button or swiping your credit card at a store. As a guide in buying a window bird feeder, here are important tips:
The type is suitable for your window. Choose window feeders that can be easily latched to your window sill.
The design is beneficial to the birds. Some window feeders have larger space for perching and feeding
Protection. Window feeders with extended roof will protect the seeds and the birds better than without.
Quality of plastic material. Acrylic plastic is better than ordinary ones as they crack easily when exposed to the sun for a long time.
The suction cups are strong enough to last the wear and tear especially if you want to keep the feeder on your window all year round.
Product money back guarantee. You'll never go wrong with this one. It is always worth the peace of mind just in case you change your mind or your feeder does not function as it should be.
Care and Maintenance
Caring for your window bird feeder is pretty simple and straightforward. It requires thorough washing at least once every two weeks or when molds begin to form. Also, there are few reasons that calls for an alarm and require quick cleaning such as:
If you noticed molds turning green or gray
If you noticed birds getting weaker or sick
If the water in the seed slide tray does not drain properly
When these conditions occur, wash and sanitise the window bird feeder right away. The easiest way to do this is to use one part of the bleach solution mixed with ten parts of water as dish washing.
Frequently Asked Questions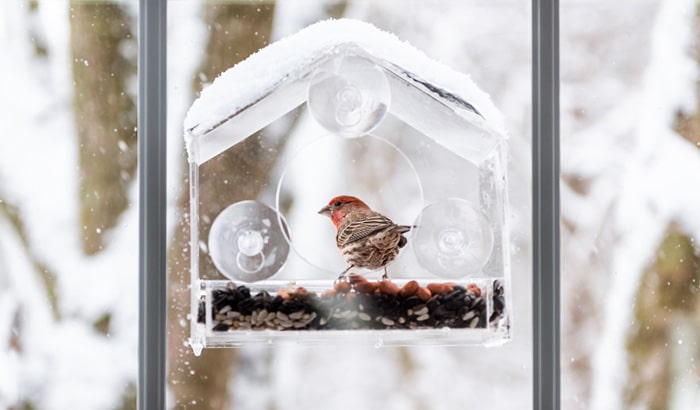 What are The Most Trusted Window Bird Feeder Brands?
Considering the two types of window bird feeders, I believe that Nature Gear for feeders with seed tray and Juegoal for hummingbird window feeders. They both have beautiful design, which means they are good for the window with or without the birds and they function as they should – attract the birds to your window during feeding time. Most, if not all of their products are made of strong acrylic transparent plastic that are weatherproof and lightweight. Birds love them and I do too.
Are Window Bird Feeders Any Good?
Depending on your locations, you need to decide whether to get a window bird feeder or stick to the traditional garden bird feeders. The number of bird visitors as well as frequency of visits are deciding factors before making a decision on what feeder you should get.
When it comes to quality, hanging bird feeders usually have supporting plastic or steel components, making them more sturdy and last longer.
Window bird feeders on the other hand require a lighter material so suction cups can support or carry. If you live in an apartment with no available space for gardening, this window bird feeder is your best choice.
How do You Attach a Bird Feeder to a Window?
Mounting a window bird feeder to your glass window is no rocket science. Here are few things to consider when stick on window bird feeder for the first time.
Assemble the window bird feeder if it requires. Check the instruction printed on the box or an assembly card. Many window bird feeders being sold on lowe's, walmart or even amazon come with instruction booklets, if not already assembled and ready to mount.
Consider that the larger the bird feeder, the bigger suction cups you need. It should be able to support the weight of the feeder, the seeds and the birds.
Lightly wet the suction cup and attach it to the body of the window bird feeder.
Once assembled, place the window bird feeder at the center of your glass window. Make sure it is away from the ledge to avoid squirrels or ants.
You can choose to hang it by the window sill but not too near the ground.
Simply mount the entire feeder with the suction cups.
Wait for the birds. Enjoy!
How do You Keep Squirrels Out of Window Bird Feeders?
Whether you are still thinking about it or already have one window bird feeder in place, detering the squirrels away should be a priority. Squirrels are excellent seed stealers and can eat up all the precious seeds faster than any 10 birds can, and you don't want that.
Here's top three (3) tips to make sure your window bird feeder is out of the squirrel's radar.
Placement: Make sure that you mount your window bird feeder in the middle of the glass panel. You will still enjoy the squirrel's frustration after every sliding from the glass after every unsuccessful attempt to reach the seed tray.
Cleanliness: Molds, smell, and even the aroma of the mixed seeds attract predators like squirrels. Clean and sanitise the area to deter squirrels from coming. Doing so will also make sure your feathery friends are healthy.
Kinds of Seeds: The kind of seeds you put in your tray deter or invite a squrrel party. Some of the seeds you might consider putting if your area is infested with squirrels are safflower seeds, canola seeds or nyjer seeds. You still get beautiful finches, cardinals, doves and woodpeckers.
Some of the most drastic measure will be spraying the feeder and surrounding area with critter spray, dabbing oil to your glass window and putting is as far from the ledge or window post as possible.
Why Won't Birds Come to My Window Feeder?
Attracting a bird is no coincidence. Providing the right tool such as the window feeder type, seeds as bait and location are essential in making sure you attract the best birds flying in your neighborhood. Definitely, smaller window bird feeders will not accommodate larger birds so know which types of birds comes around during a particular season.
If you are in the northern area, finches and hummingbirds might be on their migration route during spring while cardinals, woodpeckers and sparrows might visit in more frequency during the colder months.
Here are three (3) possible reasons why birds aren't coming to your window feeder:
Location: Can the birds see the window feeder while they are up in the air, and flying by? Before mounting your window feeder, observe which side do birds normally fly. The west side or east side of the window? If they see it, they might actually discover the existence of your window bird feeder.
Size: Bigger birds such as sparrows may get frustrated to discover that your feeder is too small for comfortable feeding. Again, know your birds and get the right window feeder for them to keep coming back.
Unprotected Feeder: Birds know when a feeder was attacked by squirrels or bees using the scent they left behind. Spoiled, dirty and contaminated seeds affect the birds overall health. Make sure you protect your feeder from predators to avoid discouraging your favorite birds to come. Sanitising the feeder regularly will also help attract birds to your feeder.
Other birding and feeding mistakes that may occur include wrong seeds, keeping the window bird feeder seed tray empty for too long and filthy feeders are a no-no to the birds. They can survive foraging food in the wild so they may ignore your window bird feeder altogether. To avoid this, make sure to exert some effort to know your birds and what they need.
How to Hang a Bird Feeder Outside a Window?
As compared to the traditional bird feeders, hanging a window feeder is easy. You simply need three things: a clear glass window, suction cups and the window bird feeder.
Here's the easy steps:
Thoroughly clean the glass window with your usual glass cleaner. Disinfecting it is also a good idea as birds can be a little sensitive to filth and mold.
Assemble the parts of the window bird feeder if it is necessary. Some window bird feeder designs are ready for mounting.
Lightly wet the suction cups for tighter grip and place the suction cups along with the bird feeder at the center of your glass window
Wait for the birds to discover your new window bird feeder
More than the hanging or mounting of a window bird feeder, you need to consider the size of your window vis-a-vis the size of the bird feeder. The perfect size gives you the perfect birds and the perfect unobstructed view of their feeding and socialising activities.
Where is The Best Place to Buy a Window Bird Feeder?
One of the fun of birding is finding the perfect window bird feeder. It is usually an easy task peppered with fun discoveries of the many styles and kinds. Of course, bringing home the best one is the goal each time you go on a shopping spree.
Depending on where you are currently located, Walmart is probably the most convenient shopping place you can visit to find the best choices. This giant wholesale chain might even give you the extra fun with their regular discounts and promotions. Similarly, Lowe's also have a whole aisle of bird products including seeds and bird accessories.
However, if you live a bit far from either, consider the convenience of Amazon shopping, which I can personally recommend. Online shopping allows you to browse through hundreds of the same product and read reviews before clicking on that purchase button. One final tip about online shopping, make sure you read the terms of conditions for returns and refund.
How to Make Your Own Window Bird Feeder?
If you can't find a suitable feeder or do not have access to a shop selling window bird feeder, then a little Do-It-Yourself (DIY) is also a good idea. Go for a quick trip to the local hardware store and get a few materials. It is also possible that materials at home such as big plastic coca-cola bottles or a half gallon milk jug/carton will work.
Here's an easy DIY made out of milk carton box so you can start feeding the birds while waiting for a chance to get plastic feeders.
Step 1: Clean the carton box well;
Step 2: To make it transparent through the window glass, cut out a rectangle shape on both sides;
Step 3: Leave enough room for seeds;
Step 4: Attached the two suction cups on each end of the side that goes to the window;
Step 5: Fill the bottom area with enough seeds. Take note of how much the suction can support;
Step 6: This can be optional but you can paint or decorate the box exterior;
Step 7: Attach it to your window;
Step 8: Enjoy watching the birds.
Conclusion
Whether you are planning on being creative or being practical, it is important to consider the needs of your expected bird guests. Some of the best window birds consider three things: design, plastic quality and functionality.
Depending on the types of birds in your area, window bird feeders with sliding seed tray, nectar container or suet cake holder caters to different bird varieties. Before purchasing, learn the basic – types and frequency of birds flying by your location.