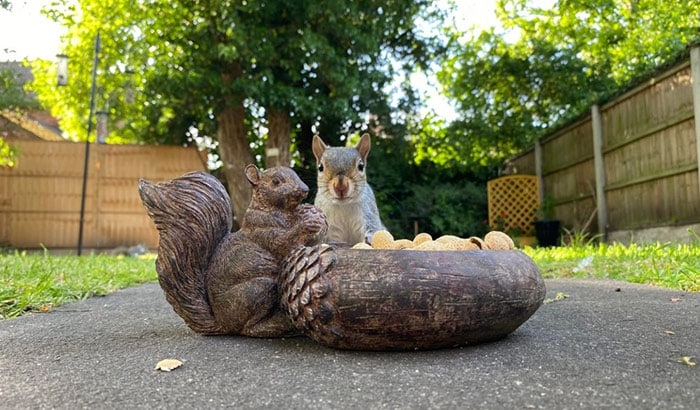 Squirrels can be lovely or dreadful creatures, depending on who's looking. For bird lovers, squirrels can be seen as villains, especially if they regularly raid the feeders and leave them completely trashed. But for pure nature lovers, these lovely furballs certainly deserve to get a tasty snack besides garbage. If you are a pure squirrel lover, you certainly need to get the best squirrel feeder for them.
However, choosing a squirrel feeders is no ordinary feat, especially for a complete beginner. Even the experienced hobbyists can get it wrong sometimes. You need to consider so many things before deciding to pay for it and ultimately install a squirrel feeder in your yard or property. If you want to learn more about these squirrel feeders, we have compiled a good list of products for your consideration.
Best Squirrel Feeder Reviews
1. Pennington Cedar Squirrel Snacker Feeders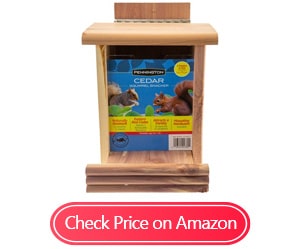 Feeding squirrels is not easy. Once they get a taste of your delicious snack, they will always come back for more. This is the reason why you need to provide a squirrel group a safe space where they can munch on your preferred treat without making a huge mess afterward. If you want a good wooden squirrel feeder, this one from Pennington is worth including on your shopping list.
I like this squirrel feeder for many reasons. First, it is easy to use. All I need to do is lift the top portion which also serves as cover and platform, fill the reservoir with squirrel feeder food, cover it, and watch the squirrels munch on it. Even a kid can accomplish this without breaking a sweat!
Another fun fact about this product is its ease of installation. I was able to place this squirrel feeder on a tree without using any special power tool. Just the old hammer and nail trick were able to install it. I don't really understand why some feeders have to be so complicated. But with a simple design at hand, even kids would be able to enjoy installing this.
Next is its durability. This feeder is certainly built to last, and I wouldn't want it any other way. It can withstand natural elements such as rain, snow, dust, and sunlight. Not even the insects can bring this feeder down. The cedarwood and the transparent acrylic divider on the other hand complement each other, which makes the design of the feeder truly captivating. I am confident that this squirrel feeder could easily make any garden more beautiful.
My only disappointment with this Pennington squirrel feeder is the durability of the acrylic front. I was surprised to see that the squirrels were able to gnaw some parts of it when they got too excited. Only three days have passed since this incident happened. I expected it to last for at least a week or two.
Pros
Cedarwood is weather-resistant and insect-proof
Contains up to 2.75 pounds of seed
Easy to use
Easy to install
Easy to clean
Cons
The acrylic divider is soft
After considering all of the important features of this product, I can say that this squirrel feeder from Pennington is worth every penny. It is durable, weather and insect-proof, and most importantly, very fun to have in your garden or property. Also, this squirrel feeder can help you drive these furry raiders away from your bird feeder.
2. Archie McPhee Accoutrements LLC Squirrel Feeders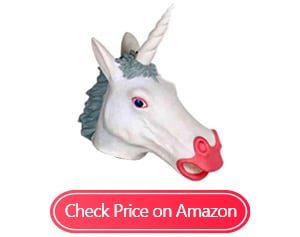 Squirrels can be destructive, depending on how you treat them. Seeing their destructive behavior especially inside a property can be stressful for some people. This is the reason why they drive squirrels away from their property. But who says that you can't have fun with these furry little animals? If you are tired of being stressed with the presence of squirrels in your area, you can have fun with them instead with this entertaining squirrel feeder by Archie McPhee.
Since I bought this little squirrel feeder, it has become nothing but a pure source of fun and entertainment for my family. After hanging it on a branch of a maple tree, squirrels have been constantly eating there. My and the neighbor's young children would watch the squirrel do their crazy antics just to have their share of the seeds inside. Even grown-ups would burst into laughter watching these furry creatures stumble and fall while wearing a unicorn head.
The best thing about this particular feeder is its resistance to weather elements. I can leave it hanging under the sun, or let the rain or snow drench it. The paint won't fade easily. The seed chamber, on the other hand, stores the seeds properly. All I have to do is remove the unicorn horn, fill the seed chamber, put the horn back, sit back, relax, and let the squirrels do the comedy.
The only downside that I consider is the fact that it can be easily chewed on. As I have learned, hungry squirrels will eat anything, including plastic. Once the supply of seeds on the feeder has been depleted, other squirrels hurried to get their share. But instead of seeds, they munched on the outer portion of the feeder. This is truly a heartbreaking experience for me.
Pros
Easy to install
Non-toxic
Fade-resistant
Weatherproof
After discussing all of the important features of this product, I can say that it is worth having it on your property. It is durable, fade-resistant, weather-proof, and non-toxic. If you are looking for fun squirrel feeders that will help you drive them away from your bird feeders, make sure that this one is included on your shopping list!
3. The Squirrel Store Picnic Table Squirrel Feeders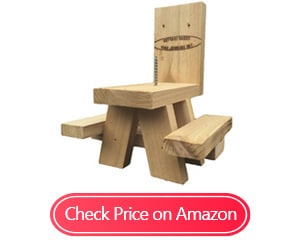 If you are stuck in quarantine and you have nothing to do, one of the things that you can do to pass time is to watch animals in your yard or garden. Squirrels may be irksome most of the time, but they can be fun to watch if you can make them stay in one place. Fortunately, this squirrel feeder from the Squirrel Shop Store will provide you with endless entertainment right in your backyard.
The first thing that impressed me is the design. It is very simple and looks very much like a picnic table. The fact that I didn't need to assemble it is a positive thing for me. I had the choice of letting it stand on the ground or nail it to a tree. I chose to do the latter because I don't want to find the feeder every time I want to reload a corn cob on top of it.
Speaking of which, refilling it is a piece of cake. It takes a whole corn cob to supply the squirrels and chipmunks with their snack. There is a pointy metal in the middle of the platform where the corn cob is supposed to stand. It doesn't take me a full minute to accomplish it. After doing it, all I need to do is to watch the squirrels eat from afar.
I like the fact that this feeder is made to withstand outdoor conditions such as sunlight, rain, and snow. It is also insect-proof, which is considered a money-saving feature for any hobbyist. I am confident that while the squirrels won't damage this feeder, the natural elements won't make a dent in this product as well.
Finally, I like the fact that this feeder is 100% made in the United States. This is very beneficial because if I want to order another one online, I can expect the product to arrive on my doorstep within 2 to 3 days only.
My biggest concern about this feeder is that the actual feeder that I received was not the one depicted in the photo. Larger squirrels and raccoons can easily overwhelm this feeder. I had to measure it just to make sure that I got the right one. Sadly, it really is the one mentioned in the product description.
Pros
Easy to set up
Durable
Weatherproof
Insect-proof
100% made in the USA
Cons
Smaller than it looks in the pictures
All things considered, I think that the Picnic Table Squirrel Feeder by The Squirrel Shop Store is a fantastic item to have. It is easy to install, easy to use, and durable. If you are looking for a way to ease your quarantine boredom, this feeder will surely give you the entertainment that you need!
4. Gifts & Decor Woodland Squirrel Outdoor Feeders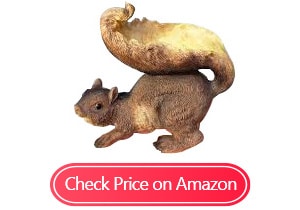 If you are getting tired of the traditional and straightforward design of squirrel feeders, you certainly need one that is not only aesthetically pleasing but also highly functional. Luckily, this particular product from Gifts & Decor is more than just a feeder; it is an eye-catching decoration as well.
I like the way this feeder was designed. It doesn't need to be fixed or installed on a tree or a fence. I just have to leave it on the ground and let the squirrels, chipmunks, raccoons, and other small animals find it and enjoy the snack. Even children can use this feeder. All I need to do is to fill the seed tray located on the tail.
In terms of design, I have to give it to the manufacturers. The likeness of the feeder to the real squirrel is uncanny. There are moments where I mistake it with the real squirrel when I'm refilling the seeds. Even children can easily make the same mistake!
Meanwhile, I know that the squirrels are happy about the feeder because it properly holds the seeds. The polyresin material is durable; it can withstand abuse from these furry creatures and other small animals in the area.
My only problem with this unique squirrel feeder is the fact that it is not stable. I wish that there are spikes or adhesive on the bottom portion that would prevent the feeder from being toppled down once the squirrels flock to it. I hate the fact that I have to bring it back to standing position after the squirrels are one with it.
Pros
Durable
Aesthetically-pleasing
Compact
Non-toxic
Easy to use
In a nutshell, I have enjoyed using this feeder in my backyard. It is durable, non-toxic, easy to use, and most of all — aesthetically-pleasing. Children love to see it, especially when it's the squirrel's feeding time. If you want a simple yet elegant feeder for the squirrels in your area, this realistic squirrel feeder is the perfect one for you.
5. Heritage Farms 75590 Woodlink Squirrel Diner Feeders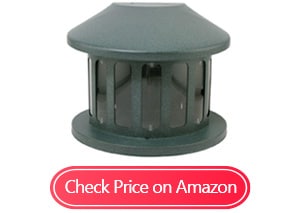 Our neighborhood squirrels won't leave my bird feeder alone so I've set up a separate feeder for them. Unfortunately, a strong wind storm hit our area, and I had to replace them. Two days later, I received these metal Woodlink squirrel feeders.
I have had these squirrel feeders for quite some time now, and I have no regrets. It is well-made steel and powder coated in green. Rains had come, and there were no signs of rusting or chipping at all. It would last longer, and I don't need to worry about the Holiday weather because of its durable design. Plus, the squirrels can't chew on it. I also like that water doesn't get inside that makes the nuts completely dry. The construction makes it inaccessible for birds too.
Aside from exceptional durability, this product is low maintenance and very easy to use. It has a large capacity that can carry around 4lbs of nuts or corn. Also, it features a quick-release roof that the smart squirrels figured out after a few tries. By lifting the roof, cleaning and refilling were easy-peasy. Refills only happen twice a month since we only have two bushy-tailed friends swinging by. It came fully assembled, so you only need to mount it using the hardware on a deck, tree, or post. Convenient, right!
The only downside is the base. It is a tad small for a squirrel to stand so you need to put the feeder on a table or make a ledge so they can feast on the banquet. Once the other squirrels flock on it, the feeder starts to go down.
Pros
Has a strong metal construction
Easy to clean and mount
Can't be chewed by squirrels
Holds 4 lbs of food
Overall, this Woodlink squirrel diner feeder has won me over and a big money saver for your wallet. It's nice to see both the squirrels and my backyard birds eat in peace in their rightful places. If you are looking for a metal squirrel feeder, this wonderful product highly deserves a spot on your shopping list.
6. Woodlink 5560 Squirrel-Go-Round Squirrel Feeders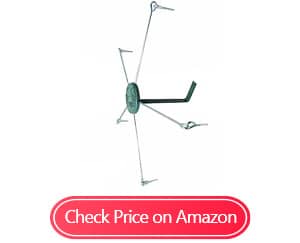 I agree, squirrels are amusing and fun to watch. However, they are hard to repel and often cost me bird feeds more. The current feeding station does not attract these agile creatures anymore, so I purchased Woodlink squirrel go round which is a very entertaining squirrel feeder.
Oh, boy! I forgot how these critters are natural acrobats! I had fun watching them ride and spin upside down on the cob holder. It looks like a Ferris wheel of some sort and was durably constructed with cast aluminum. Squirrels come and go round and round without damaging the arms. Not only that but, the threaded metal skewers hold a total of five ears of corn pretty well. I think it will last for a while compared to the old wooden feeder.
If you have a large number of squirrels to feed but on a limited budget, you may want to consider this amazing feeder. In addition to saving extra, it only requires a little cleaning and you don't need to restock so often. Assembly, installation, and loading up on food were fairly easy. It also comes with mounting hardware so you can place it on a deck, a tree, or a post where squirrels can stand away from your bird feeder.
Squirrels need to exert more effort to feed on this wheel turning apparatus. The difficulty poses a little disadvantage. It may be discouraging to some yet the young and hungry ones seem to take on the challenge.
Pros
Made of sturdy material
Features five ears of corn capacity
Easy to install and clean
Includes mounting hardware
Cons
May tend to be difficult for some squirrels to feed on
Nonetheless, it is worth the laughs and backyard fun. Most importantly, it keeps them well-fed. If you have little squirrels in your backyard and want to keep them off from the bird feeder and your house, this one will surely do more than a magnificent job.
7. Accoutrements Horse Head Squirrel Feeders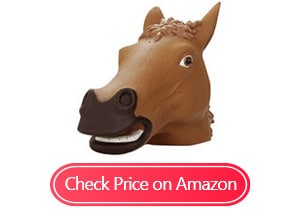 Buying bird feeders is a fascinating hobby and can be challenging because of unwanted visitors. Sometimes, squirrels, chipmunks, and raccoons dominate my bird feeders and scare the poor birds away. My fellow birdwatchers have the same problem with their naughty gang of furry thieves. The good news is, I found a funny way to stop them from stealing and competing for food.
I was a little skeptical at first, and after seeing two little squirrels foraging for food in the horse mask, I knew I made the right choice. Watching them go nuts over the feeder was pretty funny. We laughed so hard, and it became an instant hit for the kids. The head is hollow inside, and you can put a variety of nuts and seeds to attract them. I love how it effectively keeps them engrossed and distant from the bird feeder.
This horse head squirrel feeder is vinyl plastic, very durable, and can withstand heat and rain. I like that it is lightweight, and adding peanuts in the shell did not weigh down the feeder. It adds interest in the yard and will make a great gag gift to your friends and family. Hands down to this brand for providing the power of fun that everyone needs to cure the pandemic blues.
The only drawback is it did not come with a rope or a bungee cord to hang the feeder up. Unlike bird feeders that come with a complete set of hangers, this one is totally lacking. I used a sturdy wire instead of a cord to prevent the squirrels from knocking the feeder off the ground. Secure it with the right tools to keep it in place and convenient for them.
Pros
Creative and funny
Durable and lightweight
Adds attraction in any yard
Non-toxic
Nonetheless, now that these fluffy creatures have their own space and source of food, my backyard birds are back in business. If you or anyone you know is looking for a funny and unique squirrel feeder, this is your best shot. The entertainment value is one of a kind.
8. Stokes Select Lunch Box Squirrel Feeders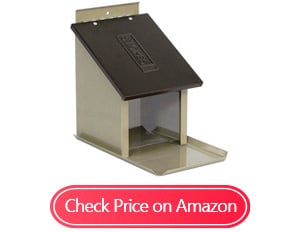 Squirrels always go round the yard since I started installing bird feeders. I have taken numerous ways to deter them harmlessly, and they can still sneak their way right into the feeders. I managed to lure them from my feathered visitors through a high-quality feeder from Stokes Select.
I love the simple yet functional design. I like how it keeps the grains and nuts dry. These geniuses have figured out how to lift the lid and get the goodies inside in no time. The edge of the platform is also wide enough for them to perch and nibble the nuts. It would be hard to make their way on the sturdy metal roof. Also, it is powder-coated, and there are no signs of damage or chipping. The weather-proof construction is ideal since wintertime is just around the corner.
Installation was relatively simple. I had it mounted on our oak tree, far from the bird and water feeders. Cleaning and refilling was a piece of cake since you can see through the window. It can also hold a variety of food, about 4.1 lbs of nuts or seeds. I highly appreciate the company's passion for protecting the birds and conserve its habitat by using a portion of the proceeds. You can never go wrong with Stokes Select lunch box top-rated products and their concern to create change.
I think the fittings and the plastic window can be improved or modified to prevent the food from spilling on the ledge. These gnawing rodents can chew on anything, and the front plastic is no exception.
Pros
Made of weather-proof material
Sturdy and can't be gnawed on easily
The lid is easy to lift
Can be installed quickly
Cons
The plastic window can be pulled up and chewed
Despite this minor setback, this lunch box remains my top choice to feed the squirrel in my backyard. It is durable, has a great design, and makes feeding squirrels simple and fun. If you are having trouble with squirrels raiding your bird feeders, this is a great and safe solution to have their source of food.
9. Merhoff & Larkin Squirrel Chipmunk Feeders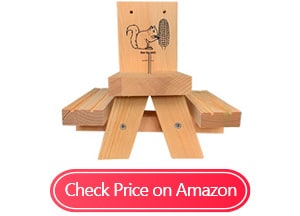 Have you ever imagined a family of squirrels having a picnic together? I didn't think it was possible until I saw a wooden squirrel feeder designed with a table and bench. Curious about this little picnic table, I purchased a couple from Merhoff & Larkin.
I enjoy seeing these critters playing in the backyard. On the other hand, I don't want them to sneak up on the bird feeders. Before the problem occurred, I immediately set up this feeder. Installation was a breeze because it already had pre-drilled holes in the back plus two wood screws. There are two stainless screws on the leg for increased durability. I only used a Phillips screwdriver, put on the corn cobs, and it was all set.
This feeder is made of durable pinewood and ages well in the outdoors. It has a nice, smooth finish and is thick enough to last all year round. I also find the dimensions proportion and can accommodate a couple of adult squirrels at the same time. They are all over it! They sometimes compete for a seat on the table. That was pure entertainment, and they rarely pay attention to the bird feeders these days.
If I could change one part, it would be the built-in screw situated on the table. One time, a massive squirrel was able to rip off the cob and run away with it. It did not lock the cob in place, or maybe the squirrels are just smart enough to do the trick.
Pros
Made of durable pine wood
Creative and cute design
Can be mounted quickly
Ideal gift to squirrel lovers
Easy to clean and maintain
Cons
The table screw has a weak clutch
Overall, I am satisfied with this great looking feeder. It is easy to use, inexpensive, and serves its purpose well. It would also work as a raccoon or a chipmunk feeder. Cleaning can be done easily, therefore it would last a long time in your possession. It is worth it, and you have nothing to lose. Plus, your bird feeders would be totally safe.
10. Heath Outdoor Products 903 Squirrel Feeders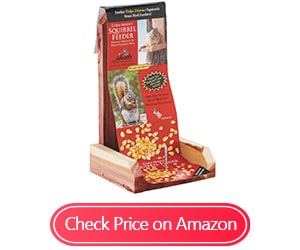 Attracting backyard birds also attracts unwanted visitors like squirrels. It is difficult to discourage these birdseed burglars using baffles and repellant. That summer, I purchased a cool squirrel feeder to stop them from looting the seeds.
This Heath Outdoor squirrel feeder has a pretty basic and straightforward design. The cedar wood has a smooth surface and looks sanded to prevent slivers. Also, the installation is not complicated at all. I just attached it to a tree or post far from the feeding poles and waited for squirrels to leap from the limb and feast.
Several months later, it remained sturdy and showed no signs of wear. Filling it up is effortless and also allows easy access for the squirrels to feed all summer long. When it comes to cleaning, it is relatively simple. Just wipe it after each refill. If you want to see a couple of squirrels at the same time, you can put mixed seeds or nuts on the ledge like what I did.
At such a little cost, we get to enjoy a view of nature by watching the birds and squirrels come and go from their food source. Moreover, the squirrels lost interest in the pole feeders, and watching them pulling the kernels off the cob is rib-tickling. I was pleasantly surprised to see some blue jays picking up the corn kernels dropped on the ground too.
My only concern with this feeder is the fact that it can only hold one corn cob at a time. It will surely not last a day if you have tons of squirrel friends around. You may need to keep an eye on it to refill and keep the squirrels occupied.
Pros
Simple and effective design
Weather-resistant
Made from cedar
Have pre-drilled holes for easy mounting
Cons
Can only hold one ear of corn
Nonetheless, this powder-coated feeder was incredibly functional and kept the rascals off the bird feeders. Getting this amazing feeder makes our yard a haven both for the birds and the squirrels. If you are struggling with squirrel raiding incidents, this one would be a great help.
11. Kaytee Corn Cob Holder Squirrel Feeders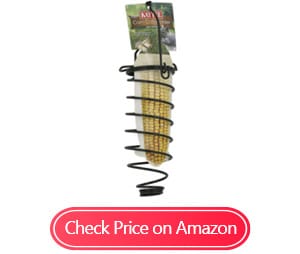 Squirrels' frequent visit to the bird feeders spoils the fun of birdwatching. Not only do they leave it empty, but it also decreases the bird activity. Eliminating squirrels on your property is almost impossible. If you want to drive squirrel groups away from your bird feeders, hanging squirrel feeders by Kaytee will do the trick.
I like how Kaytee cedar squirrel feeder can be challenging to these foragers. It kept them busy for long periods. They would need to climb and hang on it while noshing for the corn cobs. Unlike the previous cob holders I have used, this one is reliable and effective. I put them on the branches of an old oak tree in the front garden where they usually hide. It was entertaining to watch the squirrel go crazy while nibbling on the food upside down.
These squirrel feeders are made from metal and beautifully coated in black. I love that it is durable and resistant to rust and corrosion. More or less, it would last for a whole year if maintained properly. Also, it is well-built and can hold the squirrel's weight with no trouble. In addition to that, it is easy to use, easy to fill, and all sizes of dry corn cobs fit right in. Plus, they could not chew nor steal the whole cob because of the twisted caged design.
The only downside that I have observed with this product is the fact that it did not come with a hook or a hanger. I ended up buying Shepherd's hook to hang it under a branch of a tree that is a few yards away from the feeding post. A bungee with a hook is ideal if you want to see an acrobat show.
Pros
Easy to use and hang
Holds any size of corn cobs
Sturdy and well-built
Made of metal and long-lasting
Despite this minor flaw, these useful squirrel feeders did the trick to distract them and cut down their visit to the bird feeders. To prevent stealing, I think the best approach is to welcome and feed them something better for your feathered friends to return in no time.
12. Andwe Squirrels Coconut Bowl Feeders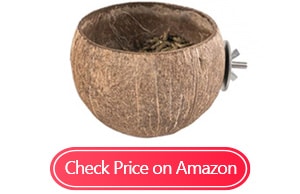 A cedar squirrel feeder DIY may sound easy and promising, right! Since I am not a skilled craftsman, and I don't have the tools, I decided to purchase a few online instead. I prefer a natural and sustainable feeder that can be used by the birds and other animals in our backyard.
Andwe squirrel feeder is a lifesaver! They happen to sell coconut feeding bowls that are not harmful to wildlife and the environment. Aside from that, it is more durable compared to cedar and other wooden squirrel feeders. They would last for a long time and undeniably worth purchasing. You can easily clean it with water and dry it under the sun. Maintenance is minimal, and filling it with food is hassle-free.
I love how versatile these earth-friendly squirrel feeders are. It is designed for the outdoors and can be a container for bird seeds, nuts, and corn cobs. You can sit back and watch the squirrels and birds have their treats. You can also use this to house plants like orchids, and it makes a beautiful hanging planter in any garden.
I strategically mounted the bowls 10 yards away from our deck where the bird feeders are. I had one set up on our fence and a couple on a tree trunk. We have a family of squirrels visiting this season, and I ended up using a robust wood screw to stabilize the feeder more.
The screw is quite disappointing. It was too short, and you need to use a heavy-duty screw to keep it permanent. If you plan to use it as a hummingbird feeder, I think the screw would hold well. However, it will fail to hold the weight of squirrels and chipmunks. Also, adult squirrels will not fit in these feeders. They need to sit on the edge and enjoy their treats.
Pros
Easy to install and mount
Made from coconut shell
Earth-friendly
Can be used to feed a variety of wildlife
Cons
The screw is too short
Not ideal for fully-grown critters
Nonetheless, this is the best option out there if you are looking for an eco-friendly wildlife feeder. And if quality matters to you, this is more valuable than others and at a low cost. What more can you ask for?
What is The Most Excellent Squirrel Feeder?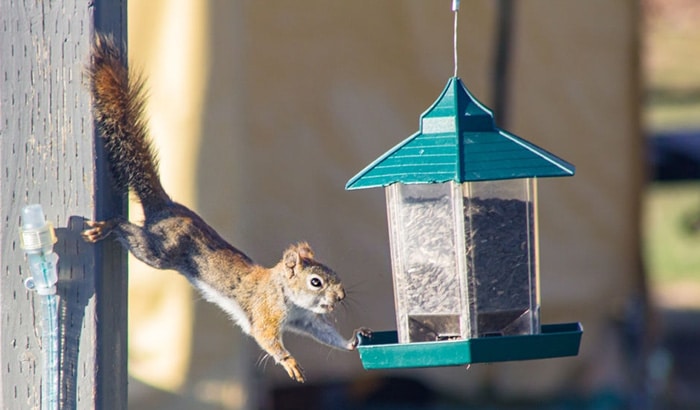 What you must remember is that there are different answers to that question. This is highly dependent on the area and the type of space that you have in your property.
If you live in a small space such as an apartment, the ideal feeder that you should have is the window squirrel feeder. Installing this feeder will permanently give the squirrels, chipmunks, raccoons, and other small animals access to the tasty treats that you are going to provide them.
If you have a considerable amount of space in your property like a garden, patio, or backyard, you should use hanging squirrel feeders. Because of the elegant design done by the manufacturers, a hanging squirrel feeder can easily become a part of your garden's decoration. It can add beauty to the existing decoration in your outdoor space especially if placed properly. Imagine this: if your visitors can see it from where they are, you can provide them with pure fun at that very moment!
Hanging feeders for squirrels can also provide fun for children. There are funny squirrel feeders in the market to give the youngsters the fun that they need especially during this stressful global pandemic situation. A hanging unicorn head with a squirrel inside will surely make the kids bursting with laughter all day long.
How does It Work?
Squirrel feeder products work by storing or placing food in the designated space. It may be a simple platform, dispenser, or a reservoir where the squirrels and other furry creatures can access it at any given time of the day.
If you are an avid birdwatcher, you need to get one of these squirrel feeders. This way, you can enjoy watching the birds in your area without the squirrels ruining the fun. If the squirrels have their own feeder or source of food, they won't come on the bird feeders and steal their food. Instead, they will go to their designated area and stay there as long there is food to eat.
Another function of the squirrel feeder is to help nature. Contrary to popular belief, squirrels do not eat all of the seeds on the tray. They usually bury most of them on the ground. The unrecovered seeds usually grow into plants which adds to the beauty of the environment.
What are The Different Types of Squirrel Feeders?
If you are a complete beginner in feeding squirrels, you might get confused with so many things in the market. Knowing a few things about this product before deciding to purchase one will save you not only money but time and effort as well.
Here are The Different Types of Squirrel Feeders that You Need to Know:
Window feeder
This is also known as mounted feeders. If you have a tree or post near your window and squirrels climb over, the best thing to do to keep them away is by installing a feeder near your window. You can also install it on the tree itself. You have to remember, though, that once you have refilled the tray or compartment with seeds, you need to shut the window to prevent the squirrel from going inside the room.
Hanging feeder
Hanging feeders are some of the top squirrel feeders that you can use on your property. This is because of its ability to alert you of their presence. Normally, it has a bell that would ring whenever a squirrel is dangling on the feeder.
Meanwhile, funny squirrel feeders are a special kind of feeder because of its sole purpose to entertain people. It is made of tough plastic material and has the appearance of a unicorn's or a plain horse's head. It is strategically placed in a location where people can easily see it. Squirrels, chipmunks, raccoons, and other small animals will put their upper body inside to access the seeds and other treats. The resulting scene will make anyone laugh
Ground Feeder
As the name suggests, it is a feeder that is conveniently placed on the ground, albeit with slight elevation. This provides squirrels easy access to the tasty treats that you are giving them.
Here are The Types of Squirrel Feeders Based on Usage:
Platform Feeder
Platform feeders have a tray on top with short sides which serves as the feeding area. This is the simplest form of squirrel feeders because the seeds are dispensed in an open portion of the feeder.
Tube Feeder
Tube squirrel feeder keeps the seeds or food inside a tube which has a special opening. Once the squirrels are done eating, the tube protects the remaining food against rain, snow, thus keeping it fresh. It even keeps the food safe against other unwelcome animals in the area.
Hopper Feeder
This kind of squirrel feeder has a special reservoir that keeps plenty of food inside. The seeds slide down in a measured manner, thus rationing the food properly.
Why do You Need a Squirrel Feeder?
If you are an avid bird watcher or just simply love peace and order in your property, investing in a good squirrel feeder can be a good stress reliever. People who live near areas where squirrels abound face problems with safely driving them away from the property.
Strategically Placing a Reliable Squirrel Feeder can Help You in So Many Ways:
It significantly lessens the frequency of their visit to your house. Chasing squirrels away can sometimes become a challenge. Squirrels go inside human dwellings mainly to find food and shelter. However, if there is food available for them outside your home, they will go there instead.
It prevents them from raiding the food stored inside the bird feeders. If the squirrels have their own food, they will rarely raid the bird feeders on your property. This is one of the most environment-friendly ways of driving away these furry bandits from disturbing what could be otherwise peaceful and meaningful birdwatching sessions.
It helps them get nutritious food during the winter season. Even squirrels need to eat during the winter months. However, if their natural habitat is being affected by human activities, their chances of finding good food decreases. If your house is located near the squirrels' habitat, you can help them get food during the winter. If they have food in their feeder, the chances of their survival will also increase.
It provides entertainment or stress reliever for the whole family. The pandemic has definitely limited our source of entertainment due to the fact that we cannot go out for a while. One of the best sources of entertainment will be a horse head squirrel feeder. Watch a squirrel go round and round as it tries to get the seed inside the horse head feeder. Not only is it hilarious but also a cost-effective way of unwinding during this stressful time of the global pandemic.
But if you are not satisfied with a commercial squirrel feeder, you can always make a squirrel feeder DIY. You can use available materials in your garage such as wood, empty plastic containers, and some nails, screws, and glue to make simple yet fully functional feeders. This way, you won't have to spend your money. DIY projects can also help you recycle items in your home that could otherwise be considered trash.
Factors to Consider When Buying a Finch Feeder
If you want to buy a squirrel feeder, you have to be very thorough before clicking the check out button. Some people are left disappointed with what they have bought simply because they have not given themselves enough time to understand each product on the list.
Here are some tips to help you get the right squirrel feeder if you have decided to purchase one from a squirrel shop:
Check the design. See if the squirrel feeder in your list of choices goes along with the existing decoration in your garden or yard. This way, it will not look awkward on your property. By doing so, you will be able to determine if the feeder will work in your possession at all times.
Test the durability. Many products are only as tough as the product description. But in reality, it only lasts for a couple of weeks. If you want to get the best quality squirrel feeder, test its durability before deciding to pay for it. See if the parts fall apart easily if touched lightly. Also, know if the nuts, bolts, and screws are complete before bringing the product home. It is also beneficial to see if the feeder is ultraviolet ray-proof and weather-proof. This way, you will determine if the product will last a long time in your property.
Ease of installation. There are some feeders for squirrels that are difficult to install because it involves parts and materials that need power tools. If this is the case, then it will involve a lot of effort and time just to set it up. If you want a hassle-free squirrel feeder, choose the ones that will not involve anything more than a hammer and nail. This way, you can spend your time doing something else.
Read customer reviews. Some performance issues are not included in the official product descriptions. By reading customer reviews, you will be able to determine some unique concerns once the product is in the possession of the customer. By knowing these things beforehand, you can make sure that you avoid getting a defective squirrel feeder, therefore saving your time and money in the process.
Doing these two things will let you pick a suitable squirrel feeder. Just remember, though, that it takes a long time to pick the perfect product that will look great on your property and divert the attention of the squirrels away from the bird feeders that you own and maintain.
Care and Maintenance
Squirrel feeders seldomly require care and maintenance. Once you have installed or placed the squirrel feeder, it won't need your attention anymore.
All you need to do is fill the seed container or platform, leave the feeder on a strategic location, and let the squirrels enjoy the food. If the container is empty, refill it and let the next batch of squirrels enjoy the tasty treat that you have prepared for them!
Frequently Asked Questions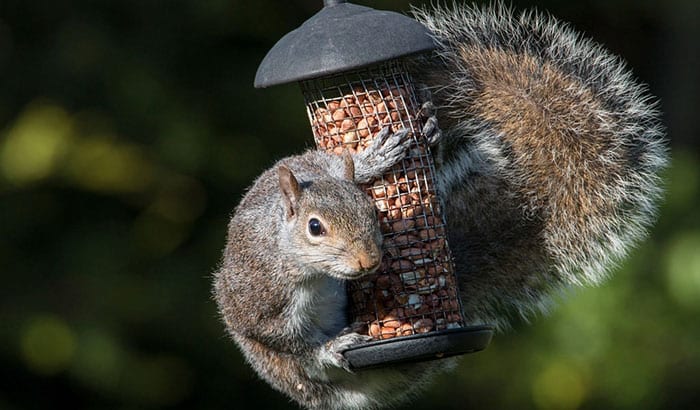 What are The Most Trusted Squirrel Feeder Brands?
Buying a squirrel feeder for the first time can be a hassle. If you don't put enough diligence into your shopping, you might end up getting an inferior product in your hand.
Here are squirrel feeders that you should include in your shopping list:
Pennington
Accoutrements Horse
The Squirrel Shop
Gifts & Decor
Heritage Farms
Woodlink
Stokes Select lunch box
Merhoff & Larkin
Heath Outdoor Products
Kaytee
Andwe
These brands of squirrels feeders have gained the trust and satisfaction of millions of customers across the United States. If you want to get a perfect squirrel feeder to use in your area, you can begin your research on these brands first.
What Should I Put in My Squirrel Feeder?
If squirrels are thriving in your area, you can help them get food to prevent them from raiding your home or stealing from your bird feeder's seed compartment. One thing that you should know is that the best squirrel food is nuts, seeds, and fruits. Only these three food types can provide nutrition to these furry creatures, especially during the winter season.
Is it a Bad Idea to Feed Squirrels?
It is a long-standing debate as to whether you should or should not feeder squirrels. If you are a conservationist or someone who loves the environment, you would agree that squirrels and other animals find it hard to find food due to the rapid decline of the environment. However, if you are into birdwatching, you will also find it hard to keep the squirrels from stealing the food from the bird feeders.
Whatever you decide to do, you should know that feeding squirrels can also be a stress-relieving task, especially during this global event of the COVID-19 pandemic. Many people in the United States are looking for ways to relieve their boredom brought by quarantine. One thing that you can do is feed them and see the look of happiness as they fill their tummies.
Can a Squirrel Spread Disease?
One of the reasons why most people hate having squirrels around is the fact that they spread diseases. However, only a few are truly dangerous such as typhus, ringworm, and tularemia. This can only happen if you do not clean your house regularly, you have poor hygiene, and you let the squirrels bite you.
But if you have decided to feed the squirrels despite all this, you can avoid getting sick by placing the feeder at a safe distance away from your house. This way, squirrels will feed there instead of your home.
Where do you Place a Squirrel Feeder?
If you are one of those people who enjoy watching squirrels, there are many exciting places on your property where you can install your squirrel feeder. You can place it on a tree trunk or branch, on your fence, lawn, garden, patio, and the exterior portion of the window sill. You can put it almost anywhere as long as these places are visually accessible to you and your family members.
How to Care & Wash?
The best thing about squirrel feeders is that it needs little to no maintenance at all. It only needs retightening of screws and bolts to hold the seed reservoir in place. If you have a horse head feeder, just make sure that the string is tight enough to carry the weight of a full-grown squirrel. You can also put squirrel food on the platform or reservoir right after unboxing it. You won't even need to worry about having leftover seeds because squirrels will finish eating them in a short while.
Where to Buy it?
You can purchase squirrel feeders at Best Buy, Walmart, Ace Hardware, Costco, Target, and other stores. Some pet stores sell flying squirrel feeder and horse head feeder products.
However, if the specific brand and model that you want is not available in any of these stores, you can always try shopping online. Sites such as amazon.com is an excellent place to begin your search. By doing so, you will be able to learn a great deal about the product that you wish to purchase through the customer reviews. This is also one way of seeing how the products look like without you leaving the safety of your home.
Conclusion
If you want to ease your quarantine anxiety, getting a trustworthy squirrel feeder will certainly make your isolation a little bearable. However, this undertaking is a tricky business. You need to get all of the important details right to prevent waste of time and money.
The brands of squirrel feeders that we have reviewed above have been tried and tested by delighted customers all over the United States. If you are looking for a cedar squirrel feeder or any kind of product to feed squirrels, you can begin your research with them. The only difference that these brands have with one another will be your personal taste or aesthetics. Whatever your choice will be in the end, the one thing that will be guaranteed is the fun that you will get by watching the squirrel gang munching the treats that you gave them.