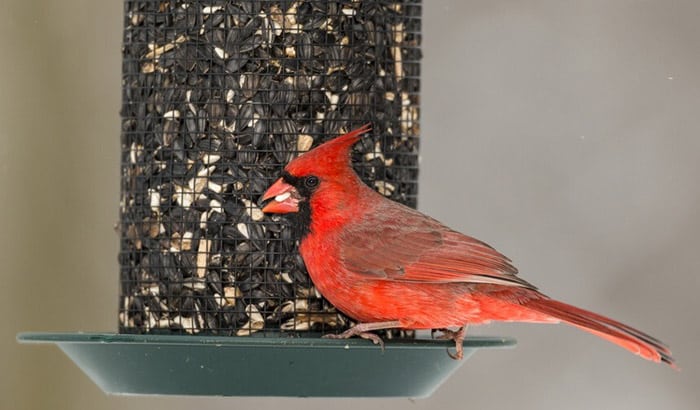 One of the most popular birds is the cardinals. There is no way people can miss these predominantly red but sometimes exotic hues of brown and shades of yellows when they fly by anyone's backyard. The northern cardinal is possibly the most popular variety that visit backyard so deciding the best bird seed for cardinals is important.
In the United States, the popularity of such birds extends to both social and the sports industry. It is no surprise that big states like Arizona adopted this beautiful bird for their professional football team.
While they are nice to look at, they are quite elusive. To make sure they stay around or keep on coming back during the migration season, preparing them a nice, delicious and nutritious bird seed feed for cardinals is the first step towards this goal.
There are many bird seeds out in the market so this article aims to inform bird enthusiasts to decide the best way to keep these beautiful birds around.
Best Bird Seed for Cardinals Reviews
1. Wagner's 62032 Cardinal Blend Wild Bird Food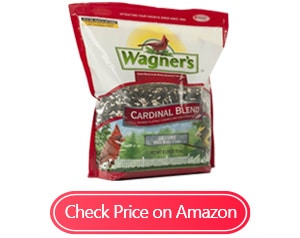 By nature, cardinals are seed eaters. They can forage for seeds in the forest during the lean times or when they are in an area far from communities. So since they are naturally attracted to sunflower seeds, putting some in the backyard will be a good idea. When it comes to cardinal bird seed, Wagner's is always an easy choice. It is a bag of goodness targeted at improving the bird's strength and overall well being.
This big bag has a mixture of high oil safflower seeds that provides energy while enough fat to get them through the cold months. The black sunflower seeds are a good source of protein for their strength and stamina.
As a beginner birder, I like the mixture of 60 % sunflower and 40% safflower seeds. The variety gives my northern cardinals a choice to peck on when they come. I will let any bird down. Fun fact is that squirrels do not like these seed varieties which means that I will never have to worry about seed waste or using tightly protected bird feeders.
Pros
Mix bag of two different seeds
Contains needed oil and fats for birds health
Made from highly formulated blend
Squirrels don't steal the seeds
Cons
Also attracts different birds so the competition is there
If you are focusing on cardinal, place it at a time they usually come or they arrive at an empty feeder
So generally, Wagner's cardinal does its job very well of keeping these pretty birds fed but that only happens when they come to a full seed feeder. Knowing when they come, their patterns of behavior are important to know when to fill that seed tube with this treat.
2. Lyric 2647467 Cardinal Sunflower Safflower Mix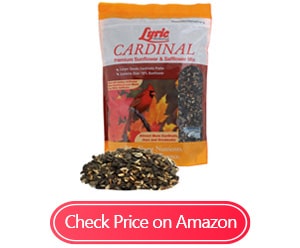 I remember spotting a red bellied cardinal in my yard. It stopped for a moment, looked around, sniffed some of the seeds in my three different bird feeders then it reluctantly flew away. I went to the backyard as quickly as the bird left to investigate why.
There's thistle and suet cake and one with sunflower seeds but the poor but possibly picky bird decided to ignore it. I took the sunflower seeds down, smelled it and I found nothing wrong with it aside from the possibly smaller-sized seeds. I suspect it is the quality of the bird seed brand.
Here is where Lyric live bird food can come in. These bigger, more quality sunflower seeds attract these big billed birds more than the smaller seed variety. It is funny how cardinals can be so picky so thanks for this premium blend of irresistible seeds for cardinals and even blue jays. I also love that it can be placed in any form of feeder such as platform and hopper feeder. And since squirrels do not necessarily like sunflower seeds, then leaving the sunflower seeds out does not cause worry.
Pros
Sunflower seeds are great source of oil and protein
The bag contains sunflower kernels and seeds
Cardinals love larger seeds
Can be on a platform feeder or a seed feeder
Cons
Larger seeds means fewer seeds inside the bag too. Depending on bird population, this bag of goodness isn't very economical
Putting this out certainly did the trick. Cardinals came in numbers and enjoyed the seeds out on a platform base in addition to the ones on a platform feeder. But it is so worth it! No wonder these received nothing but five stars on amazon listing. While it might not be the cheapest, it is probably every beginner's best choice to attract the colorful cardinals in their yard.
3. Audubon Park 12231 Cardinal Blend Wild Bird Food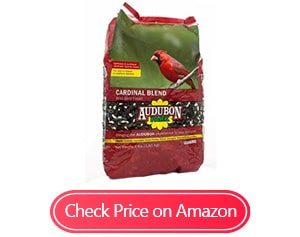 When it comes to cardinals, nothing beats feeding them with their much needed seed; sunflower and safflower seeds. Perhaps, it is good to outline the benefits of safflower seeds and oil to birds. The linolenic and linoleic acids in safflower helps prevent the hardening of the arteries and since birds usually do not have access to water to down their food, feeding them safflower assures that they won't develop choking or blood clot.
Audubon clearly understands this need. No wonder their 4 lb bag of bird seeds for cardinals contain a hefty amount of safflower seeds. Added with sunflower, it is definitely perfect to attract not just cardinals but other seed eaters such as finches, grosbeaks and chickadees. This bag of treats, with all the nutrients, work wonders to attract both the regulars and the new birds on fly by.
Pros
It is cardinals favorite seed
It is loaded with nutrients that keeps them healthy and energized
The blend of sunflower and safflower attracts many types of birds
American made
Cons
Some seeds are quite small for the large-beaked cardinals.
Cardinals prefer hard, larger seeds
It is always fascinating to watch cardinals feast on the safflower. But before we start enjoying these beautiful birds, we have to consider the more important things – their health and well being. Being picky with the kinds of seeds, the platform to place it, the timing of providing seeds are crucial into whether or not they'll come hungry and leave full. Once we do that, they will surely come back for more the next day or the next birding season. This quality seeds from Audubon surely is a factor in doing so.
4. Morning Song 11341 Cardinal Wild Bird Food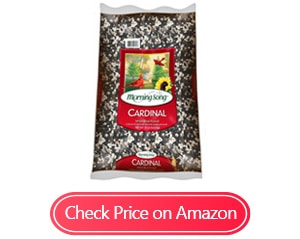 Surely, a mix bag of goodness. The Morning Song is every birder's dream. A combination of cardinals favorite seeds and grains, the birds are going to have a feast choosing seeds from a buffet of goodness. For smaller ones, millet will be available. Even ground feeders such as doves will have a chance of feasting drops or leftovers.
As usual, cardinals are attracted to the sunflower and safflower seeds and they are for a good reason. The health benefits of safflower is highlighted as cardinals need so much energy to go with their daily activities. It is very important for them to get fats, protein and other nutrients to help them perform their tasks or help them keep their energy during the migration season.
The seed blend is always great for any spaces, whether it be a proper seed feeder or a [platform for more birds to enjoy. Birds of various hues of red and brown are always a delight to see.
Pros
American made
Big bag of mix grains and seeds
Healthy and nutritious
Does not require specific feeder or holder
Cons
Unequal distribution of seed types (millet versus sunflower and safflower)
Getting a good quality seed is the first step to making sure that the birds are well taken cared of, physically. Making sure that they are fed regularly and on time ensure that they have enough energy to fly during the migration or nesting seasons. The Morning Song's mixed bag is certainly a reliable food for these feathery friends.
5. CountryMax Backyard Seeds Safflower Bird Seed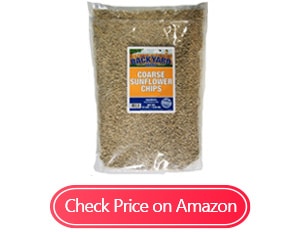 By this time, every birder from beginners to experienced ones knows that safflower seed is the cardinals best chosen seeds. They are cardinals favorite because of the taste and the nutrition it can provide these beautiful red and brown birds.
Safflower seed is naturally high in fat, healthy oil and protein. For birds, these are the most important nutrition they can have while they are busy nesting or flying away for the great migration.
The backyard seed safflower does not only attract cardinals, it also attracts chickadees, several nuthatches and other big beak birds that are naturally seed eaters.The seeds come in resealable bags that can be stored safely during the rainy or snowy times.
One great thing about safflower is the fact that they don't attract squirrels. This makes sure that all important seeds go to the species that needs it – cardinals.
Pros
Attracts other birds in the backyard
Deters squirrels from stealing the seeds
Safflower are healthy choice of seeds for cardinals
Seeds can be mixed with other seeds to attract other types of seed eaters
Cons
Only one type of seed for each bag
When you have the correct seeds on platforms or bird feeders, there is no need to even worry about the birds visiting your beautiful backyard. The squirrels do not like safflower seeds so there is no worries about them stealing the seeds even when they are left out in the open. This "safflower" only seed is the best solution to the menace that damages bird feeding areas – squirrels!
6. Cole's CB05 Cajun Cardinal Blend Bird Seed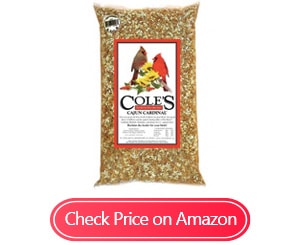 The principle of birding is quite easy, if you don't expose yourself to harmful ingredients like pesticides, then don't expose your birds to them as well. These feathered friends can get sick easily when they are exposed to harmful ingredients. So Coles CB05 might be the best choice for all natural seed products.
Since my backyard does not get visited by cardinals a lot, we only bring out seeds that are chemical free to ensure that they come back regularly and healthy and Coles fit the bill. This seed also is great for many feeders, platform or tube feeders. It is a very convenient bird seed to leave on the platform and watch birds come by for a feast. If you are like me who is trying to attract other birds into the backyard, this bird product is definitely a good choice.
Pros
Can attract many types of birds
Contains all natural ingredients
It has necessary ingredients to main bird's health
Contains mixed sunflower, safflower, chili peppers that are great for birds
Cons
If you intend to have cardinals only, then this will attract competitors
There are many ways to attract birds but the best way to do so is always choose proper and healthy options. The first step to doing that is providing chemical free cardinal bird seed to will surely benefit them long term. A seed mix like Coles is a good choice. Making sure that they are kept healthy, help them develop great colors as well as work towards providing them a safe and secure feeding environment will also ensure that you have a steady stream of beautiful birds that come back for more seeds during feeding time.
7. Wild Delight Cardinal Food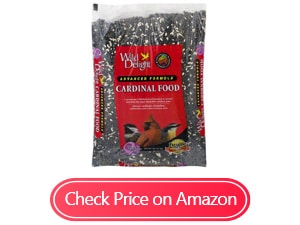 When it comes to knowing the needs of the wild birds, then wild delight can be trusted. This is why having wild delight handy at home is always a good decision especially if you wish to attract cardinals as your main bird visitor in your backyard. I like this product for two reasons: it has no cracked corn or millets and added cherries and real nuts instead. Sometimes, cracked corns are not just hard for the bird's small throat but also because they possibly contain some other harmful ingredients. If you can't get chemical free seeds, wild digest cardinal food is the best option. Here's why:
Pros
It attracts many types of birds, a desirable option.
Packed with vitamins and minerals including electrolytes to keep them hydrated
No cracked corns or millets as fillers
Contains dried fruits as fillers instead
Cons
Caters to many birds so the packaging title "cardinal food" does not make it exclusive
Birding can be a little tricky sometimes. There are points of consideration such as seeds being moldy, shelled seeds scattered on the ground, or leftovers fillers. With the correct brand of seeds, all of these can be avoided. It is always nice to pick seeds that can be easily eaten and without the mess after every feeding time. WIth this special sunflower seed for cardinals, you can be assured that there is no need for extensive cleaning after. The only thing you need to do – enjoy the flock of birds coming your way.
8. Wagner's 57075 Safflower Seed Wild Bird Food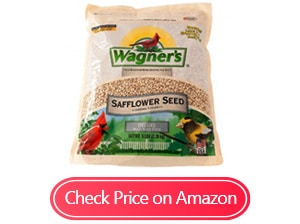 I love Wagner's. And I love it for many reasons – the birds love it, it is packed with needed nutrients, made in the US and it comes in resealable packs. At the same time, Wagner's bag of goodness does not only attract the cardinals in my backyard but also attracts another beautiful bird species, the songbirds. I do not mind having these types of birds in my backyard for sure.
But the most important thing is the nutrition that it provides these most sought after birds. Wagner's Store and seed technology fortified every bag of thistle with the much needed fat and protein content especially needed by the cardinals. This specialty bag has pure thistle seed.
Pros
Attracts many kinds of birds such as finches, goldfinch and songbirds
Squirrels don't like it
Fortified with protein and fats
Resealable bags
Cons
Not exclusive for cardinals so not great if you only want to have them but having other birds are great for the pictures too
Getting a great product especially when you can't go to the local home depot is a challenge so picking something that is tried and tested is a good start. Since Wagner is a named brand, it makes it easy to do the buying online too. What more, it can also be mixed with other available nuts at home if the birds come in flocks.
9. Kaytee Wild Bird Black Oil Sunflower Food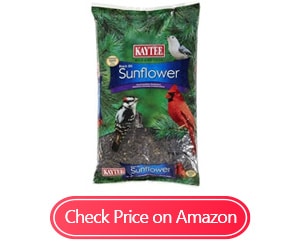 For seed eating birds, sunflower oil is probably their best friend. They need a lot of protein and fat that only seed oils provide. So if you are having trouble thinking of what to feed cardinals, then Kaytee's got the answer for all. Aside from protein and fats, this seed bag also has fiber for easy digestion. Still, adding a water source nearby will make sure that they are properly hydrated.
Since I love red cardinals, I love Kaytees as well. The thinner hulls help the birds in processing the food, making the seeds appealing to birds over all. Also, if you live near trees, expect the birds coming in droves when this Kaytee bird seed is out on the platform or on the nice feeder with a lot of space for perching – a hopper feeder.
Pros
Healthy option for the cardinals
Attract other birds easily to your backyard
Balck oil and protein are needed to maintain the bird's energy
Resealable package to maintain its freshness
Cons
Birds favorite so expect to run out easily. Keep some good amount of seeds in storage
Kaytee's seed bag has probably the best reviews and rating among users and it is easy to know why. The black oil sunflower seed is always a favorite because it has softer shells, which means that cardinals can eat more at less time. It will also provide more time or space for other birds to come and enjoy the spread of seeds on a platform. Enjoy the view of the birds coming up all at once or some cardinals in their read, brown and some grey feather combination.
10. Schoen Farms Striped Sunflower Seeds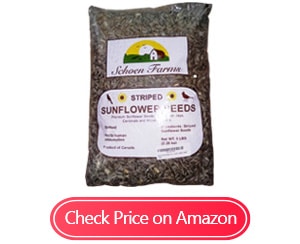 Sunflower seeds are healthy, beautiful and great options for cardinals. It is also obviously their favorite. As compared to safflower, with sunflower softer shells, cardinals do love it a lot. Putting it out into the backyard without the mix ensures that only the beautiful cardinals will come by for the seeds and feast on them.
What is more? The striped sunflower variety is always best for inviting bigger sized cardinals while regular black oil sunflower seeds are for medium sized ones. But grosbeaks also love striped sunflowers so you might have extra pairs of birds enjoying your backyard.
There are certainly a lot of benefits and few disadvantages of putting out striped sunflower seeds into the garden. Also since it a family owned business, they grow premium seeds free of chemicals that may be harmful for the birds.
Pros
Safe seeds for birds
Seeds works for all sort of feeders
Chemical free seeds that is great for the birds health
Good source of great nutrition, proteins, calcium, vitamins and some fats
Cons
Squirrels do eat sunflowers so they may ransack the feeders
The shells becomes a mess on the ground and can be moldy after they get wet
Depending on what kind of birder you are, you might look into having pure sunflower seed to limit the variety of birds that come into your backyard. Knowing the kinds of birds that come to your area is the first part, the last part will always be the kind of seeds. Medium sized birds should get different sized sunflower seeds or striped sunflower seeds for larger cardinals. Either way, the sunflowers are great for your cardinals and some other wild birds.
What is The Most Trustworthy Bird Seed for Cardinals?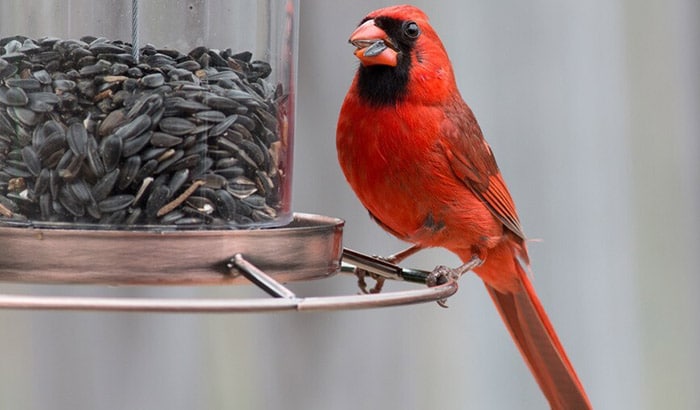 The aviary community are pretty much like people, they have their own choices which include food and places they will spend time on whether it is for feeding or for nesting. So far there are few seeds that cardinals would eat; sunflower, cracked corn or millets, suet, nyjer, nuts and safflower are their favorites.
There are few things that can be done to make sure that cardinals get the best seeds they can to maintain their overall health and well being. Here are three best seeds for cardinals.
Mixed Seeds
One of the best things a birder can offer is a buffet of those nutritious and delicious bird seeds. A bag of mixed seeds contain their favorites will make sure that they will be coming back for more, and regularly, during the birding season. A bag of morning Song 11341 is probably the best choice for them.
Pure safflower
Yes, definitely a come on for cardinals. The thick shells somehow makes it a favorite sought after seed of cardinals. Safflower provides them most of the things they need: fats to keep them warm during cold months, protein to keep them strong, needed oil for better health. Safflower deters squirrels so no need to even worry about competitions on seeds.Backyard seed safflower by CountryMax Store could be your best choice.
Millet
When millets are present, other birds are surely around too! Millets are great fillers and certainly one of the things you can mix in your platform feeder when trying to attract multiple birds. Enjoy the multitude of birds in your backyard. You can buy millets from your local home depot outlets or from amazon.
How Does it Work?
Attracting a variety of birds in your backyard is easy. Put out a seed they usually go for and watch them come and feast on the spread of seeds. There are few ways you can invite a variety of birds including the elusive cardinals to your garden.
The Right Seed
The mainstay for many cardinals would be the sunflower and the safflower. While they might be more attracted to pure seeds, a mixed bag will ensure that some feathery birds will be able to come along and join the beautiful red, gray and brown cardinals.
The Right Feeder
Cardinals are not very picky eaters. The right seeds and the right feeder will attract the right ones in your backyard. Unlike other birds, cardinals are averaged-sized bird, which means that they are also looking at feeders they feel secure on. Since they are slightly different, they would stand on feeders as opposed to other feeders that require perching. A platform is usually enough to keep them excited about feeding.
Water Source
Since seeds are hard and dry. Providing a water source nearby will help birds hydrate after feeding. Cardinals will need running water especially when other natural water sources are not available during winter.
What are the Different Types of Bird Seed for Cardinals?
While birds will eat varieties of seeds.They have particular favorites: safflower and sunflower. There are reasons why they are into these specific seeds.
Sunflower Seeds
Sunflower seeds are important for cardinals. They normally come in two types – striped and black oil. Black oil seeds bring oil that is much needed by the birds. Sunflowers have thin shells that cardinals can open really easily and enjoy in the process. Striped ones have harder shells so big birds like sparrows can easily crack them open. Sunflower seeds are great for platform feeders in a garden since the shells will be under the feeders. These seeds may not be great for window feeders. The only problem with sunflower seeds is that squirrels love munching and cracking the sunflower shells as well.
Safflower Seeds
This seed type is rich in protein and fats but the shells are thick making it harder for the small sized cardinals to open. Preparing safflower seeds on a tray and hopper feeders make this seed more attractive to cardinals.
Factors to Consider When Buying Bird Seed for Cardinals
Like any other product, buying is always a straightforward activity. Knowing the bird that comes to visit your backyard is half the story. For cardinals, you need to stick to basic seed favorites.
To buy better seeds, consider few things:
Quality of Seeds
Most of the time, better quality seeds are produced by better companies. Something more popular, more credible. Wagner's and Audubon are great choices when you are faced with confusion which one is safe for the red cardinals or for your backyard birds in general. There are cheap cracked corns that may be harmful to the birds such as agricultural corns, with toxic red dye and sprayed with fungicides. Cracked corn that contains aflatoxins are also bad for the birds. This variety should never be wet as it releases this toxic substance that may result in sickness, disease or death.
Convenience
Buying seeds today is convenient. Go online, go to the bird shop or your neighborhood home depot. Depending on where you are there are many ways to learn more and be assured you are buying the correct and safe product. One important thing to know before you buy anything would be to know the nutritional value as well as how to prepare them for feeding. Millets and other fillers, when not eaten, can cause fungus in the backyard that when not cleaned up properly may result in disease and sickness of your precious cardinals and the ground feeders.
Care and Maintenance
Maintenance of bird seeds come in two ways: what feeder should you use to serve the seeds in and keeping it fresh throughout the birding season. For some cardinals, they will come regularly around the same feeding spot or backyard because they rarely do not migrate far. Knowing cardinals favorite food and what do red cardinals eat will allow you to store only the most essential seeds.
Buy seeds in resealable bags to keep freshness, a platform feeder is better than a tube feeder since cardinals like to stand when they feed, and keeping water source nearby means they will be allowed to hydrate after feasting on the seeds. Keeping a clean and well maintained feeding area will also keep molds, fungus away and birds will only be eating fresh seeds.
Frequently asked questions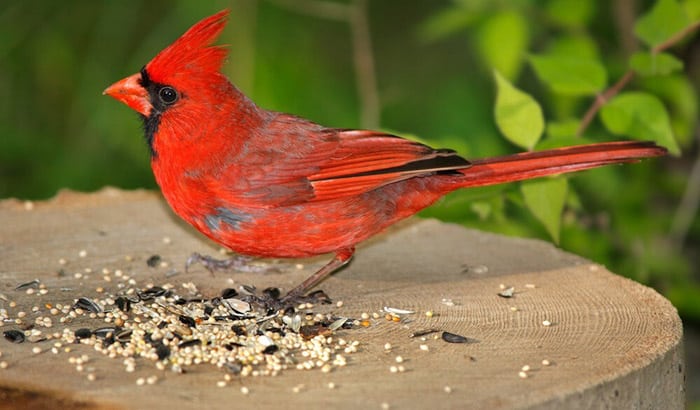 Among the many bird seeds available, birders should exert all efforts to know more about the products and the types of seeds they are buying the cardinals.
What are the Most Trusted Cardinal Bird Seed Brands?
American made or packed bird seeds are best suited for birds in the northern hemisphere including red cardinals. The physiology and eating habits of these birds endemic in the area have been studied and considered before the seed production. For the best seeds available, I can suggest two companies with different seeds considered to be the best food for cardinals. Wagner's bag of mixed sunflower and safflower contains the necessary nutrients, amounts of oil and fat that these red bellied cardinals will surely enjoy. I do prefer sunflower seeds over safflower but the birds do have fun cracking the hard shells of safflower each time. It is always fun to watch them open their food with enough gusto.
What Kind of Bird Feeder Attracts Cardinals?
When choosing bird feeders for cardinals, always remember that they do not like clinging to a sock or tube feeder nor they like being challenged too much like birds that eat upside down. They are straightforward eaters – standing while they eat so your best choices are platform feeders that will hold the weight of a few cardinals eating at the same time or a hopper feeder because it has enough space to hold them while they are feasting on delicious sunflower seeds. Hopper feeders can be easily hung on a tree or a feeder pole.
Where to buy?
Each birder should try to understand the types of birds that frequent their backyard before buying any seeds. If the birds have been identified, for example, a red cardinal, then head to the seed section of your home depot or a walmart store. Speaking to a sales representative of the bird company will always provide you with insights as far as the production, packing and benefits of each bag of seeds are concerned. If they are not available, always look up the ingredients or nutritional value list online before making a decision.
For online shoppers, read through the reviews in at least two or three websites before inputting your credit card details for the purchase. Being sure of what you are buying saves you the trouble of returning defective goods and money for purchasing the wrong kind.
Conclusion
For starters, thinking about the best bird seed for cardinals is the best way to begin inviting them to your yard. When deciding for the best seed, it's definitely a good thing to consider few things such as pure or mixed bags. If you are wishing to attract just cardinals, then knowing what red cardinals eat is the best way to go. There are branded seeds available in neigborhood home depot or on amazon so getting a regular supply is easy. Read reviews to avoid buying the wrong one.