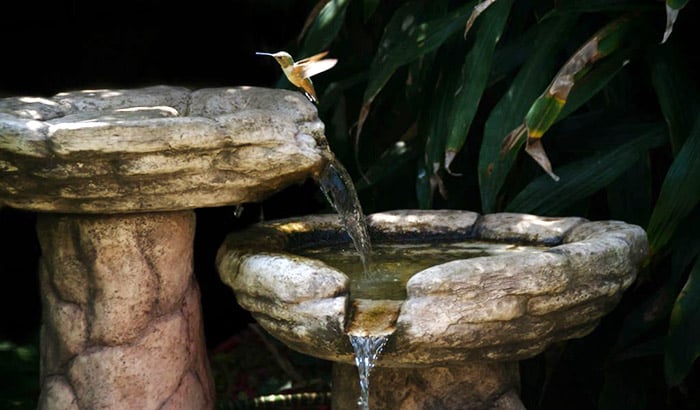 Do you often find yourself just spending hours on your back porch staring at your garden and watching the birds and insects go about their businesses? Are you especially fond of the flitting little hummingbirds that help your flowers grow? You can enhance your experience by installing the best bird baths for hummingbirds in your yard.
Having a bird bath in your garden provides the little hummingbirds a place to perch and rest. Flapping their wings more than 70 times a second can be very exhausting for the tiny hummingbird, so having a place to drink and cool down can help them a lot.
In addition, the birdbath will attract other birds into your garden, which will add more enjoyment to your bird watching hobby. To help you find the best hummingbird bath, here is a quick guide that you can use in wading through the many different options available. Let's start with a few product reviews first.
Best Bird Baths for Hummingbird Reviews
1. Alpine Corporation TEC106-BZ Alpine Floor Fountain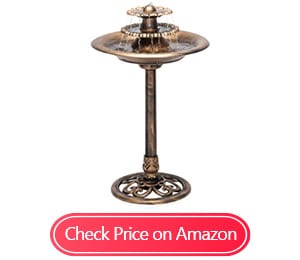 One thing that pleased me about this choice for the best water fountain for hummingbirds is that it has a wide and shallow basin. It is more than large enough for the 2-inch-long birds.
Even larger sparrows, robins, and other birds have perched on the fountain and they found it more than enough. Having a nice flock of different kinds of birds to watch daily made this purchase already worth it.
Although it looks like it's made from brass, this hummingbird bubbler fountain is mostly from durable resin plastic. This means that you can leave it out in your garden all year round, and the sun and rain won't severely damage it. Expect a bit of weathering after a couple of months of use but it is nothing too serious that warrants repairs.
Although mostly made of plastic, this hummingbird birdbath has a sturdy metal base that is heavy enough to keep the thing stable. Even when the basin is full of water and a dozen birds perched on it, the fountain will not wobble or move. You just need to put it on a level and solid ground. There is no need to bolt it into the ground or anything.
I also liked the antique design that this fountain has. The resin comes with a paint that resembles a bronze fountain. This fits well with whatever décor you are using in your garden.
If you have a flower garden, this fountain can serve as a good centerpiece for it. Unless people would closely inspect it, no one would suspect that this fountain was from plastic.
The only real issue that I had with this product is the included instructions, as I found them unclear. Whoever wrote them is not a native English speaker. Fortunately, I discovered an instructional video on YouTube on how to assemble it. I also found a couple of tips on how to prevent the pump from running dry.
Pros
Has a wide and shallow shape to allow more birds
Made from weatherproof resin
Has a heavy and sturdy base
Features a rustic and classic design that is timeless
Light enough to make it easy to relocate when needed
Cons
The included instructions were hard to understand
You may need to reshape a couple of parts due to plastic miscasting
For the price, you are getting quite a good deal for a backyard fountain. There will be a couple of hiccups during the assembly phase. However, it is nothing too serious that would prevent you from setting this birdbath in just a couple of hours.
2. Hanizi Deck Mounted Bird Baths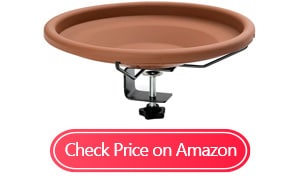 Even if you are not that good when it comes to DIY projects, you will still be able to install this bird bath designed for hummingbirds. You do not even need any tools whatsoever. It attaches to porch or deck rails using a simple twist clamp. Just clamp the steel frame first and then place the plastic basin on top of it.
For the price, I was quite surprised to find that this bird bath is quite stable. Although a single clamp is the only one that holds it in place, you still have an assurance that it will not wobble at all even if you fill the basin with water. I had a couple of squirrels take a drink in it as well and the clamp held securely.
About the basin, although it mainly uses plastic, it is quite thick and does not bend easily. Unlike other cheap plastic basins, the one that came with this bird bath did not crack or chip easily. A couple of squirrels did gnaw at the edges but the plastic itself did not crack at all.
The basin is also a foot across, so it is more than big enough for your regular hummingbird visitors. I've also had a couple of cardinals perch on this bird bath and it held on quite securely. If you are an avid birdwatcher, you will like how a dozen of small birds can fit in it at a time.
The only issue that I have with this bird bath is that because of its plastic composition, the color faded after a couple of months of exposure to the sun. From a beautiful terra cotta brown, the color faded to an ugly pale brown. Also, the plastic did get brittle after around 6 months or so.
Pros
Easy to install – You can install it on any railing
Sturdy and stable
Made of sturdy plastic, making it easy to clean
The basin detaches from the frame
Big enough not just for hummingbirds but for other birds as well
Cons
Needs a bit of padding on the clamp to prevent damage to wooden railings
The plastic tends to get brittle after a couple of months under the sun
This is the solution if you do not have a huge yard. This simple design makes it so easy to install and relocate whenever you want. Also, because it attaches to any flat railing, you can position it wherever you like.
3. MAGGIFT Solar Powered Bird Baths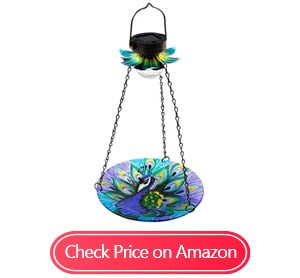 What makes this a great shallow bird bath for hummingbirds is that it uses tempered glass as its main material. This makes this hanging bird bath quite durable and easy to clean.
Because of its non-porous materials, all you need to do is dump out the old water, wipe the surface dry, and refill it with fresh water. Also, unlike plastics, the bright colors of this glass birdbath/feeder will not fade.
Aside from the glass basin for water/food, this also comes with a solar-powered light. This means that you are getting not just a beautiful hanging birdbath but also nice-looking light for your garden.
Hang a couple of these in a tree and when the night comes, they turn into beautiful lanterns for your garden. Don't worry about rain as the solar panels have tight sealing, so they are completely waterproof.
If you are not that confident when it comes to handling even the basic tools, you will love how this birdbath does not require any of them. All you need to do is place a hook wherever you want this item to go, and then hang it from there.
You can install hooks on a sturdy tree branch or a wooden beam on your porch. It is also possible for you to hang several of them on a sturdy line.
Another thing I liked about this product is that it doubles as a bird feeder. Because the basin is from glass, you can also turn it into a bird feeder aside from being a great birdbath.
The shallow shape made it easier to spread out the bird seed, thereby preventing it from clumping up in the middle. I found that this works best with large seeds, like sunflower seeds.
I do have an issue with how shallow this birdbath is. It will be perfectly fine if you are only interested in having hummingbirds bathing in it but it is much too shallow for bigger birds. However, in my experience, there were still a lot of birds that used it as a water dish, so it works out as well.
Pros
Comes with a solar-powered light and adds beautiful lighting to your garden
Made from glass, making it durable, non-fading, and easy to clean
Does not require any tool for installation
Doubles as a bird feeder, too
You can install or place it anywhere
Cons
You need to take it down if it gets a bit too windy outside
Although deep enough for hummingbirds, the dish is too shallow to use as a bird bath for larger birds
If you are particular about having just a hanging bird bath for hummingbirds, you will like this product. However, if you want to attract other, bigger birds to it, then it might be a bit too shallow. Other than that, this is an excellent functional decorative item.
4. Ottsuls Solar Bird Feeder and Bird Baths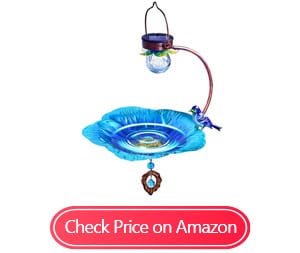 If you like pretty things, you surely will love this cute little solar-powered hummingbird bath fountain. I kind of like this birdbath because it is just the right size for hummingbirds.
The color scheme it uses also somewhat matches the colors of the tiny birds. I have a couple of these hanging on the lower branches of a tree and they look great, especially at night when the light kicks in.
Speaking of the light, this birdbath has a tiny built-in solar-powered LED lamp. This lamp has a built-in battery charged by the tiny solar panel on top of the product. If the lamp gets a full day's worth of sunlight, it will be enough to charge the batteries for 6 to 7 hours of light.
The lamp also has an ambient light sensor. This works by turning the lamp on automatically at dusk and turning it off at dawn.
This best solar hummingbird bath fountain is mostly from stainless steel while the basin is from UV-resistant tinted glass. I have been using a couple of them for a couple of months in my garden, and they have been subjected to intense summer heat and rain showers.
Despite that, I still can't see any signs of damage. Even the lights are still working properly.
As mentioned earlier, I have a couple of these things in my garden, and not all of them are used as birdbaths. The basin is just the right depth for holding a good amount of birdseed. Also, because it uses glass for its material, nothing sticks to it too much. Moreover, it is easy to clean.
I bought three of these birdbaths. The first two came out perfect. However, the third one I opened had a crooked tray. I had to forcefully straighten the frame by hand and it was quite scary because it creaked a lot. I was afraid it would snap in two. Thankfully, I was able to straighten the tray, although it is still not perfectly level.
Pros
Has a quirky and pretty design
Made of durable materials
Comes with an automatic solar light
Easy installation as it does not require the use of any tool
Ideal for use as a birdbath or bird feeder
Cons
The tray is a bit off-level
The instructions are not that easy to understand
Although there is a chance that you will get a slightly crooked product, the nice thing about this is that it is from metal so you can bend it with a bit of force. You don't even need to worry if you accidentally break it. The manufacturer will be more than happy to replace it with a new one and hopefully, it will not be crooked.
5. VIVOHOME Polyresin Antique Outdoor Bird Baths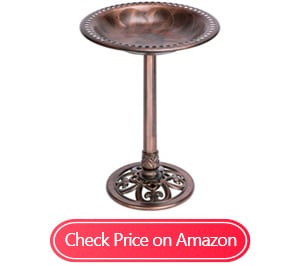 Even without reading the instructions, no one can mess up the assembly of this water feature for hummingbirds and other birds that may drop by. There are only 3 pieces that you have to put together – with all of them being threaded so you just need to screw them together.
You can most likely have this assembled and ready to go in just 5 to 10 minutes after opening the box.
Although it may look like the birdbath is from solid bronze, it is actually from lightweight plastic and resin. This makes it easy to assemble and put into position in your yard. You can do it yourself without anyone's help. This also makes the birdbath easy to clean because you just simply turn it on its side to remove the water.
The basin is quite large, 28-inches wide in fact. This makes it big enough for all the kinds of birds that could potentially visit your garden. I've had a couple of blue jays and cardinals visit my birdbath, and they did not damage it at all. This may attract several hummingbirds but other birds can also regularly visit this birdbath.
I also like the contemporary design used in making this birdbath. The antique cast bronze design works well in any yard. I liked this color because it is more convincing compared to other metallic colors. Silver- or gold-painted plastic still looks like plastic. On the other hand, bronze looks authentic, even up close.
Although I like this product quite a lot, I wish that it had a little more heft to it. The 100% plastic construction does make it easier to move about, but it also makes it unstable on soft ground. You need to find solid and level ground so that it will not wobble too much. Also, ensure that it is always full of water to weigh it down.
Pros
Easy to assemble as there are only three pieces
Lightweight and easy to move around
Large birdbath diameter
Durable and the color does not fade easily
Has a lovely antique design
Cons
The paint in the basin would start flaking after a while
A bit too light and easy to wobble
For the price, you are getting a nice-looking addition to your garden or yard. Although it is a bit flimsy, the base is wide enough that it will not wobble if you place it on level ground and always keep it full of water. This is also big enough for most birds, not just hummingbirds.
6. Liffy Hanging Bird Baths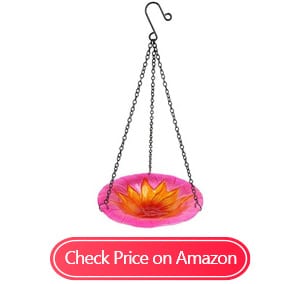 This hanging shallow bird bath for hummingbirds is an ideal way to add a splash of color to any yard. If you have a flower garden, this will accentuate their colors even further. The best part is that the dish itself is made from UV-resistant glass, so the colors will not fade even when exposed to sunlight every day.
I have tried a couple of plastic birdbaths before and they were convenient for a while. However, after a couple of months, they got rougher and increasingly harder to clean. I love using it because it is from glass, which is so much easier to keep clean. I do not even need to scrub. I just put it under my garden hose to wash all of the gunk from it.
The dish is also quite shallow so it serves two purposes, at least for me. I have another one hanging under the same tree and I use it to hold birdseed. The dish is shallow, so it is easy to spread the birdseed, thereby preventing the need for birds to dig through the husks.
The best part about this product is that you do not need any tools for installation. You just need a hook to hang this from. After that, you can put them in by hand if you are hanging them from wooden beams, branches, and the like. Even a small hook will be able to hold the weight of this small birdbath.
If you aim to just attract hummingbirds, this birdbath is just the right size for them. However, note that anything bigger than a robin might not fit inside the dish. The basin itself is not that much bigger than my hand, and I am not a large person. If you want to attract more birds, you will need to get something a bit bigger.
Pros
Made of UV-resistant colored glass, thereby ensuring that it will not fade easily
Non-porous surface makes it easy to clean
Easy to install – It does not require any tools for installation
Dual-purpose design – You can expect it to work as a birdbath and feeder
Comes in beautiful designs that can complement your garden
Cons
Just large enough for hummingbirds
Gets extremely brittle when left out in freezing temperatures
Because of its small size, this little red fountain for hummingbirds is just the right size. However, if you want to attract other birds larger than a robin, this might not be the right fit for you.
7. Gray Bunny Deck Mounted Songbird Spa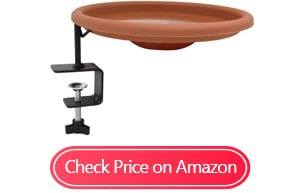 I have a wooden deck in my backyard and I do not want to drill into it if it is unnecessary. This is why I love this birdbath. It simply clamps onto the railing. It can clamp onto railings up to 2-inches thick. It can also hold the weight of even bigger birds. I've had a couple of cardinals visit my birdbath and it held well.
The plastic bowl is also removable for easy cleaning. Unlike other bird baths that you have to clean in place, you can just remove the plastic basin and wash it over the sink. The plastic is also not thin and flimsy.
It is quite thick and sturdy, which means that it will not easily crack. I accidentally dropped the bowl on a concrete floor more than once and there are no signs of damage whatsoever.
Speaking of durability, the clamp itself is from cast iron, and it comes painted to prevent rust and corrosion. I've had mine for a couple of months and it has been out in rainy weather a lot of times. Despite that, there are no signs of rusting at all. The plastic bowl did fade a bit because of sun exposure but the damage is purely cosmetic.
I also like how this allows the bowl to hang off the side of my backyard deck. This means the birds perch away from the deck, so their droppings fall on my flower bed instead of the floor. This makes cleaning the backyard deck a whole lot easier. It keeps my plants fertilized as well.
Now, what I do not like about this product is that the bowl does not lock onto the cast-iron base. You just place it on top and then put water in it to weigh it down.
Now, if the water dried up or if the birds managed to make most of it spill, even a small gust of wind will be enough to blow off the bowl. I had to drill a small hole so that I could zip-tie it onto the frame to keep it from falling off.
Pros
Can clamp onto any deck railing
Does not require any drilling or screws
Removable birdbath bowl for easy cleaning
Made from durable materials
The bowl sits off the railing, preventing bird droppings on your porch or deck
Cons
Needs modifications to prevent the bowl from falling off
A bit too plain-looking
If you are looking for a simple, no-nonsense birdbath just for the sake of watching birds, this product is for you. I do like this birdbath for its convenience but I hoped that it would have a bit more decorative value as well. Overall, this birdbath can be a good addition to any yard.
8. MUMTOP Glass Bird Baths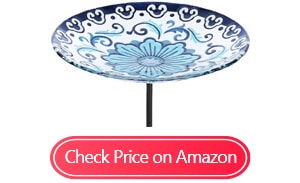 You don't need to worry about this birdbath falling over because four 5.5-inch stakes hold it securely in place. When you assemble this birdbath, you will need to drive the stakes into the ground. Upon securely staking it on the ground, you will not easily tip the whole thing over without exerting a lot of force.
The bowl itself is quite a thing of beauty. It has tempered glass for its primary material and comes painted using UV-resistant pigments. This means that even after hours of being under the sun, the lovely floral design will not fade or chip.
I've had mine sitting in the middle of my backyard garden for a while now. Aside from surface scratches from the birds, there is no sign of serious damage yet.
Assembling and installing the birdbath was a breeze, too. All you need is a rubber mallet and nothing else. The kit only contains four parts and the bowl has a threaded base that goes on the stem. You just need to drive the stakes into the ground first before screwing on the birdbath. This will prevent accidentally damaging the glass.
Speaking of the birdbath, it is quite wide, so it can accommodate several birds at the same time. I bought it originally to attract hummingbirds, but it seemed as if the other birds in the neighborhood caught wind of the new birdbath. Dozens of different birds now regularly visit my garden, and I could not be any happier about it.
I've heard though that the glass birdbath cracks when left out in freezing weather. This does not affect me though because we rarely get that kind of weather down south. However, if your winters regularly go below freezing, I suggest that you bring the birdbath in during the winter and just take it out again once the ground thaws.
Pros
Kept in place by 4 long stakes
The bowl primarily consists of glass material, making it durable and easy to clean
Easy to assemble – There are only 4 parts to put together
Has a beautiful and elegant design
The birdbath has a large diameter, so it can fit whole groups of birds
Cons
The glass bowl will crack if left outside during below-zero weather
The bird bath is a bit on the short side
If you are looking for a neat little centerpiece for your small garden, you will love this tabletop hummingbird bath fountain. The circular shape and geometric floral design will make an awesome addition to your flower patch.
9. Evergreen Colorful Hanging Glass Birdbaths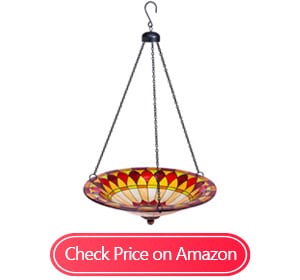 One thing that I find so endearing about this birdbath is the hand-painted design on it. The glass bowl comes painted using translucent paint so light can pass through it. I like the colors that they used on the birdbath. The earth tones match well with any kind of garden, and it does not stand out like a sore thumb.
The bowl is also from durable tempered glass, so it can take a beating and will not crack. Also, because it is non-porous, it is easy to clean and maintain. I do not even need to use soap most of the time when cleaning. Just running water and a stiff-bristled brush would be enough to get any dirt off the glass surface.
Installation was also a breeze. You just need to place a hook wherever you want to hang this birdbath from and you are good to go. I hung the ones I got on the lower branches of a tree in my backyard, and I just wrapped a bit of paracord to give the birdbath somewhere to hang off from.
I bought two of these because I intended to use one as a bird feeder, and it works quite well at that. The bowl is large enough to hold around a cup and a half of birdseed, and I reckon it can hold more.
I can put enough birdseed into the feeder to last maybe a couple of days and it helped immensely to attract even more birds into my garden, not just hummingbirds. I am an avid birdwatcher, and on days that I cannot go hiking, I love that I could still birdwatch from my back porch.
I do have a bit of an issue with one of the birdbaths I got. It hung crookedly from the tree. I had to remove two links from one of the chains as it was a bit too long. It was not such a big deal for me, but I can imagine that there will be some people who will find this issue quite annoying.
Pros
Beautiful and contemporary design
Made of thick and durable tempered glass
Easy to install – You just hang it on a hook
Ideal for use as a feeder, too
Easy to clean and maintain
Cons
Needs a bit of tweaking to hang straight
The paint is quite thin and chips in some places
Although the chains were a bit of an issue, it was not that difficult to fix. Removing a couple of links from the chain was simple. However, if you are not that handy, you might not even notice how the birdbath hangs, especially when birds are happily cooling off their wings in the water.
10. Peaktop Outdoor Hummingbird Fusion Glass Birdbaths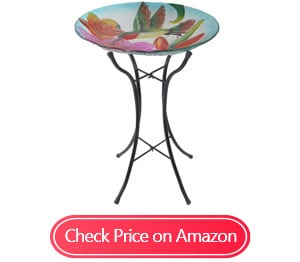 One of the biggest reasons why I bought this birdbath is the beautiful hummingbird design. The design comes etched and hand-painted on the glass using bold and bright colors. Also, because I was planning to use it to attract more hummingbirds, it only seems right that it has to have this particular design.
I also liked that there is no assembly required to set this up. Everything came in one box, and there are only two separate pieces. The stand folds out and you just need to place the birdbath bowl on top of it. There are no screws or bolts to tighten, so even without checking the instructions, I am confident that anyone can set up this birdbath.
Speaking of the birdbath, unless you drop it on a concrete floor, you should not worry about damaging it. I have had mine set up in my garden for a couple of months, and my cat has knocked the bowl off its stand a couple of times.
There is not even a nick or scratch on the surface. Also, because the paint used on the birdbath is UV-resistant, the color has not faded even though it has been under the sun for months.
I also liked that the bowl is just the right depth for hummingbirds to wade in. I have also seen a couple of finches, sparrows, and robins partake of the water, especially during the summer months.
I am also planning to add an external solar mister for hummingbirds to make it more enticing for the little birds.
If I need to criticize something, I would say that it would have been better if the stand was a bit sturdier. The thin legs are a bit flimsy and they would wobble a bit if you pushed the birdbath a bit.
Pros
No assembly required
Stunning hand-painted design
The birdbath is from high-quality fusion glass
The metal stand is foldable, which is a good thing in case you want to store it
Just the right size and depth for hummingbirds
Cons
The paint can be scratched off in certain areas
The stand is a bit flimsy and can rust
Overall, this is a pretty simple, yet beautiful birdbath. Because of its simple design, you can easily add more accessories to it, like a water mister for hummingbirds. Personally, I would replace the stand with something more substantial but the included one can still work somewhat.
What to Look For When Buying a Bird Bath for Hummingbirds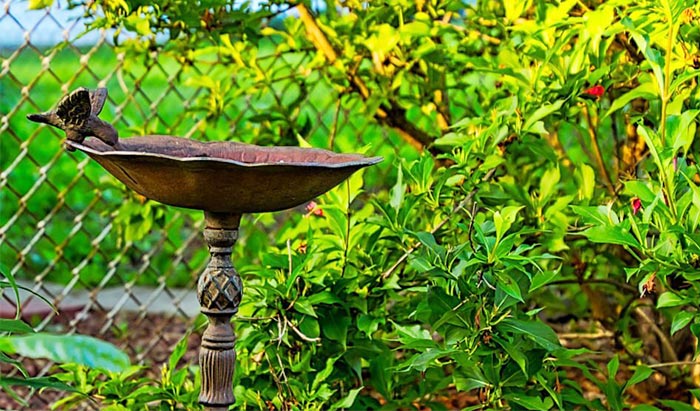 Do you want to start shopping for the best bird baths for hummingbirds? Then here are some things to consider:
Size
Hummingbirds seldom grow longer than two inches so you do not need a big birdbath for them. Something that is at least a foot wide and around two inches deep would suffice for hummingbirds. However, if you want to attract other birds, then you need a larger birdbath.
Ease of Installation
No one wants to spend hours just assembling a birdbath, something so simple should not be complicated to put together. As much as possible, a birdbath should only have a couple of parts and requires little to no tools for assembly.
Most birdbaths already come pre-assembled, especially the ones that you hang up on hooks. With hanging birdbaths, all you need to do is attach a hook wherever you want your birdbath to go.
Durability
Of course, when you buy something, you expect it to last. A good birdbath costs quite a bit of money, so it should last at least a couple of years. Most plastic birdbaths are from thin and flimsy plastics.
Those do not last more than a couple of months under the sun. Choose plastics that are thick and hard to bend. This means you should go for those that are sure to last more than a year.
However, if you want a birdbath that can last even longer, choose one made from tempered glass or other kinds of reinforced glass. Those are sure to last many years.
Additional Features
There are lots of bird baths that also have solar-powered lights. These lights turn on when it gets dark outside and turn off when the sun rises, or until their batteries run out. Get these if you want to add lighting features to your garden. These are great additions to the path and fence lights.
Frequently Asked Questions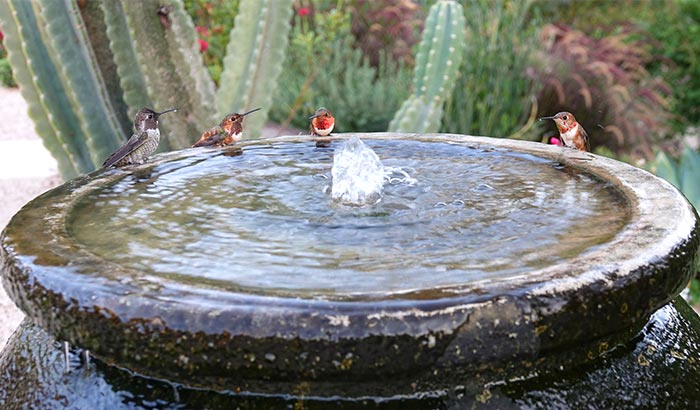 What kind of Bird Baths do Hummingbirds Like?
Hummingbirds prefer bird baths that are shallow since they are tiny birds. Also, they need to be brightly colored like the flowers that they feed from. Also, hummingbirds like bird baths that have fountains or misters. Basically, the water needs to be moving.
Where do you put a Hummingbird Birdbath?
Ideally, you should put hummingbird bird baths near the flowers that they frequent. Still, they should be somewhere where there are things that they can perch on so they can preen their feathers.
Of course, it would also be ideal if the birdbath is where you can see the birds.
Conclusion
Hummingbirds are delightful and fascinating to watch, and having the best bird baths for hummingbirds will allow you to watch them at a sensible distance. The product recommendations above are only some of the many options that are open to you.
Choose the one that you think would be a good fit for your garden. However, do not forget to take into consideration the needs of hummingbirds first.