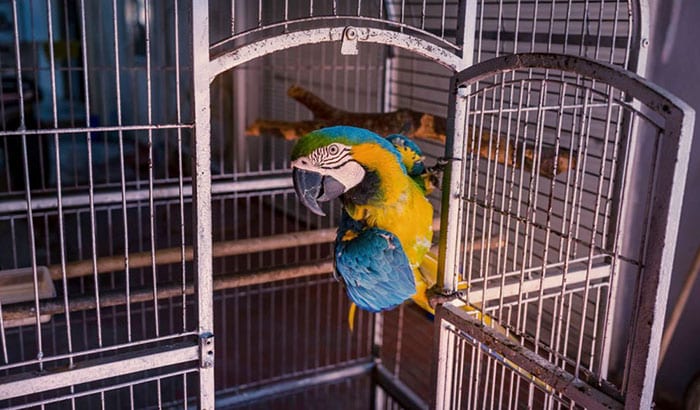 Macaws are among the most intelligent birds in the world, which makes them quite the escape artist. Unless you have the most suitable macaw cage, your feathered friend will constantly be getting out of his enclosure, which is a bad thing if he did not go through proper training yet.
This article will teach you everything you need to know when shopping for the best cage for a macaw. Depending on the species of macaw, these birds can range in size from 12 inches long to a whopping 40 inches in total length. Even in the smaller ranges, macaws are quite large birds, so you have to provide them with a cage of ample size.
In addition to their size, they are also quite strong, so getting them a cage with flimsy bars is not even a challenge. Buying a cage for your macaw can be quite a challenge but it does not necessarily need to be that way. This quick guide might be the help you need to choose the right cage for your macaw. Let's start with product reviews.
Best Macaw Cage Reviews
1. Prevue Hendryx Pet Wrought Iron Flight Cages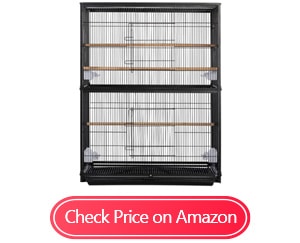 This cage primarily uses wrought iron and steel for its material. Judging by how it weighs, this cage is quite strong. After assembly, the cage does not wobble at all, and all the pieces fit snugly into each other. Each bar has a half an inch spacing, so there is enough space for a macaw to perch but not enough that they can squeeze through.
Unlike the other bird cages that I have owned, this one has a powder coating, which is significantly more durable than regular paint. Even macaws will have a hard time stripping it off the metal.
You will not be dealing with toxic paint chips getting in your pet's food and/or water. The powder coating is also a bit non-stick, so cleaning the cage later will be easy.
Another nice feature is that the cage comes mounted on a stand with heavy-duty casters. The cage is quite heavy and awkward to carry when fully assembled, so having the cage set on casters makes it easier to move around when needed. You will need this added mobility since you will have trouble cleaning underneath the cage otherwise.
This cage is massive. It has more than ample space for your macaw. Even the bigger species of macaw will not find the inside of this cage cramped. At 31-inch wide, 36-inch high, and 20-inch deep, even with their wings fully extended, your macaws will not touch the sides of the cage.
I also like the huge main door of the cage. It is so large that you will not have any trouble at all getting your bird in and out of the cage. This is great for training your birds to stay out of the cage when it is time to get some exercise, and then let them fly back in when it is time to rest.
Now, I do have a bit of an issue with the said doors. Unlike the rest of the cage, the locking mechanism of the doors is sorely lacking. One good push from inside the cage and the door will pop open. I had to buy separate locking clips to ensure that my macaw would not be able to get out without me knowing.
Pros
Made of durable wrought iron
Powder coated to resist chipping and rust
Comes with a cage mounted on durable casters
Has large front openings
Large enough to let your macaw stretch its wings and fly around for a bit
Cons
The doors do not have a sturdy locking mechanism
The bars are a bit thin
This bird cage is big enough for a macaw. There is enough room inside for it to walk around and fly a bit. However, the construction of the doors is not up to par, especially the lack of a secure locking mechanism. Fortunately, it is easy to remedy the issues. With a few tweaks, you can make this cage a whole lot better.
2. Mcage Double Ladders Rolling Bird Cages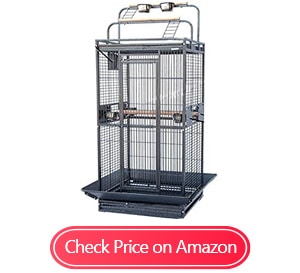 If you own a large macaw species, like a hyacinth macaw, I highly advise you to check out this item. This is a great choice when you need a lot of space for your birds, whether you want to keep a couple of them in one cage, or if you have a large macaw.
The cage itself is 43-inch high, 24-inch wide, and 22-inch deep. In other words, there is more than enough room inside.
This cage also comes with a seed guard. As the name suggests, the seed guard catches bird seed that spilled out while the bird is eating, so you do not need to clean around the cage that often. The seed guard catches the debris and directs them towards the debris pan underneath the cage for easier cleaning.
I have had to discard one or two cages in the past because I noticed the paint chipping off, and they usually fall into the water and seed bowls of my bird. This cage uses a powder coating for its finish. This is stronger than regular paint. Even if your macaws like to gnaw on the bars of their cages, the powder coating will not chip at all.
If you are thinking of training your macaw, you can use the built-in playpen on the top of the cage. The playpen comes with two long perches, two parrot ladders, and another set of smaller feeding bowls. If this is the first time you are keeping a macaw, you do not need to buy separate training aids. All the basics are already in this kit.
If you do not have someone to help you assemble this cage, you will most likely have a bad time. This cage is quite large and heavy and most of the pieces are bulky and awkward to hold.
You will need a lot of ingenuity and creativity if you want to assemble this macaw cage by yourself. And even if you do find a way to put it together, it will surely take you a couple of hours to finish, and you will not walk away from it unscathed.
Pros
Massive amount of space
Has a seed guard to catch most of the debris
Features a durable powder coating finish
Comes with a play/training pen on top of the cage
Easy to clean and maintain
Cons
The seed guard makes the cage bulky
Extremely difficult to assemble without any help
If you are looking for a hyacinth macaw cage, this product might just be what you need. It is spacious enough for even the largest species of macaw. Not only can they spread their wings, but they can also fly a bit from the floor to the ceiling. This cage is the perfect size for macaws. If you want, you can also keep around six smaller birds in it.
3. Flyline Parrot Escape Jumbo Corner Bird Cages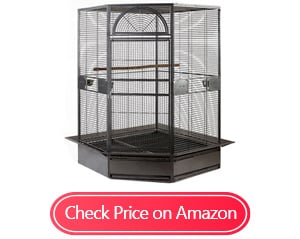 This cage is designed to wedge into the corners of rooms if they are square. I kind of like this cage, because even though it is quite large, it uses space efficiently, especially when you place it in the corner. When placed in the corner, I noticed that it looks like it was a part of the room from the very beginning.
Macaws can live for a very long time, so you need an enclosure that can at least last long as well. You do not need to worry about that with this cage. This item is almost entirely made of wrought iron, so breaking it will be quite a challenge for even a bird as strong as a macaw.
In addition, every part has a powder coating, so it is essentially rust-proof. It will not chip away nearly as easily as regular paint would.
I also liked that this cage has a large access door at the front. It makes it so much easier to place my feathery friend inside. Also, if your macaw already went through training, you can just open the door so it can easily get in and out whenever needed. The large door also makes it easier to clean the inside of the cage.
Speaking of cleaning, this cage has seed catchers on all sides, even at the back. No matter how messy your bird eats, the cage will catch all of the seed husks and all other debris. The catchers also come slanted inward so all the dirt and debris will fall into the waste pan at the bottom. This makes cleaning up after your bird so much easier.
However, there are a couple of things that I did not like about this product. First, the packaging that the cage came in was horrible. The cage came with the box all torn up and crumpled in some areas.
In addition, the parts made of sheet metal were bent out of shape. I had to force them back to assemble the cage. Assembly was quite difficult too. Because of its irregular shape, figuring out which part connects with what took me quite a while.
Pros
Perfectly fits into any square corner
Made of durable wrought iron
Has a large access door with a strong locking mechanism
Comes with seed catchers on all sides
Mounted on durable casters
Cons
A bit confusing to assemble
The packaging was horrible – There are some slightly bent parts
This would have been a great product if the manufacturer would have invested in better packaging. This macaw corner cage was hard enough to assemble because of its size, but it gets even harder when you have to fix the bent parts that prevent the pieces from coming together. However, once you manage to get this cage assembled, it is quite nice.
4. Wonline Iron Macaw Birdcages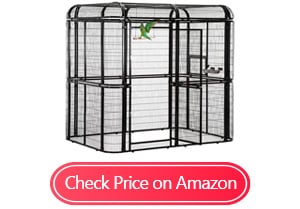 This is an outdoor bird cage mainly because this will not fit inside your house. It is 80-inch high, 86.6-inch long, and 60.6-inch deep, so your macaw will have more than enough room to spread its wings.
Even a hyacinth macaw, which is the largest known species of macaw, will feel at home in this enclosure. If you want, you can even keep a couple of pairs of parakeets or cockatiels in this large cage.
This cage has an equally large access door. It is large enough for an adult person to get through easily. This promotes ease in cleaning the inside of the cage. I usually go inside with a handheld vacuum cleaner to pick up all the dirt and debris. Having a large access door also makes it easier to take your macaw in and out when needed.
Another nice thing about this cage is how durable it is. Every joint comes properly welded and the assembly uses strong large bolts. Properly put together, the cage is quite sturdy.
Even when I shake it hard, it does not wobble a bit. It works best when you position it over level ground. However, note that even if the ground is a bit uneven, you can just use pieces of plywood to shim the corners.
I also like the overall design of this birdcage. There are no sharp corners. You can see these corners fileted to give each one a nice curved edge. This looks significantly better than the traditional square cages. It somehow looks a bit more organic. Having no sharp corners also makes it easier for macaws to perch on the bars.
Overall, I liked this macaw cage quite a lot. However, it would have been much better if this cage came with a rain canopy. This is an outdoor cage. However, note that it does not come with a canopy. You will need to buy it separately.
Pros
This outdoor macaw cage is huge
Has an access door large enough for people to go through
Heavy-duty construction and weather-resistant finish
Features several smaller access doors for food and water
Very elegant design – It has curved corners that give it an aesthetic appeal
Cons
Only large enough for one cockatiel – You can't add more
Not for long-term use – It is only ideal for transporting birds
This is one of the best cages that you can get for your macaw. There is more than enough space for it to fly around and it is quite durable. This cage is strong enough to withstand any amount of abuse that your macaw can dish out.
The assembly process can be quite tricky because of the sheer size of the cage, but with some help, you can finish setting this up in an hour or two.

5. Mcage X-Large Corner Flight Breeding Cages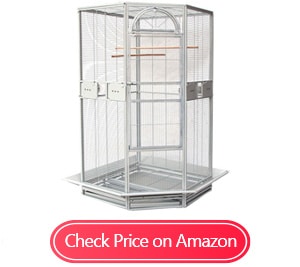 If you want to make the most of the available space in the room but you need a large cage, this item might just be the ideal choice. This cage has a pentagon shape that allows it to wedge into any square corner of your house. This maximizes the use of the space. Square cages take up quite a lot of space and it also looks awkward and bulky.
If your cage does not have a seed guard, you already know how much of a hassle constantly cleaning seed husks and spilled seeds off the floor is. The seed guard catches all the debris coming from inside the cage and directs them into the waste pan underneath the cage for easy cleanup.
Speaking of cleanup, it is a breeze, thanks to the three waste pans underneath the cage. They catch almost all of the debris that my macaw makes (I still have to vacuum underneath the cage as my bird is a messy eater), and they all slide towards the waste pan.
The pans easily slide out from under the cage for easy cleaning. It is also nice that the cage has a powder coating as it essentially makes it non-stick.
There are also a lot of access doors. The main door is quite large, so placing a large bird inside the cage will not be a problem at all. The large entrance also promotes ease in sticking your torso in the cage when you need to clean inside.
This cage also has access doors for food and water bowls. You do not need to stick your entire arm into the cage to refill the feed bowls.
I wanted to like this cage more than I do now, but it is sorely lacking in some aspects. Quality control is one thing. The welds are often not centered and there are even bars that are only welded halfway on the frame.
Speaking of the bars, they are too thin, similar to what you would see in a cheap stainless steel macaw cage. A fully grown hyacinth macaw will have no problem bending them out of shape.
Pros
Fits perfectly in any square corner
Comes with seed guards for all sides
Made of wrought iron and powder coated for durability
Lots of access doors for convenience
Easy to clean and maintain
Cons
Lacking in craftsmanship
The bars are a bit too thin
For the price, this cage should be just fine, especially if your macaw is not that big. On the other hand, if you have a hyacinth macaw, there is a good chance that it might bend the bars.
6. MidWest Poquito Avian Hotel Cages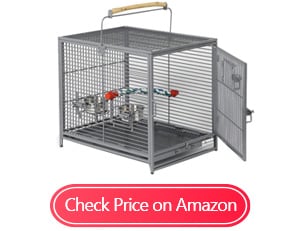 This is a rather small travel cage for macaw, measuring just 28-inch high, 18.25-inch wide, and 5-inch deep. However, this is not ideal for use as a long-term cage for your macaw.
I discovered that it is perfect for use as a traveling cage, like when we need to go to the vet for regular checkups. If your macaw is housebroken, this can also serve as a sleeping cage. As for the size, you can only keep small macaw species, and maybe some medium-sized ones.
I cannot say anything bad about how this cage was constructed. All the welds boast meticulous construction. There are also even spaces in the bars. Also, the choice of material and finish were superb.
I have accidentally dropped mine a couple of times before, thankfully while it's empty, and there are hardly any signs of damage at all.
I also like how the entire side of the cage is the main door. It makes it so much easier to place my macaw inside the cage, and when it is time for him to go out. The hinges are strong and the latch that keeps the door closed is also dependable. My macaw is a talented escape artist, and even he has yet to figure out how to get out of this cage.
For something so durable, this cage was quite easy to assemble. There are no nuts or screws to tighten. All the parts just slide and clip onto each other. I finished assembling mine in just a little over 10 minutes, 15 minutes including opening the box and perusing the instructions. For something so durable, this was surprisingly easy to assemble.
However, as mentioned earlier, do not get this cage if you have a large species of macaw. For instance, if you have a scarlet macaw, you will need to jam him into this cage to make him fit inside.
A scarlet macaw cage should at least be twice this size. However, smaller species of macaws, typically those that grow no more than 1.5 feet high, should be fine with this.
Pros
Ideal size for transporting smaller macaw species
Durable construction – It can withstand drops without showing signs of damage
Large main door with a secure door latch
The handle on top of the cage also serves as a perch
Easy to assemble – There is no need for any nuts or screws
Cons
Only big enough for small to medium macaws
Quite heavy for a portable cage
Although not the best portable birdcage I have used, this is one of the better-made ones. Understandably, it is not big enough for the large macaw species because it would have been too heavy. However, if you have a small- to medium-sized macaw, you will probably like having this item as a backup cage or as a traveling cage for your bird.
What to Look For When Buying a Macaw Cage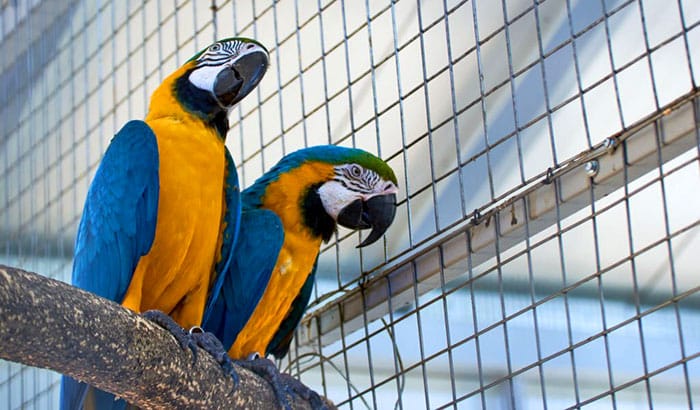 Macaws are quite hardy birds, but that does not mean you can just stuff them into any old cage you can find. Their cage should make them feel comfortable and not imprisoned. Here are some of the things you should consider when buying a bird cage for your macaw:
Size
Macaws are large birds. Even the smallest of the species can measure around a foot in length. This means that you need to get large macaw cages with plenty of room for them to stretch out their wings. If possible, they should be able to fly for a bit.
Ideally, the cage should be twice the length of the bird's wingspan. It should be high enough that when they perch, their tail feathers will not touch the bottom. On a side note, if you will be getting a large cage, make sure there is enough room for it in your home. If you have limited space but need a large cage, consider getting a corner cage.
Durability
Macaws are strong birds. The larger species can break hard nuts using the power of their beaks. You need a cage that is strong enough to withstand the abuse that they will surely be getting. The bars should be thick enough that your macaw will not be able to bend them easily. They should be welded securely onto the frame, too.
In addition, the cage should also be powder coated, as regular paint would chip easily. You do not want paint chips floating in the water bowl of your feathered companion. Powder coating is advisable because the finish is essentially bonded on the surface of the metal, making it very difficult to chip and peel.
Access Doors
As mentioned earlier, macaws are large birds, so the cage needs to have large access doors to make it easy for birds to get in and out. Ideally, there should also be smaller access doors for you to reach the food and water bowls without having to reach into the cage.
Ease of Assembly and Maintenance
The larger blue and gold macaw cages will need at least two people to assemble. The reason is the large size and weight of the pieces. However, a single person can assemble them. It would take a lot of effort and time, not to mention creativity and ingenuity, to hold the pieces together.
Maintenance should also be easy. There should be ample-sized debris catchers under the cage to make cleaning after your bird that much easier.
Frequently Asked Questions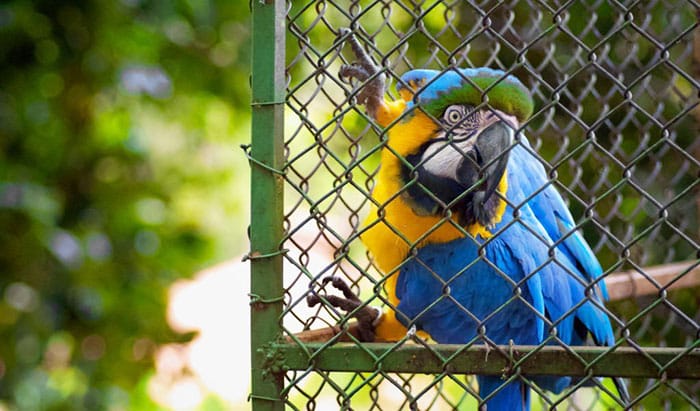 How big does a Macaw Cage need to be?
Ideally, the best cage size for a macaw should be twice the length of the bird's wing span. There should also be enough space for the bird to fly around a bit.
How much does a Macaw Cage cost?
Prices for macaw bird cages vary depending on the size and manufacturer. They usually range in price from $150 to almost $500.
Conclusion
The best macaw cage should make your pet feel comfortable and safe, not cramped and stressed. Make sure that you are getting a birdcage that is spacious enough for your macaw to move around. There should also be enough room to play.
Of course, it should also be durable as macaws are quite strong birds and cheaply made cages will not last that long. Now that you have reached the end of this article, you already know what to look for when you are out shopping for a cage for your feathered friends.