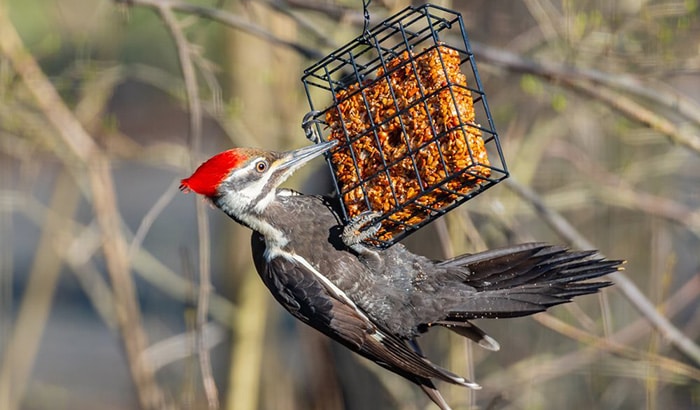 Woodpeckers are known for their unique yet notorious pecking sound. A camping experience might not be complete without hearing those predictable but sometimes compelling sounds of woodpeckers. They are after all an important member of the bird ecosystem. Woodpeckers are responsible for preparing, by continuously pecking tree barks, which become the nesting areas of other birds. He is like the bird's local carpenter.
City bird watchers might not see woodpeckers a lot in cities but they come in droves in the countryside, some in the cold northern states. To attract woodpeckers, the first step is getting the best bird food and the best woodpecker feeder available in the market.
Here are the top 15 best woodpecker options.
Best Woodpecker Feeder Reviews
1. MEKKAPRO Suet Wild Bird Feeders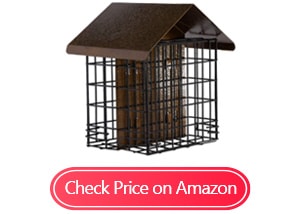 As a bird enthusiast, nothing makes me happier than putting up a birdhouse bird feeder in my garden. Feeders designed as birdhouses always work their charm not only for me but for my backyard birds. So imagine how happy I am with my latest find in my attempt to attract woodpeckers over – beautiful and elegantly designed Mekkappro suet feeder.
I love the birdhouse design as well as its bronze color. The darker shade of brown highlights the beige or peach colored suet I normally put in. It glistens under the sun so it's definitely a winner. This woodpecker suet feeder has two compartments so I can see woodpeckers clinging, balancing and doing all sorts of acrobatic movements while feeding side by side.
The biggest take on is possibly the hinged roof that protects the suet from being soggy after a day's rain. It is definitely a keeper.
Pros
Mesh wire protects suet from falling off
Two-compartment suet feeder
Easy to clean and fill. Just open the suet door.
Elegant bronze design
While I love the elegance, the squirrels are out there to enjoy it too – and the suets. This is probably the biggest issue among many bird feeders anyway. To remedy, I have to make sure the feeder pole, which this is hanging from is properly oiled and slippery. Aside from that tiny bit of problem, the Woodpeckers all love this new find, which is the most important.
2. C&S EZ Fill Suet Basket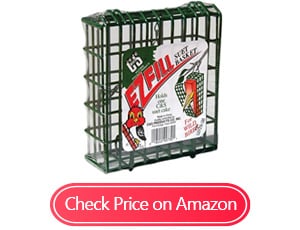 There is something about suet baskets that fascinates me as much as the birds. It is not just about the safety of the sweet suet but also about the practicality of the feeder itself. This simple feeder is great at carrying one woodpecker bird food but just enough for a good feeding time of a few woodpeckers passing by the backyard.
I love that it is very easy to fill. Simply open the mesh wired container, put the suet cake, and secure using the attached locks. It comes with a hook so I simply need to hang it on a pole, a tree branch, or even a wooden patio. The open-air allows woodpeckers to know where the suets are exactly.
Another thing that is nice with this feeder is the size and spaces of the vinyl coated wire basket. The vinyl material protects the birds from freezing during the winter months. It is advisable to have a few of this in your backyard to attract as many woodpeckers as possible.
Pros
Baskets have big spaces for woodpeckers to perch
Easy to clean, hang and fill
Vinyl-coated basket protects bird's feet from freezing during cold months
Readily available on amazon or local stores
Cons
Has no cover so suet is exposed to elements
This woodpecker feeder looks simple but definitely does the job without a problem. No wonder it is rated high on online selling sites. If there's a need to improve something, it is probably the lack of covering or roof to protect the crumbly suet. As a remedy, hang this feeder under a lush tree or under a covered patio. Overall, it is a must to have this feeder to attract woodpeckers easily.
3. Stokes Select 38092 Suet Feeders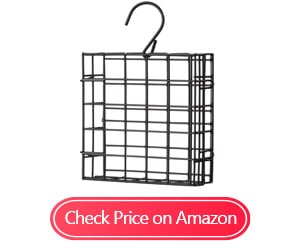 Woodpeckers play an important role in the ecosystem. They prepare the nest cavities that other birds use to increase the bird population. The nesting cavities they make are a gift to my other beautiful birds. So getting them a simple yet functional feeder to let them come and prepare my garden is a must.
I am glad Stokes Select has a simple, adaptable, and effective gift to woodpecker lovers. These clinging birds love the mesh wired feeder as much as I do. I love how easy it is to fill and hang this feeder for woodpeckers to enjoy. The double-lock closure hook is tight enough to keep the sweet suet fresh and safe.
The only downside of this suet holder is the lack of roof to protect the suet from crumbling when it rains. Place it under a tree with thick leaves or a roofed garden and it is good to go.
Pros
Steel material makes it very durable
Weather proof because of powder-coated steel
Easy to use, and clean, and hang
No assembly needed
Cons
Well-exposed under the sun or rain
While it is not the most perfect suet around, the pros outweigh the cons by miles. Even experienced birders agreed that this is a functional and practical suet feeder for woodpeckers that every garden should have. I can totally join the group of bird watchers that claims this suet feeder deserves five stars.
4. Brome Squirrel Buster Bird Feeders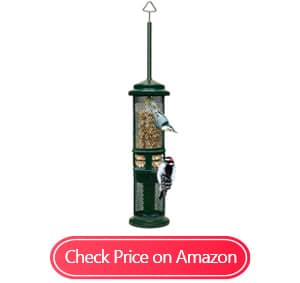 While others think squirrels are cute and cuddly, my birds and bird feeders don't think so. One mission is to always send them away, always to no avail. Birders struggle to drive squirrels away from the bird seeds that have a long history. Most days, the squirrels win.
So I love the Brome cylindrical feeder – a true squirrel buster. The auto-lock system closes the shroud when it detects the squirrel's weight. Denying this pesky squirrel access to the woodpecker's food such as nuts and seeds is the ultimate way to deter these squirrels from ever coming back.
While I like woodpeckers, I also hope for other types of birds to come visit my garden so having a feeder that is safe for other birds is great. I get to see other birds such as jays and chickadees once in a while. Everything looks fine except for the occasional bees or grackles that come along.
Pros
Easy to assemble
Squirrel proof
Easy to fill and clean
Adjustable weight to control bird sizes allowed to feed
Cons
Only accommodate shelled nuts
While part of the ecosystem, squirrels should know their place in the birding world. They usually bring in more problems than solutions to the garden. They can do some damage not just to the birds but of the property too. This squirrel proof woodpecker feeder solves all that with the non-chewable wire cylindrical design. Enjoy the birds in swift movements and acrobats without the pesky squirrels ruining the mood.
5. Birds Choice Pileated Suet Feeders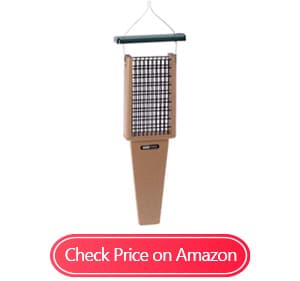 Every birder knows that the sweet suet cakes attract the best woodpeckers there are. So having some more of them in my backyard allows me to watch as many beautiful peckers as possible. The tree barks at the edge of my backyard also have become the pecker's nesting cavity. It sure is a good sign when my finches come during the nesting season.
So far I love that I can put in two different suet cakes to attract more bird variety but tail prop woodpecker feeders are loved by a downy woodpecker. The prop also balances the wired suet basket so pecking birds will be comfortable while feasting on the savory nuts.
Being a nature lover, I love that this bird's choice woodpecker feeder is made out of poly-lumber that can withstand the test of the natural environment.
Pros
Materials used are resistant to elements
Tail prop balances the feeder even when birds keep on moving
Easy to fill – lift the top cover
No assembly needed
Cons
Suet crumbles go through the wire mesh gaps
Exposed to elements. Rain makes the suet soggy and crumble
This feeder is also great for another reason – ground feeders are fed well from the crumbled suet although this may be a waste of the special suet cakes intended solely for the woodpeckers. Overall, this woodpecker feeder is a must have for birders who wish to get woodpeckers as well as need them to make nest cavities.
6. Stokes Select Squirrel-X Proof Feeders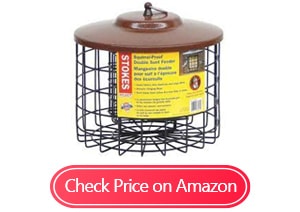 When it comes to suet cake, there is nothing I love more than caged woodpecker feeders. The cage does not just protect the suet from bird food stealing predators like squirrels but also keep the birds some peace while feeding. So far there's been pure happiness seeing my flying friends twisting, turning, and perching while inside the massive cage.
I love that Stokes Select created this genius by incorporating a roof, enough space for perching and a secured suet cake basket. Without a doubt, the center of attention is definitely the suet cake basket. I think that it is the most important feature of this feeder.
In addition to the size and functionality, I also love the black and brown color combination – elegant and sturdy. The woodpeckers easily slip inside the cage feeder through the gaps in the wire mesh. The only downside I can find is possibly the possibility of the large bird bullies getting stuck if they try to reach for the suet.
Pros
Enough space for birds to eat comfortably
Steel resistant wire mesh
Four ports for better feeding
Easy to clean
Cons
Bigger birds may get stuck because of the gaps
It has been said many times that it is always 'more the merrier' so having a big feeder that allows many woodpeckers to enjoy the feast is a celebration for every bird watcher. Under the sun, the glistening top cover is also a sight to behold.
7. FORUP Suet Bird Feeders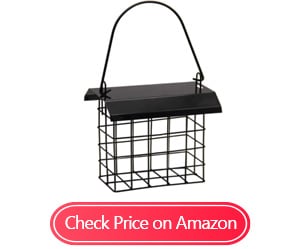 There are two things good woodpecker feeders should be made of: wired and roofed. They are needed in making sure the delicious suet cakes are protected all throughout. Providing a dry or slightly moist suet cake in a well-designed suet basket is important in attracting woodpeckers to your garden.
So far the best one I have seen is a woodpecker feeder made by Forup – a simple but elegant feeder for one standard-sized suet cake. I love how the suet can stand out elegantly while inside the basket. The spaces in the mesh allow comfortable eating and pecking from my drumming peckers. It is a treat to see them twitch, stretch, and even perform some acrobats while trying to get a piece of the delicious suet in this Forup suet feeder.
If there is something that needs improvement in this feeder is its capacity. For a place that is frequented by woodpeckers, having only one compartment is not enough. Having a few more of this design hanging in my backyard will do the trick for now.
Pros
Easy to maintain and clean
No need for assembly. Coated steel hook is included in the package
Elegant design in black color
Open-air allows suet that is safe and fresh
Displaying enough woodpecker food in the backyard is a sure way to improve the number of visitors in your garden. A cool trick is to hang it under a nice, old tree so they can create nesting cavities after or by the window just to watch them in action.
8. Nature's Way Bird Products CWF1 Feeders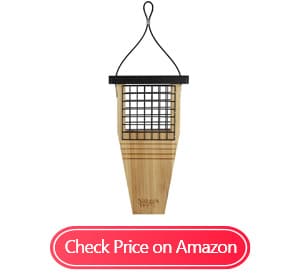 Suet is an essential source of nutrients for woodpeckers. The solidified mix of oats and fats keep the birds to stay warm especially during the winter. The assorted fats, peanut butter or even grain assures that woodpeckers will have enough energy to go through their daily activities. To be able to help the peckers, a proper suet basket is needed when feeding woodpeckers, or just even attracting them in the area.
This is why I find Nature's Way woodpecker feeder to be something of real value. My birding activity became better because of its practicality, design and functionality. The suet basket does not only hold suet cake but also shelled peanuts so I can have alternate food supply for my awesome peckers. The tail prop suet with the nature's way logo in it looks elegant over the light brown cedar wood. The wood lets my feeder last for a long time.
If there's a downside, it is the limited capacity. It is because it can only hold one suet cake because of the size. Giving alternate food between suet and nuts is advisable to help maintain a better woodpecker diet.
Pros
Elegant and insect resistant cedar wood feeder
Easy to clean and fill. Lift the top cover.
Can hold suet and nuts
Beautiful tail prop that balances the weight of the feeder when birds are eating
Cons
Frequent refill because it can only hold one suet cake
Overall, this feeder is a must-try for areas that have limited woodpecker visitors. Birders that live in areas frequented by these amazing woodpeckers should get a bigger feeder or hang a few of this Nature's Way feeder.
9. Droll Yankees Peanut Bird Feeders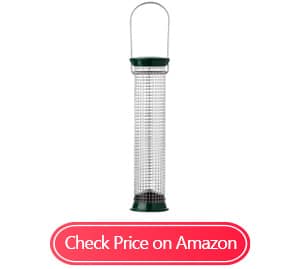 I always love cylindrical bird feeders for their space saving features. Unlike birdhouses or massive square sizes, tube feeders like this Droll Yankee are perfect for my small flower and bees garden.
I love that the tube in wire mesh can hold up to at least a pound of peanuts that woodpeckers can enjoy easily. On other days, I can also put sunflower seeds to attract finches or chickadees. During spring, this Droll Yankee can also work as a woodpecker food mix feeder to supply the needed nutrients for nesting birds.
I love the smaller gaps of the suet cage. It keeps the precious nuts and the seeds in place while the internal baffle is keeping the older ones pushed to the bottom for ultimate freshness. The sliding top cover makes it easy to refill as well.
The only problem may be the gaps being too close or small hurts the birds beak sometimes. Check that wire mesh for rust and protruding metal caused by wear and tear.
Pros
Built-in baffle pushes seeds down to keep fresh supply
Comes with easy to hang metal hook
Easy to fill and clean
Can be used for mixed bird food
Cons
Small wire mesh can hurt bird's beak
Prone to rust after overexposure to elements
Being a birder means being an environmentalist too. Aside from knowing what a woodpecker eats, picking the right location is also necessary. Hanging this Droll Yankee near a tree branch or water source will help the woodpeckers digest the hard shelled nuts.
10. Natures Way Bird Products CWF2 Feeders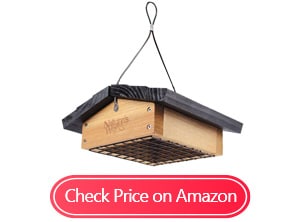 Like always, I am fascinated with bird houses as they just not only beautify my garden but also create a safe space for birds to do their business – feeding and feasting. Nature's Way bird feeder is developed for bird watchers who love to watch upside-down birds, acrobating and clinging and twisting for the woodpeckers best food, suet cake.
I love watching the birds in action using this feeder. The nature of this feeder allows birds to enjoy themselves and provide enough leeway to exercise while getting enough nutrients needed for them to fly high or breed. The spring months show a significant increase of bird visits as the nesting and breeding season follows just months after – during summer.
One thing I really love about the feeder is its wide roof that protects both the birds and the precious suet from rain or snow. The cedar made roof is rot and pest resistant, which means that my feeder will last for quite a long time. I have had experiences with feeders that have to be brought in to protect it from the rain. Anything left outside can rot or rust after sometime.
If there's a downside, it is because it can only accommodate one suet cake even if the suet basket is quite large and wide. This means filling it quite often, a hassle during the cold months.
Pros
Has built in hanging hook. No assembly needed
Watch woodpeckers and other birds eat upside down
Cedar wood that is pest resistant
Easy to fill and clean. Remove the house roof for filling
Overall, this woodpecker house feeder is the best there among upside down bird designs and possibly the best answer to the problem on how to attract woodpeckers. The downside should not be a deterrent to have this little feeder out in the backyard. Of course, birds that can't eat upside down won't be able to steal the suet so who does not like that as an added benefit, right?
11. C&S Hanging Suet Basket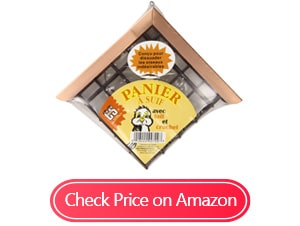 Some of the best woodpecker hanging birds are simple ones and fall under two categories: functional and practical. This simple hanging suet basket may just fit the bill. This C&S feeder can be placed anywhere in the garden and still attract as many woodpeckers there are in the area.
I loved that the wire mesh is without assembly and easy to hand with the built in steel hook. While the make is simple, the copper color bring in a sense of elegance as it glistens under the sun. For the rainy months, the color stays as it is rust proof.
Surely, I love the simple roof that protects the suet cake from crumbling when it rains. While it does not keep it fresh all the time, it does offer enough protection. The only weak feature of this feeder is having to hold only one suet cake, which means constant filling at times when the woodpeckers fly in droves.
Pros
Simple and elegant at the same time
Wire mesh keeps the suet cake safe and dry
Copper color makes it elegant
Comes with a simple roof and steel hook
Cons
Can hold only on suet cake
When finding the perfect feeder, nothing beats simple and function. As an avid woodpecker fan, I would place a few of these types of woodpecker feeders in my garden just to accommodate as many of these drumming peckers at a time. Placing it near a big tree might also do the peckers some good.
12. Kettle Moraine Plug Log Feeders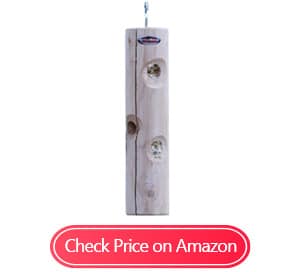 What is a better way to celebrate woodpeckers' special role of creating nesting cavities in trees for the use of other birds than gift these flying friends with their very own log suet feeder. This log feeder mimics real trees that woodpeckers love. Yes, it is probably the most sensitive and thoughtful gift a birder could give – their own small tree trunks to enjoy.
I find the cracks in these tree trunks fascinating and a celebration of these wild birds unlimited talent in maintaining a more balanced bird ecosystem. Upon purchase, I noticed the cracks in the logs, which according to Kettle Moraine is part of the suet feeders charm. It stops at the core but never a problem as it will never cause the feeder to split in half. With constant pecking, the crack gets bigger adding to its rustic feel and look. Some birders have tried many ways to copy how to build a woodpecker feeder following the make of this Kettle Moraine design.
The only part that is different from other suet feeders is the versatility of food this feeder can hold. The feeder hole can be filled with peanut butter, suet crumbles or even chunky peanuts. What do woodpeckers eat? Everything!
Pros
Feeder hole can be for variety of high quality food
Rustic feel and look
Cedar wood will crack but won't rot easily
Easy to fill and clean
Cons
Slightly heavy as compared to metal suet baskets
No perch area
Not squirrel proof
During spring and summer, it is simply adorable to have these log cedar suet feeders in the backyard. It serves both the practical and the aesthetic part. I'd love to have two more in my garden and watch the woodpeckers pecking on it with real gusto.
13. Heath Outdoor Products S-1-8 Hanging Feeders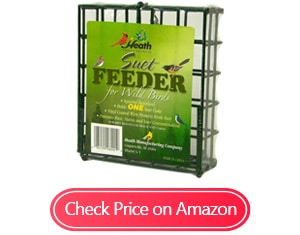 Birds find the best bird feeder using a certain set of criteria: the food and the feeder accessibility. This should give bird watchers a clue when choosing the perfect woodpecker feeder for their garden.
This vinyl coated suet cake feeder is simple yet a practical solution to feeding the woodpecker well. Heath outdoor's focus in this woodpecker feeder is on the delicious woodpecker suet cakes more than aesthetic. So far this wire-mesh suet holder holds one standard suet cake, which can be placed through the front panels. What is great about this design is its simplicity and I think the big gaps allows the birds to eat from all sides.
One thing that I feel is a problem in this feeder is its capacity. For places like mine in the Northern territory, this is not enough for my peckers that fly in droves sometimes.
I like the attached hanging chain though as it forgoes assembly and instead ready for use. The weather resistant wire mesh will also ensure that Heather outdoor can last for a long time. That's happy peckers and happy birders!
Pros
Wire mesh is vinyl coated
Simple yet functional design
Easy to clean and fill
No assembly needed. Chain attached for hanging
Cons
Can hold only 1 suet cake
When choosing a suet cage for a special suet bird, consider how well it can hold the precious bird food properly. Indeed, simple beauty remains powerful.
14. C&S EZ Fill Suet Feeders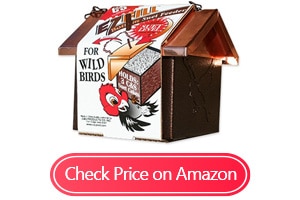 Upside down bird cake feeder are always fun. It allows every bird watcher to see these feathery friends in both their most active behavior – twitching, perching and feeding – making this hobby one of the most relaxing one ever.
If there's one thing I love about this woodpecker feeder, it is the capacity. It's massive design allows it to hold at least three suet cakes or even one big brick of pure or homemade woodpecker food. The outer wall is made of sturdy metal, which also doubles as a protection against squirrels or big bully wild birds.
The only weakness of upside down feeders is the unprotected bottom portion – suet crumbles that can fall on the ground during feeding attracting little animals, squirrels or ground birds. To avoid this, place a water source – a bucket of water or a small bird bath right under the feeder.
I also love the roof as it protects the suet cake from the natural elements. Nothing is more wasteful than a soggy or rotten suet after a strong rain.
Pros
Big capacity. Can hold 3 suet cakes
Upside down design for utmost fun
Easy to fill. Lift the top lid
Easy to handle. Comes with a metal hook
Cons
Suet crumble falls directly to the ground attracting animals
Woodpeckers find it challenging to find the suet as all sides are covered
At first, my woodpeckers were a bit confused about where to look for food but flying around it brought them to the bottom. It was a fascinating watch.
15. Kettle Moraine Window Mount Bird Feeders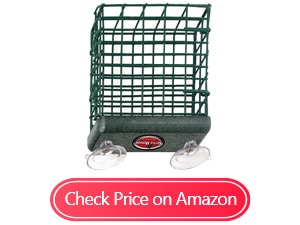 What better way to start the day than to watch birds flying about finding food? This is the very reason why I love bird watching, enjoying their glorious feathers on a good day. Having a window feeder with the best food for woodpeckers provides a very positive vibe.
I love how Kettle Moraine put together this easy to handle feeder. The two strong suction cups keep it attached firmly on the window pane, making it a high quality feeder.
I also like the small gaps in the mesh wire cage keeping the precious suet cake safe. If I have any complaints about this feeder, it is probably that it can only hold one suet cake. I always wish that can hold two suet at least but I can always attach another one. Since it is in the kitchen window already, I can even make woodpecker food recipes at home to add variety to these sweet and delicious suet cakes.
Overall, the types of birds coming to my window are always spectacular.
Pros
Has two strong suction cups
Attracts variety of birds
Easy to attach using two suction cups
Easy to clean. Simply soak and clean with soap
Cons
Can only hold 1 suet cake
No protection from rain or snow or moist
Sadly, there's not a lot of choices when it comes to suet cake feeders. Kettle Moraine already got it right the first time and I am extremely satisfied with it. What's left to do now is to attach one more and enjoy the birds flapping and perching while sipping my morning coffee.
What is The Best Feeder for Woodpeckers?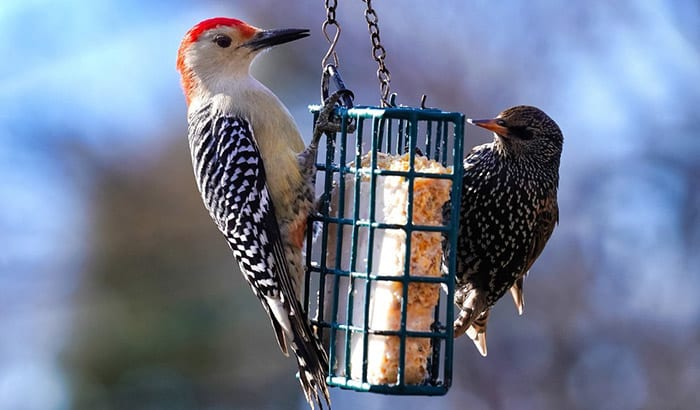 Finding woodpecker feeders could be daunting. The choices online and in store are massive. Before making a purchase consider the following characteristics before choosing the types of woodpecker feeders you can display in your backyard:
Size and capacity
Woodpeckers love suet cakes. This is considered to be the top woodpecker feeder by experienced bird watchers. Most woodpecker feeders can hold only one suet, which are great during lean months but consider getting feeders that can hold two suet cakes and are accessible from both sides.
Birdhouse or just wired mesh
Birdhouse designs are beneficial in many ways. The usually comes with a wire mesh suet cake holder and protected by a cedar wood material or metal rain protectant roof. Nature's Way upside down suet cake feeder is an excellent choice.
Log Suet
Being cavity nesters, materials made of wood is charming and offers certain aesthetics. Go for cedar wood like Kettle Moraine's feeder that can hold multiple foods such as suet balls or even peanut butter.
How Does It Work?
Woodpeckers are important in maintaining a healthier ecosystem. Feeders hanging near trees are advisable so the peckers can do their job as cavity nesters in preparation for the breeding season.
Most woodpecker feeders bought on amazon or walmart usually come with steel hooks that can be used to hang them into feeder poles or under a nice tree. Since these birds fly higher than others, make sure that it is hanging at least 2 meters above the ground for them to spot it easily.
What are The Different Types of Woodpecker Feeders?
Generally, birds' attraction to a feeder depends on what does a woodpecker eat. There are mixed feeders available including ones that can hold both suet and nuts, woodpeckers preferred diet.
Most feeders can be:
Cylindrical Wire Mesh: Easy to hang mixed seed feeders are perfect for small spaces.
Birdhouses: This type of feeders usually hold one suet cake but also possible to hold two suet cakes.
Simple Wire Mesh: Many types of woodpecker feeders are just wire mesh to hold a suet. Some tail prop suet feeders are also used to balance the weight of birds clinging onto it.
Upside Down Feeders: Some nice woodpecker feeders has upside down feature that allows every birder the chance to see woodpeckers in action – twisting, clinging and perching during a suet feast.
Why do You Need a Woodpecker Feeder?
With their importance in keeping a valued task in the bird world – preparing the tree cavities used by nesting birds during the breeding season, woodpeckers are considered one of the most important bird species. But you do not like them to be damaging your trees or the tree barks near your house. Giving them their food source is the first crucial step.
But getting them the best bird feeder is simply the start of taking care of these wonderful birds. The needs of red bellied woodpeckers may be slightly different from the needs of black or downy woodpeckers. Knowing what food they prefer will greatly help in deciding what food to bring with the feeder.
Factors to Consider When Buying a Woodpecker Feeder
Buying any bird feeder can be tricky considering the many choices available there is.When buying a feeder, the following characteristics are the most important things:
Versatility: Consider a bird feeder that is flexible and adaptable in any weather. Powder coated steel and some vinyl materials are more sturdy than normal steel feeders.
Cedar Wood: Naturally, woodpeckers are attracted to wood as it mimics the strength and that of their natural habitat. Look for bird feeders that allow woodpeckers to be able to peck without damaging your garden trees.
Mixed Food: While woodpeckers like suet cakes the most, they are also interested in other types of woodpecker food such as nuts, sunflower seeds and even dried fruits. Many basket feeder designs can hold food two suets to feed woodpeckers while cylinder designs can hold mixed nuts and suet crumbles in one.
Quality over Quantity: One of the most important characteristics of a good woodpecker feeder is the quality of the product – wood, plastic, and steel.
Guarantee/Warranty: When buying a feeder, remember to go for companies that offer more benefits such as product warranties or product return options.
With today's advanced technology, it is easy to find quality, elegant and colorful feeders right off the many shopping sites such as amazon. If you can't trust what you see online, quality bird feeders are also available in local retail and wholesale stores such as Lowe's, Home Depot or Walmart. As a general guide, read reviews or talk to sales representatives for some help.
Frequently Asked Questions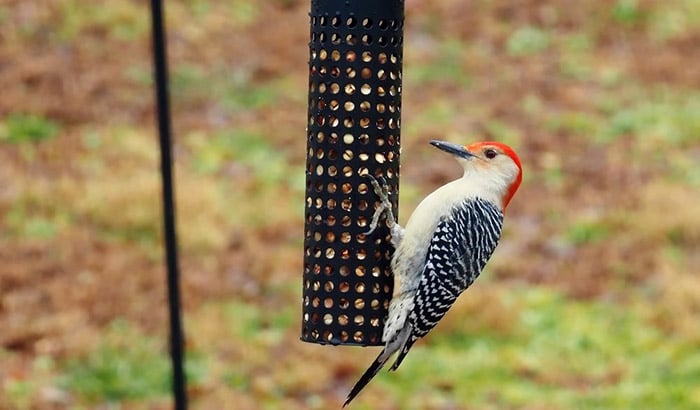 What are The Most Trusted Woodpecker Feeder Brands?
The type of woodpecker is always dependent on what does the woodpecker eat. Knowing the kinds of peckers that frequents your area will help in deciding for a suitable woodpecker feeder. But if you are not sure of what types of feeders to purchase, here are the top three woodpecker feeder options:
Stokes Select suet cake basket: For simple suet basket, the stokes select design is one of the most effective suet holders. For woodpeckers, being fed with the right and delicious suet on time matters more than the aesthetic value of it.
Birds Choice Suet with Tail Prop: Downy woodpeckers have significantly long tails so they need a prop to rest them during feeding time. Birds Choice allows two suets and a tail prop long enough for birds to enjoy a quiet feeding moment.
Mekkapro Suet Wild Bird Feeder: Birdhouse designs remain to be one of the best sought after feeders for its capacity and design. Woodpeckers will enjoy two mix suet cakes using Mekkapro.
Kettle Moraine Log Feeder: Wood will always be a good material when trying to attract woodpeckers into your backyard. The four port of this kettle moraine log feeder can hold chunky peanut and suet balls.
Nature's Way Suet Feeder: For birdwatchers that love to watch the birds eating upside down, this nature's way cedar suet is the best. The cedar wood roof protects the suet and birds even during rainy days.
While some bird feeder designs look the same, it is important to check things like rust proof, resistant proof and well made steel designs. Look out for sharp objects that may endanger the birds during perching or feeding.
What Food Attracts Woodpeckers?
Woodpeckers like to eat a variety of things. They are omnivorous which means that they can eat varieties of grains, fruits and insects.
To attract woodpeckers in your area, consider the following food as part of their daily staple.
Suet cakes
Chunky peanut butter
Shelled nuts
Fruits
Various berries
Insects such as spiders, tree saps and ants
While not all of them can fit into a specific woodpecker feeder design, getting them variety of food is important in keeping the woodpecker's health. Woodpeckers are also fine foragers of insects and tree saps.
Where do You Place a Woodpecker Feeder?
Generally, woodpeckers are attracted to places with trees they can peck. But if you live in an area where trees are scarce, consider placing this woodpecker feeder in the following areas:
By the Window: There are several woodpecker designs that are perfect for windows. Watch the peckers enjoy their delicious and sweet suet using a window feeder.
Under the Trees: This is the most ideal.Using the built in hook or long rope, hang the woodpecker feeder under a tree branch. You can even add a squirrel baffle to keep the suet or seeds safe.
Feeder Pole: Woodpeckers are high fliers and one to make sure they won't miss your treat, hang it at least 2 meters above the ground. Apply sunflower oil or coconut oil to the feeder pole to make sure squirrels won't climb up.
Near Water Source: Woodpeckers eat suet, rich in fiber and with added water, it can be digested easily. Woodpeckers love a drink or a bath after feeding, so placing the feeder near a pond or a fountain is beneficial to these lovely peckers.
But wherever that is, remember the basic needs of woodpeckers: food, trees and water.
How do You Make a Woodpecker Feeder?
Have you tried all stores but not found the right feeder? It is the time to create your own. You know your garden as well as the bird guests better than anyone else so you will probably create the best feeder for your favorite birds. To create a practical and functional feeder, here are the things you need for two basic types:
How to Make a Tail Prop Suet Feeder
Materials: a flat wood, a simple wire mesh basket (or create your own mesh), some nails
Procedure:
Disinfect the flat wood. Keep it dry
Attach the suet basket on the flat wood leaving enough space for tail prop
Secure the basket using small nails. Make sure that nothing protrudes that may harm the bird's beaks
Attach a hook or a rope for hanging
Fill with normal suet cake
How to Make a Log Suet Feeder
Materials: A dry or hard log of at least 4 diameter, driller, steel hook
Procedure:
Secure a dry and thick cedar log
Using a hole saw, drill at least 4 to 6 holes
Attach the steel hook at its topmost part. Make sure it is in the middle to keep balance
Create suet balls and insert in some of the holes
Add crunchy peanut butter into the remaining holed to add variety
Making your own woodpecker feeder is a bit of a workout but it can be worth the time. You can control the weight, the height and even the capacity.
Do Woodpeckers Use Bird Feeders?
Woodpeckers are naturally resourceful. When they can't find a proper feeder or proper food, they tend to go and forage in the forest or gardens. They'll start drumming and drilling tree barks looking for insects or worms.
But they can also be attracted to nice feeders hanging in a regular backyard. To attract them towards your garden, consider feeder placement, bird food choices and feeder design. Few of the most common feeders are suet feeders, tube feeders and upside down feeders.
How To Care and Wash
Proper care and maintenance of a woodpecker feeder is needed to extend the usability and functionality for a longer time. Cleaning it is also very straightforward. Here are simple ways to keep the feeder in tip top shape:
Step 1: Remove the parts and soak each using a detergent soap and water. Suet tends to crumble or gets soggy easily making the softened crumbs stick to the feeder.
Step 2: Brush bird droppings or any hardened saliva off the feeder. Take it apart to make sure that every single part is cleaned well, as needed. These can contaminate the feeder.
Step 3: Wash the surfaces with usual dish soap and water. Make sure that you won't leave any traces as rotten seeds or suet can contaminate the feeder and can kill or affect the health of the woodpeckers.
Step 4: Rinse it well and dry the feeder under the sun.
Step 5: Assemble the parts, hang it back for the birds to enjoy
Generally, part of the care and maintain process is keeping the feeder well and clean. Remember to wash and disinfect all woodpecker feeders once every two weeks for utmost care. Maintaining and caring for your feeder helps maintain the health of these beautiful bird species.
Where to Buy? (Walmart, Lowes, Home depot and Amazon)
Again, buying anything including the sturdy woodpecker feeder is now easy through the many shopping choices including online and offline.
If you live in the city and are near any of the big retail and wholesale stores such as Home Depot, Lowe's or Walmart. Buying in store helps you inspect the product before purchase and perhaps get advice from any of the sales representatives.
For bird enthusiasts who live a bit far, the online option can be the most ideal. Do not let distance stop you from attracting the best woodpeckers in your area. You can simply browse, read reviews or purchase from reputable online shopping sites like amazon.
Conclusion
Woodpeckers are important bird types. They have very strong bills used for drilling and drumming tree barks. But like other birds, they too are just like any other – in need of great suet cakes, nuts and water to survive. Getting the best woodpecker feeder to hold these treats is just the beginning of witnessing the best of these cavity nesters in the comfort of your very own backyard.