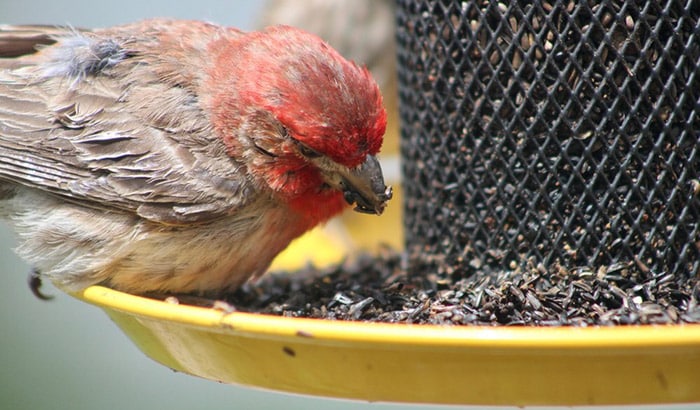 Finches are beautiful birds. Although they are tiny, they are also among the most popular birds kept as pets and watched by bird lovers worldwide. There are many finch species in North America, and the bright yellow American goldfinch is one of the favorites of backyard birders.
The challenge to keep these beautiful finches around is finding the best finch feeder. Once you have it, voila, you'll have these birds in their vibrant colors entertain you during feeding sessions. Finches, which have tiny and softer voices so many finch owners find their soft chirping to be quite soothing.
Their colorful beauty and soothing musical chirps make Finches the perfect type of bird to attract as garden or backyard visitors. Growing specific plants can help to attract certain bird species to your backyard.
Finches love backyards with open, grassy, field-like spaces. Gardens with grassy, weedy species of plants such as cottonwood fluff, cattails and milkweed, and flowers with many seeds will attract finches as well.
Goldfinches, in particular, enjoy thistle plants. They eat the seeds, and they use the thistledown to pad their nests during their breeding season. Finches stick around all year long, so it is also important to provide a source of running water that does not freeze.
Finches are relatively easy to attract to feeders. Novice birders and birdwatching enthusiasts may attract finches by making their main subsistence readily available and accessible in a backyard thistle feeder. With the correct combination of bird feeders, birdseed, and environmental factors, backyard birders will be able to attract the species they want to see.
Best Finch Feeder Reviews
1. Perky-Pet YSSF00346 No No Finch Feeders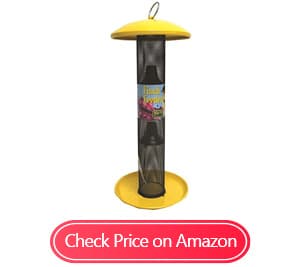 Bird lovers who would like to attract more finches to their backyard should have a Thistle Feeder for more bird-watching enjoyment. Of course, Perky-Pet is on track with their No/No Yellow Straight Sided Finch Feeder – a fascinating choice among the many choices in the bird accessories market today.
A feature which I really like about this very durable feeder is its all-metal construction and wire mesh design, a cooling yet protective layer to the much-needed seeds making it the best thistle feeder so far.
Another thing I like about this No/No finch feeder is the durability of the materials used while keeping it easy to clean, weather-resistant and environment friendly. It is also pest resistant and can accommodate a good amount of thistle seeds to make many birds happy. It is just what I need
Some of the many benefits are:
Pros
Easy to clean
Built to last
Dispenses 1.5 lbs of thistle seeds
Even distribution of seeds
Cons
The top cover should have extra space to protect seeds from rain
Overall, the No/No feeder from Perky-Pet does not only provide nourishment for the finches but is also a very good addition to a well-curated garden. A backyard can be a haven for birds, but bird lovers need to put extra thought into creating a garden mimicking the natural habitat of birds. Adding a No/No feeder will surely add value to a garden.
2. Stokes Select 38194 Bird Feeders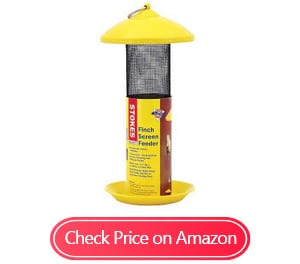 Bright yellow American goldfinches are beautiful and very entertaining to watch. This makes them a popular favorite of birders in North America.
These birds change color, depending on their diet and on the weather, so you could get a goldfinch in the summer, and then seeing the same bird, this time with green plumage at winter. Finches are very easy to attract, and to get as many of them as possible to your yard, the Stokes Select 38194 Bird Feeder will be the best choice.
I love the idea that this bird feeder has such high-quality and specially designed to provide the birds with balanced nutrition. What makes it a fun product is the ability to mix seeds, which the birds can eat from any angle, getting access to a variety of seeds. This is important to keep the finch colors alive.
As a birder for some years now, I can say that this is possibly the best goldfinch feeder – beautiful, practical, and economical, constructed from high-density plastic making it very durable.
Also, I love that this feeder's wide opening makes refilling and cleaning the feeder a snap to clean. The careful design arguably can attract birds while making my backyard truly beautiful.
Some of the highlights of this product are:
Pros
Easy to clean
Won't rust
Well designed product. Comes with large hanging ring
Easy to fill
Cons
Not a lot of space to perch comfortably
Generally, there are many reasons why I recommend the Stokes Select 38194 is because of the fact that it can contribute to protecting birds in the wild. What a way to give back to the community – conservation of forests and protecting the birds habitat!
3. Droll Yankees Finch Flocker Birdfeeder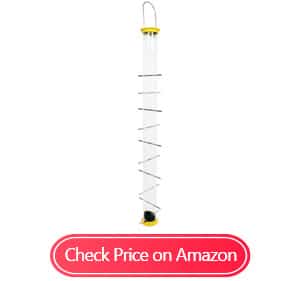 Finches are delightful and colorful visitors for your yard. Bird feeders can be designed, set up and stocked specifically for finches if you want to see them frequently stopping by.
Having Droll Yankees finch feeder is equivalent to winning the jackpot for the best thistle bird feeder will surely attract a variety of wild finches such as house finch, the purple finch, and the American goldfinch.
Most local garden centers, nurseries or farm stores for seed in the area probably carry the most commonly available food for finches so there is no worry about when to get supply. What I like about finches is that they can eat a variety of food such as sunflower seeds, sunflower kernels, thistle, flax, millet, and safflower.
While finches will eat seeds strewn on the ground, they enjoy eating upside-down and prefer sock, tube and platform feeders. So, yes, thanks to Droll Yankees, I got the perfect one for my finch birds.
I love watching the birds doing some acrobatics around this slender tube of birdseed. The clear color plus the metal perch area assured me that all seeds are completely empty – nothing is wasted. Another feature I really like is the simple sliding die-cast metal cap, which makes refilling quick and convenient.
Pros
The yellow cap and base attracts finches to the garden
The bottom has a built-in drainage system
Perch area is evenly distributed for comfort in eating
Has 20 feeding ports
Cons
Birds have no protection from rain or elements while feeding
Overall, I think this feeder looks great anywhere in the garden but recommends hanging it onto a pole feeder with others. The strong yellow color of the cap and base shines under the sun. There is also the option for the feeder to mounted on a pole, which makes it very convenient if you need to move the feeder to another location.
4. Brome Squirrel Buster Finch Feeders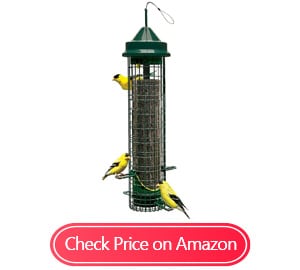 As a birder, I say there are three big threats birds and feeders face each day – squirrels, bees, and the occasional wild animals. Bird feeders, therefore, should answer these needs. We want to watch the birds, not some squirrels going away with the precious bird seeds.
Good thing that Brome answered the call. This bird feeder wrapped in a durable metal mesh tube intended for nyjer eating finches allows multiple birds to be fed at the same time. I love that the design sensors the weight of an adult squirrel and automatically closes the shroud denying access to the seed supply.
Another thing I love about this feeder is the color, blends with the garden flowers but clashes beautifully with the strong yellow color of the finches. It is always great to wake up with this golden finch feeder full of finches eating upside-down and flying away happily after every meal. I also love that all exposed parts are made of chew proof materials blocking squirrels from attacking the seeds.
Pros
Easy to clean
Clear tube allows easy refill
It is squirrel proof
Metal mesh protects the clear seed tubes
Cons
Accommodate only 8 birds so if you are in finch country, then getting a few more finch feeders might be necessary
Overall, this is one of the best deal for nyjer feeders out there.
5. Stokes Select Sedona Screen Bird Feeders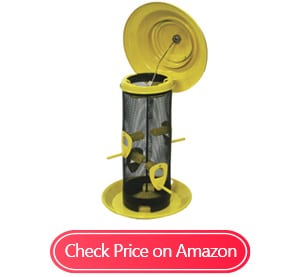 Finches come in many hues of the rainbow. This is the reason why they are one of the most popular birds in the northern hemisphere. This is especially true for the american goldfinches.
And to attract them on a regular basis, Stokes Select just made it more lively by their sedona screen bird feeder made from durable galvanised sheet for its roof and base, metal mesh and a lovely hanging metal rod.
I love the design and the bright yellow overalls provide some happy tone to my otherwise very green backyard. The drainage tray doubles as a perch area in addition to the perch rods attach to its cylindrical feeder container. Such a wonderful addition to Stokes collection of best thistle seed bird feeder.
There is no better way than to start each morning watching my goldfinches feasting on the bird seeds through this goldfinch feeder. At most days, I get to see purples and orange and black and yellow finches.
Pros
Very durable metal design.
Roof protects seeds from the rain
Perch areas for comfortable feeding time
Easy cleaning and filling
Cons
Ports opening are a bit big so some seeds flow out to the ground
The chipmunks waits under for spilled seeds
Stokes Select did a fine job creating a beautiful piece but perhaps, it needs a bit of attention as to number of birds that can perch and feed at the same time. Overall, it's a worth it product and reviewers on amazon can attest as to how much finches love coming to the feeder.
6. Gardman BA04820A Flip Top Thistle Feeders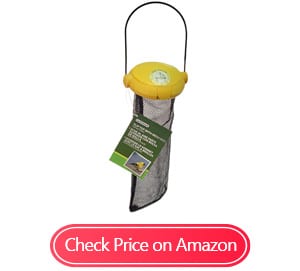 Ever heard of the saying "simplicity is beauty?" This is what is it about – a simple and practical way to attract finches and bring enjoyment to active birdwatchers. No qualms. Just your Gardman bird feeder for finches, your amazing finches and your viewing enjoyment.
I love that it fits the definition of a sock finch feeder. Its wide bright yellow top provides an easy way to fill the mesh bag and with its size of 3.5" it is not too bad for fill to capacity. On most visited weeks, I need to fill the sock twice but that's okay.
Of course it does its job but unlike metal mesh nyjer finch feeders, nylon ones have its share of wear and tear and this Gardman mesh bag is no exemption. It does not last longer than I wish it will be. The funnel-shaped mesh bag gives up after few months of abuse from the heavy seed and the pecking birds. But will I give it up easily, no. The black mesh bag looks so good with the yellow or goldfinches.
Pros
Easy to clean and fill
Design allows easy top-filling direction
Can be hanged easily on a flower pole, patio or tree branch are best choices
Birds love it
Cons
Can only accommodate nyjer seeds
One of the most simple yet functional thistle feeders I found. Fill it, secure it, and hang it onto a tree and enjoy the birds flying and feasting away. I love it as much as my goldfinch guests.
7. Stokes Select Thistle Tube Bird Feeders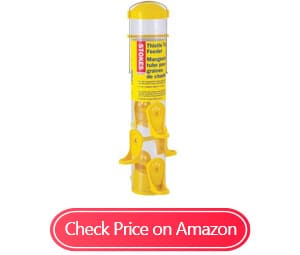 It's bright, it's yellow and it's practical. This is the perfect feeder to a place where that gets plenty of feathery guests. Stokes Select made it possible to have seed mixes such as nyjer and regular finch mix.
I love the feeder's bright color, perfect for my bird outdoor space and my bird's habitat. The migrating birds normally have a feast in this large tube bird feeder making it a center of the bird feeding station. Beside it is my water fountain. It is also very easy to clean and refill this nyjer seed feeder because of its wide mouth.
Among many bird brands, Stokes Select is one of the most popular among birders and did well by incorporating rust-proof polycarbonate material that makes this finch feeder one of the most durable in the market. Many days I see goldfinches blending beautifully with these thistle tube feeders or specifically these nyjer seed bird feeders. For a birdwatcher, it is a wonderful sight indeed!
Pros
Has a roof top design that protects the seeds from the rain
Easy to clean and fill
Beautiful yellow ports and perch area
Built in drainage
Cons
Color stands out too much so bright yellow finches are hard to spot from afar
Overall, Stokes Select prepared a finch feeder that makes sure to attract birds without much effort. It is practical, durable, and yes, very bright.
8. Kaytee Finch Feeders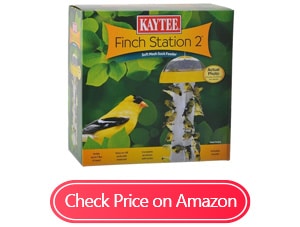 One thing Kaytee is good at is redefining the words "needs" and "practical". This is definitely a head-turner both for the finches and the bird watchers. Kaytee created the best sock feeders possible – simple, cloth mesh, and durable. I particularly like the umbrella-like roof that protects the precious nyjer seeds from the elements.
This Kaytee finch feeder can hold at least 7 pounds of nyjer seeds so there's no need to fill it as often as I need too. That makes it quite awesome for a busy birder.
I also like that the finch sock feeders are softer for the bird's beak than the metal mesh products. The hanging socks are definitely very practical and fit beautifully in a small garden, a patio or under a nice tree. The uninterrupted view is perfect so it is not a wonder why amazon buyers highly rated this Kaytee feeder.
Pros
Easy to install. Just hang it.
Accommodate enough nyjer. Reduces filling time
Easy to use and clean
The umbrella-like roof protects the sock feeder from the rain
Cons
Soft sock feeder can get moldy when not used often
Well, thanks to Kaytee, I have a simple and practical solution to my migrant finches. If I have to pick one sock feeder again in the future, then I would surely pick one that is off Kaytee's rack. It does last for years so it's always a good addition to my collection of sock feeders for my loyal house finches.
9. Songbird Essentials Finches Feeders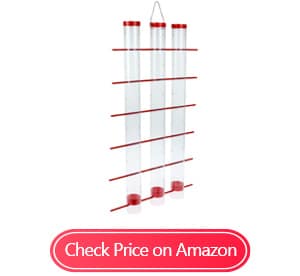 There's a saying "the more, the merrier" and with Songbird Essentials tube feeder, this may just be true. I love that it has 3 big tube feeders to accommodate as many house finches or goldfinches as possible – a feast, literally. Having 24 feeding ports means that the finches will get fed all at once.
I also like that Songbird Essentials included enough perch area for comfortable feeding. Finches are social birds and having them perch and eat together is not just a beautiful view for the bird watchers but a great time for the finches as well.
For areas like mine that are frequented by finches, this three tube feeder by Songbird Essentials is a real treat. I love that it can feed so many at one time and it certainly is a dream to see so many of them in a day.
The only thing I dislike is there is no roof protection from the rain or the sun. I have to hang it under a tree for a shade.
Pros
Easy to dismantle for thorough cleaning
Perfect for bird populated areas
Requires less refill time
Has 24 ports for 24 beautiful finches at a time
Cons
Tube is made of plastic
No roof shade from the elements
Still, would I change a thing. Perhaps not. The views of the birds are enough to tell me this product by Songbird Essentials is well-thought of, very practical and very affordable too to be called one of the the best feeders for finches. So get those finches on and enjoy the many views of how they finish the nyjer seeds with gusto.
10. Bird Quest SBF2Y Spiral Thistle Bird Feeders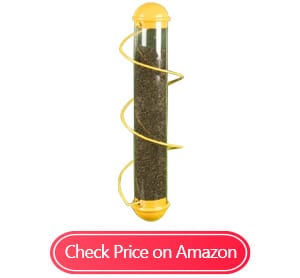 Nyjer seeds are expensive so getting the perfect feeder is a must. Some of the best ones are upside down finch feeders. And if you are like me who values usage plus design, then Bird Quest probably answered the call.
I love the wider tube component of this nyjer seed feeder but I specifically love the spiral perch. Bird Quest claims they even patented the design, which means what I have at home is one of a kind.
I also like the more subdued yellow color. Some feeders are an overall yellow making it hard to see a goldfinch from the glossy yellow finish. Not this one.
At one point, I saw birds running the spiral instead of flying to the next open feeding port. Such adds more fun to how they use this nyjer seed feeder. Any chance I get to give more fun to these beautiful feathery friends is something I am willing to take. With Bird Quest, I got just that – fun!
Oh. It is squirrel proof too so I don't need to worry about taking my eyes off my feeder anytime. I am quite assured that the feeder only attracts finches and not the pesky squirrels.
Pros
Easy to clean and fill
Very elegant design
Made of durable aluminum material
Nine thistle feed ports
Cons
Can't accommodate many finches at a time
For the bird lovers, this is design over quantity. If your area has a high finches population, perhaps, you need another feeder to cater to all. But placing this in the middle of your curated backyard garden will be perfect for bird viewing.
11. Woodlink Coppertop Thistle Tube Feeders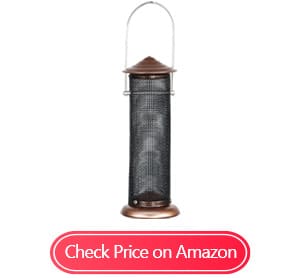 Copper and metal are illustrious combinations. It is elegant under the sun and even under a shade. The copper roof and base are not just beautiful but practical as well. Woodlink does make every garden look a lot better.
Without a doubt, I love the black metal mesh as it serves its purpose to hold the precious nyjer seeds in place and to serve as a perch for the colorful backyard birds – the multicolored finches. Since it is water resistant, I do love it more.
Woodlink is fantastic at coming up with what is probably one of the most beautifully manufactured thistle tube feeders around. It caters to big finches without alienating smaller finches with the smaller wire mesh, so they can cling to it while enjoying their favorite thistle seeds.
I also like that it is easy to use – fill then hang it in your favorite part of your backyard garden.
Just one that requires improvement would be the size. One feeder is not enough if you live in a place populated with finches.
Pros
No assembly needed. Just hang it on a feeder pole or a tree branch
Wire mesh protects seed from falling off
Can hold at least .5 pound of thistle seeds
Easy to know when seeds are running low
Cons
Too small in size to accommodate as many finches possible
Of course bird watchers are good at knowing how many of these feathery wonders come to visit their backyard. If you require design over quantity, Woodlink have done it for you. If you have more finches visitors than usual get another set of this beautiful coppertop tube feeder and enjoy the finches feast on those healthy nyjer treats.
12. Perky-Pet GB5F00340 No No Finch Feeders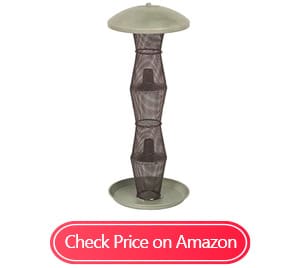 I always love easy to spot feeders. One that will tell me when exactly to refill without me checking it constantly. The answer is having the mesh finch feeder in my backyard. They are functional, practical and easy to maintain. This No/No green and black mesh finch feeder just answered that need.
When it comes to deciding for the best thistle feeder, I have two things in mind: weather resistant and its ability to attract finches. Perky-Pet's No/No screen finch feeder attracts both clinging and perching finches but deters squirrels from stealing the precious nyjer seeds. The wires are non-chewable so that means there's all day seed protection .
I also like the design, the diamond designs put together somehow adds value to the already fully functional feeder. It allows multiple finches to feed at once while the baffler top will never give seed access to squirrels.
The perching tray does both work of catching stray seeds and use as a perch area for some finches. It's fully practical. No wonder reviews on amazon are all highly rated.
Pros
No plastic, no wood
Baffler deters squirrels
Easy to clean and fill
Wired mesh for easy clinging and perching
Cons
Uneaten nyjer seeds on the bottom plate can get moldy easily
This mesh finch feeder is function over design and certainly perfect for the busy birder. It does not require constant cleaning and it is easy to spot when the finch feeder is running low on seeds. A sure way to attract not only finches but friends to other bird varieties such as sparrows and some other migrating birds looking for food.
13. Perky-Pet 3261 Sierra Finch Feeders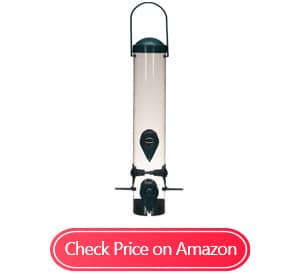 I say this again. Perky-Pet is a leader in bird products. Their wide variety of tube feeder designs always make me happy. I love this Sierra Wild Bird feeder for two reasons: it's clear tube and the seed ports.
Every beautiful finch visiting my backyard seems to be drawn to this feeder and it is no surprise anymore. The straight tube containing the healthy nyjer seeds is easy to spot even from afar. The six feeding stations allow finches unlimited access. I placed this finch feeder near a water source so I get to enjoy finches playing with the water before or after their feeding session.
Another thing I like about this feeder is the focus on how the thistle seeds come down. Birds do not need to start feeding from the top of the tube as in wire mesh variety but the thistle seeds continuously trickle down, which means that no seed is left wasted or end up being moldy.
Well, Perky-Pet also added another feature – it can contain sunflower seeds too so it does not only provide my beautiful goldfinches a variety of food diet but also allows other birds such as chickadees and sometimes woodpeckers to come and snack on the seeds.
Pros
Nicely designed feeder with six ports
Can combine sunflower and thistle seeds
Easy to see when seed runs low
Easy to clean and fill
Cons
Made of plastic so exposure to sun makes it brittle in a short time
Still, the good things outweigh the bad features of this finch feeder. If you live in an area that is frequently visited by finches but they don't come in droves, this one is a good addition to your garden. Simply hang it and presto, a feeder is on to serve the beautiful feathery guests. But if you have a lot of finches, go for more sturdy ones – metal wired mesh feeders are better.
14. Woodlink NAWLNT Audubon Screen Tube Feeders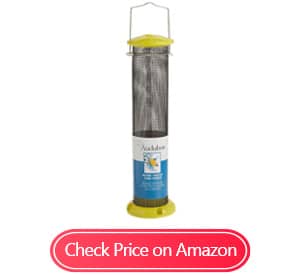 Durable products are better investments. And for anything that you placed outdoors, you have to think of the product's quality first.
Plastic vs rust proof metals? The latter wins all the time. Whenever I purchase a bird feeder, my first consideration is on whether or not it can withstand the weather changes in my area. The good news is that Woodlink does this work for me.
So I have three reasons for loving this Audubon finch screen tube feeder: simplicity and practicality of design. The design of this feeder is very similar to the nyjer sock feeder that I like. The only difference is the durability of material which is needed for the change of seasons.
I also love the yellow cap and base because it provides a great contrast for the goldfinches making them standout during the feeding session.
If there's one thing I do not really like about this feeder is the lack of bafflers to protect the expensive nyjer seeds against the squirrels or of the elements that may cause wear and tear during the process.
Pros
No assembly required
Requires very minimal cleaning
Wire mesh hold the seeds together
Ready to hang. No installation required
Cons
Feeder is not protected against rain
Wet nyjer turns moldy easily
Protecting the nyjer seeds is as important as the feeder itself. It means that while the wire mesh protects the seeds, there is a need to protect the mesh from getting rusty or even discoloration. Still, this Woodlink product has a design finch birds will enjoy at any time.
15. Perky-Pet 399 Upside Down Thistle Feeders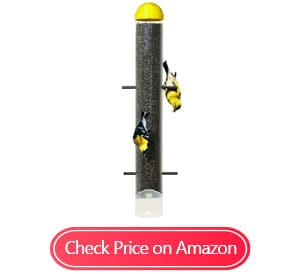 I love upside down thistle feeders because they create those precious moments for bird watchers. They surely allow finches to show off their ability to do nice acrobats while searching for the best nyjer seed from the thistle tube.
The unevenly distributed seed ports would require finches to fly, perch, reach out or do an acrobat to reach the port opening. The black and white finches will be so much fun to watch. Although aside from this feature, what I love the most about this product is the weather resistant cap that protects both the tube and the expensive nyjer seeds inside it.
Mostly, it is specifically attracting goldfinches to the yard and since they are a real beauty, I don't really mind seeing them in their glorious yellow feathers.
I may not be a fan of plastic materials but for this product, Perky-Pet did a good job of making sure that the plastic tube is able to withstand changes in temperature and change in weather.
Pros
Easy to clean and fill
No installation needed. Just hang
Upside down design allows nice view of the feeding birds
Hold 2 pounds of thistle seeds
Cons
Not advisable for birds bigger than regular finches
While there could be minor flaws such as the number of birds that can feed at the same time, the durability, design and purpose of upside down feeding are good enough reason to purchase this product. Plus, it is Perky-Pet so there's always a guarantee.
16. Woodlink NATUBE20NB Nyjer Thistle Finch Feeders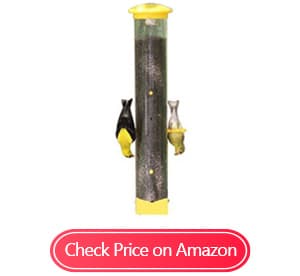 The basic design for a nyjer seed finch feeder is the sock nyjer seed. It has one main purpose, to be able to distribute seeds to the finches without too much hassle.Woodlink, however, made it a lot better by manufacturing this tube feeder made of durable polypropylene plastic.
First, I love the combination of clear plastic tubes and the yellow top and bottom. The mild yellow color gives a good contrast to the strong yellow color of the goldfinches.
I also like that Woodlink came up with easy to manage feeder – easy to clean and fill. It is easy to know when the nyjer seeds are running low.
Second, the tube is designed for upside down feeding giving the bird watchers the time to see the multi-colored feathery guests perform all sorts of acrobats just to reach the expensive nyjer seeds.
Pros
Easy to fill and clean
Yellow color attracts more birds
Durable plastic quality
Feeds upside down
Cons
Bigger birds such as sparrow that might need feeding can't access the seed
Plastic discoloration after too much exposure to elements
Overall, this is one of the most practical and simple design Woodlink have for their finch feeder products. It may not be the most beautifully designed finch feeder but it does its job of feeding the finches and does it well.
What is The Best Thistle Feeder?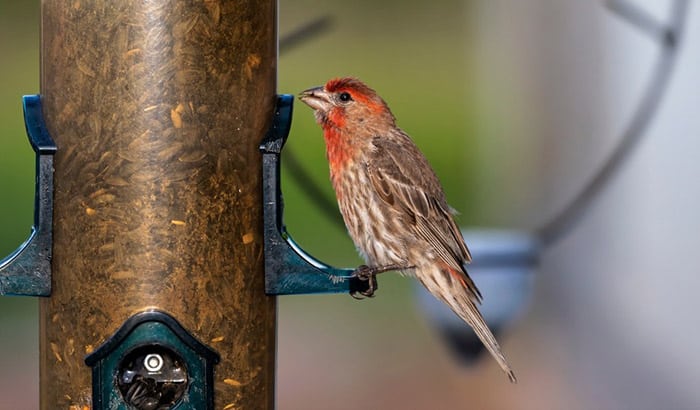 For finches, there are many amazing products produced by the leaders in the bird industry. Some of the best thistle feeders are the ones made out of wired mesh, durable polypropylene plastic, some homemade finch sock feeder, and metal bafflers. They not only feed the beautiful finches but also make sure they withstand the elements – wind, dust and rain.
My top picks are Woodlinks No/No Finch Feeder, Coppertop Finch Feeder, Songbird Essentials Three Tube Feeder and Kaytee Finch Feeder top the list of the most practical, beautiful and functional goldfinch feeders. All are beautiful additions to one's backyard garden, curated or not.
How does It Work?
There are two types of finch feeders: plastic tube and wire mesh feeders. Although sometimes, creative birders come up with their own homemade sock finch feeder or even sod bottle finch feeder. All of which require a good baffler or a tray to protect the expensive thistle seeds from being stolen by squirrels or being dropped on to the ground wastefully. Finch feeders with wire mesh doubles as a perch and cling area of birds.
What are The Different Types of Finch Feeders?
Many feeders are out in the market right now. They can be bought from regular bird shops or even your usual per corner at your local Walmart. Finch feeders are also available online on amazon.
The types of finch feeders vary such as:
Tube Feeders
The most simple yet practical solution to feed finches is the tube feeder. The design is an offset to the traditional sock finch feeder. You fill the tube with nyjer/thistle seed and hang somewhere in the garden. Some tubes come in twos and threes with enough perch area.
Upside-Down Tube 
The most practical and fun way to watch the finches enjoy their nyjer seeds is the use of feeders that are literally the upside down version. Among the bird varieties, finches are upside down eaters so the nyjer seed goes to who it is intended for.
Mesh
Usually made of wire mesh. This variety of finch feeders are good for both clinging and perching birds. Usually made of metal, they are also rust and weather resistant.
Sock Finch Feeder
The most traditional feeder uses the soft but equally great feeder. The light weight material makes it easy to use and replace. The design and function is very similar to the metal mesh feeder. Finches cling onto the soft mesh fabric while feeding
Why do You Need a Finch Feeder?
There is no exact reason why you need a feeder. It comes in two ways: you like to attract finches in your backyard for entertainment or you are an environmentalist trying to make sure the birds get enough nutrition during their process of migration.
Among the bird varieties, finches are fun to watch. They are known to be clinging birds and move a lot during feeding time. Some finch variety like the American goldfinch eats while hanging upside down – a rare kind of entertainment.
Factors to Consider When Buying a Finch Feeder
Thistle or nyjer seeds are quite expensive. Similarly, birders are facing a dilemma of choosing wisely from the many finch feeders for sale both online and in stores.This means that using it properly is a priority. To be able to get the most essentials for your finches, it is important to consider few guides before spending those precious dollars:
Size
it is quite important to know how many finches are expected in your area. The more finches there are, the bigger finch feeder you need. If they come in droves, opt for feeders that are either mesh or the finch sock varieties. Such can accommodate more finches at the same time.
Durability
the secret to a good finch feeder is the kind of material used. Polypropylene plastic is always a good choice as they can withstand the change in weather. Some of the more durable material include metal mesh tube as well as galvanised irons as bafflers.
Seed Capacity
If you have a variety of birds in your backyard, go for finch tube feeders that can accommodate different seeds at once. Some finch feeders comes in two and three tubes. Take advantage of it and you might see some chickadees or sparrows feasting with your finches.
Care and Maintenance
Most finch feeders require easy maintenance. Plastic tube finch feeders can be easily washed using soap and water every once in a while.
Ways to care for your finch feeders:
Gently remove the hook from the feeder pole or the tree.
Empty all old seed first
Wash the tube by scraping all mold or hardened nyjer seeds
Old seeds become a breeding ground for bacteria
Dry the tube under the sun before you reinstall the feeder
Frequently Asked Questions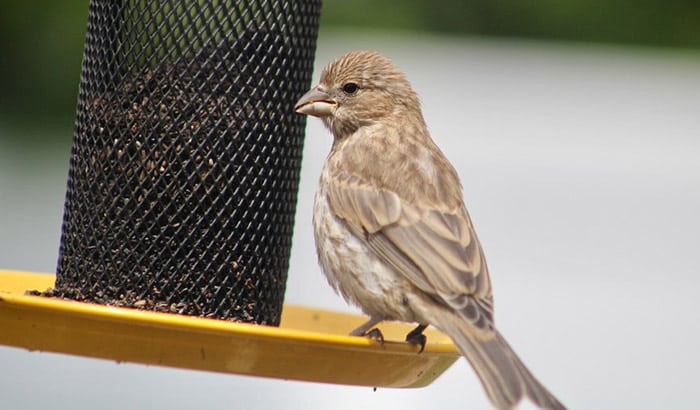 What are The Most Trusted Finch Feeder Brands?
There are many practical, affordable and elegant finch feeders being sold in the market today, both online and on store. Personally, there are at least two bird companies making finch feeders that I believe are producing the best ones:
Kaytee – is very good at defining practical and functional. Their double finch sock feeders are perfect for the gold finches that are on fly by as well as the regulars.It comes in two so it caters to more number of finches at a time,
Woodlink – the coppertop thistle feeder is perhaps the most well-thought off in terms of design and function. Woodlink bird company is great in making both durable plastic tube and wire mesh tube.
Perky-Pet – offers practical solutions to some of the finches feeding needs. The company manufactures some of the best upside down finch feeders
What Type of Feeder is Best for Nyjer Seed?
For nyjer or thistle seeds are nutritious seeds needed by finches and some other bird varieties. This includes protein, fiber and oil. Physically, it resembles a sunflower seed so it is big enough to keep in a sturdy tube or a mesh tube.
Nyjer seeds are better for tube feeders with enough ports used by the finch birds during their feeding session. A feeder with a perch or a tray will also be ideal to keep the seeds from spilling out of the tube.
How do You Attract Finches to a New Feeder?
There are few things every birder should remember when they decide to attract the beautiful finches. The american finches are possibly one of the most sought after birds for a visit.
There are few practical ways to attract finches easily to your backyard:
Choose the space where you will hang the fincher. Make sure that it looks like a safe place for finches – far from other bird feeders attracting big birds, where other animals can reach, or a place squirrels frequents.
Finches like the black thistle or nyjer seeds.
Choose finch feeders that have stronger colors like yellow or orange. If not, add bright ribbons or colors near the feeder.
Clean it regularly. Remove moldy or hardened seeds
Where is The Best Place to Put a Finch Feeder?
Location is an important element in attracting those beautiful finches to stop by and enjoy the thistle treats. Finches like flowers and a dedicated finch station at a corner of your backyard.
Here are few places you can consider:
Place it near flowering plants – attract pollinators such as birds
Away from possible predators – squirrels, bigger birds or home pets
Near a water source as birds can benefit from drinking water after feeding
Goldfinches prefer taller trees, shaded locations and shrubs to tempt them to stay until the nesting season.
A spot you can easily see such as your backyard garden, patio or near a window
When to Put out Finch Feeders?
Goldfinches are interesting birds. They change their feathers at least twice a year, changing both colors and temperature.
Late summer and winter are the best season for them to come and visit your backyard garden. American goldfinches nest after summer so it is advisable to attract and tempt them to stay until the nesting season.
What is The Best Food for Finches?
Finches are fond of black thistle also known as nyjer seeds. Small finches on the other hand are also attracted to some kinds of seeds including canary seeds, corn and corn flakes. Nesting finches should be given enough nutrition or a balanced diet to do their job well.
Some of the most common food alternative to keep finches healthy are:
A mixture of bright colored fruits
Mix of orange, carrots, bell peppers
Blueberries, rapeseeds
Peas
But thistle seeds remain the best finch food although anything organic should be suitable for finches.
How to Care & Wash Finch Feeders
Finch feeders including plastic tube and mesh feeders can be simply cleaned with soap and water.
Wear gloves and mask to protect yourself from bacteria caused by birds
Disinfect the feeder by soaking it in water and soap
Scrub molds and hardened seeds from the feeder
Rinse properly with running water
Dry the tube under the sun
Assemble it back and install it on to a pole or a tree
Cleaning and washing the finch feeder at least once every two weeks are important in keeping the health of the birds as well as the birder.
Where to Buy?
Shopping for a finch feeder could be easy or hard. Some traditional bird watchers would rather see and feel the product to be sure of its quality while some would easily choose and pick online. There are many ways to get a suitable finch feeder out there.
Large retail corporation Walmart has a variety of bird feeders for all types of birds. They are also usually cheaper than feeders sold online. Similarly, Home Depot and Lowe's also carry a lot of bird feeder variants. Surely, there is one that is perfect for every backyard garden.
In contrast, when something is not available at a regular store, amazon is possibly the best option. Amazon's wide array of products benefits those who live far from the city, and most times, they are delivered for free on your doorstep. One just needs a credit card and shopping becomes very convenient and easy.
Conclusion
Finches are fancy birds. Their colorful feathers are something to behold. Infact, the american goldfinch is probably the most awaited bird variety at the beginning of spring and winter. Most bird watchers are looking forward to the change of body feathers of the finches during the feeding and nesting time. Their musical qualities are also something to look forward to. For this reason alone, getting the best finch feeder is the best finch food a bird watcher or a gardener can offer in exchange of the joy they bring.