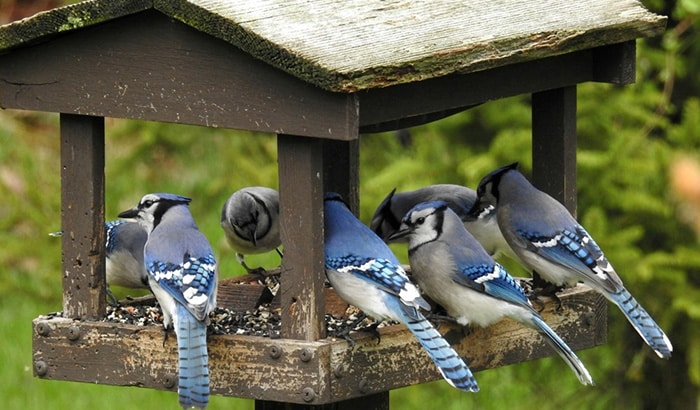 When I'm out in the garden to frolic in the sun and enjoy the serene environment, small flocks of birds come around to dwell in trees and flowers. But the day always becomes more special every time I catch a glimpse of the beautiful blue jays.
Their non-iridescent yet vibrant hues of gray, white, and blue are truly a fascinating sight, and their typical flights in pairs even more so. That's why I hope to attract them and keep them around using a blue jay bird feeder. Whilst it's a goal to watch them more often for pleasure, these lovely bird species can also look after themselves and feed on with what makes up the most of their diet – peanuts and seeds.
If you also want them to stop by sometime at your yard and set up the best feeder for blue jays, I've got you covered with the popular and best picks you'll find on the market through this comprehensive buying guide and reviews. Keep reading!
Best Feeder for Blue Jay Reviews
1. Songbird Essentials SE6019 Wreath Feeders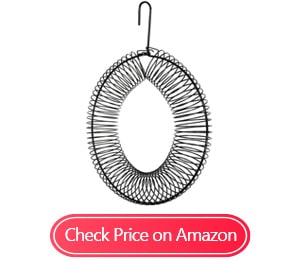 There are three things that I love about this feeder: simple, sturdy, and effective. At a glance, you might think it's nothing but a piece of refurbished metal that you can just hang on a tree or post. But the straightforward design is beyond innovative because it can offer ample capacity for whole peanuts and even suet.
This peanut wreath feeder has gaps that allow the birds to easily access the food while keeping the food intact in a sturdy metal vessel. I'm actually surprised how much food it can hold that blue jays love to feast on it every time.
Designed with optimum capacity for bird food, it can handle around a lot of whole peanuts every refill and you'd probably need to buy and stock up on more peanuts because a lot of birds love feeding on it apart from blue jays.
The installation is nothing but a breeze and all you need is to hang it somewhere where birds come by. The durable hook will keep it on its spot even when blue jays circle around it and peck on the peanuts.
But here's a caveat: this type of feeder is quite attractive to unwanted guests and can stand as a competition against squirrels, mice, and rats so you've got to be careful where you should place it, especially if you want to keep it exclusive for blue jays and other birds.
You should also know that if you're planning to supply smaller peanuts or seeds for smaller blue jays, this feeder won't be the best option. It has large gaps that won't be able to hold tiny bits of bird food.
Pros
Can provide a large capacity for whole peanuts
Offers convenient access for birds
Very easy to set up
Features a simple yet functional design
Ideal for attracting big blue jay birds
Cons
An eye-catching feeder to blue jays' common rivals
Won't be able to hold smaller kinds of food
Despite these slight issues, this wreath feeder does what it is supposed to do. It may be one of the simplest feeders you can find but you won't be disappointed with its effective use.
2. Twinkle Star Wild Bird Feeders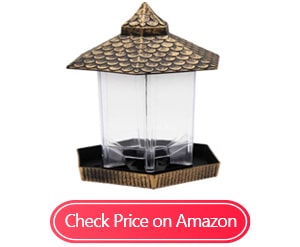 I won't deny that it's love at first upon seeing this beautiful feeder. The hexagon roof embellished with fish scale patterns and antique copper finish truly is a stunning sight that can stand out in your garden or backyard.
But beyond its aesthetics is a functional hanging feeder that can provide food for small bird species as the Florida blue jay. It can hold up to 2.15 lbs of different types of seeds that these blue birds love.
The 7.9-inch tray at the bottom is a major plus. It lets the birds enjoy pecking the peanuts through the feeding ports with only minimal waste.
I actually don't mind the choice of material as it doesn't compromise the quality and build. Plus, it's nice to know that it is crafted from recycled plastic. It also keeps the feeder lightweight and easy to carry around if I want to move it to a different spot.
Filling it and cleaning won't be a lot of trouble with this one. Just twist the lock, lift the roof, and you'll have full access to what's inside, allowing you to remove the contents for cleaning or replenish the seeds.
But because it has decent capacity, refilling is less frequent and hence, saves you time and effort. I have also seen some of them trying to invade the feeder but since it is light, they end up falling off the feeder. Besides that, the container can also protect the seeds from windy and rainy days.
However, this might not be your ideal feeder if you are eyeing for large blue jay birds. It comes in an 8.6-inch size so it's relatively smaller than other feeders and can only cater to our little feathered guys.
Pros
Minimizes litter and particles with its tray
Easy to replenish the contents and remove for cleaning
Offers decent capacity up to 2.15lbs of seeds
Secures the food from harsh weather conditions
Squirrel proof
Cons
Too small for large blue jays and other bird species
But other than that, this ornamental piece could be your best bet for secure and convenient feeding, hassle-free cleaning and refilling, and easy setup.
3. Songbird Essentials SE6020 Wreath Feeders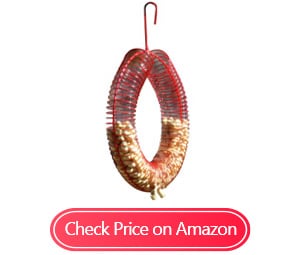 Contrary to our first wreath peanut feeder for blue jays, this one comes in a cherry red color. It stands out in the yard and it's a whole lot of fun when blue jays and other birds stop by for a snack.
Well, it isn't actually just a snack but more like a feast because they usually consume everything up as fast as about 20 minutes!
It's wonderful to see how much they love circling around the feeder and showing off their acrobatic moves just to get a share of their favorite whole nuts. As usual, Songbird Essentials is consistent with its design and capacity.
Similar to the first one on the list, this wreath feeder is able to hold a hefty amount of whole peanuts. This is definitely an advantage because you'd be surprised how the peanuts are gone in a matter of minutes. Streamlined with big gaps, large birds can easily get through and reach for food.
As always, the concept is very basic but highly functional. The loops hold the peanuts quite well and keep them intact. And if you need to load more peanuts, what I usually do is disconnect the wire at the top and fill more food although sometimes I just do it when it's connected. It isn't a burden to do.
I'm impressed with its durability, simplicity, and effectiveness except for what happens after a feast: peanut shells all over the yard! The structure is also not suitable for small blue jays as this feeder can't hold seeds or smaller types of food.
Pros
Can contain loads of whole peanuts
Effectively attracts blue jay birds for frequent visits
Secures the food and keep it intact
Durable construction and hassle-free setup
Cons
Leaves residues or peanut shells on the ground
Not suitable for seeds to feed small birds
Needless to say, this innovative and durable feeder is worth a try if you're not after something fancy and just want blue jays to come by.
4. Droll Yankees Seed Saver Platform Feeders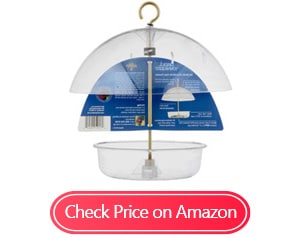 For a sophisticated perch and feeder for your feathered friends, this Seed Saver Domed feeder from Droll Yankees is probably what's missing in your yard. It is definitely a beauty that compliments the house exteriors but its versatility is what makes it one of a kind.
This dainty feeder features a 10-inch diameter dome that serves as a protective cover to ward off any elements in the environment as the bird feasts on the food. Plus, it is UV-stabilized so it won't discolor in the long run.
When it comes to the feeding platform, the 7-inch vessel isn't limited to peanuts and sunflower seeds as it can also hold up to 1 pound of mealworms, fruit, and suet. You can easily hang or mount it on a pole with its rust-resistant brass hook.
Looking closely at the bottom of the platform, I noticed drainage holes which I thought are quite clever to ensure the quality and freshness of food. So when it rains or in any way gets wet, the food won't stay damp and be left spoiled eventually.
When it comes to its size, I'd say it is relatively smaller than other bird feeders. But it makes it just right for tiny blue jay birds. With its protective roofing, it can also provide a safe perch for the birds to rest on. The dome height is also adjustable so it can accommodate more birds.
Unfortunately, the feeding platform also has its share of drawbacks. Because it's out in the open and has no secure covering, squirrels can easily get into it and forage for food. The pricing is also a letdown to me because it seems a little pricey for its size and capacity.
Pros
Features a clear dome for additional protection and optimal view
Provides an open platform for different kinds of food
Designed with drainage holes to keep the food dry
Adjustable dome height to accommodate more birds
Cons
It is a little expensive
Vulnerable to critters and squirrels
This feeder is still a great find nonetheless, especially if you need a durable vessel that can hold many sorts of bird seeds or food. This decorative piece also highlights its simplicity and elegance that will look good out in the yard.
5. Birds Choice Whole Peanut Blue Jay Feeders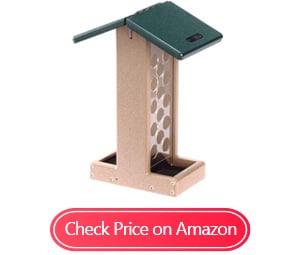 When you're in need of a blue jay peanut feeder that you can set up in your backyard and attract blue jays with their favorite whole nuts, you would love this feeder from Birds Choice.
It looks pretty basic at a glance but it's one of those hopper feeders that exhibit a unique design that you can easily fill with whole shelled peanuts. The large holes are quite noticeable and actually my personal favorite in this feeder as it allows blue jays to extract the peanuts without too much struggle.
The tray feeder that comes with it is also one of the features that take this up a notch. While this optimizes bird feeding, it minimizes waste and you won't have to worry too much about all the clutter of peanut shells in your yard.
Another thing I like is the convenient refilling. Whenever I need to load it up with more peanuts, I just flip the lid over on one side to open the feeder.
It can contain up to 2 1/4 quarts of peanuts which, in my experience, is just enough for two days. But it may run empty in a few hours or a day if there are more blue jays around.
It doesn't require any assembly so putting it up on a tree branch or pole is no trouble. And if you look closely at the construction, you can tell that it's durable. But besides the sturdy structure, I find it even more impressive that this feeder is derived from recycled plastic and other materials.
Although every part of it seems to be on point, the tray feeder could've been wider or bigger so that birds will have a nice spot to perch on. The fact that it has a roof is quite impressive but I notice that squirrels love to jump on it and hence, a squirrel baffle would be necessary.
Pros
Has large holes for better accessibility
Offers big capacity that can hold up to 2.25 quarts
Comes with a tray to minimize waste and optimize feeding space
Durable construction made with recycled materials
No assembly required
Cons
May require squirrel baffles
The bottom feeder is a bit small
Other than that, this hopper feeder is a well-made and eco-friendly feeder that does a great job of inviting your feathered blue friends for a peanut banquet!
6. Brome Store Squirrel Proof Buster Peanut Feeders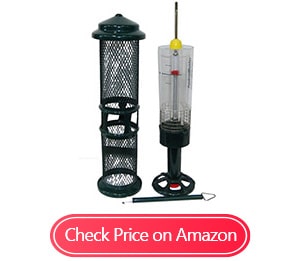 Unless you're feeding squirrels, you'll need a squirrel proof blue jay feeder to shoo them all away from those precious peanuts. I've come across a lot of bird feeders but this one from Brome is definitely a tough contender.
Engineered with heavy-duty metal, it is a solid bird feeder that won't wear out easily over time. As impressive as that could be, the highlighted feature of this feeder is its innovative design.
It is innovatively and specifically designed to ward off squirrels nearby. Because the parts are chew proof, squirrels can't get a piece even when they get on the feeder and try to take some.
Apart from that, this tube feeder features a mechanism that shuts down the access ports the squirrels climb on it. But don't worry, they aren't harmed in any way. This protects the shelled peanuts and lets bluejays, titmice, and other birds treat themselves with all the peanuts!
What's also great about this sturdy hanging feeder is the patented adjustable spring mechanism that lets you choose which sizes of birds you want to attract. I find it pretty useful, especially when I want to keep out some heavy birds to give way for smaller birds. Sometimes, it's the other way around.
There's no hassle loading this feeder. Plus, it has a great capacity that can handle up to 1.3lbs of peanuts. The metal mesh shroud right in the middle provides accessible ports for the birds. I also didn't have any problems with the installation. However, it is difficult to clean which is a letdown for me.
Pros
Made of heavy-duty metal for long-lasting quality and stability
Squirrel proof
Closes feeding ports to avoid squirrels
Holds up to 1.3lbs of shelled peanuts
Easy to set up
Despite that, this peanut feeder exhibits an exceptional quality that's worth every penny. It effectively keeps the squirrels away while providing a stable and accessible food port for these wonderful songbirds.
7. Droll Yankees 21964205201 Squirrel Proof Bird Feeders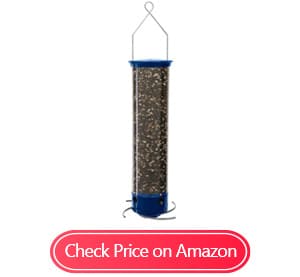 When flocks of birds usually come around your area or the seeds seem to run out too fast, you should get a bird feeder with a larger capacity.
Compared to the previous feeders on our list, this 17-inch Yankee Whipper tube feeder can hold up to 5 pounds of birdseed, allowing you to accommodate small flocks of birds at once.
In terms of its appearance, there's actually nothing so special about it. It has a straightforward design but renders a very convenient use when it comes to stocking up more seeds and setting it up.
As it offers optimum capacity, I really like the fact that it minimizes time and effort for frequent refilling and I can just go on birdwatching for days.
Aside from that, I can fill it up with a variety of birdseeds like sunflower seeds and a lot more. In this way, not only can it attract blue jays but as well as other bird species. And while they get to enjoy their meal, I need not worry about squirrels that usually come around to chance upon some tasty seeds; this feeder is squirrel proof.
Beyond its basic design is a clever yet simple mechanism that keeps the squirrels away. Right under the four feeding hole ports are curved perches that are calibrated to collapse when it detects a weight that goes over approximately 2 ounces or more.
It's actually quite simple but very effective. Without the squirrels and other rivals, blue jays can easily access the food through these feeding ports. It also stands out with its impeccable durability that resists chipping and discoloration. My only concern with it is the base which seems small for large birds.
Pros
Squirrel proof
Offers large capacity
Minimizes frequent refilling
Durable construction and coating
Hassle-free installation and cleaning
It is still worth an investment, though. It highlights its long-lasting quality, vast capacity, and efficient performance that will definitely keep these lovely blue jays around.
8. Wild Birds of Joy Window Bird Feeders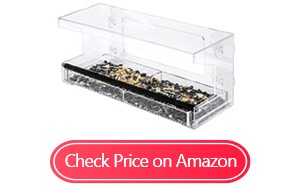 This acrylic feeder from Wild Birds of Joy is a personal favorite because it lends a beautiful view of the birds when they merrily feed on the seeds. I had this installed in my living room window and blue jays as well as finches, titmice, and cardinals love to stop by.
Thanks to the clarity and understated structure of this birdfeeder, bird watching has never been so delightful. Even when you put it up on the window, there won't be any obstruction on your view because the backside has a cutout.
Surprisingly, this feeder is durable enough to withstand different weather conditions and seasons to come. It's shatterproof so it won't break too easily. The tray slides out smoothly so replenishing the seeds won't be too cumbersome.
At first, I was worried about setting it up because it heavily relies on suction cups only. But you'd be happy to know that this bird feeder comes with four sturdy and strong suction cups. They keep the feeder securely affixed to the window so it won't fall off.
When it comes to its capacity, it can hold up to three cups of seeds. It may not seem much but this allows you to change the seeds regularly in case they get wet or spoiled. Thus, it prevents any bacterial and fungal growth.
The only problem with this feeder is that you may have to refill it more frequently. As I said, it's due to the small capacity. It also doesn't have any cover so make sure to mount it away from any tree branches or posts to keep those sneaky critters off the feeder.
Pros
Offers a clear and close sight of blue jays and other birds
Unique back cutout design
Durable and weatherproof
Comes with four strong suction cups
Cons
A small capacity that requires frequent refills
No cover
Nonetheless, this acrylic seed feeder is among the best options if you want a clear and up-close view of our colorful feathered friends. The size and capacity might be small but it ensures long-lasting quality.
9. Gray Bunny Hanging Bird Feeders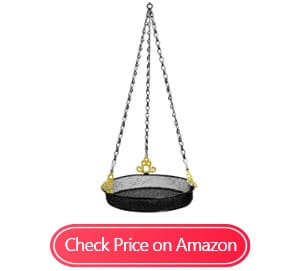 Whether you hang it by your patio or yard, this Gray Bunny hanging bird feeder tray will give blue jays and all other kinds of birds a safe feeding station to perch on. It has three durable double-loop hanging metal chains that ensure sturdy support even when multiple birds rest on it.
If you look closely at the details, the golden flair brackets give off a subtle touch of elegance that makes this hanging seed tray a decorative piece in your garden. But other than the aesthetics, I always make sure that the quality of the material is heavy-duty, especially if it is a hanging platform feeder.
Luckily, this hanging feeder didn't fall short with its durability because of rust-resistant and weatherproof steel mesh. This is definitely an advantage, particularly when blue jays and other flocks of birds usually stop by to eat and perch on the feeder.
Plus, it comes with a sturdy S-hook and a hanging ring that enhances its stability and durability. There's also no hassle when filling the tray as well as removing the seeds when it's time for cleaning.
Another thing that makes it special is the capacity of the tray feeder. Measuring 9.2 inches in diameter, the round feeder dish can hold assorted types of seeds, allowing you to attract not only blue jays but also other beautiful birds.
It can take a beating during harsh weather conditions or wavering seasons but it does sway at times because it only has three metal chains. I also notice that tiny pieces of seeds fall right through the mesh. However, with sunflower seeds and peanuts, you won't have a problem with it.
Pros
Offers excellent durability with its double-loop metal chains
Has 9.2-inch round tray feeder for ample capacity
Weatherproof and rust-resistant steel mesh
Easy to fill and remove for cleaning
Cons
The chains sometimes sway and tangle
Smaller pieces of seeds get through the mesh
Overall, this ornamental hanging platform feeder is all about durability and optimum capacity that will keep those lovely blue birds around!
10. Gray Bunny Hanging Peanut Wreath Bird Feeders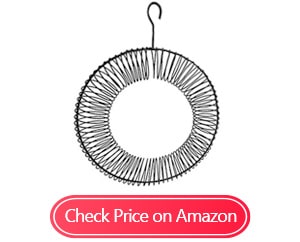 When all you need is a resilient structure to hold whole peanuts, you can go with this hanging wreath feeder from Gray Bunny.
There's nothing really fancy with its design but it does what a feeder is supposed to do. Not only does it attract blue jays but also other nut loving birds such as woodpeckers, ravens, grackles, wrens, and doves.
This wreath nut feeder measures 16 inches in diameter that can hold whole shelled peanuts. Because it has accessible gaps, birds can easily peck and get their shares of whole nuts. Need not worry when some acrobatic birds perch on as the spiral tube is made of high-quality and chew proof steel.
Whenever I browse the options for blue jays feeders in a wreath design, I always check the dispensing and loading process. Fortunately, it doesn't disappoint and when it's time for a refill, I just have to detach the metal part near the hook and it's all good. Cleaning it is easy as a breeze.
I also don't like spending too much time setting up a bird feeder so the straightforward design truly is a treat. It is very easy to assemble once you fill the tube with shelled nuts. It comes with a hook that you can hang outside in your garden and enjoy a delightful sight of birds perching and feeding on it.
The only downside I found with it is that the gaps in some parts of the tube seem narrower than the other, thus restricting these flying creatures from getting their favorite food.
Pros
Securely holds whole shelled peanuts
High-quality steel for long-lasting quality
Hassle-free installation and cleaning
Very easy to load
Cons
The spacing in some parts of the tube is too tight
However, it's still one of the simplest yet innovative designs for a nut feeder that you can easily set up in your garden or yard and you'll see lovely jays hanging around in no time.
11. JCs Wildlife Poly Fly-Thru Bird Feeders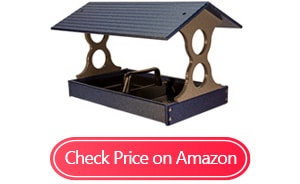 This JCs Wildlife seed tray feeder is probably one of the aesthetically pleasing feeders I found on the market. It is crafted with sturdy roofing and pillars that make it look like a safe shed for birds.
Innovatively built using poly lumber, this fancy tray feeder ensures a heavy-duty quality that can last for years. I've had this one for a couple of months and it's been true to its advertisement: it won't crack or fade easily.
With its durable build, it can also endure wavering temperatures, heavy winds, and different weather conditions. Besides the resilient structure, the removable feeding tray makes it a lot easier to load and replenish the contents. You can just lift it out of the feeder and go on refilling it.
The division in the tray is also very clever so I can fill it with two or various types of bird seed. With ample capacity, I was able to fill it with black oil sunflower seeds, peanuts, and many different blends.
The capacity won't disappoint you as it is wide and can handle up to 8 cups of seeds without any spillage and hence, it can cater to flocks of jays and multiple birds. It's also a delightful surprise to see all sorts of birds resting on it and filling their tummies with the food!
Whether it is mounted on a pole, wall, or concrete or hung in a tree branch or post, you won't have any trouble assembling it. Because it is also easy to fill and clean, it can prevent mold and fungal buildup at the same time.
However, it seems as if squirrels also love to come by for a snack. Just make sure to set up a squirrel baffle if you want to keep them away, otherwise, they'll scavenge for food.
Pros
Removable tray for easy refilling and cleaning
Made of poly lumber for rigid and long-lasting quality
Great capacity
Easy to set up
Needless to say, this pretty bird food feeder is more than just the exquisite craftsmanship. It is easy to use, very efficient and made to last.
12. Brome Squirrel Proof Buster Standard Bird Feeders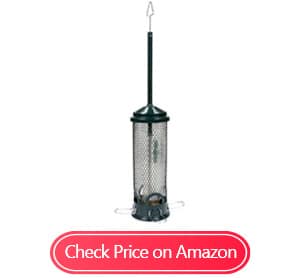 In terms of adjustability, Brome is among the trustworthy brands that provide a lineup of innovative bird feeders.
One of which is this squirrel proof seed feeder that can accommodate various flocks and types of birds. But when I want to pave way for the smaller kind, the patented adjustable spring mechanism makes this possible.
I find this type of mechanism creative and useful, particularly when there are too many birds around and some don't have the chance to eat and perch on the feeder.
With situations like this, the smaller ones like Florida Blue Jays, end up being swept off the feeder without any food to bring. Therefore, this patented design offers control over which size of birds should stay and feed on this bird seed feeder.
Other than that, the structure itself shows thoughtful craftsmanship that can shoo the squirrels away. The ports also automatically close to shut down any access to the squirrels, keeping the seeds safe and secure for the birds.
The chew proof materials enhance the quality of the feeder while keeping it essentially protected against squirrels. Even bears won't stand a chance!
This bird feeder for blue jays is designed with four ports and four perches for enhanced convenience, allowing the jays to comfortably rest on it while eating. When it runs empty, loading the feeder is also easy as well as cleaning it.
When it comes to setting it up, the sturdy metal rod and hook keep installation hassle-free while maintaining its stability during strong winds. In addition to that, it has a ventilation system which I think could be considered essential to keep the seeds fresh at all times.
The only slight pitfall is the size of the landing platforms. I wish they were bigger.
Pros
Dispenses seeds efficiently while providing easy access through multiple ports
Has four perches for additional comfort
Designed with a patented mechanism that keeps squirrels away
Offers easy cleaning and installation
Made of heavy-duty chew proof materials
Although that might be an issue, I still consider it one of the ultimate options for squirrel proof feeders. It has an innovative and efficient mechanism that wards off squirrels while providing sumptuous seeds for blue jays.
13. Gray Bunny Premium Steel Feeders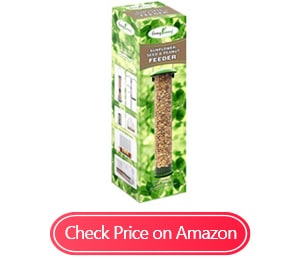 Among the blue jays feeders I've come across the market, this Gray Bunny seed feeder spruces up a mundane structure with a staggering height. Unlike any usual bird feeders, this 15-inch constructive design maximizes the capacity so you can cater to numerous types of birds including blue jays.
With its capacity, this tall feeder can hold up to four cups of bird food such as sunflower seeds, shelled or unshelled peanuts, whole nuts, black oil sunflower seeds, dried fruit mixes, and a lot more.
That may seem too much a variety of bird food but I like how the galvanized steel mesh keeps the contents secure but highly accessible. I've seen some of these lovely birds pecking through the gaps without a hitch and go back and forth for food.
Even when wild birds fly around and find their way through the feeder, there isn't much of a struggle because the feeder is tall and they can have a whole lot of space to feed on. No wonder it's been quite popular amongst all sorts of bird species, right from the small ones to the larger ones.
Like what I said, it secures the bird food very well. But when it's time for cleaning, I can just remove the screws on the base. The top lid, on the other hand, is easy to lift whenever the feeder needs refilling. I've got no problem using it and even the wire hanger helps keep the lid in place. It is sturdy and easy to clean.
What seems to be the slight drawback with this feeder is the quality of the mesh wire. Although it does its job to secure the food, it feels a little flimsy that it might get deformed when squirrels try to get through it.
Pros
15-inch bird feeder
Offers maximum capacity that can hold a variety of bird food
Can accommodate multiple birds at once
Easy to clean and refill
Cons
The mesh wire seems a little flimsy
Nonetheless, if you're all after maximum capacity and less frequent refilling, this feeder is one of the best options out there.
14. Twinkle Star Wild Hanging Bird Feeders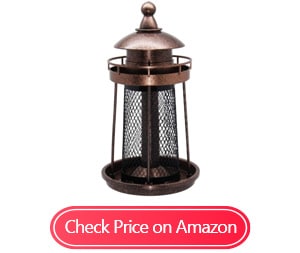 I've always been a fan of unique yet stunning decorative pieces for my garden. That's why when I need to set up a bird feeder, this Twinkle Star hanging feeder is among the exquisite designs I've found. It comes in a lighthouse shape embellished with a copper finish for a rustic touch.
Although it stands out with its exceptional beauty, it's far more than the aesthetics that makes this an efficient feeder. First of all, it exhibits impressive durability with its heavy-duty material.
The appearance can be a bit tricky. I actually thought it was metal at first but do know that this is made of plastic. However, it's good to know that it doesn't compromise the quality.
I've had this one for quite a while and it hasn't had damages ever since. It may also be lightweight but surprisingly, it can accommodate multiple birds at once without swaying or falling off the hook.
In terms of capacity, this feeder has the ability to contain up to 1.9 pounds of seeds although it can be filled with various types of food like sunflower seeds, nuts, safflower seeds, and more. It features a mesh design that holds the bird food firmly but still provides easy access.
Aside from blue jays, I've also seen finches, warblers, tits, and even cardinals perching on it and happily enjoying the food. Thus, if you're looking for bird feeders for blue jays and cardinals, this one will also do.
It came fully assembled when it arrived so I didn't have any problems setting it up. It is sturdy but I must say that it's a little hard to fill.
Pros
Made of high-quality plastic
Lightweight but durable
An aesthetically pleasing design and structure
Can hold up to 1.9 pounds of seeds
Despite that slight issue, this attractive feeder does an efficient job securing bird food and providing hassle-free access to these amazing wild birds. It is durable, easy to set up, and a great bang for your buck.
15. Woodlink GGPLAT Going Green Platform Bird Feeders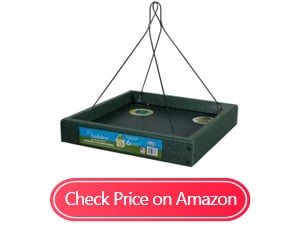 The simplicity of this Woodlink platform feeder highlights numerous advantages when it comes to bird feeding. Aside from hassle-free installation and cleaning, the basic structure is what makes it very effective.
Just days after I put it up on my patio, I've seen a lot of blue jays come by for food. While that seems to be a delightful treat, it also attracts a wide variety of species, making bird watching a lot more enjoyable every time.
It has great capacity and can definitely hold plenty of bird food such as fruits, nuts, seeds, and even suet. And if you wish to give it a refill, it's easy to do so. There are no lids to lift or containers to unscrew. It is out in the open so blue jays and many other birds can freely get into the feeder for a tasty feast!
In terms of durability, it doesn't fall short with its solid construction. It's nice to know that 90% of this feeder is derived from recycled plastic and heavy-duty materials, ensuring an eco-friendly quality that can last for years. Plus, it has a powder coated rust-resistant metal mesh bottom that serves as drainage to make sure the food is dry at all times.
Although everything seems to be perfect, it falls short at some point. Without a lid or cover, the bird food won't be fully protected from potential scavengers such as squirrels and other sneaky critters.
Pros
Straightforward design
Holds a lot of bird food
Solid construction that can last for years
Made from recycled plastic
Even though that could be a slight problem, this platform feeder is probably one of your best bets to attract blue jays, supply sufficient bird food, and provide a safe space to eat and perch on.
What is The Best Bird Feeder For Blue Jays?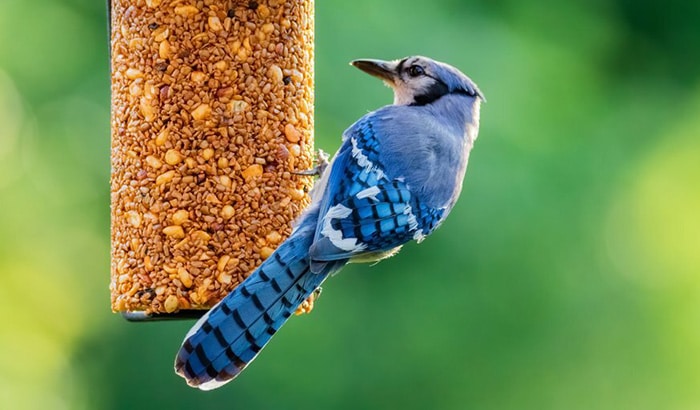 It is actually hard to tell which particular brand, style, or design is deemed to be the best bird feeder for blue jays. There are those who put up a platform feeder because it can accommodate more birds while others don't find it suitable in their area as squirrels are usually nearby. Therefore, there are several factors that need to be greatly considered such as the location for installation, size, capacity, and material.
If you plan to set up a bird feeder on a tree or wall with reinforced stability, a mounted feeder might be considered the best option. If you notice that they often come in pairs or more, a blue jay feeder with a large capacity or size that can accommodate multiple birds might be the ideal pick.
Ultimately, the best option all comes down to personal preferences and practicality based on the aforementioned significant factors. As you figure out the best spot for these beautiful blue birds and a structure that essentially provides their needs, you'll be able to decide on the brand, construction, and design.
How does It Work?
Similar to most bird feeders, the primary purpose of blue jay feeders is to supply sufficient food and help blue jay birds keep up with their fundamental diet. However, it can sometimes be quite a challenge to attract them to the feeder.
That's why some manufacturers spruce up the craftsmanship and structure of their feeders, showcasing creative yet accessible designs. The style ranges from trays, hanging feeders, tube feeders, platforms, ground feeders, and many more.
Some feeders, on the other hand, keep the structural features straightforward for a convenient feeding station and at the same time, provide a safe perch for these lovely dwellers to rest on.
What are the Different Types of Blue Jay Feeders?
There are different types of blue jay feeders that vary according to size, capacity, design, shape, and structure. But to easily sort out the best bird feeders for blue jays and figure out which ones are the most suitable for your area, number of birds, and type of food you provide, it is highly significant to identify these variations. Consider the following types of feeders based on two categories:
Function and Design:
Hopper Feeders
This type of bird feeder is an enclosed container wherein the grains or peanuts are slowly dispensed at the bottom while the birds access the feeder and eat the food. Also known as house feeders, a hopper feeder serves as a protected shelter not only for food but also for the birds.
This rigid container can hold seeds for a couple of days and keep them essentially protected from harsh conditions, bad weather, droppings, and even against squirrels nearby.
Platform or Tray Feeders
This type of feeder has probably the most straightforward design compared to other bird feeders, not to mention its vast availability and popularity on the market. As the name suggests, it resembles a tray that is usually suspended on posts, trees, branches, or fences.
It leaves the seeds highly accessible so the birds can freely land on the platform and feast on everything in it. Because it has no complex structure, a tray feeder can accommodate flocks of birds including blue jays and it is easy to clean as well.
Tube Feeders
Tube feeders feature a distinctive cylindrical shape that holds the seeds or peanuts in a vertical position. They may vary in size and style but they're primarily designed with feeding ports or holesthrough the tube where the birds can easily access the food.
Some designs dispense food at the nether part of the tube where a small basin is usually available to catch the residues and particles.
On the other hand, you can go for larger feeders if you need a spacious container for bigger bits of peanuts, seeds, or other food variants that cater to blue jay birds of larger sizes and at the same time can feed more birds.
Installation Type:
Hanging Feeders
Hanging feeders become an ideal option for many bird watchers as they allow blue jays to freely feast on their food for as long as they want. These feeders are typically hung on tree branches, posts, and poles that render a significant height from the ground, thus making them more visible to birds even those from afar.
Mounted Feeders
This type of feeder is probably the best option if you're after stability. It is usually affixed to a tree, wall, or any concrete post that lends a secure position so blue jays and other birds can eat while taking some rest. This kind of setup could also be ideal if you want to supply suet for blue jays besides seeds, peanuts, and small fruits.
While this becomes beneficial for the birds, a mounted feeder ensures a firm spot that won't easily break or fall even when they hang around, particularly, as blue jays usually come in pairs, groups, or small flocks.
Ground Bird Feeders
Ground bird feeders are another ideal option for a stable feeding station. As it isn't required to be mounted on a wall or post or hung on a tree branch, you won't have to worry about a certain height where it might fall from due to bird weight or harsh weather conditions such as strong winds and heavy rains.
This type of feeder stays on the ground where it can be surrounded by a more familiar sight (such as grass or plants) for blue jays as well as a comfortable space to perch on.
Contrary to the other types of feeders, the installation process with a ground feeder shouldn't be a problem. All you have to do is find a safe and secure placement for blue jays, position the feeder on it, and you're all set.
Why do You Need a Blue Jay Bird Feeder?
It is because blue jay feeders are primarily built to attract and accommodate this type of species. They may seem like the ordinary bird feeders but if you wish to get these beautiful birds around and give them a more comfortable space to perch on, a blue jay bird feeder is what you need.
If you're still wondering whether a blue jay feeder is worth an investment or not, consider the following reasons and advantages why you should get one for your yard:
When you're fond of blue jays and you want to see them come by your yard more often, you won't be disappointed with this type of feeder because that's its main job. It can attract blue jays, perhaps flocks of this species or along with other kinds of birds.
While the designs of these feeders may vary, one of the primary purposes of such a product is to provide a comfortable and safe feeding station.
The unique craftsmanship of each bird feeder can serve as a stunning addition to your garden decorations.
As you see the vivid colors and splendid flights of blue jays, it'll definitely be a delightful sight every time you step out in your backyard. This makes bird watching more enjoyable entertainment.
Factors to Consider When Buying a Feeder for Blue Jays
Material and Durability
These factors are correlated with one another. Checking the material type allows you to determine the durability of the product and hence, it gives you an overview of whether the quality would last for years or would just break or wear out with just a few uses.
Considering this, you should know that bird feeders are derived from a variety of materials such as stainless steel, heavy-duty metal, acrylic glass, premium wood, poly lumber, and recycled plastics. Each has its respective benefits and fortunately, you'll find a lot of bird feeders that are built to last.
If you want to make sure it can withstand different weather conditions, it is significant to consider which seasons or types of weather usually take place in your area. In this way, you can figure out which material best suits your needs and preferences.
For example, wooden bird feeders showcase rustic aesthetics that resemble nature and hence, can effectively attract blue jays and many sorts of birds. They are durable and offer a warm and cozy haven but more prone to moisture buildup, especially when it rains.
Metal or stainless steel feeders never fail to impress with their exceptional resilience. They don't wear out or chip easily and are impeccably resistant to damages. But they tend to be heavy and might require solid support or rod. They also usually fall under a higher pricing mark.
Plastic feeders, on the other hand, are lightweight, much cheaper in price, and typically available in a variety of structural designs. But the issue lies in their durability as they're susceptible to damages and will eventually break after several uses.
Consider the Size and Capacity
Picking out the size and capacity of a feeder depends on the amount of food you wish to fill it with. You also have to consider if flocks of blue jays and many other types of birds usually come by. If this is the case, you might need to invest in a larger bird feeder.
Another factor to take note of is the type of food you'll feed the birds with, especially if you're targeting to attract blue jays. But what does a blue jay eat? A large part of their diet consists of peanuts and seeds although they're also avid fans of suet. Some feeders for blue jays are customizable, thereby allowing you to adjust the feeder according to the size of the bird you wish to accommodate.
This feature optimizes the function of the feeder and lets you decide whether you want to give way to small birds or large birds.
Identify the Location for Installation
There are different types of feeders that are suitable for particular areas. For example, you opted for a tree branch or a sturdy post with trees nearby, you may consider a hanging feeder with secure structures. This is because squirrels love to come around these spots and sneak for food.
Therefore, picking out the ideal location for installation will help you determine which type or design of the feeder you should go for.
Unless you're feeding squirrels, you may need a tube feeder or a hopper feeder to keep the bird food fully protected. Likewise, a ground feeder and a platform feeder are out in the open and more vulnerable to squirrels and other animals. Thus, a safe space is necessary.
Aside from security and efficient feeding, finding the ideal location for installation also depends on your preferences. The location might also be the best vantage point or view where you can enjoy bird watching the most.
Determine the Design
There are a lot of important factors to consider before you decide on the design of your feeder. Like the significant notes I mentioned above, you may think of the amount or type of food, location where you want to set up the feeder, the number of birds you wish to cater to, and many more.
Since your goal is to attract blue jays, you have to settle for a feeder design that will comply with their needs and diet. What do blue jays eat? How many of these blue feathered dwellers usually come by in your area? Are there squirrels nearby? Which types of bird food are planning to use?
These are some of the questions you can keep in mind although there are still other factors you should know about. The weather condition and rodent issues in your area, for example.
In this way, you'll be able to determine the ideal design of a feeder whether it is mounted, hung, or installed on the ground. You may check the different types of feeders listed above.
Care and Maintenance
To preserve the quality and condition of the bird feeder, periodic cleaning is a must. Basically, you can just use water and dishwashing soap to clean the feeder and let it dry before refilling. But to assist you further, here are some cleaning tips to take note of:
Empty the feeder. Make sure to remove all the bird seeds before you clean it. Be extra careful when you throw them away and don't just spread the damp or leftover seeds around your garden. They can either sprout or attract birds. But rodents might also find their way to these and eventually prey on the birds.
Soak the feeders for about 15 minutes to remove stubborn stains and dirt. If there are still any food remnants and tough stains left, scrub them with a brush.
To thoroughly cleanse the feeders, disinfect them using equal parts of vinegar and water. For bleach solution, use ten parts water to one part bleach. Don't forget to rinse the feeder afterward.
Let the feeder completely dry before you fill it again with fresh seeds or other bird food.
Frequently Asked Questions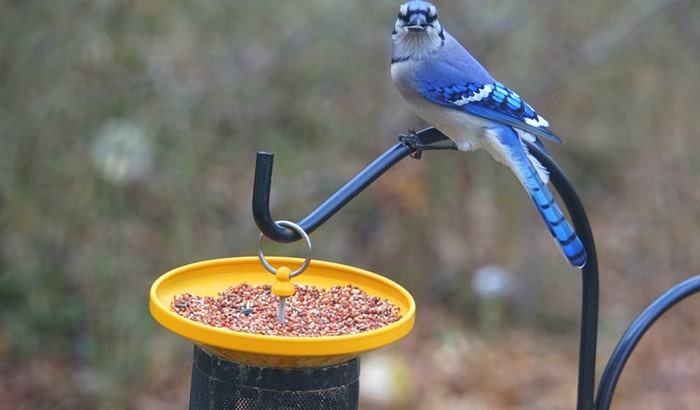 What are The Most Trusted Blue Jay Feeder Brands?
Droll Yankees, Brome, Wild Birds of Joy, Birds Choice, Songbird Essentials, and Gray Bunny are among the trusted and well-known brands for bird feeders.
What Kind of Food do Blue Jays Eat?
If you're wondering what to feed blue jays with, do know that these blue feathered friends are vegetarian birds. A large part of their diet consists of peanuts, seeds, and acorns. At times, they also feed on suet cakes and other tiny creatures such as caterpillars, beetles, and grasshoppers.
How to Attract Blue Jays to My Bird Feeder/ Yard?
Try to entice them with their common food sources such as acorns, seeds, and peanuts. You can also catch their attention with the use of small fruits such as cherries or berries on a platform or tray feeder. But no matter what your feeder is, make sure the food is accessible and installed in a spot where they can comfortably eat and perch on.
What is The Best Type of Bird Feeder For Blue Jays?
In my experience, platform or tray feeders seem to be the best type of feeder. It's highly accessible and can provide a large capacity for bird food. However, it still depends on certain factors such as location, weather conditions, or rodent problems.
If there are too many sneaky rodents around, the best bird feeders for jays are the ones with secure containers such as tube feeders or hoppers.
How to Make a Blue Jay Feeder?
If you're short on budget, a homemade blue jay feeder will suffice. I actually did a DIY blue jay bird feeder using an old picture frame. I find it a practical option because you already have a molded structure with equal dimensions. All you need is a mesh screen, a gun tacker stapler, four screw hooks, and metal chains.
Here's how to improvise a blue jay platform feeder:
Cut the mesh screen according to the size of the frame. Make sure it will fit the whole frame. This will serve as the base of the feeder. A mesh screen will also provide ample ventilation to keep the seeds fresh and dry at all times.
Use a gun tacker stapler to attach the screen to the frame. Start with the corners to ensure a straight cut. Afterward, go on the sides to keep the screen in place.
Flip the frame. Screw a hook in each panel. Check if the hooks are stable and intact.
Once done, attach a metal chain to each of the four hooks.
Take the tip of every chain and attach them to a sturdy metal ring.
Slowly fill the feeder with bird food.
Hang it to your preferred location.
Where to Buy?
You may check your local pet supply store for the availability of blue jay feeders. Fortunately, online e-commerce websites such as Amazon or eBay also provide a vast lineup of bird feeders that you can sort out based on the design, type, brand, and price.
Conclusion
For the best feeder for blue jays, keep in mind that the structure and durability may vary from one brand to another. But no matter what the type or design, you should invest in a feeder that is effective, durable, and offers optimum capacity.
If you think the fanciest or the most expensive feeder means great quality, it doesn't. If your aim is to attract blue jays to feed them constantly and keep them around for an enjoyable bird watching, the reviews and guidelines mentioned above will help you find the perfect blue jay feeder. Hope this helps!