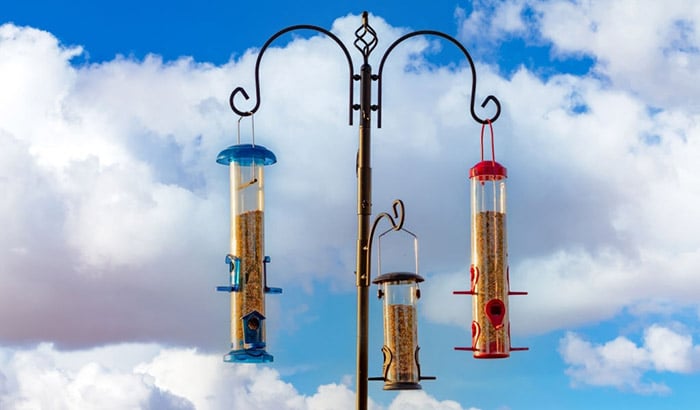 If you love watching birds in your backyard, having a good bird feeder will help you attract them. However, not only birds will be attracted to the feeder that you supply with tasty treats. You will also have to contend with squirrels and other rodents that may want to have a taste of the healthy snacks on the tray. If you want to keep the birds in your area happy all the time, you need to get the best bird feeder pole today.
But if you have no idea how to choose or where to get one, you may end up getting an expensive and even inferior quality. This is a common mistake committed by inexperienced bird feeder owners. Don't worry, though! This article will guide you through the difficulties of shopping for a bird feeder pole.
Best Bird Feeder Pole Reviews
1. Ashman Shepherd Hooks 92 Inch
Bird feeding has brought me closer to nature thus; I want a bird feeder pole to enjoy my hobby. Unluckily, the previous pole I used was too short and became a squirrel feeder. It got out of hand and I had to stop bird feeding for quite some time. I wanted a taller and sturdy pole to avert these invasive critters one way or another.
This Ashman's black shepherd hook feeder pole piqued my interest because it is made of excellent steel and compared to its counterpart, the material used is about 30% thicker which means it is stable and durable. Also, the powder coating makes it resistant to wearing and chipping. I've had it for several months now and the pole was steady as a stone. It has withstood the heat, rain, and high winds. Well, I couldn't be more satisfied given the weather conditions in our state. I particularly like the height and this is probably the tallest pole (92") I've seen online.
I have it outside our kitchen window so I can watch blue jays and hummingbirds real close. Also, the height is not too high for the birds to feed on but high enough for squirrels to climb to. I just added a cone baffle to stop them from taking over the bird food supply.
Another cool thing about this feeder pole is the design. The rustic elegance reminds me of the Victorian-era classic look. The dark tint and glossy finish of this hook will beautify any ornaments and your landscape. This can also carry signs and solar lights because of the strongly-designed 0.25-inch diameter pole.
Setting it up is fairly easy because it was welded as an entire piece. I just positioned the hook and planted it on the ground by stepping on the crossbar.
The only downside of this pole is it only has one hook. Adding another hook for a birdbath will be picture-perfect.
Pros
Sturdy and rust-resistant
Functional and easy to assemble
Lightweight
Ideal height at 92"
Elegant and rustic design
Nevertheless, it is the perfect solution to keep the squirrels at bay. Plus, the birds are back! I will purchase more of this to hang my Petunias in the yard soon.
2. Yosager Bird Feeding Station Kit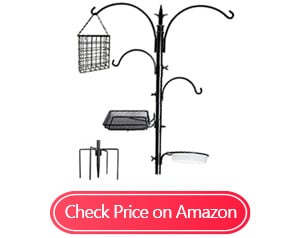 I am a bird enthusiast and watching them closely in the yard is simply entertaining and very therapeutic for me. Also, I want to draw these incredible pollinators to my wife's garden flowers. The single feeder I had could not hold 2lb of seed or more so I've looked around for a heavy-duty bird feeder pole to replace it. Luckily, I stumbled into this premium bird feeding station online.
This tall bird feeder pole is exactly what I needed! It is iron wrought and technically an all in one. I like that it is made of sturdy and rust-resistant materials. The size of the pole is twice the old single hook which efficiently holds up the weight of the seeds. The assembly was a piece of cake because of the screw-together pole. Another advantage is the 5 prongs and the metal stake that keep it safe and securely upright. I particularly like the height which keeps our neighborhood cats away and other unwanted visitors.
Not only does the stylish design add charm in our yard, but it also comes with four handy hooks to hang a chime and 3 different types of seeds. I've never seen so many orioles and hummingbirds in the garden before. Oh, red-bellied woodpeckers feed on the metal suit too! It's indeed a fascinating view; they love the stuff and keep coming back. Also, the useful, large water dish works well for birdbaths. Plus, they are easy to empty, clean, and refill.
One little disadvantage is it may sway in heavy winds, but they do work and the movement doesn't seem to bother the birds. I would suggest moving it to an area less exposed to the wind or use a windbreak to abate swaying.
Pros
All in one bird feeder pole system
Has a sturdy metal assembly
Aesthetic and efficient design
The 91" height discourages pests and cats
Cons
May get wobbly in areas with strong winds
All in all, this heavy-duty bird feeder pole has greatly served its purpose. With the functionality and stability combined, it is worth every penny! Looking for a watering and bathing solution for the birds? Well, this one is most likely your best bet.
3. Juegoal Heavy Duty Deck Hooks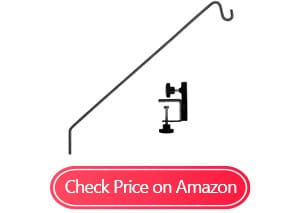 I often go on expeditions with my fellow birders to see rare-bird species around the country but with the travel restrictions, I am content to watch cardinals and our backyard wild birds right outside the windows. These heavy-duty bird feeder holders by Juegoal are the newest add-ons to our bird's buffet. Aside from attracting these fleeting creatures on our porch, this amazing product also offers valuable features.
This clamp-on deck hook is well-constructed using a premium and weather-resistant metal. It was seamlessly powder-coated in subtle black which is perfect for any deck railings. I have a wooden deck and it complements the structure.
Also, the rust-resistant finish guarantees a longer lifespan so you don't have to replace it every so often. I like that this is pretty long enough (38") for the raccoons to reach and feast on the bird supply. A squirrel tried to take over the feeders but struggled and backed down. Some users say that it can hold up to 10lbs of seeds and can support any kind of bird feeder. Wow! That would be amazing! I will have to attest that later.
For the most part, I love the smart and useful design. And true to its description, the adjustable hand knob can safely accommodate railings up to 2 inches thick. It also swings from side to side which allows me to easily grasp the bird feeder and refill it anytime. I think this would work well on other items such as wind chimes and suet feeders to attract woodpeckers. Installation and unmounting were beyond easy.
I thought this pole can be used for plants. However, with the added weight when watering, the pole seems to bend. So, I have to stick with the bird feeder. That's the only possible drawback of this product.
Pros
Made of durable and weather-resistant metal
Has a smart and functional design
No assembly required
Can hold up to 10lbs of feeder
Cons
Not advisable to hang plants
Nevertheless, I have no regrets about my purchase. If you are a beginner birder and want to have a closer view of nature's beauty, this will be ideal to start with.
4. Squirrel Stopper SQC05 Poles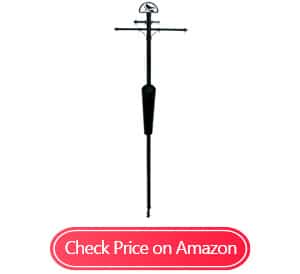 Squirrels are cute and the most entertaining acrobats we have in the yard but they are also a pain in the neck. These clever thieves are frustratingly hard to beat at the feeder. Good thing I ran into this Squirrel stopper pole! I just wish I had it sooner because this is by far the best squirrel proof bird feeder pole I have owned.
The impressive design is a sight to behold in our yard. It has a textured bronze color and the perched cardinal on top is quite distinctive. This is made of sturdy and high-grade metal so I am certain that this will stand straight for years. It is about 6 feet high and the pole frame has 2" tubes with brackets that provided extra support. Planting it was a breeze because of the steel auger. It didn't take 5 minutes for some Cape May warblers and siskins to find them.
What I like the most and the main reason I chose this product is because of the baffle system. I must say it is our savior! The cylinder floats up and down and rocks from side to side making it hard for the squirrels to reach the feeders. The feeding station has never been busy. I also like how uniformly placed the hanging loops are. I have a couple of wooden bird feeder pole systems, three tube feeders, a hanging birdbath, and a homemade bird feeder pole systems. Yes, they are holding up pretty well and they don't sway in the harshest winds in our area. I'm assured that this strong pole will handle the heavy feeding season this year.
Perhaps the only disadvantage of this product is the price tag. I found this a little expensive but I got my money's worth. The cheaper poles for squirrel proofing bird feeder brands I've had easily broke so it's not a bad idea to spend more on this substantial pole system.
Pros
Made of high-quality materials
Effective baffle system
Stylish and functional design
Includes 8 loops to hang a variety of feeders
Easy to mount
Overall, this amazing product is truly squirrel proof! It has attracted more backyard birds and protects my feeders from the pesky little critters. Who wouldn't be satisfied, eh?
5. Birds Choice 2 Arm Topper Bird Feeder Poles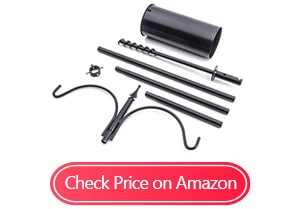 Bird feeding has become my hobby since retirement. I've built two wooden feeding stations in my wife's garden so we can watch chickadees and redpolls right outside our kitchen window. Until I spotted some rowdy rodents eating our expensive seeds and chasing the poor birds away. Right there and then I replaced it with a heavy-duty bird feeder pole with baffle from Birds choice.
Wow! This product exceeded my expectations. It was about 7 feet tall and made of wrought iron. With this extremely durable material, it would survive any rough weather and may last for many years just like our fence. The pole's diameter is around an inch and strong enough to carry my two heavy feeders. I love how it stays in place even with the strong winds, no bending or tipping.
The best part of this standing bird feeder is the 14.5-inch, adjustable cylindrical baffle. Its function is to stop squirrels from climbing the pole. It's funny how they go nuts trying to reach the birdseed and fail every single time.
Also, planting it to the ground only took me a few minutes. It has a corkscrew design which makes it easier to install. It also provides extra support to the assembly. Oh, did I mention this only requires a little maintenance? I never had trouble refilling and changing the feeders on this pole.
One little downside is it only has two hooks which limit the number of birds to feed. This may be ideal for birder beginners but if you are a growing birder and have several feeders this will not be adequate.
Pros
Stable and solid pole
Includes adjustable baffle
Simple and easy to set up
Affordable and low maintenance
Still, I recommend this double arm pole feeder because it has resolved my problems without spending too much. It did deter persistent squirrels and keep our backyard birds safe and sound.
6. XDW-GIFTS Shepherd Hooks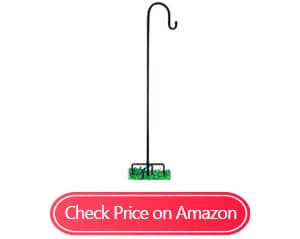 Birdwatching in the warmth of our home is fairly new to my family. I started with a freestanding bird feeder pole from Shepherd-hooks to make our experience worthwhile. This is perfect because it comes in a pack of two, enough to hang a red feeder and a birdbath.
This durable pole is constructed using premium-grade steel material which will be advantageous in the long run. It stands 36-inch from the ground and provides easy access for hummers to feed. I also appreciate that this was upgraded to four extra-long and double-forked-based prongs. Compared to other brands with only four hooks, this has a stronghold and is more stable. I love how the added support prevents the feeders from tilting and spilling the bird seeds. Also, to stop rainwater from getting into the tube, a waterproof cap is attached at the end of the hook. Nah, I haven't seen any signs of rust or corrosion at all.
The simple yet classy design also added sophistication to our yard. The deeply curved hook secures my hummingbird feeders from swaying on high winds. Also, the smooth, black powder coating complements our garden theme and outdoor decors. It is way too easy to assemble and disassemble using the threaded screws. Yes, no tools are needed! This saved me time and storing it in the winter is relatively swift. Aside from that, it is reasonably priced. How cool is that!
However, this is not squirrel proof and not tall enough to attract a wide variety of birds. But since these poles are inexpensive, you can just purchase a baffle to safeguard your feeders. I put some used cooking oil to make our poles slippery.
Pros
Stable with upgraded prongs
High-quality and stylish design
Durable
Easy assembly and storage
Cons
Does not include a baffle
Too low to lure wild birds
Nonetheless, this shepherd's hook fits my bird feeding needs and made our yard hummingbird-friendly. Thumbs up for the good quality, ease of use, and convenient design. I plan to order more for my new birdscaping project.
7. Kettle Moraine Squirrel Proof Bird Feeder Poles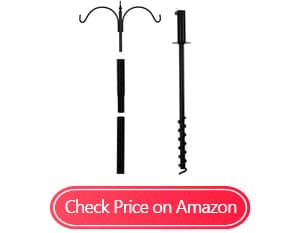 For the fun of bird watching, I built numerous houses and feeders in our yard. It was a haven for our backyard birds. But a few months ago, I noticed that our yard is almost birdless and the feeders are all empty. To my dismay, I saw a couple of squirrels swinging from the feeders. I took them down and immediately purchased two sets of squirrel-proof feeder poles from Kettle Moraine.
I like that it was constructed with heavy-duty steel. The entire kit's surface is also coated with powder which is proven to be more resistant to rust, corrosion, and fading. Besides, the hooks have a 12-inch reach and are made of 7/16-inch round steel. It holds the full weight of my feeders pretty well.
Moreover, the tubular poles easily slide together which makes the assembly a piece of cake. It also comes with a screw set, a half-inch turning hole, and a ground socket which twists 20-inch below the ground. It securely keeps the pole from swaying and has been steady since I planted it. Also, I have a strong feeling that this pole could withstand the hottest and coldest months in our state.
The unique selling point of this pole is none other than the baffle. It is made of galvanized steel and easily adjustable. It also moves up and down making it an obstacle for bigger squirrels or raccoons to climb up and steal the bird seeds. Believe me, this is a neat solution to combat the rascals.
The only flaw of this product is the number of hooks available. The two-arm pole may not attract different feeders and the birds at one time. But this appeals more to my backyard birds since it's not congested compared to my previous feeding station. Plus, you can always get two or more of these.
Pros
Squirrel-proof
Made of strong and powder-coated steel
Easy to assemble
Twister Ground Socket provides stability
Cons
Limited viewing with only two hooks
Nevertheless, this excellent product had outmaneuvered the furry bandits and saved me some seed costs. If you're planning to get the best squirrel proof bird feeder pole, you won't be disappointed with this because it serves its purpose twofold.
8. BEAU JARDIN Shepherd Hooks 92in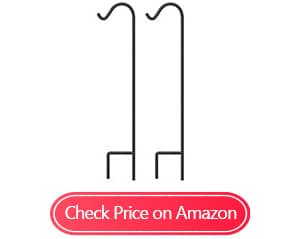 My wife and I are avid birders. We upgraded our backyard landscape to make a home for songbirds and lively chickadees. And to provide food and shelter throughout the seasons, we have several feeding stations carefully installed in the garden.
Last year, I purchased quite a few of the Beau Jardin shepherd hooks to replace some rusty poles. These are the simplest and easiest feeder poles I ever had. I just anchored the double-forked and longer base firmly on the ground and it kept its upright position since then. The best part of this is it came in one reliable welded piece. No adjustments or assembly required!
True to its promise; it has remarkably weathered the seasons, unlike the previous short-lived poles. The powder coating not only adds a stylish vibe but helps immensely to keep it in good condition. I haven't seen any rust or chippings. The hook measures around 3/5-inch and has an 11-inch distance from the pole which provides enough room for our large feeders. This also carries the hefty weight of our baffled, tube, suet, and hopper feeders without fail. Birds were not even bothered by wind storms last week.
In addition to that, the height (92-inch) discourages squirrels from climbing up. Also, it is relatively easy to clean and manage. Plus, the price is easy on the pocket because you will get two feeder poles in a pack. This is perfect to start the basics of feeding the birds and can be used for other creative stuff too. Some use this to hold fresh blooms, lanterns, and candles to accentuate the aisles at weddings. The crooks make it convenient to put up an outdoor movie screen and grasp string lights.
The only downside of this product is it is not constructed with a baffle. This may be tall but it could still attract canny squirrels so you need to attach one to keep your birds safe or you can use a baffled feeder just like what I did.
Pros
Sturdy and tall
Rust-resistant
Easy to install
Multi-purpose
Cons
Does not include a baffle
All in all, if you just got into bird feeding and have a tight budget, this tall bird feeder pole is worth considering. I was outsold by its simplicity, sturdiness, and efficiency. A small investment with satisfactory results is hard to resist, eh!
9. Best Choice Products Bird Feeding Stations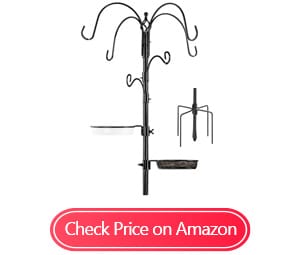 Looking for the best bird feeder holders is a bit confusing with the numerous options available. I've wanted to get a complete feeding station that will provide water and a variety of food throughout the fall and winter season. Finding this low-priced gem by Best choice is frankly a worthwhile investment for bird feeding.
One of the highlights of this pole feeder is the solid 5-prong base. Unlike other brands with 3 prongs, this comes with 5 stakes that strengthen the grip to the soil. It stands strongly in place and doesn't lean or stoop with the wind. Aside from stability, I also found the entire piece quite durable. The feeder pole's surface is coated with powder which shields it against harsh elements and adverse weather conditions.
The four top hooks hold the 4 feeders well (wire, peanut, tube, and a suet feeder. I like that the two lower hooks are adjustable which is convenient for smaller birds to feed on mesh bread-tubes. The plastic water bowl is easy to clean and not too deep for the birds to enjoy a birdbath. Northern cardinals flock to the food tray filled with safflower seeds. Believe it or not, a bluebird visited us one morning indulging on the suet dough feeder. Watching the action on this station with birds I've never seen before is super fun and rewarding.
I also like the quick and easy assembly. In just a few minutes I managed to install it securely with the wingnuts. It stands 80 inches above the ground and easily accessible to refill and clean. The design also allows me to make the most of the feeding spots and the birds seem to love which is exactly what I wanted.
One disadvantage is the quality of the bird feeder holders. They can get flimsy with the weight of the larger birds and seeds combined. Not the best quality feeders I've seen so far but fairly decent for its lower price point.
Pros
A complete bird feeder pole package
Has a solid prong-base
Powder-coated steel and rust-resistant
Stands 80.5 inches above the ground
Nevertheless, this product is a great value for the money. It also dramatically increased the number and types of birds visiting our yard. It looks good and works pretty well for its purpose.
10. Ashman Bird Feeding Stations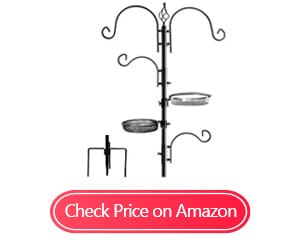 Bird feeding is a captivating activity I enjoyed at a very young age. I newly introduced this immersive activity to my kids to connect with nature and momentarily ditch their gizmos. Also, since the winter season is just around the corner, I thought that having a multiple feeding pole station would be valuable to hang a variety of feeders.
The functional and tasteful design of this bird feeder mounting pole by Ashman caught my eye. I am positive that my feathered neighbors will have a fitting water and food source to survive the chilly months. I have a metal finch and a caged tube feeder on the highest hooks that managed to handle 4lbs of bird seeds. It's no surprise because the metal pole itself was solid and rust-proof. My kids are in charge of restocking and cleaning the two small hooks for the hummingbird and suet feeders. That is one of its notable advantages and would please birders for promising longevity. The water bowl and mesh tray can be rearranged to any position on the pole by freeing and fastening the butterfly nuts. This time-saving and effortless feature is favorable, particularly in the dead of winter.
Unlike other regular poles, the assembly is seamless without using tools. It dons a five-prong base that goes deep into the ground and renders additional resistance and support from powerful winds. It stands 7 feet and 8 inches high, which is the typical height to draw birds. As presumed, it regularly invites chickadees, goldfinches, and grosbeaks in our backyard. Now, my kids are learning and instantly hooked.
The absence of a squirrel guard is probably the only shortcoming of this feeder pole. If you have mischievous bandits in your yard, using baffling feeders or getting a dome baffle will preserve your birds.
Pros
Tall enough to attract a wide range of birds
Multiple hooks for a variety of feeders
Aesthetic and convenient design
Easy assembly
Nevertheless, if you adore bird feeding, look no further. This beautiful feeding station is an excellent choice to provide sanctuary to the birds. Moreover, its beneficial attributes will make birding a breeze and ensures a steady stream of visitors nibbling at your feeders.
11. Ashman Shepherd Hooks 48 Inches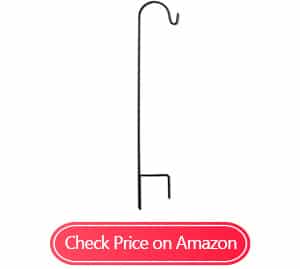 A strong storm knocked down our old wooden pole earlier in the year. To provide a better feeding station for our little garden acrobats, I bought three Ashman's shepherd hooks. Well, all worked like a charm! These heavy-duty bird feeder poles became a feeding hot spot for the hummingbirds.
Although I had a tall station before, I wanted a shorter one to fit into my garden's flower beds. This product is quite popular because it does an outstanding job. It is strongly made with top quality metal to ensure long-lasting performance. Also, the surface is powder-coated to make it unbreakable and more resistant to rust and fading compared to other liquid coatings.
Moreover, it came in a single solid piece. So assembly is not rocket science. I just stepped down on the horizontal bar to push the stakes deep into the earth. No matter what the weather is, it remains upright and in good shape. Also, the curved hook thickness is around 0.4 inches and 10 inches wide that is substantial to support the birdbaths and glass feeders with multiple feeding ports. Five fliers usually stop by at the same time yet hold them without hitches. The worth is more than what I paid for and has defied three seasons so far.
Besides, this stunning black pole makes it easier to beautify any outdoor events and other purposes. It elevates lanterns, signage, flower arrangements, banners, backdrops, etc. The utilization is endless!
The only drawback is it cannot accommodate a variety of birds simultaneously. It is not ideal if you have large or dozens of backyard birds to feed together. But this pole is just the right size to cover the needs of our little backyard birds.
Pros
Sturdy
Powder-coated
Easy to install and low maintenance
Inexpensive yet premium quality
Cons
Not the best style for larger birds
All in all, the Ashman shepherd hook would suit your taste if you are interested in a simple, affordable yet top quality feeder pole. Also, it is very durable, it practically lasts a lifetime. The fact is, this product makes a refuge of comfort for our local wildlife to survive.
12. Home-X Multi-Hook Bird Feeder Poles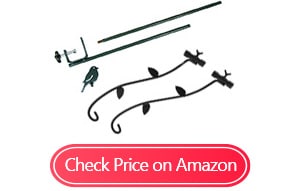 Having a bird feeder being regularly flocked by wild birds can bring joy to anyone who sees it. But this fun can be spoiled by squirrels and other animals that wish to feed themselves. A reliable bird feeder pole can help you prevent that. If you want to manage your bird feeders, the Multi-Hook Bird Feeder Pole by Home-X will surely help you.
I like this particular bird feeder pole. It is durable; it can withstand the weight of two bird feeders hanging at the same time. It doesn't bend easily even if it falls again and again. Also, it does not bend easily even if it is exposed directly under the sunlight all day long.
Unlike other bird feeder poles in the market, this one is easy to mount. All I had to do was to screw the bottom part on a stable section of my fence. It didn't even take me five minutes to do it. This is going to be beneficial for those people who have busy schedules.
Another thing that I appreciate about this product is the fact that it is aesthetically pleasing. The pole itself adds to the beauty of my already magnificent garden. I didn't need to accessorize it with other items just to make it look good. This thing exudes beauty by itself especially after hanging the bird feeders in place.
My only issue with this wrought iron bird feeder pole is that the paint peels away easily. I noticed it after I refilled the feeder trays. All it took was a week of direct exposure to sunlight. I had to repaint it to prevent the pole from rusting.
Pros
Durable
Easy to mount
Can hold up to two bird feeders
Rust-proof
Aesthetically pleasing
Cons
The paint peels away easily
After looking into the important features of this feeder pole, I can say that this product is excellent. It is durable, easy to mount, rust-proof, and aesthetically pleasing. If you are planning on getting a bird feeder, you need to include this product in your shopping list.
13. Squirrel Stopper Sequoia Poles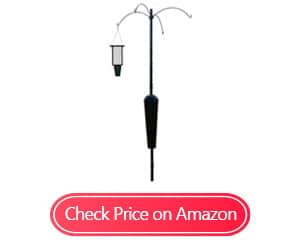 Squirrels are the primary enemies of any bird feeder enthusiasts. They need to come up with creative ways of repelling these snack-loving rodents without causing them harm. Fortunately, this bird feeder pole from Squirrel Stopper has come up with a way for you to enjoy watching the birds munching on tasty treats without the squirrels spoiling your fun.
I'm fascinated with this bird feeder pole! It is durable, lightweight, and weather-resistant. No matter how long it spends under the sun or rain, the quality of its finish remains the same. With this, I don't need to repaint it because not even deep scratches can peel away this feeder pole's fantastic paint job.
Meanwhile, the steel tube itself is powder-coated, which means that it can resist attempts of any unwanted animals that may want to have their share of the treats that you have given for the birds. This is advantageous because it keeps the pole slippery which stops the squirrels from climbing.
My only disappointment with this squirrel protection for bird feeders is the fact that the base gets a little tricky to place. While I don't mind spending time installing this product in my garden, other people will have a hard time setting this thing up. This may reduce their interest in the product.
Pros
Prevents squirrels from climbing the bird feeders
Can hang up to 4 bird feeders
Durable
Lightweight
Rust-proof
Cons
The base can be tricky to mount
After examining all of the important features of this feeder pole, I can say that the Sequoia Squirrel Proof Pole System is an amazing product. It is durable, easy to install, rust-proof, and can hang up to 4 feeders. Also, it can prevent squirrels from climbing up. If you need to improve the mood in your garden, having one of these will help you achieve it.
14. ERYTLLY Bird Feeding Station Kit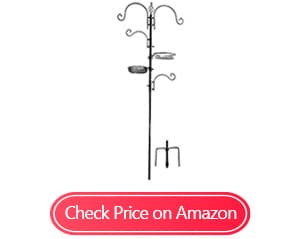 Stability is one of the most important qualities of a good bird feeder pole. Without it, the pole would simply fall especially when squirrels attempt to climb it. If you need a stable and durable feeder pole in your garden, this one from ERYTLLY Store will surely satisfy you.
I have never seen a feeder pole like this product. I like the fact that this bird feeder pole is easy to install. Just some screws and one mighty push of the prongs to the ground will set this thing up. I bet even children will be able to do it without using tools.
The best thing about this particular feeder pole is its stability. Its 5-prong base gives the pole not only strength to withstand heavy loads, but also stability to maintain its erect position. Other feeder pole products tend to fall when it cannot handle the weight anymore or if there is a sudden gust of wind. This one, however, remains standing all day long.
What I consider a minor issue with this bird feeder pole is the metal pole is not rust-proof. Rust can slowly deteriorate the integrity of the steel used in making this feeder pole. To prevent this, I sprayed an extra coating of a rust-proof paint. This way, my family and I will be able to enjoy watching the birds in our garden longer.
Pros
Can accommodate up to 6 feeders
Has a 5-prong base
Durable
Lightweight
Squirrel-proof
Cons
The pole is not rust-proof
After seeing all of the pros and cons of this bird feeder pole, I can say that ERYTLLY Store Bird Feeding Station Kit is an amazing product. It is durable, lightweight, easy to install, has a 5-prong base, and most of all – completely squirrel-proof. If you have six feeders in your possession, you can hang them all at the same time on the same pole. Surely, bird watching can never be more fun with this product!
15. Squirrel Stopper Universal Poles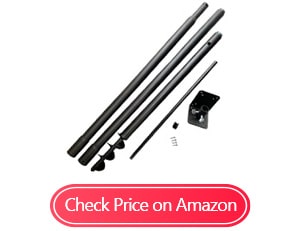 Having a birdhouse with no firm stand will always experience raids from squirrels. This is where the help of a good bird feeder pole comes into play. If you are a hobbyist who wants to improve the traffic of birds and embellish your garden with a birdhouse, you would certainly need the help of a pole kit from Squirrel Stopper Store.
I have never seen a bird feeder pole that is very easy to install. The bottom part is an auger so I can easily stick it into the ground. This feature also provides stability to the pole which prevents the birdhouse or bird feeder from swaying
In my opinion, the best feature of this bird feeder pole is its anti-squirrel capability. The pole itself is very slippery, which is perfect for stopping the squirrels and other furry rodents from stealing the munchies that I have prepared for the birds.
My only disappointment with this product is the fact that it can only hold one birdhouse. This effectively limits the number of birds that will visit my garden. However, even though this product can only hold one birdhouse, it doesn't fall easily even if there is a strong gust of wind. It even remains standing firmly even if multiple birds flock the feeding tray at the same time.
Pros
Durable
Lightweight
Easy to set up
Squirrel-proof
Portable
Cons
Can only hold one birdhouse/feeder
All things considered, I can safely say that the Squirrel Stopper Store Universal Pole Kit is a marvelous product. It is durable, lightweight, easy to install, and very portable. It can prevent squirrels and other animals from climbing and eating the treats that you reserved exclusively for the wild birds in your area. If you have a birdhouse that needs a sturdy pole, this one is perfect for your garden.
16. BEAU JARDIN Shepherd Hooks 65in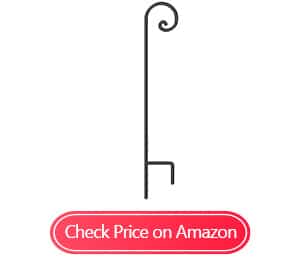 Having a trustworthy bird feeder pole and garden decor may seem to be two different things. However, if you pick the right feeder pole, you can effectively combine and accomplish two things. Presenting the bird feeder pole from Beau Jardin – the only feeder pole that may ever be needed in your garden!
I like this particular bird feeder pole! It is durable and lightweight. I can easily carry it around my garden without using tools to lift it. Not only that, but I don't need any tools just to set this up. I was able to install this using only my bare hands.
Another prominent feature of this bird feeder pole is its flexibility. I can turn this from a bird feeder pole into a plant hanger in just a matter of seconds. I like this kind of flexibility because I can add plants in my garden without spending a fortune in the process.
Because the pole is very thin and slippery, squirrels are having a hard time raiding the bird feeder that I hung. This is good if there are plenty of squirrels in your area. The birds will always have a tasty treat whenever they come to your garden.
My only issue with this bird feeder pole is the height. With only 65 inches, it is a little bit shorter than most feeder poles in the market these days. Squirrels may not be able to climb it, but little children roaming in the garden can easily reach the bird feeder and play with it.
Pros
Durable
Lightweight
Decorative
Stops squirrels from climbing
Can be used as a plant hanger
Cons
Shorter compared to similar products
Summing up the main points I have given above, I can say that the BEAU JARDIN Hummingbird Bird Feeder Pole is exceptional. Not only is it durable and lightweight, but also highly decorative and can be used as a plant hanger. If you want to add life to your garden, this is one of the products that you should include in your shopping list.
What is the Most Trustworthy Bird Feeder Pole?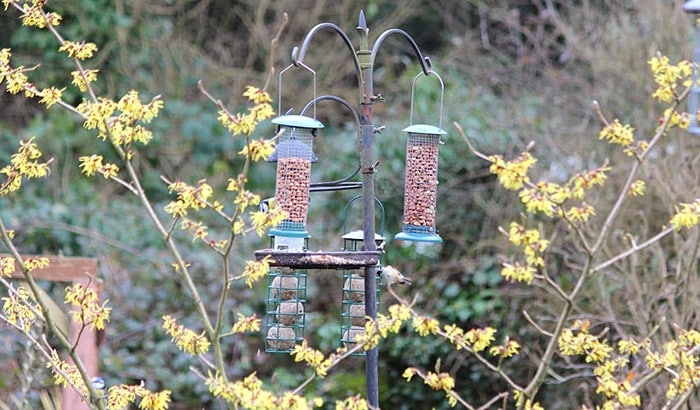 Many people will have a contrasting opinion of what can be considered the perfect bird feeder pole. This is because their actual experiences shape their opinion. If you have just begun your bird watching hobby, you might get confused about the little details concerning this product.
an outstanding bird feeder pole not only holds many birdhouses or feeders firmly but also adds beauty to your garden and other parts of your homes such as the patio or deck.
How does It Work?
A bird feeder pole works by giving a specific place for you to hang your bird feeders. The metal pipe is typically given a slippery finish so that squirrels and other furry thieves will have a difficult time climbing over.
Also, a feeder pole can be installed in an open area such as a garden or a backyard. It can also be mounted in small spaces such as patios or decks.
If you have a good space in your property, installing one or two of these will surely improve not only the ambiance of the garden but also the mental wellbeing of the people living on it.
What are the Different Types of Bird Feeder Pole?
People who are new to bird watching can easily get confused as to what type of bird feeder poles to purchase. This could lead them into all sorts of problems later on especially if the squirrels and raccoons attack the feeder. This is where knowledge of the types of bird feeder poles can be beneficial.
Here are the examples of bird feeder poles based on their functions:
Squirrel-proof. This is the most common type of bird feeder pole. The pole has a very slippery surface which slows the squirrel down. Besides, it has a metallic cone placed in the middle of the pole just below the feeder. This metallic cone protects the feeder tray from the squirrel's reach. This type of bird feeder pole usually stands at around 6 to 8 feet. This type of feeder pole is very easy to install. You won't need a power tool to set this thing up. There is even an instruction guide included in the package to help you set this product up in a breeze.
Raccoon-proof. Contrary to popular belief, raccoons eat not only trash but also bird seeds and suet. If you live near a forest and you want to enjoy the company of birds, you certainly need to have a raccoon-proof feeder pole.
Deer-proof. There are times that deers will find their way to your feeder poles. Because of this, you need to have more durable and taller poles to prevent them from munching on the birdies treats. Deer-proof bird feeder poles are higher than your typical poles. This 10-foot tall bird feeder pole will keep the feeding tray safe because deers can only stand 6 to 8 ft. However, as you already know, the more materials used in making the feeder pole, the more expensive it gets.
Small bird feeder pole. If you live in an area where small birds thrive, the small bird feeder pole is probably the most ideal product for you. This type of pole is very compact and handles the weight of small birds such as finches, orioles, and hummingbirds. It also has four arms or hooks for you to hang small birdhouses. Also, this pole can be installed in small spaces such as decks or patios.
Why do You Need a Bird Feeder Pole?
If you have a garden and you want to improve its overall ambiance, attracting the wild birds in your area can certainly help you achieve that. This can be achieved by installing a bird feeder pole in your garden.
Homeowners who have used this have reported an improvement in the general ambiance of their property. Because of the presence of the birds, people often gather in one spot of the property just to observe their winged visitors happily munching on the snacks provided for them.
Another benefit that you can derive from installing a feeder pole in your property is the improvement of your mental wellbeing. Birdwatching is a truly relaxing experience. If you have stress build-up, watching birds can help you re-energize.
What to Look for When Buying a Bird Feeder Pole
Buying a bird feeder pole can present a challenge if you do not have any knowledge of how to locate the best one. This is a common hurdle that beginners face whenever they are out shopping for one. In this section, we will guide you through the ideal way of buying a bird feeder pole system for your garden. This way, not only will you learn why you need one in the first place, but also learn how to take care of it.
You have to remember: the type of pole that you are going to purchase will determine the type of birds it will attract.
Here are some things that may help you purchase the best one:
Don't Choose The most Popular (or unpopular) Brand just yet
First-time buyers always search for the most popular brands of bird feeder poles. They thought that since this is a famous brand, it performs well and will suit their needs well. However, the same thing can be said about unknown brands. Just because it's affordable doesn't mean it will perform well. When buying feeder poles, always make it a point to research different brands. This way, its performance will only be your parameter and not the name of the manufacturer.
Assess Your Needs
How many bird feeders do you have? Where do you plan to install it once it arrives on your doorstep? How many hooks or hangers do you need? Can you use it for some other things such as hanging plants? How does it perform during certain weather conditions? Can it stop squirrels and raccoons from climbing? These are the questions you need to ask yourself before purchasing feeder poles. Once you can answer all of these questions easily, you can now proceed with the purchase.
Determine Your Budget
Just because the feeder pole is branded doesn't mean that it has superior quality. Sometimes, cheaper poles can provide the best service compared to the expensive ones. Also, the same brand and model are not priced the same in different stores. You need to devote a healthy amount of time to determine the ones that will save you money.
Knowing these things before you visit your local hardware store or surf on the internet will help you get not only the most enduring feeder pole but also the most practical one.
Care and Maintenance
Learning how to take care of your bird feeder pole is a requirement for every bird watcher. This way, you will be able to enjoy the presence of various wild birds in your area longer.
Here's how you can prolong the life of your bird feeder pole:
Always check for signs of rusting. Bird feeder poles are always exposed to natural elements such as water and sunlight. As you already know, feeder poles are typically made from steel, and exposure to the elements will deteriorate its structural integrity in the long run.
No matter what the manufacturing company tells you that their products are completely rust-proof, there will always come a time that it will rust. Do a monthly check on your feeder poles to see if there is a rust build-up. If there is one, repaint it with rust-proof paint.
Clean the bird poop on the pipe. Birds will always leave their poop on the metal pipe. This can degrade the quality of the metal pipe over time. Removing the poop traces in the pipe will prevent it from deteriorating.
Maintaining bird feeder poles is not a difficult task. You can just need to let it stand on the spot where you mounted it and let it do its job. Also, you don't need to regularly wash the bird feeder pipe with water. As you already know, water invites rust. All you need to do is to enjoy watching the birds it will attract!
Frequently Asked Questions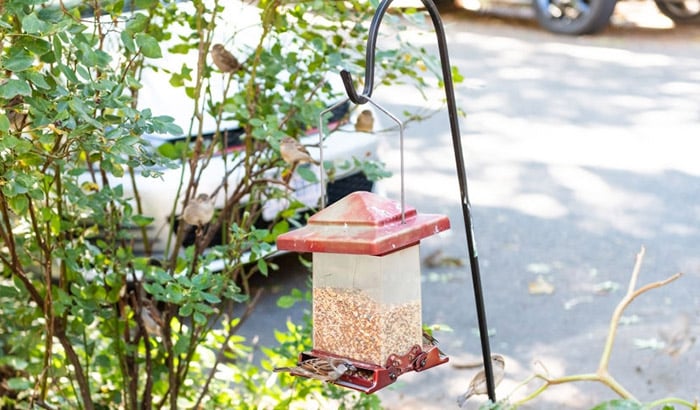 What are the Most Trusted Bird Feeder Pole Brands?
High-grade bird feeders can be bought online via Amazon. If you have a lot of wild birds in the region, you may want to choose sturdy poles for heavy birds. Bird feeder poles can include features like UV resistance, welded hooks, sturdy base, and so on.
A few recommended bird feeder pole brands are:
Perky-Pet
Home-X
Squirrel Stopper Store
Beau Jardin
All the abovementioned bird feeder pole brands are of high quality and fulfill the essential requirements of a standard bird feeder pole.
These brands have satisfied customers all over the country who can attest to the quality and performance of the products. By looking at these brands first, you have effectively narrowed down your search. This way, you can make a decision fast because you know that the above-mentioned brands are trustworthy.
How to Keep Bird Feeder Poles Straight?
Sometimes, in our eagerness to fill the feeder trays with seeds and water, we forget the weight limit that a feeder pole can handle. This causes the pole to lean on one side or direction. This is true especially to feeder poles that have two hangers or hooks.
To prevent this from happening, make sure that you do the following:
Keep the feeders on the birdhouses balanced. Not all birds will feed on both feeder trays. Most of them will flock on just one tray, thus causing the pole to tilt on one side. This happens all the time. To keep the pole straight at all times, you need to check it before refilling the trays.
Check the screws and see if they are still tight. Because of the combined weight of the birds, the birdhouse, and food and water trays, the screw that holds the components together can become loose. Just a simple retightening of the screws will make sure that the pole stands straight.
How Tall Should a Bird Feeder Pole be?
It is optimal if you could make the pole of a reasonable height. A short pole of about three feet would invite the attention of cats and dogs. A very long pole may bend or twist when caught in the swirl of a strong wind.
Ensure that the pole should not be very long, as there are chances that they would bend over time. Five feet in height would be optimal for a bird feeder pole. That will help to keep the pole intact throughout the year.
Where Should I Put My Bird Feeder Pole?
The best thing about bird feeder poles is the fact that it is very portable. You can place it anywhere you want on your property. However, to make the most of its function, you need to identify certain locations in your property where you can easily see it.
Here's where you can mount your chosen bird feeder pole brand:
Lawn/garden.
Patio.
Deck.
Balcony.
Rooftop.
How to Care and Wash?
Bird feeder poles don't need to be washed. However, it still needs to be taken care of so that you will be able to enjoy its benefits longer than expected.
Once installed, you don't need to wash the poles regularly. Just a weekly or monthly wiping off of bird poop will take care of it. Also, if you think that squirrels are having an easy time climbing the pole, you can add organic oil to it. You can also use butter if you want.
During your weekly or monthly maintenance check, see if the screws and bolts are loose. Most of the time, squirrels and raccoons that are struggling to get on top of the pole may loosen the components. Retighten them as you see fit.
Where to Buy?
Bird feeder poles are usually available in hardware stores. You can usually get them at Home Depot, Lowe's, Target, True Value, Ace Hardware, and others. If there is one in your area, you can personally visit them so that you can choose the design that would fit the ambiance of your garden, patio, or deck.
However, if your preferred brand and design of feeder pole are not available in your local hardware store, you can always purchase them online. Amazon.com is one of the online sites where you can safely order bird feeder poles. Through this website, you can easily determine how this particular brand performs under various circumstances. This way, you can easily determine which ones to consider and which ones to stay away from.
Conclusion
There are plenty of bird feeder pole brands in the market nowadays. If you don't have any idea on how to choose the right one, you end up not only with an expensive and inferior feeder pole. To prevent this from happening, you need to conduct extensive research about the best bird feeder pole
The information about the different brands of feeder poles discussed above will help you find the most ideal one for your property. Because of the reviews above, you will have an idea of how the product performs. You can also avoid experiencing troubles later because you know exactly what to expect on the product. This way, you can always have a top-notch bird watching experience either from your garden, patio, or deck with your friends, family, or loved ones.