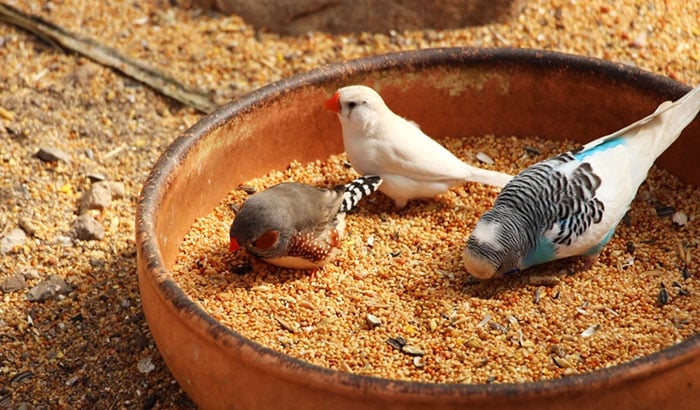 Aside from water and proper shelter, your budgies will need the right foods in the right amounts to ensure that they will always be visibly healthy and happy. The question is what is the best food for budgies? There are many different brands and types currently available, but obviously, you cannot expect all of them to be the best.
This article will teach you how to choose the best budgie food so that your feathered companions will always be visibly healthy. You will also get a couple of reviews of bird pellets for budgies so that you will get a good idea of which ones you should try first.
Best Budgie Food Reviews
1. Dr. Harvey's Our Best Budgies Parakeets Foods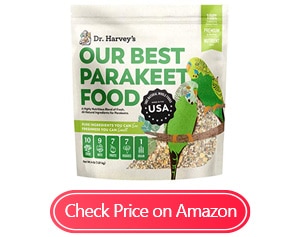 The neat thing about this budgie food is that it contains a wide variety of seeds, nuts, fruits, and vegetables. You will be getting the whole gamut of bird feed, allowing you to have a lot of choices. Other than feeding your birds, this product is beneficial as it promotes the natural foraging habits of your birds, making them work for their food.
Speaking of the assortment of ingredients, this one contains exactly 32 different types of seeds, nuts, grains, fruits, and vegetables. If they can manage to eat every type of food in the mix of the most common budgie seed, then you can be sure that they will be getting all 7 of the nutrients that they need. In addition, your birds will never get bored at mealtime.
This package does not just contain just any old kinds of seeds and nuts. It also contains only premium ingredients. Unlike other products that already seem stale upon opening, you have an assurance that this one will be fresh by the time you receive it. When I first opened the bag I got for my budgies, it smelled fresh and not at all stale and dry.
Also, unlike other brands of bird food, this product does not contain any artificial colors and preservatives. I can easily tell if bird seeds have artificial colorings as they always seem to be unnaturally vibrant. Also, some brands even have seeds that come in silly colors, like aquamarine and such.
An issue that I have with this product is that the dried fruits and vegetables are cut a bit too large. They are a bit too hard for my budgies to bite through and they certainly cannot swallow them. As it is right now, it is no better than budgies homemade food.
Pros
Promotes natural foraging instincts
Contains premium ingredients for optimal health
No artificial colorings and preservatives
Contains 32 different nuts and seeds
Cons
The fruits and vegetable chunks are too large
Leaves a lot of leftovers
This budgie food mix is great for birds that love a lot of variety. However, my birds do not seem to be included in that group since they would just pick out the several kinds of seeds that they liked and make a lot of leftovers. On the other hand, they seem to be quite happy and not lethargic at all.
2. ZuPreem FruitBlend Flavor Pellets Bird Foods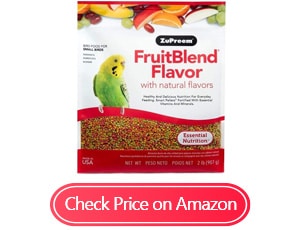 A veterinarian friend of mine told me that feeding budgies and other small bird species with a diet of seeds and nuts is not a good idea. The reason behind this is that they become even more prone to fatty liver disease. Keep that from happening by weaning your birds off seeds and serving them these pellets made from real fruits and grains.
You will just need to take my word for it. These pellets are chock-full of flavor. I have not taste-tested them myself but judging by how fast my budgies flock to their feeding bowls, I think that it is safe to assume that they liked how these pellets tasted.
Unlike some of the supposedly best seed mixes for budgies, my birds would rarely leave any leftovers in their bowls.
Budgies are visual eaters. This means that they like to eat foods that look good. These pellets come in various colors that many small birds like. Whenever I fill up the feed bowls of my birds, it always seems like I am pouring out a rainbow into the feed bowls of my birds.
Don't worry about fiber as this product contains lots of it. Aside from real fruits and vegetables, these pellets also contain whole grains. This means that it has a good amount of fiber. This allows your birds to eliminate regularly and not feel bloated or gassy.
I do not have a problem with them, but people who would rather feed their pets with all organic foods may not like this product. For one thing, these pellets contain artificial coloring, which is the reason behind their vibrant colors. If you have issues with anything artificial in your pets' food, then you might not like this.
Pros
Comes in different shapes and colors
Guaranteed flavorful
Contains whole grains to promote better health
A good substitute for seeds
Cons
Hard to get birds to eat at first
Contains artificial colors, which is not a good choice if you are all organic
Although it was a challenge to get my birds to eat these pellets at first, after I got them to switch to these from their usual seed diet, I noticed how much they loved the product.
In addition to making my budgies and other small birds healthier, these pellets are also a lot less messy compared to seeds. I hated cleaning up the chaff the birds left after eating a bowlful of seeds.
3. Hagen Parakeet Budgie Staple Vme Seeds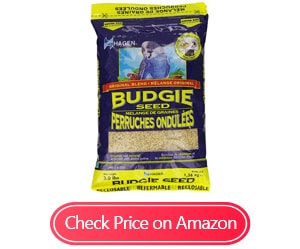 I liked how these seeds are mineral-enriched right out of the bag. Budgies are highly prone to nutrient and mineral deficiencies, so I must feed them fortified feed just to ensure they get the recommended doses. This product is iodine-enriched, so much so that I no longer need to place mineral cubes in my budgies' habitats quite as often.
Also, unlike the other bird feed products I have had the pleasure of trying, I appreciate that these seeds underwent thorough cleaning and sorting before packaging. There is very little dust (if you are actively looking for it) and the seeds are all quite fresh.
I have bought lots of bird seed products that I had to sieve through first because there was so much chaff and dust in the package.
Another nice thing about this product is that you are getting several different seeds and grains, so your birds will always have a variety of food to choose from. My birds are quite picky eaters.
Some of them would just eat millet one day and then would pick out the oats of the other. Having a variety of seeds means they will always have something they would want to eat.
One way to test if the seeds are still fresh is if they can still sprout. This is one of the ways that I test if the batch of bird feed I buy is good for my birds. Every time I do the sprout test, almost all the seeds I sampled would germinate quickly. Even with the orange citrus oil added to the seeds, it did not affect the freshness of the product.
However, I did hope that this product contained more than just seeds. Ask any veterinarian and they would immediately tell you that small birds living only on seeds are more at risk of fatty liver disease. If this product contained other ingredients, like more grains, or dried fruits of some kind, then it would have been perfect.
Pros
This product is iodine-enriched.
Dust-free and does not contain seed husks
Contains several different seeds and grains
Only contains live seeds
Cons
Does not contain anything else other than seeds
Will need other foods for complete nutrition
I do not rely on just this seed mix for the complete nutrition of my birds. However, these do provide a huge bulk of the much-needed minerals. If you are new at bird keeping, you should know that relying solely on seeds for your birds' nutrition is a bad idea.
4. Harrisons High Potency Superfine Bird Foods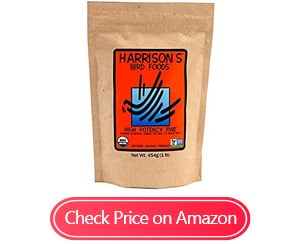 Other than the prescribed medicine, the only thing that I feed my sick and recovering birds is Harrisons' high-potency feed. It is chock-full of healthy ingredients and supplements that all birds need. I usually reserve this for birds who have gotten sick over the winter, and in a week or two, they are all back to their normal, cheerful selves.
One of the reasons why this is so great for recovering birds is that they are not in pellet form. They are more like semi finely-ground. This makes it easier for the birds to digest while assuring you of a faster and more efficient nutrient release. Sometimes, I would add a bit of water to make it go down easier, thereby making recovery much faster.
I also use this to wean some of my birds away from eating just seeds. It is never a good idea to just let small birds eat seeds regularly as it could cause several illnesses. Because this product has a lot of flavors, a nice texture, and contains a lot of nutrients, birds will take to it almost immediately.
Aside from nursing some recovering birds, I also use this product on my breeding pairs just a month or so before the mating season begins. The nutrients in this product make the breeders a lot more energetic and make them produce more fertile eggs. Moreover, it seems to lengthen the season quite a bit.
Now, here is the issue – this stuff is quite expensive. If you are a beginner and you only have one or two pairs of budgies, then you might want to check out something a bit cheaper. On the other hand, if you are a breeder or someone who has a dozen or so habitats on your property, this product might come in handy.
Pros
Provides all the nutrients needed for recovery
Makes it easy to wean birds off seeds
The superfine texture makes it easy for sick birds to eat
Also great for breeding birds
Cons
Superfine texture means birds cannot pick out the things they eat
A bit on the expensive side
Although there is no way for you to know by yourself if any of your birds are allergic to certain foods, they know what they can eat somehow. This is what made this bird food a bit problematic since the birds cannot pick out the foods they can eat from their tray. Other than that, it is one of the most nutrition-packed foods in the market right now.
5. Kaytee Bird Greens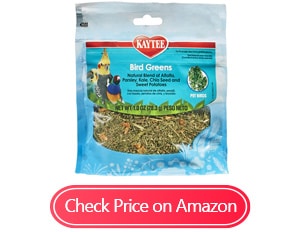 It is essential to promote your birds' foraging habits as much as you can. This will prevent them from getting too lazy and in effect, becoming overweight.
This product contains a mixture of greens, seeds, and the occasional bits of sweet potato. Some birds will have no problem eating all of them. However, others would like to forage for the bits that they would like.
This is a great way to introduce other types of food to your birds, especially if they were raised in a pet shop where they are almost exclusively on a seed diet. I always put my budgies on a diverse diet that contains seeds, fruits, and the occasional fresh fruits and vegetables.
Getting new additions to try new foods is always a struggle. The good news is that when I introduced this product to them, the entire process somehow got easier.
Because this bird food contains plenty of greens, your pets will also receive plenty of vitamins. Many of these vitamins are those that seeds could not provide, especially if the feed is not enhanced with nutrients. It is a good thing that my birds just love eating this product. I do not need to give them separate supplements quite as much as before.
I also appreciate that you do not need large serving portions of this bird food. What I usually do, and as instructed on the packaging, is sprinkle a liberal amount on top of the usual bird food. Aside from adding more nutrition, doing this will encourage foraging.
Although I love this product overall, I would like to say that it is not without faults. One flaw I noticed is that it does not have enough sweet potatoes. I do not know if it was deliberate, but there is just a light dusting of sweet potato chunks in the package that I received. I kind of hoped that there was a bit more like in the picture on the cover.
Pros
Promotes healthy foraging habits in small birds
Great for introducing birds to other foods
Provides lots of vitamins and minerals found in fresh greens
A little goes a long way
Cons
There are not enough sweet potatoes in the product
Not intended for wild birds
I am not claiming that your birds will instantly love this bird food but there is a good chance that they will. I can at least vouch that my birds love the sweet potato bits, and it is a shame that there is not nearly enough of it in this product.
6. Sweet Harvest Budgerigars Bird Foods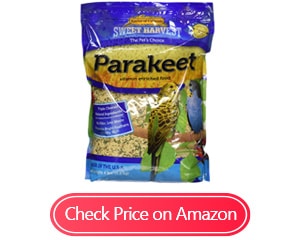 The thing that impressed me the most about this product is how clean the contents of the package were. I am no stranger to seedy (no pun intended) pet shop bird food, and they are so full of dust and debris that I needed to sift through them before feeding my birds. With this product, I could just scoop a serving portion right out of the bag.
Another thing that I noticed about this product is that it does not contain any filler ingredients. I have bought a lot of cheap bird food in my time. I discovered that most of them contained a lot of filler ingredients – the most common of which are milo seeds.
The problem with milo seeds is that birds will never eat them unless there is nothing else available. This product does not contain any fillers and my birds almost always clean their bowls.
Aside from containing dried fruits and vegetables, this bird food also comes enriched with beneficial vitamins and minerals. This means that this bird food will provide almost all the recommended vitamins and minerals that they need for a healthy and happy life.
Speaking of vitamins and minerals, you can expect this bird food to be enhanced with lots of them. Just relying on the nutrients contained in the seeds and grains will not be enough to provide all of the recommended daily allowances for your birds. This is why this product comes enriched with a lot of different beneficial vitamins and minerals.
The only issue that I have with this product is that I could tell just by smell that there are considerable differences between production batches. For instance, I can immediately tell that there is something a bit off with the latest batch compared to the other one that I got a couple of months ago. The newer batch seemed a bit stale.
Pros
Thoroughly clean – There is no trace of dust anywhere
Enriched with beneficial vitamins and minerals
No filler ingredients
Contains all the foods needed for balanced nutrition
Cons
My birds leave considerable amounts of leftovers
The inconsistent quality between batches
If only Sweet Harvest could work on the consistency of their products, then I would be happier with this bird food. On the other hand, my birds do not seem to notice that there is anything different as they still happily ate most of the contents in their bowls.
7. Volkman Avian Science Super Parakeet Diet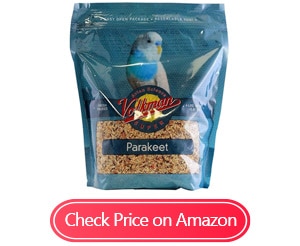 This bird food is ideal for budgies and other small bird species due to the seeds and grains being so small. My budgies had no trouble eating and swallowing these seeds, unlike other brands that my birds can potentially choke on.
Speaking of the seeds, this product contains more than a dozen different seeds and grains. This wide variety of ingredients prevents my birds from getting bored with their meals. It also encourages them to forage for the type of seeds that they like.
You might be wondering why this bird food smells like oranges when you first open the bag. The main reason is that this product uses natural orange oil as a preservative. This does not contain any artificial preservatives that can potentially negatively affect your pets.
Another thing I liked about this product is that it only contains living seeds, which means that my budgies will be getting the optimal amount of nutrients from each seed and grain. I always sprout test every bag of bird food I buy before giving them to my pets. If I cannot make the seeds sprout, then I will not be giving them to my birds.
However, even though I still like this product overall, it did take a bit of time and patience to get my birds to even look at this bird food after switching brands. I had to mix this with their old food gradually, and it took almost a month before they would eat this exclusively.
Pros
The seed sizes are perfect for small birds like budgies.
Contains more than a dozen ingredients
Does not contain any artificial preservatives
Contains only living seeds for optimum nutrition
Cons
It takes a while for my birds to like it
Contains a bit of dye to make it more brilliant
I do not mind the dye in some of the foods just as long as they do not harm my birds. If my birds receive all the nutrition they need, then I have no problem with this product.
8. Roudybush Daily Maintenance Bird Foods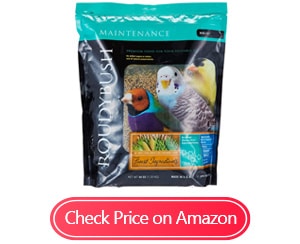 I found that this bird food worked well for molting birds. The nutrients in this product helped them regrow their feathers much quicker than they normally would. I also had one poor rescue bird that was so stressed that he picked on his feathers. This helped him recover nicely. Now, he looks just like my other birds that are healthy and happy.
This bird food is just chock-full of vitamins and nutrients that I no longer needed to give my birds supplements as often as I did before. Their feathers are all thick and shiny. They have healthy appetites and all of them are as noisy as ever, which is a good indication of health.
I had no difficulty whatsoever getting my birds to switch from their old seeds to this product. I have experienced trying to wean my birds from exclusively eating bird seeds to other brands and it took quite a long time. I was surprised to discover that it only took me a week to get my birds to eat this stuff.
I also liked that these pellets are the perfect size and texture for my small budgies, even the younger ones. I also feed this product to my sick and recovering birds as they find it easier to eat and digest these small pellets. These are also quite soft so they have no problems with digestion.
However, because these pellets are so soft, they almost immediately disintegrate if you put even a bit of pressure on them. I am quite disappointed with the number of crushed pellets that are on the bottom of each package. It just seems like such a waste.
Pros
Promotes healthy skin and feather growth
Almost eliminates the need for supplements
Easy to get birds to eat it
Just the right size for my budgies
Cons
Not that widely distributed
The pellets are very brittle
Although it is a bit disappointing to see a good amount of these pellets already crushed into dust in the packaging, I still have no complaints regarding feeding. My birds love this stuff and judging by how healthy they look, it seems like this product delivers on its promises.
9. Higgins Vita Seed Foods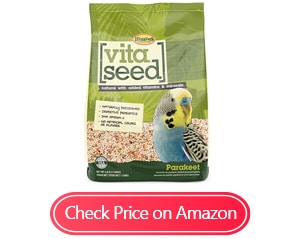 You know you are getting quality bird food if almost all the seeds can sprout. I always do a sprout test before giving them to my birds. I took a small scoop of this seed mix and tried to make them sprout on a damp paper towel. After a day, almost all the seeds showed signs of life. This is a great sign of quality.
You can also tell that this product is all-natural because the contents do not contain any unnatural-looking colors. This is unlike other bird foods that have pellets that come in all the colors of the rainbow. This product used only natural preservatives to keep the contents fresh for longer.
Speaking of the ingredients, unlike some of the cheaper brands of bird food, this does not contain filler ingredients. I have had bad experiences with bird food that contained a lot of milo seeds, which almost all my birds would refuse to eat. Even if I do not feed my birds for an entire day, they would still leave the fillers in their feed bowls.
I had no problems whatsoever switching to this brand. It is almost as if my budgies were happy that I changed to this product from the previous one. I first tested by giving them a small portion and they immediately devoured every bit. I did not need to transition gradually. They just took to it readily.
The only issue that I had with this product is that it is on the expensive side, especially if you buy this online. This is one of the rare cases where products are cheaper when bought in a brick-and-mortar pet store. I am so glad that our neighborhood pet store carries this brand.
Pros
Contains all live seeds
Does not contain any artificial colors or preservatives
Does not contain fillers
Easy to transition, even for picky eaters
Cons
A bit on the expensive side
Does not contain any fruits or vegetables
If you can, buy this bird food in your local pet supply store as this is a bit more expensive online. Also, it is not a good idea to feed your bird with just this product exclusively. You should still add fruits and vegetables so that they would get complete nutrition.
10. TOP's Parrot Food Mini Pellets Bird Foods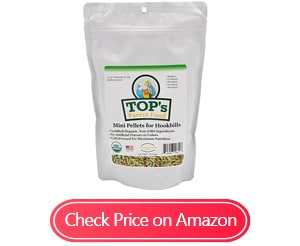 The biggest thing that this product has going for it is that it is completely organic. Everything from the seeds to the vegetables, you can expect them to be grown organically without the aid of chemicals.
After that, they underwent cold-pressing to retain as much of their natural nutrition as possible. I try to eat organic as much as possible and what is good for me is also good enough for my beloved budgies.
With that said, these mini pellets do not contain GMO products, like mass-produced corn and wheat. Those products are full of hormones that can negatively affect those who eat them. This product contains none of that. The only things that they contain are healthy ingredients.
Even the preservatives used in this product are organic. You will not find any chemical preservatives on the label because this bird food only uses citrus peels, rosehip, and other natural and non-toxic ingredients.
Another nice thing about this bird food is that you can serve it in several ways. What I usually do when introducing this to new birds is to wet it a bit and turn it into a paste. After that, I would mix it with regular bird seeds. Once the birds get used to it, I would just serve the pellets dry.
I would like to love this product, especially since it is all-organic, but it is hard to make my budgies like it. If there is nothing else available and they are hungry, of course, they would eat these.
However, they are not exactly vegetable budgies' favorite food. Also, these pellets are not small enough for budgies. I had to grind them up a bit to make them eat.
Pros
Completely organic
Does not contain GMO fillers
Does not have any chemical preservatives
Allows serving in multiple ways
Cons
A bit too large for small birds
Hard to make birds eat
Although this is an all-organic product, that does not necessarily mean it is good. There is no doubt that this bird food is just full of essential vitamins and nutrients. However, if it is hard to make your birds eat the stuff, then it will be for nothing. With that said, this is not all that suitable for budgies, but might be nice for bigger bird species.
What to Look For When Buying a Budgie Food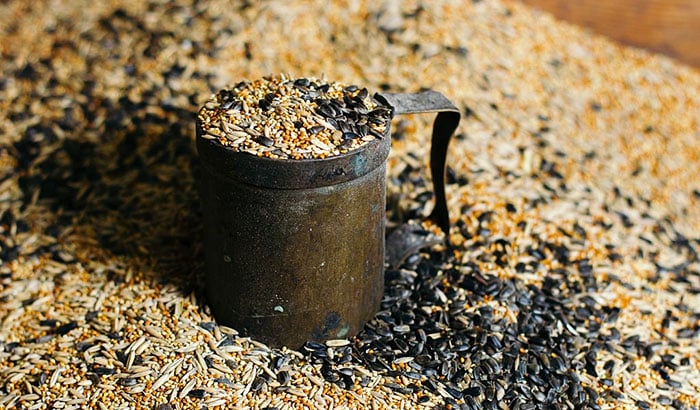 When shopping for the best bird food for budgies, there are a couple of factors that you need to take into consideration, including:
Size of the Pellets
Regardless of whether the bird food you are getting is made up of seeds, grains, or pellets, they should be the right size for budgies. Budgies are small birds, so the foods that they prefer should be the right size for their small mouths.
Oftentimes, the label would say that the product is for small bird species. However, if it does not indicate such important information, check if the pellets/seeds are no bigger than 3/32" thick.
Contents
The best diet for budgies contains not just seeds but also fruits, nuts, and vegetables. Some products contain all of these kinds of ingredients. However, you would usually just find ones that contain mostly seeds and grains.
In addition, you need to check if the product you are buying does not contain filler seeds. Among the most notorious filler seeds are milo grass seeds. These are the small, dark, and round seeds that are always left in the feed bowls of birds. Budgies and other small birds would only eat milo seeds if there is nothing else to feed on.
Nutrient-Enriched
Ideally, the bird food that you give your budgies should have additional nutrients. Although there are already nutrients in the food themselves, it will always be better if the product also contains additional vitamins and minerals.
This is especially necessary if you have birds that are recovering from illnesses, molting, or during the mating season.
Frequently Asked Questions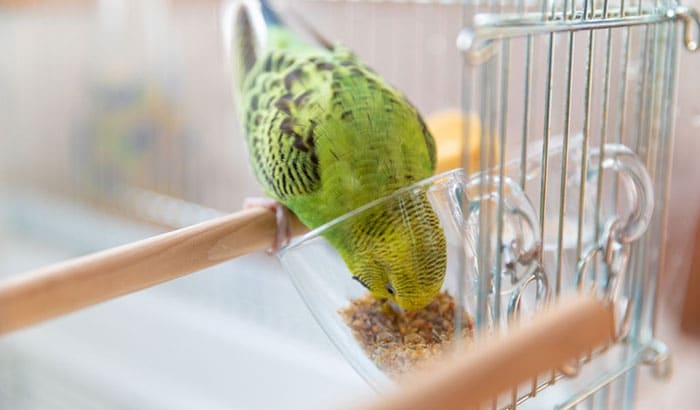 What Food Kills Budgies?
You have to be careful with what you feed your budgies as there are lots of seemingly safe foods that are poisonous to your little birds. Among them are avocado, onions, garlic, raisins, chocolate, salt, caffeine, fruit pits, apple seeds, and xylitol
What do Budgies Eat in the Wild?
Even though they can fly, budgies are terrestrial feeders. This means that they feed on or near the ground. With that said, budgies' favorite food consists of grass seeds, berries, and plants.
How often do Budgies Eat?
A single budgie can eat up to 2 teaspoons of food every day. Often, you can spread it out throughout the day. You can just place their food inside their feed bowls two or three times a day and then remove it after 15 minutes to train them to feed at designated times.
Conclusion
Budgies are some of the cutest little birds that you can keep as a pet. If you want to keep your feathery friends healthy and happy for as long as possible, you will need to give them the best budgie food that you can find.
The best seed mix for budgies will contain all of the nutrients that your birds will need to keep healthy and a bit more extra for when they need to recover from illnesses. You will be spending a bit more money on the best seeds for budgies. However, it will be worth it in the end when your pets are happy and healthy.