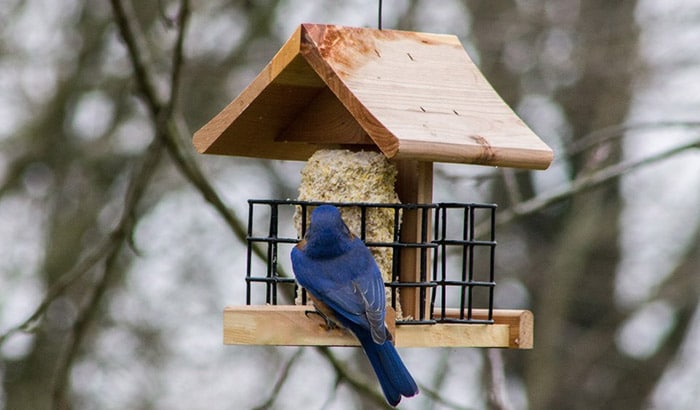 Blue Birds are popular and have been featured in many books or even bird themed movies. Their red and brown breasts always attract pet owners to keep them as guests in their backyard along with other seasonal birds. On other days, they perch erect on wires, posts, and low branches for people to enjoy watching. Usually, they are up there scanning the ground for prey.
To keep them in their place, providing them with enough support is necessary. This support includes proper bird seeds and giving a good bluebird feeder available. Bluebirds have more expansive range depending on locations and types.
Generally, providing food for bluebirds is not difficult. What is challenging is getting them to stay in your bird feeder each time. During the winter, when resources are scarce so keeping one or two bluebird feeders in your backyard will benefit these beautiful birds tremendously.
As people stay at home more often these days, watching birds has become one of the favorite past times. For the bird industry, this is a tough call. So what qualifies as the best bluebird feeder?
Best Bluebird Feeder Reviews
1. Kettle Moraine Bluebird Mealworm Feeders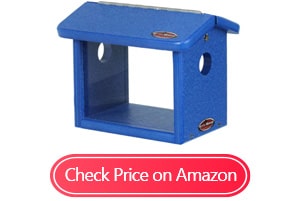 There's definitely one magic word in this product, recycled. Birders are naturally nature lovers so making sure that materials and supplies should have as little impact to the environment as possible is the first step. Kettle Moraine definitely rose up to this challenge and I simply love it.
There are few things I love about this bluebird feeder: the color blue that is true to its picture on amazon listing, the well-crafted plastic quality out of milk jugs – recycled ones and the design itself. There is enough space for the beautiful bluebirds to get and enjoy their feeding session. If I have not seen others, this can be easily considered as the best mealworm feeder for bluebirds. With multicolored flowers and green grass in my backyard, I am very happy to have added a touch of pearl blue.
Some of the best features of this feeder are:
Pros
Anything recycled is always a winner
The transparent viewing window
Easily hang on a tree or a feeder pole
It is easy to assemble, use and clean
Cons
No perch area and I'd love to see my birds outside the feeder enjoying the dried mealworms
When choosing a bluebird mealworm feeder, one of the things to be considered are quality and aesthetic. What's so great about this feeder is that it answers to both needs. However, try to understand that the location is also as important as the quality of the feeder itself. Placing this Kettle Moraine feeder in an open area and possibility to hunt insects will help you attract more bluebirds in your area. Bluebirds like areas with low grass and perhaps few small branches to perch or rest on.
2. Erva Bluebird Feeders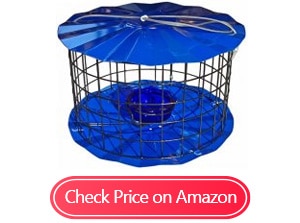 Bluebirds are interesting species. They work really hard and fly really long to get into their destination. A female bluebird also shows a deep level of devotion for their nestlings. They travel far and wide to find food such as protein rich mealworms, suet or sunflower bits.
This is why I am very pleased with the blue squirrel proof bluebird feeder manufactured by Erva. With its enormous size, it is probably the best bluebird mealworm feeder to offer a feast to the bluebirds coming to your backyard.
When looking for a bird feeder, only two things come to mind: functionality and versatility. It means whether or not the feeder can only feed one type of bird, can only accommodate a specific bird food or it can cater to various ones.
This Erva bluebird feeder ticks many boxes. The design is both practical and versatile – the dish placed right in the middle of the circular feeder to provide equal access to the mealworm, the wire mesh big enough to let the bluebird in but deter bigger birds from doing so, the circular design to make sure there's bird access from all angles.
Few other pros and cons of this very beautiful feeder are:
Pros
Mealworm dish can also accommodate fruit cuts for smaller birds
Wire mesh protects the bluebird during feeding time from invasive birds
Wire mesh also serves as perch
Practical design, easy open and close
Cons
Only for smaller birds so if you like medium size birds, get another feeder for them
Definitely one of the best characteristics of this feeder is the wire mesh. By nature, bluebirds protect their nestlings during feeding time, letting them eat first so the wire does the job while all birds eat at the same time.
For birders who wish for their bluebirds to nest nearby, place or hang one or two of these near the garden. Make sure there are no tall trees as they seem to be a deterrent for bluebirds. A water source nearby is also helpful after feasting on dried mealworm.
3. Couronne M045-200-09 Mosaic Bird Feeders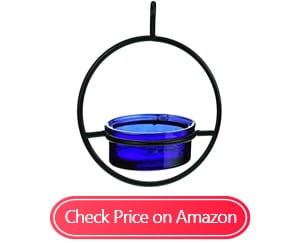 Bluebirds are attracted by open spaces. This means that choosing the right feeder and the right location are necessary to be able to continuously attract these multicolored birds in your area. This teal, simple yet functional bluebird feeder of Couronne Company is perfect for such needs.
The modern circular open design is important to accommodate as many beautiful bluebirds out there. Many bluebird feeders have wire mesh barriers to keep big bully birds away so they'll get to enjoy one specific type of birds. However, this can be unfriendly for other types of birds because they won't be able to join in for the mealworm feast.
Mosaic bird feeder is perfect to fill this gap. The blue dried mealworm bowl placed securely in the middle of the feeder provides ample feeding space for few birds at the same time. The drainage hole at the bottom of the mealworm bowl ensures freshness and dryness of the mealworm. Of course, the only impossible time is during the rainy season. The lack of roofing deters bluebirds from coming and enjoying the mealworms.
While I am pleased with the design, there are many things to consider about this mosaic bird feeder. Here are some features:
Pros
Bottom drainage hole keeps the mealworm dry
Beautiful teal colored bowl holds enough mealworms or even flower seeds
Open space allows birds to fly by and pick their food
Recycle glass is easy to clean
Cons
Not accessible during the rainy season. Seeds and mealworms becomes soggy
No space for perching to make feeding comfortable
But one great thing about this mosaic bluebird mealworm feeder is its possibility to connect few of them together for aesthetic and practical reasons. By connecting the feeder together, there's a possibility of attracting more birds to your backyard. Also, the recycled glass bowl is versatile that you can change bird food depending on which birds are in the process of migration. Some of the most common bird food include suet, sunflower seeds, mealworms and even jellies for orioles.
4. Aspects 278 Vista Dome Feeders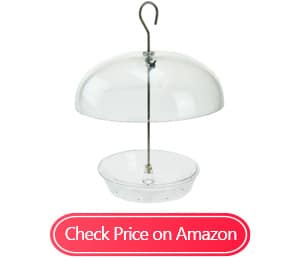 When it comes to practicality and design, this bluebird feeder by Aspects is my favorite. I love the modern design of clear and opaque recycled glass is a perfect addition to a well curated garden. The dome is a natural deterrent to squirrels as well as a great way to protect the mealworm or even jelly from the elements like the rain. The dome acts as the bluebird protector feeder, which is important in making sure that the bluebirds get the best food each time.
I also like the glass bowl, deep enough to accommodate 1.25 quart of bird food. Since it is an open feeding station, there is a possibility for many other bird species to come for a visit. With the transparent glass, it will be easy to see the changes of colors of the bluebirds especially the male eastern ones with vivid deep blue colors and brick red breasts. It will surely be a great sight in a beautiful garden.
When it comes to modernism, this Aspects Vista dome feeder definitely looks the part. Its elegant design makes it look classy and surely be a great piece in the middle of a beautiful flower garden. I also like the stainless steel hanging pole that can be used for a feeder pole or under a nice tree branch.
Some other features include:
Pros
Dome protects the seed or mealworm
Dome deters squirrels from getting to the bird feed
Elegant design using recycled glass
Glass is easy to clean
Cons
Easy to break so careful of falling tree branch or objects
Like the bluebirds that found this dome feeder right away just a few hours after installing it, birders also found this feeder very practical so no wonder amazon reviews have rated this Aspects feeder quite highly. As a birder, I can't recommend it enough.
5. Kaytee Mealworm Nut Mesh Feeders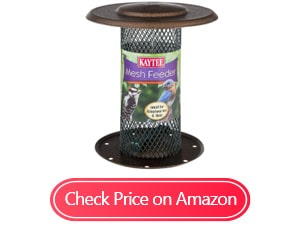 When it comes to bird feeder providers, I am always at awe with Kaytee's line of bird feeders. Their feeders are usually both very practical and functional. This in addition to the characteristics of usability and size. Having smaller feeders also means that you can place more in your limited space.
I love the space saving cylindrical shape protected with wire mesh to keep the mealworms inside. With the tiny space in the mesh, only the bluebirds with thinner beaks will be able to get the mealworms. Deterring big bird bullies through a reliable feeder is what Kaytee does, and it is proven by the number of birds visiting my backyard since I put it up. It is definitely the favorite of the birds and I.
The extended cover and the flat dish doubles as a perch area are excellent features too, protecting the protein rich mealworms from the elements such as rain and snow and the dish with drainage to keep the bluebirds comfortable while feeding and the worms dry and fresh.
Birders who have tried this Kaytee nut mesh mealworm feeder share the same satisfaction so it is no surprise they rated this product very high on online shopping sites.
Pros
Easy to assemble and hang
Nut mesh feeder keeps the mealworms intact and safe
Hygienic feeder
Easy to clean; attractive design
Cons
Bigger mealworms sometimes get stuck in the nut mesh
If there's one thing I dislike about this product, it is probably the size of the nut wire mesh. If Kaytee can make them slightly bigger or there's a dispenser near the dish tray, it should help mealworms to come out more easily. Overall, the cylindrical shape is a very practical solution to smaller spaces or backyard yet intend to attract some bluebirds regularly.
6. Stokes Select Hanging Bird Feeders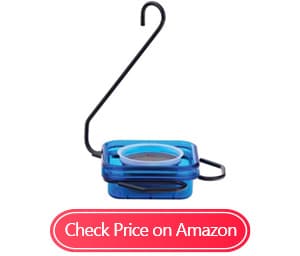 Blue for bluebirds. What else is better than that? Being a birder, I am attracted to buying feeders that are versatile, durable, aesthetically pleasing yet practical. This more birds snack square glass bowl just gives all of that, and a bit more.
I specifically like the versatility of this bluebird feeder by Stokes Select. Since the bird feeder tray is exposed, it can be accessed by different types of birds. So far, it attracts some woodpeckers and finches, and saw some cardinals checking it out another time. Personally, I have always been biased towards blue so it is no wonder that I like the glass try from the get go. Even the picture at amazon listing makes the blue stand out.
My bluebird's red-brown breasts reflect in the blue when feeding in the middle of the day. But the feature is being able to choose among the best food for bluebirds or other birds and still fit in the glass tray. Depending on bird population, this Stokes Select feeder can accommodate jellies, dried seeds, mealworms or even orange halves. If there's one downside of this product it is probably the lack of protective covering so the food and the entire feeder is exposed to elements such as rain and snow. This can result in spoiled bird food.
Pros
Versatile glass tray – can be filled with varied bird food
Simple and elegant design
Easy to hang. No assembly needed
Easy to clean. It can be cleaned in a dishwasher
Cons
Exposed to sun, rain and snow. Can spoil bird food which is dangerous for birds health
Overall, the high ratings for this bird feeder by Stokes Select is expected as it is probably one of the best there is in the market right now. While there are other downsides, there are more benefits this feeder from stokes select can bring into every birder's backyard. The Z hanging pole is just but one, aesthetic wise.
7. Kettle Moraine Cedar Bluebird Feeders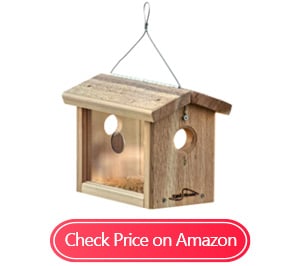 I am officially in love with this feeder and I am certain my bluebirds love it too! This cedar bluebird feeder by Kettle Moraine brings the garden the zen feel – a calm and peaceful space for the beautiful bluebirds. Aesthetically, there is no denying how delightful this is to the eye, against the green background and the few multicolored flowers in my garden.
I totally dig the bird house design and the overall make of this feeder. The plexiglass material assures that viewing is not disrupted while they are feasting on the nutritious mealworms. The glass also keeps the bluebirds' food from bully birds hanging around the garden. One way to avoid this is to keep a safe distance of the feeders from each other.
Personally, cedar is always a good, friendly and natural material for the garden and for the birds in general. It allows the birds to have a feeling of home in the forest while feasting on whatever bird treats are laid out for them. Kettle Moraine even extra characteristics such as stainless steel construction to ensure safety and durability. Naturally, the down side of a cedar material is wear and tear after some time. Constant exposure to the elements such as rain, sun, and snow will ultimately cause a natural deterioration to this beautiful kettle moraine cedar bluebird mealworm feeder.
Pros
Locally made to ensure quality. Usa cedar tree
Easy to clean, assemble and hang
Hinged roof for easy fill of mealworm
Natural look, perfect for a curated garden
Cons
Exposure to elements cause cedar to rot overtime
Still, consider product quality and practicality, bluebirds enjoy a comfortable eating area away from the prying eyes of bigger birds as well as squirrels. The size of the squirrels deters them from getting into the small hole intended for smaller-sized birds like bluebirds. As a product, I am highly recommending this feeder to all birders out there.
8. Birds Choice BBFF Bluebird Flower Feeders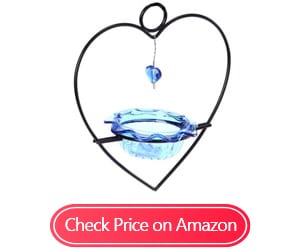 Looking for an additional flower in your flower garden? Bird's Choice offer – a beautiful feeder accentuated with a blue flower dish in the middle is just perfect. As someone in need of a well-designed and practical feeder, this one is a great addition to my green backyard right now. I love the sturdy flower mesh and the blue cup it holds, strong enough to hold mealworms and even seeds for the bluebirds.
The little blue plastic jewel further attracts the bluebirds, catching their attention when it shines under the sun. The nicely designed hook adds aesthetic value to the feeder. The blue cup's only downside is the lack of drainage so leftover mealworms will be spoiled after a strong rain or thick snow.
Pros
Flexible use of blue meal cup – mealworms, seeds or even jellies
Elegant flower design
Cleaning and filling is very easy
No need for assembly. Metal hook provided
Cons
Lack of drainage spoils expensive mealworm
Personally, this is probably the most delightful bluebird feeder plan. For someone who likes to have an uninterrupted view of the birds while feeding, this feeder is the answer. If you want to invite more than just bluebirds to your backyard, mix some seeds and suet dough to the staple dried mealworms for bluebirds.
9. Perky-Pet Mealworm Bird Feeders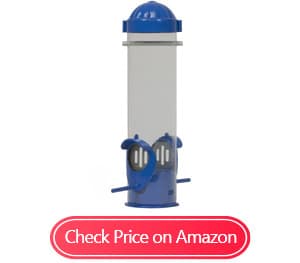 I think cylindrical feeders are great space savers. When hanged in the right location, it can attract as many bluebirds as possible. With Perky pet's clear blue plastic mealworm feeder, birds can have a peaceful feeding time. I love that a dispenser was incorporated not just to protect the mealworms but also to keep it dry and fresh at all times. This can even be considered the best bluebird protector feeder.
Because of the design, this feeder can attract various types of bird species to my backyard garden. Some insect-eating birds such as woodpeckers can share feeding time with my regular bluebirds. The two perch areas let this feeding time happen quite beautifully.
Pros
Top cover allows for easy refill
Easy to clean
Keeps the mealworm or seed safe and dry
Perch area provided for comfortable eating
Cons
Feeder can accommodate only a set of bird at a time
Plastic container changes color after exposure to the sun
While this may not be the best designed feeder, it is considered a reliable one. Perky Pet certainly thought of keeping the quality of the mealworms, keeping it nutritious for the health and well-being of the beautiful bluebirds. Fill it up to the brim and leave it for a few days for the birds to enjoy.
10. Wildlife Sciences Mealworms Bird Feeders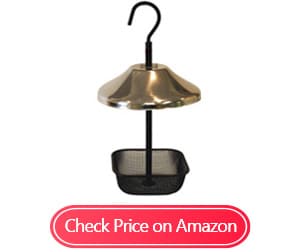 I call this my tiny air balloon and it is called such for a very reason. The design is much like an air balloon – tiny wire mesh attached to a suspension rod and the umbrella roof completes the flying look. The rod serves as a hook as well so it is definitely easy to assemble and hang in the garden. I love the combination of elegant black and white.
The basket can carry 7 oz of dried mealworm, enough to feed a flock of these beautiful blue birds at a time. The basket's edges are rounded and can be used to perch by whichever comes to the worms first. Yes, the early bird catches the best friend mealworms plus a space to perch.
I like that this feeder is small enough to be placed under a tree, a feeder pole or just under the patio. This little balloon also looks good just outside my kitchen window.
Pros
Easy to hang with built in hook
Easy to clean. Wire mesh basket can be washed with soap
Durable. Powder coated mesh basket
Well designed. Umbrella roof protects mealworms from rain or snow
Cons
Basket can tip if birds don't balance the weight while perching
Not squirrel proof
In terms of design, I would love to have some more of this feeder in my garden. It is important that it is placed in a conspicuous place so our flying friends will see it right away. Who does not want a golden bird seed air balloon in the garden.
11. Woodlink NABBFDR Bluebird Feeders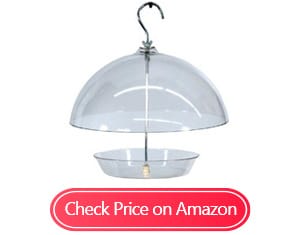 I like bird feeders that carry that modern look amidst the greens in my garden. So far Woodlink provides that feature without much effort. I especially like the dome design attached to a stainless steel hook. The UV resistant polycarbonate dome is great at blocking both the squirrels and the rays of the sun.
Among birders, squirrels and bees are the most common enemies. To make sure that they won't get a chance at the expensive mealworm or seeds. The modern transparent dome is big enough to cover the small round mealworm bowl when it rains. This can also be used by birds as a resting area during snowy or rainy days. More than mealworms, the bowl can also be used for seeds, suet and even jellies. I am happy that Woodlink created a bird feeder for all seasons. The only downside of this feeder is the lack of perching area for the bluebirds to have comfortable time feeding.
Pros
Dome to protect seeds and worms from the elements
Elegant design. Perfect for the garden
Squirrel proof
Easy to clean
Cons
No perch area
Feeder bowl is small to hold mealworms, seed, suet dough for few days ration
Even early on, this feeder is already a hit for birders with curated gardens. It is definitely a terrific choice. The beautiful glass, the squirrel proof, the modern look and the sheer elegance it brings in my flower garden makes welcoming these beautiful blue birds just an added bonus.
12. Perky-Pet 312B Panorama Bird Feeders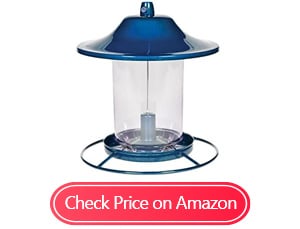 I have always claimed to have a soft spot for cylindrical bird feeder. When the size fits, it becomes a syre treat. This perky pet panorama bird feeder has three things all birders acknowledge as very important features: a roof to protect the bird food from the natural elements, a sealed container to keep it fresh and dry and a perch area for comfortable feeding. Perky pet's design is an absolute sweetheart
I love how Perky pet incorporated the circular perch area with enough space between the wire and the seed dispenser. The sparkling blue powder coated metal keeps the squirrels away but allows birds such as cardinals or bluebirds to eat comfortably. The clear, transparent cylinder also allows checking for seed level a lot easier. This means I do not need to go out and check, a hard task during the cold winter. Definitely, a keeper.
The only downside is possibly how inviting it is for other birds. The perch area is oftentimes being squatted by birds other than bluebirds. Still, that's not too bad. I get to see some blue jays and some cardinals sometimes although I'd prefer the blue, red and brown birds any day.
Pros
Squirrel proof
Clear cylinder makes it easy to check for refill
Large capacity. Can hold more seeds than other designs
Circular perch makes feeding more comfortable
Cons
Other birds squat the feeder for the perch area
When it comes to providing comfort to my beautiful bluebirds, Perky pet possibly provide what they need in this blue sparkle line. Enough reason for this bluebird protector feeder to be in the middle of my flower garden right now.
13. Amish-Made Bluebird Feeders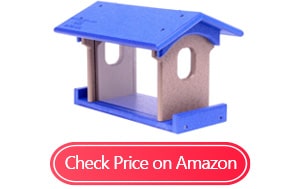 When it comes to feeders, I have a soft spot for bird houses. This AmishToyBox bluebird feeder has every reason to be loved. It is eco-friendly as it is made out of poly plywood material with removable sides for convenience in cleaning and filling. I love the color combination of blue and gray as well. It blends well with my green and brown canvas in my garden.
Adding a mealworm into the flat surface of the bird house will allow a free roam and feeding session for a few bluebirds at the same time. The hole at the side allows the entry and exit of small bluebirds. I also like that the sides and top are removable making it easy for me to clean and fill with fresh mealworms. The design is very similar to many homemade bluebird mealworm feeders but definitely more sturdy.
The only downside will be discoloration after a while. Its exposure to the sun and the rain will spoil the wood element eventually. Still, it is worth the investment and a treat to these beautiful birds.
Pros
Eco-friendly with the use of poly wood material
Easy clean and fill
Enough flat space for mealworms
Bird house design is perfect for a curated garden
Cons
May discolor after overexposure to the natural environment
Bird houses are always great additions to a beautiful garden. So having one that takes care of the need of these beautiful bluebirds is a terrific icing on a cake. Few bird houses in the garden provide the atmosphere of a real and healthy birding practice.
14. The Woodpecker Family Amish Bird Feeders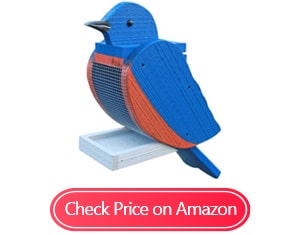 What's better than a bluebird looking feeder when attracting bluebirds? Nothing. This playful, made of aluminum hardware and industrial wood grade feeder is perfect for any weather. For the bluebirds, it must be like looking into a mirror while feasting on the dealicious worms or seeds.
The Woodpecker family certainly did a great thing by creating such a picturesque feeder. I love the controlled seed and worm dispenser that allows just enough depending on how many birds are there. For birds with longer beaks, they can even peck from the mesh wire on the bird feeder's stomach. The craftsmanship is great that squirrels can't penetrate it.
While it seems to be a great feeder, one downside is its massive size, sometimes scaring smaller birds such as finches. To be able to take advantage of this feeder, finding a suitable bluebird feeder placement matters. Do place it somewhere more exposed. Bluebirds, on the other hand, are attracted to it without a problem.
Pros
Made of sturdy materials – wire mesh, aluminum and solid wood
Beautifully crafted
Can withstand various weather
Easy to clean and fill
Cons
Its massive size sometimes scare the smaller birds from trying
Exposed bird seed may turn soggy after a rain
A feeder that is both aesthetically pleasing and practical. The design and the blue color looks exquisite amidst the white snow while it sparkles up when the sun is up. It surely brings happiness to me and to my feathered friends.
15. Unipet Usa PMF1 Mealworm Feeders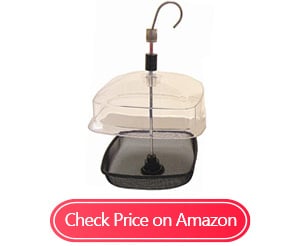 Sometimes simple is better. In this case, Unipet is definitely on point with choosing a simple feeder design – a powder coated wire mesh attached to a stainless hook plus a pyrex cover will keep the mealworm fresh and dry.
What's great about this simple container and cover combination is providing easy access to the bluebirds as well as attracting other birds flying by the area. What's more important is definitely the health and nutrition birds get from the food they eat. This simple unipet mealworm feeder does the basic job but can be the bluebird feeder wild bird unlimited if placed properly. Some birds prefer suet and the bird food basket can accommodate dried worms, seeds and suet.
While I love the practicality of the feeder, there are few things that need improvement: the perch area, the material strength and the anti-rust feature.
Pros
Adjustable height between the roof and the bird basket to regulate the size of birds
Easy to clean and fill
Multi-purpose bird basket allows food variety
Transparent covering keeps the mealworms fresh and dry
Cons
No perch area so it can easily get out of balance if big birds come for quick feeding
Overall, the feeder is good for beginners in the birding world. One that is practical to carry and protect the expensive
16. Songbird Essentials Mealworm Feeders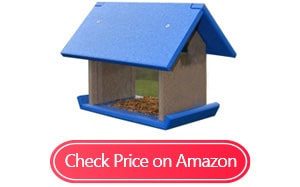 As usual, I am a big fan of the birdhouse feeder design so choosing this feeder by Songbird is no surprise. I definitely love the design as well as the size. Watching the bluebirds enter the dedicated entrance holes in each side and ultimately feeding on the mealworms is always a joy.
I love that it is made of recycled materials including driftwood and plastic. Songbird made it convenient for birders to easily clean, disinfect and fill through the removable window. Personally, I love the way the roof is constructed – tight and wider than the feeders overall size. Such design keeps the mealworms safe and dry even during the wet months.
While you can mix bird food on the flat surface, the entrance side holes will only allow birds of smaller sizes. This is great as it keeps the bigger birds away. Definitely squirrel and big bully proof ready.
Of course, the smaller holes are good but it can also be a downside as some birds find it extra challenging to find the most perfect and most comfortable way to get in and enjoy the dried worm treats.
Pros
Elegant bird house design
Easy to clean, disinfect and fill
Made from recycled materials and easy to hang
Squirrel proof
Cons
Side holes a bit small. Some birds find it challenges to enter and exit
I will never say no to a bird house feeder. Songbird did well when they designed this feeder to provide the best mealworms for bluebirds. Placing it in my patio, I can enjoy their movements uninterrupted through the transparent pyrex glass. A beautiful blue feeder for my loved blue birds.
What is The Most Trustworthy Bluebird Feeder?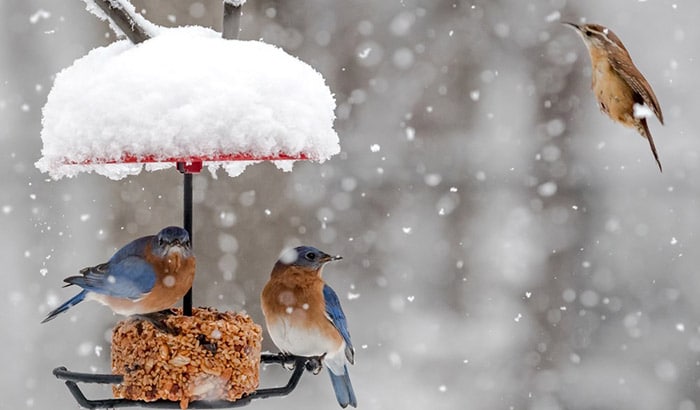 To be considered a bluebird feeder, one must have various characteristics necessary for the well being of the birds, or of the garden. Some of the features should include size, shape, safety of bird food, and safety from the natural elements.
So far, there are two bird feeders that stand out using these criteria: highly modern vista dome feeder by Aspects and cedar bird house feeder by Kettle Moraine. They both have the characteristics of practicality and creativity. The Kettle Moraine's use of cedar wood makes their product nature-oriented giving the birds the more natural feel while on their feeding stations.
Similarly, Kettle Moraine's more modern design provides both aesthetic and practical use as even squirrels are deterred from ransacking the expensive bird food. Other exemplary bird feeders include ones with wire mesh to keep the mealworms intact.
So while there are plenty of bluebird feeder choices, aspects and kettle moraine possibly tops the rank.
How does It Work?
One of the most confusing issues for a newbie birder is knowing exactly the where, the how, and the what of attracting the beautiful bluebirds in their backyard. There are few tips and tricks to know exactly how it will greatly benefit the birds and the birders.
The Size and Design
Depending on where you intend to place it, it is important to know how big of a bluebird feeder you need. Smaller backyard gardens can use cylindrical steel mesh that can simply hang on feeder poles or small tree branches. If you live in a building, a cylindrical design is also considered a space saver. You can hang a few of these without worry of overcrowding. If you are blessed with a large, curated garden then you certainly have more leeway and choices of the top bluebird feeder.
The Birdfeed
Sometimes, your garden may be visited by a variety of birds. This means that you need to consider having more than bluebirds at one point. Knowing the types of birds tur backyard will help you decide what kind of bird food you need to keep stock of.
Mealworms: This nutritious bird food from the larval form of the choose a feeder that has a roof to keep it fresh and crunchy even during rainy days.
Suggested feeder design: with mesh, glass tray, house birds with flat surface and protected by pyrex glass
Suet dough: This delicious raw suet are usually made of hard fat or mutton, oats and peanut butter are the real pastry treat to bluebirds. While they are a bit crumbly, a suet can be kept safe without much problem using a proper feeder.
Suggested feeder design: mesh wire hanging feeder or a dish tray. Make sure there's enough space for flying or perching.
The Location
Bluebirds are attracted to gardens with enough air and spaces. They will avoid places with high or tall grass or plants so make sure to hang your feeder where these beautiful blue, red and brown birds can see them. Since mealworms are dry, placing it near a water source is beneficial.
What are The Different Types of Bluebird Feeders?
If your backyard garden is regularly visited by bluebirds, then you should consider yourself lucky. Bluebirds can sometimes be elusive. In the spring, however, they come for longer periods of time for feeding and nesting and if you wish for them to stay longer during this period, there is a need to prepare what they need during this season.
Depending on your space allotted for bluebirds, here are the most common bluebird feeders you might invest a bit of money on.
Mealworm Feeders: Yes, this delicious and protein packed bird feed aids bluebirds during winter and spring nesting. You can have ones with great designs such as Kettle Moraine's cedar birdhouse mealworm feeder or Stokes select open tray dish feeder with S hook might be your best bet.
Suet Feeders: Another food bluebirds are crazy about are sweet suet cakes. Homemade suet are normally better, more nutritious and sweeter than commercial ones. For this, feeders with less distraction or holes to go through will be best. Feeders with wire mesh or dish tray such as the birds choice flower feeder will surely answer this need. Keep the feeder close to the nesting tree and you'll have a bluebird family in no time.
Tray Feeders: Some bluebirds come for a quick bite and proceed to their destination. Simple feeders that can accommodate fruit halves, suet or even sunflower seeds are great magnets for these beautiful singing birds. Enjoy the perching blue, red and brown chested birds feasting on your bird treats on a good day.
Why do You Need a Bluebird Feeder?
Bluebirds are elusive. Yes, this is despite their seemingly friendly nature to Snow White, they do not come unless there's enough reason for attraction. In some lucky areas, eastern bluebirds come for courting, nesting and resting when they need to feed their young. Depending on season, they either come for a quick feeding or stay on for safety and survival. Either way, there is a need to prepare them an outstanding bluebird feeder.
Factors to Consider When Buying a Bluebird Feeder
Buying a bluebird feeder is tricky and easy at the same time. There are options available to make purchases online and even get to check what other birders are saying before you start swiping that credit card. Here are top 5 practical tips for new buys:
Quality First
While there's an extra cost, most trusted brands offer some great benefits: quality of product design, quality material, and warranties. Think long term even if the cost does seem a bit much.
Quantity
How much seed or mealworm does a feeder hold? Think of weather and seasons. A good feeder should have enough space for seeds to last until the rain stops or the snow clears so you can refill. The last thing that can happen is watching hungry birds in the middle of winter.
Bird enemies
Yes, even birds have their own set of nemesis. Sometimes it is the pesky squirrels, sometimes it is the swarming bees or sometimes just big bully birds. Think of investing on baffles or a great well-oiled feeder pole.
Your Space
If you have a large, curated garden spacing isn't an issue but if you have a small, tight space, consider the type of feeder you will have to hang. A tube type versus a tray type will make a world of difference in terms of attracting bluebirds.
Safety
No matter how beautiful a bird feeder design is, consider things such as accessibility and safety of the birds. Bird bills are normally hard and strong but be on the lookout for sharp metals or objects that may hurt these feathery friends. There are not enough bird doctors to call when the birds are in pain.
What are The Most Popular Feeder Types for Bluebirds?
Feeder with dome/roof: Nothing beats safety and security of both the birds and the bird food. Buying bluebird feeders with top cover will keep the mealworms, seeds and even suet fresh and dry. Domes also makes the feeder squirrel proof – it is designed with practicality in mind.
Open hanging feeders: Some feeders look elegant under the sun rays. I am still in love with Stokes Select bluebird feeder with Z hanging hook. The blue dish tray is perfect for suet, seeds, mealworms and even jellies. Talk about attracting multiple birds in to the garden.
Birdhouse cedar bluebird feeders: Yes, this is a birder's favorite and it is easy to know why. The use of cedar wood is giving the bluebirds that feel and smell of being in their natural habitat. Kettle Moraine's design is a top choice.
Ground feeders: Easy to access feeders are important for bluebirds or birds in general. Getting them to see where you place the bird food allows them to come and enjoy the feeding season right away – on a flat surface. Because bluebirds are devoted, it will be easy for them to take away some mealworms for their nestlings. There are several cons for this design though.
Frequently Asked Questions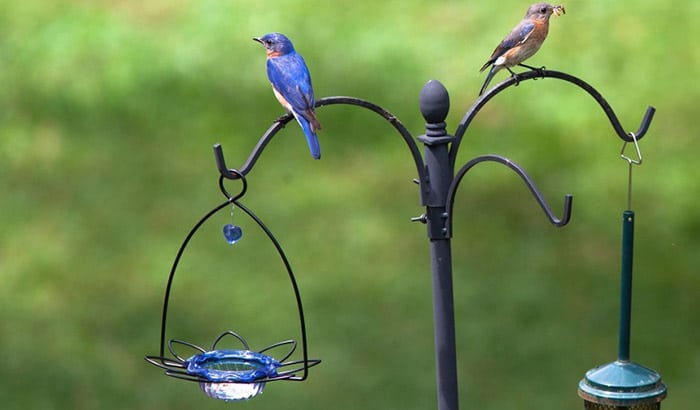 What are The Most Trusted Bluebird Feeder Brands?
There are known brand names in the bird industry. Within a given season and the right budget, bird feeders from Kettle Moraine are sturdy, elegant and practical while Songbird Essentials make not just eco-friendly bird feeders but also great bird seeds and bird products.
Birds Choice also manufactures bird feeders combining natural and modern design. The only question left is whether or not a birder is after practicality, versatility or budget friendly. These top choices will provide you feeder products that are worth taking a chance on.
What does a Bluebird Feeder Look Like?
Bluebird feeders are what they are supposed to be – attractive and useful to bluebirds. Bluebird feeders have the characteristics needed by these beautiful feathery friends. One of the most important features is the dish tray for their favorite food, mealworms. It can be a deep bowl or even a flat surface protected with pyrex glass. Since mealworms are kept dry, it is nice to have a house feeder with a roof or cover against the elements.
Bluebird feeders made of durable plastic are great but the ones of cedar wood are the best as it provides the right temperature and support during the winter months. Bluebird feeders are only a third of the size of American robins so they should be protected from predators or just big bully birds during feeding time. For this, some bluebirds has wire mesh or pyrex glass to keep them in while feeding.
What Kind of Feeder do You use for Mealworms?
There are three kinds of feeders that are perfect for mealworms. These are:
Feeder with Dish Tray: Dried mealworms are light so it can't be placed just anywhere especially if it is windy. Having a dish tray to keep the mealworm safe from rain, wind or even other animals or bigger birds is necessary. Feeder with a tray or bowl is the best option.
Cylindrical Feeder: One of the most popular feeders is cylindrical ones made of plastic, glass or even wire mesh. A cylindrical feeder with a special dispenser protects the dryness and freshness of the mealworms.
House Bird feeder: Elegant house bird feeders are not just functional but also elegant. Most house bird feeders have enough space to accommodate a few bluebirds as well as the possibility of mixing suet dough, bird seeds with the mealworms.
Where do You Hang a Bluebird Feeder?
Aside from looking at design and materials, feeder placement is important. Most birders know that bluebirds fly a bit higher than most birds – 7 foot high at the very least. This means that decision as to feeder pole height, tree branches and location should be considered properly. It is best to hang a bluebird feeder in an area that is exposed and can be spotted by these high flying birds.
Setting it up in your patio, near the window and middle of the garden are all fine but make sure that there's enough space, two feet at least, to make sure the birds won't accidentally fly right into windows or walls.
How do I Attract Bluebirds to my Feeder?
We all love watching the acrobatics or the flapping wings in glorious colors in our backyards – especially if they are bluebirds. To attract bluebirds, here are some tips:
Proper food. Mealworms and some seed varieties are the most popular food for bluebirds so displaying them in a bluebird feeder will attract attention of these flying friends.
Distance. Like any species, bluebirds can be reluctant to land on feeders that are closely monitored by humans. Keep at least a safe distance between your house window and the feeder or between feeders in the garden. Keeping a meter distance between feeders will provide them a comfortable and safe space.
Water source. Mealworms are dry foods so hanging the feeder near a water source will help maintain digestion and health for bluebirds.
What do Bluebirds Eat?
Bluebirds are quite picky. They have a special diet and are known as insectivorous so their diet consists of protein and various vitamins from fruits and seeds.
Here are some of the best food for bluebirds:

Mealworms
Other insects such as crickets, ants, spiders
Insect larvae
Some fruits including grapes and berries
Will Bluebirds eat Dried Mealworms?
Definitely. Dried mealworms are safe and staple food for bluebirds. Getting dried ones from pet shops or Walmart, Lowe's will save time from foraging especially during the cold months.
How to Care & Wash?
The perfect bluebird feeders are made of plastic, coated stainless or recycled wood and plastic, which are all easy to clean and wash using soap and water.
Soak the feeder with soap and water
Lightly scrub feeder surfaces to remove hardened liquid or bird droppings
Dry under the sun before hanging it back
Where to Buy?
Buying feeders can be both tricky and easy. Some of the easiest and most convenient ways to buy are through a click on the mouse. Here are some ways to acquire your first or nth feeder:
Online shopping: Big time retail E-commerce websites such as amazon, ebay or flipkart are just a click away. Amazon prime even delivers your product at lightning speed and are very professional in handling customer complaints and queries.
Shopping Giants: Wholesale and retail stores and grocery giants such as Walmart, Costco, Home Depot are your best places if you are the "to see is to believe" kind of customer. Visit the pet store and compare colors, product design and product quality. Talking to the sales representative will also help you decide better.
Local Pet Store: If you wish to talk to someone you can trust, visiting your local pet store is your best option. Strike a conversation with the vet or the sales rep to gain better ideas on how to attract bluebirds into your backyard easily.
Conclusion
Bluebirds remain one of the most loved bird varieties to this day. Getting the best bluebird feeder and best bluebird food are just two of the most important considerations before settling in to the idea of becoming a bluebird watcher.
Whether you are planning to just help them get through the winter or watch them during their breeding season, enjoy the flapping orange-brown, brick-red and sometimes gray birds as they move their way to your garden.