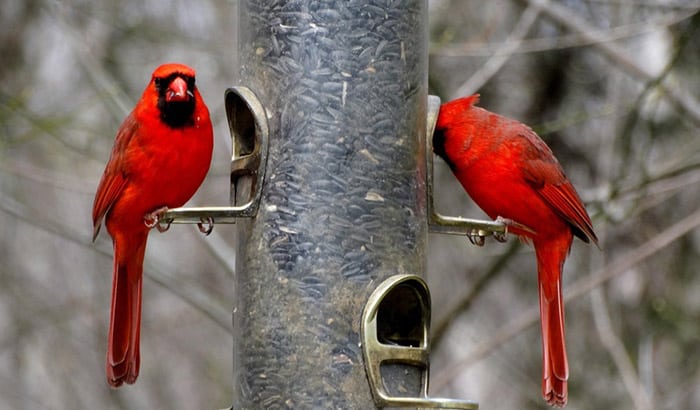 Cardinals are one of the easiest backyard birds to attract and pleased. Most cardinals do not migrate far when the season changes so you will have these vibrant and beautiful birds coming to your backyards in and out during the year. The challenge now is finding answers to the what, the how, the where of keeping them within the area.
Giving the best feeder for cardinals is just the first step to keep them where they are right now – your garden. A suitable bird feeder set up can decide whether they make your backyard their second home or continue in their journey in search of a better garden home.
Northern cardinals have bright colors in red, black, pale brown, and orange perfect for the greeneries we prepared in our backyard. Sprinkling colors from our flying friends will surely give every bird lover that picturesque garden.
Like many living things, Cardinals have basic needs such as food, water and safe cages. Providing them healthy and nutritious food is the first step to sustain their bright colors and aesthetic appeals, which you and your family (even the furry ones) will ultimately enjoy.
To ensure that you get them the best cardinal bird feeder, here are few tips and products to consider:
Best Bird Feeder for Cardinal Reviews
1. Perky-Pet C00322 Cardinal Bird Feeders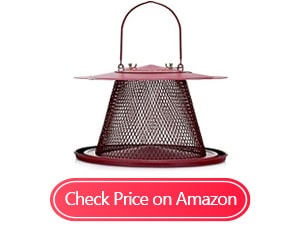 There are two essential things a cardinal is looking for in a bird feeder: large perch area and the quality of seeds. Unlike other birds, cardinals are larger than most so they need a sturdy feeder to keep their balance.
And Perky Pet ticked these items on the checklist. One of the many things I love about this feeder is its cone shape, filtering, and pushing the precious seeds down to the bottom feeder and the perch tray that is connected to it. I love the strong red color a lot since it is attractive for the cardinals too!
The wire mesh, which is zinc plated, is resistant to outside elements – rain, sun, and snow – keeping it from rust and decay. This red bird feeder also has a large feeding area that is both beneficial to me and the birds. The top cover serves as a roof and a baffler in 1, so it works perfectly in deterring squirrels.
I am amazed at the make of this feeder and if there's a downside, it is probably just the size of the holes in the mesh. Smaller seeds can fall off the feeder so try to get larger size sunflower seeds to keep it all in fresh and dry.
Pros
Large seed plate for comfortable feeding areas
Cone-shaped wire container push seeds to the bottom
Red color attracts cardinals
Easy to fill, just lift the top cover
Cons
Small seeds can get through the large holes
Overall, this is a great product. A squirrel proof cardinal feeder that is easy to use and assemble. No wonder legit bird watchers rated this Perky pet feeder very high on Amazon. For anyone who wishes to see these colorful birds while on a feast, it is a must to offer them this red cardinal feeder.
2. Brome Squirrel Buster Bird Feeders
I am always a fan of tube feeders. Not only are they functional and practical but also a great space saver. It is the perfect solution to limited gardens with limited space or is collecting a few bird feeders in the backyard. The space required between feeders should be at least be 2 meters to ensure that the birds won't feel threatened by the presence of bigger birds.
So far, Brome has the perfect design for smaller bird gardens. I love the dark green color, a good way to camouflage it amidst the dominant greens in my garden but the cardinals find it easy and enjoy the precious sunflower seeds in peace.
I also like the non-squirrel feature of this Brome feeder without the need for a baffler. When squirrels try to reach the seeds, the weight will cause imbalance and result in the seed dispensers' closure. The same goes through for big birds – their weight will trigger the closure of the dispensers.
As a bird watcher, I would like to keep the seeds safe from any birds or animals other than my cardinals so getting the best squirrel proof cardinal bird feeder is a necessity. I am glad Brome made this happen. I also like the nice stainless perches giving the birds that comfort while feeding.
For birders with large gardens, a downside of this feeder is possibly the size. It is quite small for more than 4 birds to be on the feeder at the same time. The perches are also designed for small birds only. Sometimes, bigger seeds get stuck because the dispensers are quite small.
Pros
Certified squirrel proof
Has perch areas for comfortable eating
Easy to hang on a pole feeder
Easy to fill. Just lift top part
Cons
Not suitable for big birds
Among the many designs, this is almost the perfect feeder for cardinals. It saves space, deters squirrels, has perch, chew proof, nicely made and quality metal materials, so no wonder expert bird watchers rated this high in reviews. I highly recommend this feeder.
3. Twinkle Star Hanging Bird Feeders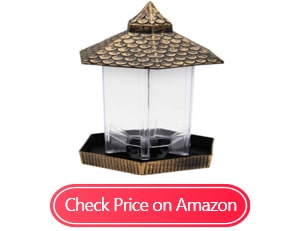 For well-curated gardens, elegant feeders are plus points. I would love to look at both a nice feeder and the colorful birds crowding it. This is at least true with Twinkle Star feeder. I am drawn to the hexagon plastic container protected by the bronze roof and tray literally twinkles under the sun. It is charming, especially as I hang it near my beautiful flowering plants.
I live in an area with a long winter so it means I need a feeder that can accommodate more seeds than usual. Twinkle Star provides this – saving me from freezing when I need to go out, clean, and fill the feeder as it accommodates at least 2.5 lbs of black oil sunflower seeds. It is also very versatile so filling it with safflower seeds sometimes for finches or bluejays will also be fine.
But in addition to the functionality, I love the tray feature as it keeps the extra or uneaten seeds on it for the next bird instead of being wasted after they fall on the ground. The only problem is having no drainage so water may be stagnant in case it rains hard. The bronze roof, however, somehow protects the entire feeder from getting wet.
The plastic seed holder is pretty and practical. It allows me to see when to fill the feeder. The only worry is whether or not it is strong enough to sustain a fall.
Pros
Fully assembled. Just hang on a feeder pole or on a tree
Easy to clean and fill. The entire roof can be removed
Very large capacity. Perfect to avoid constant filling
Stunning design
When it comes to choosing bird feeders for cardinals and bluejays, it is essential to consider versatility, practicality and functionality of a feeder design. I love how Twinkle Star thought of all of these when they designed this version of their wild bird feeder. For this, I am a happy bird watcher.
4. Roamwild PestOff Cardinal Bird Feeders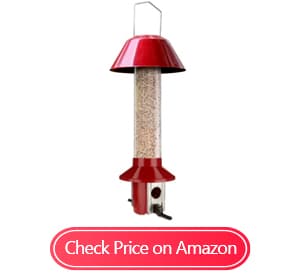 Choosing a bird feeder can be both tricky and straightforward. To pick the best cardinal only bird feeder, birders have to know the needs of cardinals. They like a spacious area, possibly the presence of a tray, and also hate twisting their bodies while feeding.
Personally, I like tube feeders as space savers and sometimes it is the easiest way to fight off squirrels. There are many benefits to getting a cylindrical feeder than other designs. Roamwild was considerate by creating a design that is squirrel proof, weatherproof and pest proof. These are important features to ensure the safety of the birds and of the seeds.
I love the diligence in creating double baffles to deter squirrels in this Roamwild squirrel proof cardinal bird feeder. I also like the self-closing mechanism protecting the seeds from rain or other elements that may cause the rotting of the precious seeds.
Admittedly, the downside of this product is its shape. The tube feeder forces the cardinals to twist and turn while feeding. The space around the tube also limits the number of birds that feed at the same time. But the large capacity and the quality of the metal parts should offset the downsides.
Pros
High quality metal parts
Large seed capacity
Easy to fill and clean
Weatherproof, pest proof, squirrel proof
Cons
The tube design forces the cardinals to twist their body uncomfortably
Generally, tube feeders are great and I love having them in my backyard. However, my cardinals may not love it as much as I do since feeding may be a bit uncomfortable – twisting and turning and competing against other birds with the very few seed dispensers.
5. XDW-GIFTS Solar Bird-Feeders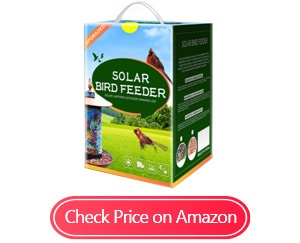 Who would say no to a beautiful and colorful cardinal only feeder hanging in the garden? No me. I have every reason to love them instead especially when they are as colorful as the pride march or of the cardinals. This feeder from Xdw- Gifts is a breath of fresh air in the birding world.
The colorful, stained glass patterned cardinal feeder is equip with a bronze cap and base that are sturdy and resistant to weather changes. I love that the cap serves as baffle to deter squirrels and the tray is so versatile it can serve so many purposes – seed catcher as well as perch area. My birds do socialize happily on the tray provided, possibly enjoying the mosaic art of the seeders seed container too.
As for the design, I am a fan of the vintage look of the lantern tube, which will surely sparkle once the sun hits it. The best part of this feeder is the fact that it is solar powered, so it all lights up beautifully at night. I can say it is the absolute cardinal bird feeder one can ever hang in a garden.
It is difficult to find anything negative about this feeder. The only slight downside is the difficulty of seeing when to refill the feeder without physically checking it. Lift the small solar chip on its cap and fill it up with new seeds.
Pros
Solar powered bird feeder
Very creative tube feeder
Easy to fill
Lights up automatically at dusk
Cons
The mosaic design makes it hard to see the level of seeds
Personally, I love this feeder. It is one of the most artistic ones made for birds yet. The colorful tube body attracts the cardinals to the yard and they can still see it when lighted up at night. Hang it on a sturdy pole feeder or under a canopy for added protection. No wonder it got nothing but a perfect five in the rating scale.
6. Gift Boutique Bird Feeders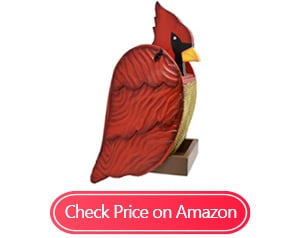 It is always pleasant to see playful feeders. Having them in the backyard makes it even better. This wooden red cardinal is one, a great addition to a beautiful country style backyard.
One good thing about this feeder is its versatility – it can practically be used to feed all types of birds while adding lots of aesthetic value to my garden. The red color is one of its merits, something my cardinals are attracted to.
I love the wooden material as my cardinals will feel more comfortable and be with nature for a moment. The wood is of high quality that is promised to last even if it is hung outdoors for years. The metal protection and wire mesh also help keep the seeds fresh and dry for the birds.
This can also be categorized as the ultimate bird feeder for woodpeckers and cardinals. Peckers love feeders made out of wood, so this is perfect.
I also like the tray feature which doubles as a perch area for my cardinals. I truly enjoy watching them pecking from the wooden red cardinal body while comfortably perched fronting it. It is like watching a broody feeding her nestlings. What a sight! The only slight downside is the lack of drainage, which is not very helpful when it rains. Scraping off rotten seeds is not fun.
Pros
Beautiful bird shape design
Strong built with high-quality wood and metal
Red color attracts more birds
Tray used for perching
Cons
No drainage hole to keep the rain out from the tray
For the most part, I can say this design is nothing short of amazing. While there are flaws, the impact it has on the backyard is outstanding. A little tweak about the drainage holes as well as a more secure filling hole will be great. Otherwise, anyone looking for a really beautiful garden accessory, this feeder from Gift Boutique does not disappoint.
7. Brome Squirrel-proof Bird Feeders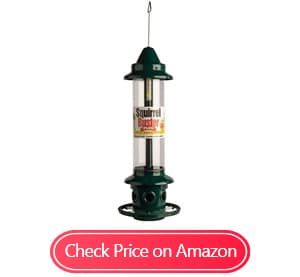 As always, I am a fan of tube feeders. Nothing beats this design when it comes to saving space and in some cases, deterring squirrels from stealing the seeds or damaging the cardinal bird feeder.
I came across this feeder type while looking for a truly squirrel proof bird feeder for cardinals. I am glad Brome made it possible. I love the moss green color too as it fits perfectly in my flower dominant garden. Bringing the red, black, orange, and brown cardinals will surely add color diversity in my yard.
Attracting cardinals is the next step in gardening. No doubt, birds add life to even the dingiest of a garden. Cardinals, in particular, are most sought for being beautiful songbirds and their vibrant colors.
This Brome tube feeder is here to make sure it happens – the cardinal ring attracts especially northern cardinals. I also love that it is chew proof and yes squirrel proof. The six feeding ports also let me enjoy multiple birds feasting around the feeder. To deter squirrels, anything heavier than the cardinal sizes will result in auto closure of the ports – very convenient.
If there's a downside, it is probably the cardinal rings, the seeds flow freely when they leave the perch abruptly.
Pros
Green tube feeder is perfect for any garden type
Transparent seed tube makes it easy to see the level of seed supply
Easy to fill. Lift the top cover
Cardinal ring attracts northern cardinals easily
Cons
Seeds fall off easily after the birds fly away
Overall, getting this feeder is an important step in making sure that cardinals will have access to the best seeds. Since it is versatile enough and can be used by other birds the next problem is to decide what to feed cardinals. With this tube feeder, keeping seeds safe and dry is no sweat.
8. Nature Anywhere Window Bird House Feeders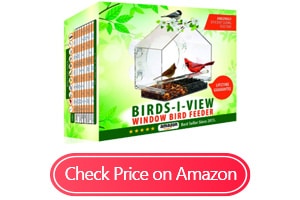 Housebirds are probably the best designed feeders ever. They have a certain charm that does not only piques the interest of bird watchers like me but also of the cardinals who come visit. This clear Nature Anywhere's birdhouse for cardinals is nothing short of elegant. The pyrex plastic helps every birder have a very clear view of the birds while they are feasting.
The four-strong suction cups keep the house bird on the window for a long time. Most of all, I truly love the sliding seed tray that can hold at least a couple cups of seeds. Since I intend to attract other birds in my window, I placed sunflower seeds and safflower seeds to have cardinals and finches together.
A coffee cup and my colorful birds up close in the morning – the best way to start the day! I wouldn't exchange it for something else. The clear roof of this house bird protects the seeds in any season.
The only downside of this window bird feeder is not squirrel proof because of its open space. As a remedy, place the feeder away from the window sill or anywhere the squirrels can use to climb and reach it. Watch them slide down the glass window in frustration instead.
Pros
Sliding seed tray can accommodate mixed seeds
Strong suction cups hold the feeder in place
Easy to fill and clean.
Roof keeps the seed fresh and dry
As a bird watcher who avoids going out to fill the seeds during cold months, this is the best remedy. I can see it up close while it only requires a few steps to reach it for refill. Even my cat enjoys the morning rush of colors when the birds come for their daily meal. This definitely deserves a high rating.
9. Droll Yankees Seed Saver Feeder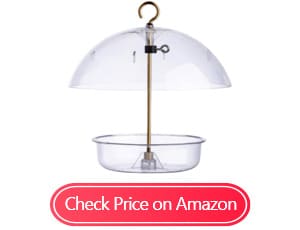 There are few things I am looking for in a feeder: elegant yet functional, beautiful yet practical, small yet enough. Thanks to Droll Yankees, I enjoy a clear view of the cardinals feasting on the seeds placed on its beautiful clear bowl.
Personally, I thought the dome was just perfect. It keeps the seeds safe from the elements as well as from the squirrels. The dome shape causes the squirrels to slide down and miserably fall on the ground. Even if it sounds a bit cruel, I think I even enjoy such sight. I love that the material is made up of polycarbonate with UV components to protect the beautiful cardinals from the harmful sun.
Along with the clear dome and seed bowl, the golden hook is not just beautiful but also makes it easy to just hang on a pole feeder or under the patio. The only possible problem is balance. If a heavier bird perch into the bowl, it might tip it over.
Pros
Beautiful transparent
Uv protected polycarbonate material
Easy to fill and clean
Squirrel proof
Cons
Big birds can tip the feeder over
It is quite easy to love this feeder. The elegance and practicality are hard to ignore. When the birds are happily eating on the feeder, they also radiate all the colors making such a pretty view. Few flaws make this feeder one of the best dome and squirrel proof feeders. This is perhaps the reason why it is highly rated.
10. Perky-Pet 338 Country House Bird Feeders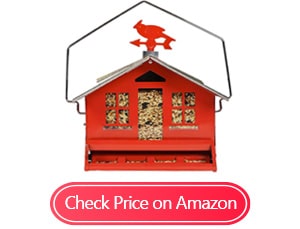 The best garden theme is still the country style. Even our flying friends probably find this garden theme as the most relaxing. The green, red, and some blue hues in a traditional country garden adds novelty to it – loved by birds and people. As a young birder, I truly love the country concept.
Perky Pet made it easier with their country-style bird feeder, which comes in various country-style colors – red and green. While it claims that it is squirrel proof, I don't think any house bird feeder was ever successful in deterring them. The shape is quite friendly for squirrels to jump on to and hang on in edges in the case to miss the fall.
But I love the easy fill, just lift the roof, and the sturdy galvanized material used all throughout. The four-port seed dispenser allows the cardinals to enjoy eating in comfort as it doubles as a wide perch area too.
My cardinals lined up pecking on that sweet seed is a sight I would not dare miss. To block out the possibility of smaller squirrels jumping into the feeder the perch area can be adjusted to a narrower setting. The birds can sit on it alright, but the squirrels can't.
Pros
Roof is removable but secured with a snap lock
Traditional country house design
Easy to fill and clean
Made of sturdy galvanized material
Overall, it is a good addition to keep a garden more traditional looking. My cardinals fit right in when they come and feed into this beautiful feeder – the vibe is a natural country. To make this the squirrel proof bird feeder for cardinals of choice, I suggest hanging the feeder into a squirrel proof feeder pole. Placing a reliable baffle should definitely do the trick.
11. ERYTLLY Tube Hanging Bird Feeders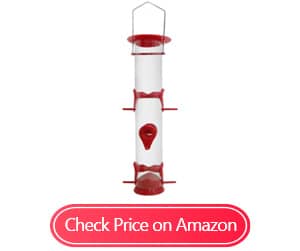 Some birds look cute when they are twitching, upside down, or even doing acrobatic moves during feeding. But some kinds of birds may not be into such performance. Cardinals are one of those that are not into it. The solution – perch rod. This red classic tube feeder by Eryttly has done their homework by placing six perch rods in each of the six ports.
I like tube feeders because they fit into tight spaces. It means I can have a few of these feeder types in my garden that can attract a variety of birds. The clear tube also allows me to decide when to fill the feeder without necessarily checking it up close. This task becomes harder during the winter.
The red color looks pretty as well. It also highlights the brown, red, and black cardinals when they come for their meals. Amidst the greens in my garden, this tube feeder is just great. If there's one tiny detail I think requires improvement, it is possibly the strong red color, which discolors after overexposure to the sun.
Pros
Easy to hang. No assembly needed.
Made up of lightweight transparent plastic
Has six dedicated ports and perch rod
Perfect for small gardens
Cons
Discoloration of plastic cover due to exposure to elements
When choosing a feeder, practicality should come first and so far this design is a good example. Some cardinals are not into tube feeders, but the seed ports and perch rod create a balance of design and function. As for the cardinals, they seem to love it.
12. Perky-Pet 312R Panorama Bird Feeders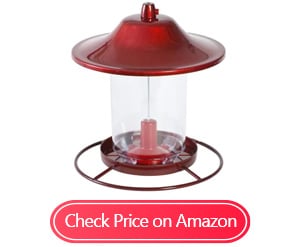 Perky Pet did it again. The sparkling red color is not just beautiful in the garden but definitely useful for the birds. I love this feeder for many reasons: large capacity, powder-coated finish, and the top baffle and circular perch. The birds love the space between the perch and the seed tray giving them comfortable feeding time.
So I believe this is one of the best so far among the cylindrical or tube feeders. The clear plastic bird seed holder makes it easy for me to know when to fill the feeder while the powder finish reduces the possibility of mold accumulation. To fill, click the little button at the top and open the lid – easy fill.
With this design, there is a continuous source of fresh seeds, protected against the rain. The top cover also makes it a cardinal bird feeder squirrel proof. But no matter how good the sure lock system is creative squirrels find a way to attack if the placement or location is not secured. As a remedy, hang the feeder on a feeder pole equipped with a proper squirrel baffle.
Pros
Beautiful design. An added value to your garden
Circular perch makes for comfortable feeding
Easy to fill and clean
Literally sparkles under the sun
Cons
Cap is not totally squirrel proof
As a whole, a really great design, so it is no wonder why it rated high among bird watchers. A little sensitivity and creativity of placement to avoid squirrels and this feeder is surely a hit. It is highly recommended.
13. FORUP Caged Tube Feeders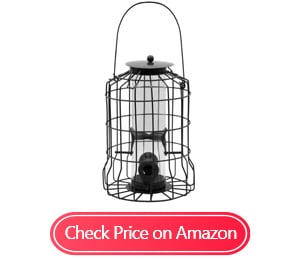 Some birds love eating inside a spacious caged feeder. Such design allows them to eat peacefully and safe from big bully birds or even the squirrels trying to compete for the delicious seeds.
I like the many advantages of a caged bird feeder for cardinals. In addition to safety, it helps in maintaining the health and well-being of these songbirds. With the predators away from the feeder, smaller and more colorful birds do come around. The steel frames and hook secures the feeder from falling off and ultimately from possible damage.
Since it can also attract other birds, I chose to hang it near the tube feeders frequented by other birds. To my surprise, some more efficient cardinals still found their way into it. To get the best quality Forup feeder, buying from popular retail and wholesale stores like Home Depot or Lowe's. Specifically, ask what works for cardinals from their sales person when you have a chance.
While I love the overall design, the function may be a bit of a downside. This is not a feeder designed for cardinals in mind but for all birds attracted to hard but nutritious seeds. This means that other flying friends such as finches, woodpeckers, and jays will also be all over the feeder. I am not complaining, but I was hoping for some exclusivity to my cardinals.
Pros
Cage protects birds and seeds from big bully birds
Easy to fill. Lift the top cover and pour in seeds.
Weather-resistant metal wire material
Seeds are safe from the rain inside the transparent seed tube
Cons
All small seed-eating birds come to the feeder alienating cardinals
It can not be denied that this is a versatile feeder. It can accommodate mixed seeds to attract as many birds fond of eating seeds as possible. Since most cardinals prefer concealment or peace during feeding time, carefully consider the placement of this feeder in your backyard. Overall, it is a practical solution for the needs of smaller birds.
What is The Most Trustworthy Bird Feeder for Cardinals?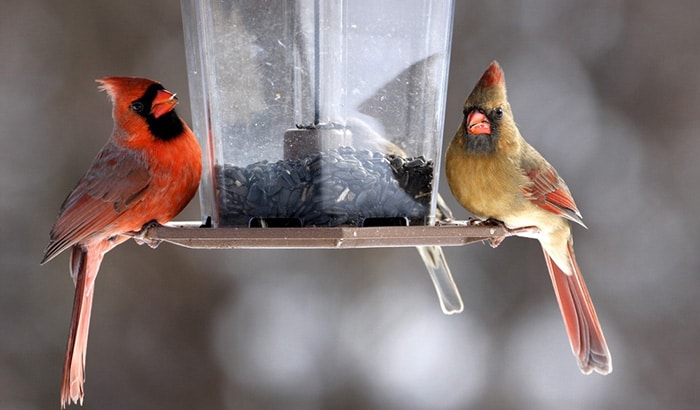 Cardinals are one of the easiest to please among the bird families. These nicely looking birds eat a variety of fruits, seeds, grains and insects as part of their daily diet. Such varieties offer the chance to diversify their food, get some mix or feed them alternately. To achieve this, providing a feeder that can accommodate a variety of food is the ideal solution. I picked three of the best bird feeder for cardinals:
Platform Feeders
These types of feeders are known to be cardinals' favorite. Since cardinals have larger or broader breasts, they need space to be able to eat comfortably. Droll Yankee platform feeder with big bowl and protective dome can be filled with fruit, suet, or the sunflower seeds the cardinals enjoy. During winter, cardinals can be given suet to help keep their temperature warmer.
Window Feeders
These types are loved by both the birds and the birder. Sometimes even the furry friends waiting for the arrival of the birds. Window built-in have built in roof that protects them and the seeds from the rain. This type is equipped with sliding trays, which can be easily filled with cardinal's favorite seeds.
Nature Anywhere has the perfect transparent window feeder – spacious enough for the cardinals to hop and change positions during feeding.
Housebird Feeders
They are designed as miniature country houses. These types are great, not just a feeder but a decor in the garden. Each feeder has big capacity so the refilling schedule is minimized, especially during the cold months. The design comes with a seed tray that is accessible to the cardinals all year round. Perky pet has created a unique blend of country style feeder but with a modern mechanism.
How does It Work?
Choosing the right feeder depends on a few categories: practical, easy access to food and comfort during feeding. Cardinals stay away from feeders that force them to move a lot, twist their bodies, or even upside down. As much as possible, choose feeders that have provisions for perches or seed trays.
Among the best feeders are platform feeders, which they can access easily – perch and peck on the seed treats. Window feeders can have mixed seeds, and since sliding trays are usually open, they can go through every seed without a problem.
On the other hand, house bird feeders have seed dispensers but easily accessible when they perch on the tray. Their weight opens the lever to release the seeds from the house feeder. This ensures a controlled release of the precious seeds.
What Type of Bird Feeder Attracts Cardinals?
As mentioned, Cardinals are not that hard to please. Providing them a healthy meal placed in a proper bird feeder is usually enough to attract them to your backyard. The assurance most bird watchers want to know is the probability of these beautiful birds to respond to the bird feeder you decided to hang in your backyard. Here are the most common characteristics of feeders that successfully bring in cardinals in droves.
Spacious Feeders
Cardinals are relatively well built. Because of their size, they need a bigger feeder that allows them free movement during feeding time. This means space and mobility. Droll Yangkee's platform feeder, Perky Pet's house feeder, Twinkle Star tray feeder are but some of the cardinal feeder designs with the most space. When they feel comfortable about a feeder, their sense of loyalty is activated and expect them to come as often as possible.
Tray Feeders
Easy to fill feeders means simple yet practical. Cardinals like feeding without the distraction of falling off to the ground. They also don't like hanging upside down for their lives. Tray feeders provide them the space to perch and feed in comfort. Tray feeders are easy to fill and are open for birds to come and peck anytime of the day. Most window feeders such as Nature Anywhere can provide a large tray to accommodate enough bird food to last a while.
Mixed Seed Feeders
Cardinals can eat a variety of bird food at one time. So to attract as many of these stunning birds around, pick a feeder that allows the mixing of seeds. Perky Pet's country house bird feeders have just that exact specifications.
Placement and Colors
As compared to other birds, cardinals like to eat in peace and comfort. So concealment is a key factor when deciding where to hang your feeder. They love to fly where shrubs are or low plants. Evergreen is a favorite plant to hide during winter, but they can even nest in nearby shrubs during the nesting season. To do this, get a feeder that easily blends in the environment – moss green feeders such as the Perky Pet's country house, Roamwild's green tubes or the Twinkle Stars bronze color resembles that of tree barks.
Why do You Need a Bird Feeder for Cardinals?
By nature, birds forage for food but they do not always seem to find all the meals they need when they are in urban areas. This is why bird enthusiasts who wish to continue having cardinals in the backyard may need to think of ways not just to attract them but to keep them stay or interest them into coming back regularly.
Cardinals have a tendency to find a safe place to nest, which they will use regularly when left undisturbed. Safe space means where they are given concealment from all the other birds, or safe from the rain or winter. Having shrubberies and short trees that will serve as a cover as well as a possible nesting place for them. Scatter few things they need to build their nest, such as little twigs or leaves near the feeder.
Lastly, cardinals are more loyal. They need a bird feeder in a space they are familiar with. While it is possible for them to wander around while looking for bird food, they will be loyal once they find a favorite – hopefully, that's your backyard.
To help them, do not remove or keep changing the placement of the feeder once they are attracted to it.
Factors to Consider When Buying a Cardinal Feeder
Buying a bird feeder for cardinals is a straightforward approach. Before buying, consider the characteristics the cardinals are looking for in a feeder:
Squirrel Proof
Among the many possible hindrances to good birding will be squirrels. These pesky little animals will not only steal the seeds but damage an expensive bird feeder. If it is a plastic feeder, they can topple it down easily or cause the fall and breakage. When choosing, opt for feeders that have their own built-in baffle or automatic open/closing mechanism.
Seed Trays
Cardinals are more comfortable to use feeders with nice seed trays that can accommodate black oil sunflower seeds or even mixed seeds than seeds on a wire mesh tube.
Designed for Comfort
Consider getting a feeder that will help these stunning cardinals enjoy their birdseed in style and comfort. Go for feeders with a perch area that they can sit on and peck on that seed comfortably.
Generally, cardinals are more interested in the type of seeds you place in the feeder than the feeder design itself. However, features such as colors for concealment, size and seed dispensers could be factors that help you decide which feeder you should bring home.
Care and Maintenance
Caring for bird feeder of any kind follows the same protocols: wash and disinfect. When a bird feeder is exposed to the elements, it tends to affect not only the quality and functionality of the feeder but also affects the overall health of the birds. Hardened bird droppings or rotten seeds should be removed and cleaned up regularly. Molds from soggy seeds can cause aviary diseases and sometimes death.
To deep clean a bird feeder for cardinals, follow these procedures:
Step 1: Take all the parts of the feeder apart.
Step 2: Soak them in lukewarm water with diluted solutions – 4 part water and 1 part bleach. Leave for a few minutes.
Step 3: For a quicker alternative, use a dishwasher and set in hot or boiling temperature.
Step 4: When doing manually, clean or remove hardened particles using a soft brush. Make sure that all molds are removed to avoid contaminating the next seed refill.
Step 5: Rinse all parts thoroughly under running water.
Step 6: Dry the feeder under the sun
Step 7: Assemble the feeder parts back together
Step 8: Hang in the same feeder pole as before. Try not to change locations or placements as it can confuse cardinals regularly visiting your garden.
Maintaining a clean bird feeder is the first step in ensuring that the health of your favorite birds. Do this at least once every two weeks or when you see traces of molds in the feeder. For maximum sanitation, check the ground for rotten or uneaten seeds as they attract ground feeders that may alienate the cardinals or attract disease-causing rodents.
Frequently Asked Questions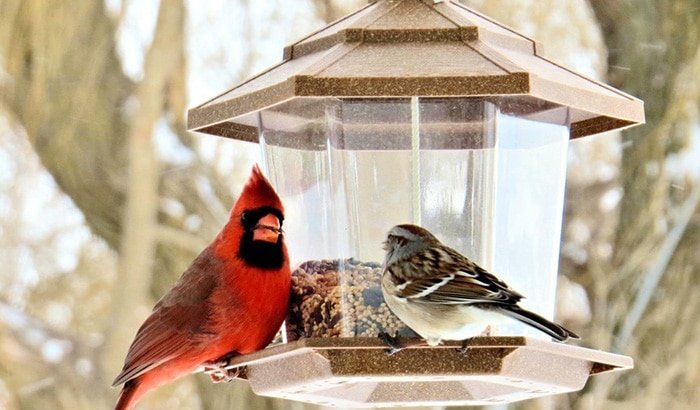 What are The Most Trusted Cardinal Bird Feeder Brands?
The most trusted cardinal bird feeder companies think of their users – our beautiful flying friends. They think of creating practical and functional solutions to make sure the cardinals are comfortable and happy before, during, and even after the feeding.
So far, here are my top picks for the most trusted feeder brands:
Perky pet
They are a well-known American company that produces feeders in different shapes and sizes. Their country-style, squirrel-proof feeder is made of galvanized iron material that will last a long time. The seed tray is perfect for our pretty cardinals.
Nature Anywhere
True to its brand name, Nature Anywhere considers a deep appreciation of nature. The brand is popular for producing transparent hanging feeders and window feeders. Their window feeders for cardinals carry a sliding tray that can be filled with the best safflower and sunflower seeds to keep the birds healthy and happy.
Brome
An expert in creating squirrel proof feeders, Brome uses a combination of durable plastic, wire mesh, and metal materials to create the best feeders for cardinals and other birds. Equipped with perches and built-in hook for hanging, Brome is of quality and practicality.
What Food Attracts Cardinals?
Cardinals have downward curved bills indicating that they are seed eaters. Their strong bills allow them to crack hard seeds open. Here is the list of four of the best food for cardinals to attract them to your backyard:
Black Oiled Sunflower Seeds
This seed type is rich in B complex that is good for the birds nervous system. It is also rich in iron, magnesium, calcium, protein, and potassium.
Safflower seeds
This type keeps the birds more active through carbohydrates, iron, riboflavin, and important acids.
Berries
In addition to seeds, cardinals are also attracted to a variety of berries. Many of the berries cardinals are attracted to contain high calories needed by birds during the wintertime as well as antioxidants to keep the birds healthy.
Dried Fruits
Berries and dried fruits are good for their overall health and color maintenance of birds. Red dried fruits help boost the red colors of the male cardinals to be brighter.
With proper food and proper feeder, the cardinals will definitely have a great time in your backyard.
Do Cardinals Need Special Feeders?
Cardinals can easily adapt to many feeder types. However, they prefer a tray or platform feeders because of their built. A space for perching and moving during the feedings session is the most ideal. House bird feeders or hanging feeders that carry a large bowl or tray are fine. They do not like twisting their bodies or eating upside down, so tube feeders should be avoided.
Do Cardinals Eat out of Bird Feeders?
Yes. Most cardinals will go to a bird feeder and enjoy their food. However, cardinals are good foragers too. They forage for seeds, insects on the ground, and berries in shrubs. During the cold months, they retreat to areas with enough covering – low trees, plants, or shrubs to keep themselves warm. Placing a bird feeder near areas with greeneries is the best way to go.
Where to Buy?
Like any other bird feeder, buying a bird feeder for cardinals is not a complicated undertaking. Most feeders for cardinals are being sold out in many retail and wholesale stores such as Lowe's Home Improvement, Walmart, or Home Depot. For newbies in the birding world, it might be helpful to have a chat with sales representatives to know the basics of assembly, usage, cleaning and maintenance, and other operating procedures.
Another way to shop for the best cardinal bird feeder is through online platforms such as amazon. Some of the benefits of online shopping are safety, refund policies, and the convenience of free delivery to your doorstep.
Conclusion
Attracting cardinals to your garden may be the easy part, but letting them stay for a long time is another hurdle. These birds have their own set of criteria before they land and feast on the seeds on offer. And a serious bird watcher knows that acquiring the best bird feeder for cardinals is just but the first step. An easy way out is to keep things simple by choosing the right size, kind, and color.
For these cardinals, a tube feeder will have a huge difference from a tray feeder. They essentially know what's best for them, so the smart idea is to make sure they come first and entice them to stay afterward. We all want to see them with their broods in the well-chosen spot in our garden.