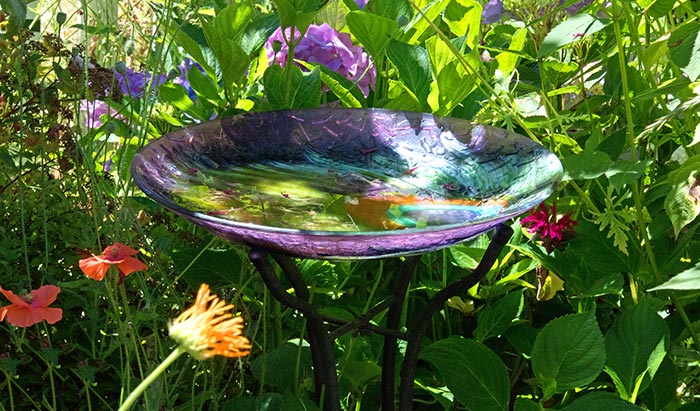 If you are an avid birdwatcher, you certainly need to have bird baths for attracting birds to your property. This way, even if you cannot go out hiking in the woods, you can just sit on your back porch or deck, and wait for all kinds of birds to come to you.
Bird baths help keep your little avian friends stay cool during the hot days. That way, they will flock toward your bird bath as long as you keep the water clean. If you are shopping for bird baths, take note of what birds like. Do not just get a birdbath that you think looks great.
For instance, avoid getting one that would harm the birds, like bird baths whose paint would chip and float in the water. Also, you want a birdbath that could last for more than just a couple of months, so do not buy the cheapest one you found.
This article will give you a couple of recommendations on products, and also a short buying guide that will help you pick the best bird baths attracting birds.
Best Bird Baths for Attracting Bird Reviews
1. Gray Bunny Outdoor Stand Pedestal Bird Baths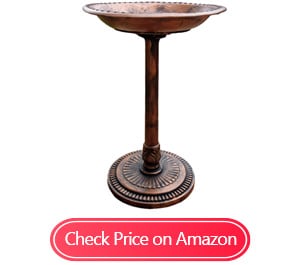 One of the nice things about this bird bath is that it looks almost like stone and bronze. I like this kind of material over others, like silver or gold, which is not easy to replicate. This faux bronze and stone finish look so real that you will not even notice it unless you inspect it up close.
Although the entire thing consists of plastic and is quite light, it does come with ground stakes to keep it stable. I placed this in the middle of my lawn, so the ground is quite compact. The stakes are long so they keep the birdbath in place effectively. This also promotes ease in moving the birdbath whenever needed.
Also, because it uses plastic as its primary material, the birdbath is highly resistant to the weather. I have left mine outside the entire summer during the hottest days and torrential showers and it did not get even the slightest damage. I cannot vouch for winter weather since we do not get that much snow where we live.
I also liked the size and depth of this birdbath. The bowl measures 20 inches in diameter and is around 2 inches deep. This is the perfect size for most birds that frequent suburban gardens.
I have seen all sorts of birds visit my birdbath since I placed it on my lawn, from sparrows, robins, and finches. There are the occasional cardinals and even ravens. I am an avid birdwatcher, so seeing different birds clean themselves in my birdbath was quite a treat.
One thing that I wished for this product is that it should have been weighed a bit more. Being made entirely from plastic made this birdbath quite lightweight, which also means it is easy to topple over. Even with the ground stakes, my birdbath still wobbled quite a bit.
Pros
Made from weather-resistant plastic
Comes with ground stakes for stability
Has a convincing faux stone and bronze finish
Easy to assemble and lightweight
Big and deep enough for most
Cons
The included stakes are too small
A bit too light, and needs more weight at the base
I liked how it looked quite a lot. I only hoped that it was not completely based on plastic. This would have been many times better if the base was weighted to make it feel more secure. Overall, this might not be the top-notch bird bath for birds. Still, I find it an acceptable one if only by the way it looks.
2. Birds Choice BCBLUESET Bird Baths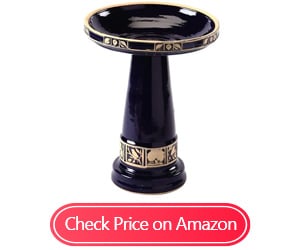 Unlike most of the birdbaths in most big box stores, this one entirely uses kiln-fired clay for its material. This means that if you take good care of it and you are careful when handling it, this birdbath can virtually last for decades. However, because it is from clay, it will most likely shatter if you drop it on a hard surface.
Because of the clay material, it also has a nice heft to it. Both the basin and the base are terra cotta so the entire thing is quite heavy, 27 pounds, to be specific. This means that upon putting it in your garden, you can be sure that it will not go anywhere. You should, therefore, not put this in the middle of your lawn as it will kill the grass under it.
What I liked the most about this birdbath is its lovely design. It has a beautiful glaze to it, so it looks like glass. It also has beautiful etched designs of birds and plants. The style is reminiscent of Mediterranean pottery. I placed mine in the middle of my garden and placed a solar fountain in it, and it looks stunning, to say the least.
Because of the glazing, the entire surface is non-porous, making it easy to clean. Even bird droppings were easy to remove. I use a pressure washer set on medium to give my birdbath a thorough cleaning every other month or so. However, if you do not have one, you can use a plastic brush and a bit of soapy water.
If you live in a place where it snows during the winter, take this birdbath inside before the first snowflake falls. Just like other terracotta products, if this birdbath gets exposed to freezing temperatures, it will crack and shatter. Rain and sun are fine but they will actually make the clay stronger.
Pros
Made of kiln-fired clay, so it can last forever
Perfectly weighted, so it will not wobble
The birdbath has a quaint and Mediterranean vibe and look
The entire thing has glaze, making it non-porous.
Does not require any assembly
Cons
The part of the basin that connects to the base might crack if you are not careful
Although the birdbath is weatherproof, it will crack in sub-zero temperatures
If you take care of this birdbath, it can essentially last forever. However, be careful not to drop the basin on the base too hard; otherwise, you will be punching a hole in it. I also suggest that you decide where you will be positioning this for good because moving it around too much might damage the terra cotta.
3. Monarch Abode Pure Hand Hammered Copper Bird Baths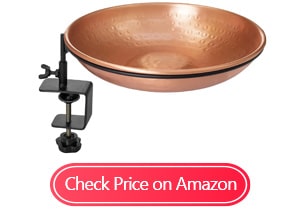 If you want to put a birdbath right on your backyard deck without drilling holes into the railing, this is what you need. You do not need any tools for installation nor use any adhesives as well. In addition, you can position the birdbath facing towards you or away. I point it out so that the bird droppings do not fall on my flooring.
The best part of this birdbath is the basin itself. Unlike most of the other plastic-based birdbaths in the market, the basin of this one is from solid copper. This means that the birdbath does not corrode.
It does not get affected by fluctuations in outside temperature, too This makes it quite durable. Even if you drop the basin on the floor, you have an assurance that it will not crack. It may still dent but only a bit.
In addition, because the birdbath uses non-porous copper as its main material, it is easy to clean. Moreover, since only a bracket cradles the basin, you can easily remove it upon cleaning. Also, it is non-porous, so bird droppings will not stick on the surface permanently. You can scrub them off using a stiff brush and soapy water.
The basin is not just the only durable part. The material for the bracket that you clamp to the railing is cast iron with anti-rust paint. This means that you do not need to worry about the bracket rusting after rainstorms. You can be sure that this birdbath can last for years.
The only gripe that I have with this birdbath is that there is no way to secure the basin into the bracket. If the basin is empty, a moderately strong wind can blow it off the bracket. I had to drill a hole in the lip of the birdbath and then use a bit of wire to secure the bowl to the bracket.
Pros
Can attach to any deck railing without nails or screws
Has a durable basin made from solid copper
You can position the basin whichever way you want
Ideal for use as a birdfeed holder
The bracket is quite strong and durable
Cons
If you want to attract larger birds, this might be too small
No way to secure the bowl onto the bracket
If you are looking for a durable and simple-to-use birdbath, this one is just the thing for you. You do not need to drill into the railing of your deck. Also, because of the copper material, it is highly resistant to cold temperatures. If you want a birdbath that is as simple as it gets, you will love this choice.
4. VIVOSUN Outdoor Garden Bird Baths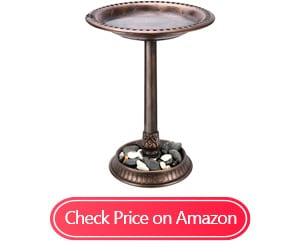 You would not know that this birdbath is from plastic just by looking at it. It comes painted to mimic antique and weathered bronze. It even has pitting on the surface. You can also find patches of fake patina in it. Most people could not tell that this birdbath is plastic unless they touch it.
Speaking of the colors of the birdbath, it makes use of UV-resistant paint. This means that even if you put the birdbath in the middle of your garden and it receives hours of direct sunlight every day, the colors will not fade. Moreover, because the birdbath is plastic, it will not rust.
Unlike the other plastic bird baths that you usually find, this one has a hollow base that you can use as a flower planter. This means you will be weighing down the base and making the entire birdbath more stable. Aside from using the base as a planter, you can also fill it with smooth stones or other heavy decorative items that you might have.
Another nice little feature of this birdbath is the presence of little decorative holes that are on the lip of the basin. The holes provide the birds with a convenient perch so they can preen themselves after bathing. This might not be the original intent of the designer but it became quite a neat feature.
Upon closer inspection, you might find that some parts of the birdbath are unpainted, which is quite a slip-up from the manufacturer's quality control. Fortunately, this usually seems to happen on the base, which you can easily cover with the help of plants or stones.
Pros
Made of durable plastic
Looks just like real copper and the colors do not fade
The base serves as a planter
Very stable, especially when you use the base as a planter
The birdbath has holes around the rim to provide birds with perches
Cons
Would have been great if it was a bit shorter or if the stem was adjustable
Some spots were not painted, usually around the base
If you want to have a nice-looking birdbath without spending hundreds of dollars on a wrought-iron or stone one, this is a great choice. Although entirely plastic-based, the multi-purpose base made it quite stable, but still decorative.
The faux bronze color and texture make this fountain look quite convincing, especially if you don't inspect it too closely.
5. Audubon NA32350 Hanging Bird Baths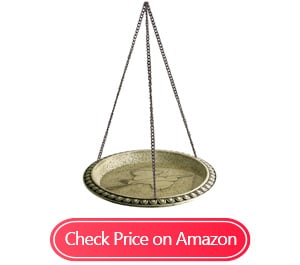 The thing that I loved the most about this birdbath is that it has a faux stone finish. I like the minimalist design aspect (but apparently most birds don't, more on this later). The stone finish even has fake pitting, which makes it look like the dish has been in use for many years.
Aside from the beautiful design, I also liked how simple this was to set up. I placed mine on one of the lower branches of my tree using a bit of twine and it still holds up quite well. There's not that much in terms of installation needed. Just put the chains on the holes provided in the dish and use the S-hook to hang the birdbath wherever you want.
Speaking of the birdbath, it is shallow enough that small birds will not have a hard time using it. The lip of the dish also has small indents so they can perch on them without much trouble. However, because it is quite shallow, if larger birds, like blue jays, were to use the birdbath, they might make all the water spill out.
If you are wondering if this birdbath is durable or not, then note that I have been using mine for almost a year, and it has gone through all kinds of abuse from Mother Nature. Even after exposure to the elements for months, I have yet to see any indications of damage whatsoever, so I can say it is truly durable.
I did have an issue when I first got this birdbath. Upon opening the package that the birdbath came in, my nose was accosted by a strong chemical smell coming from the birdbath.
I had to put the plate out on my front porch and leave it there for an entire day to air out the smell. It does not seem to be toxic as I have not seen any birds fall dead after using the birdbath.
Pros
Has a beautiful fake stoneware finish
Made from durable yet lightweight plastic resin
Easy to set up and install
Perfect depth for small birds
Comes with powder-coated chains that are rustproof
Cons
Has a strong chemical smell when first opened
Color is bland, making it hard to attract birds
I do like this birdbath a lot but due to its rather bland color, it did not attract that many birds initially. Eventually, it seems that word got out to the other birds in the neighborhood and they started coming to my yard for the birdbath. The strong chemical smell did go away after I aired the dish out for a day.
6. Alpine Corporation TEC108 Birdbaths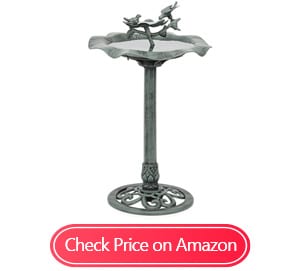 Just based on the picture on the box, you might think that this birdbath might be a complicated project, but that is not the case. There are only a few parts that you need to put together. You do not even need tools. The base, stem, and birdbath can screw on together. Meanwhile, the ornaments on top just snap into place.
The entire thing uses durable polypropylene plastic for its material. Unlike other plastic materials, PP does not get brittle when exposed to direct sunlight for extended periods. It also comes painted with UV-resistant paint so it does not fade either.
Mine has been sitting in a shaded part of my garden for a couple of months. However, it still receives an hour or so of daylight. Despite that, it still does not show any signs of deterioration.
This birdbath comes with a feeder bowl positioned above the birdbath. I do not use it to hold bird seed because it would foul the water in the birdbath rather quickly, so I use it as a cascade for my solar water fountain. For this purpose, it worked really well because of the scalloped design of the lips of the basin.
The birdbath itself is quite light considering the fact that its main material is plastic. It is good that it came with ground stakes to keep the whole thing stable and secure. There are also spaces in the base so you can put stones or small planters in them, preventing the birdbath from moving.
If you are worried that this birdbath might topple over, well mine has seen a couple of rainstorms. Despite that, it is still standing in my yard as if nothing happened.
The only gripe that I have with this birdbath is the paint. It tries to mimic the look of weathered iron, but it is painted silver and sprayed with a bit of black here and there to make it look aged. Even with that, it still looked tacky.
Fortunately, I was able to easily fix this by applying a coat of dark brown stain and it made it look a whole lot better. If you are not up for a small DIY project, you might not like this.
Pros
Looks complicated but is surprisingly easy to assemble
Lightweight, making it easy to position anywhere
Comes with a "feeder" bowl
Comes with ground stakes
Made from durable and weatherproof materials
Cons
The paint job looks a bit shoddy
The included birds and brackets for the feeder dish look like toys
Personally, I think it looks better without the additional feeder dish. I actually prefer having a bird feeder separate from the bird bath to keep both clean. Regarding the way it looks, it could use a bit more improvement. You can maybe add more stain on the base and outside the birdbath. I do like the overall design, though.
7. MUMTOP Garden Outdoor Glass Birdbaths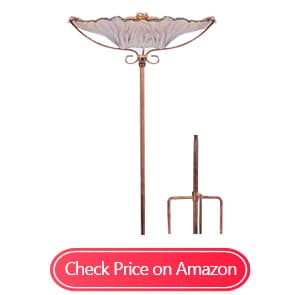 The nice thing about this birdbath is that even though it looks dainty, it is still stable and quite secure. This is all thanks to the stakes built into the base. The base has 5-inch spikes that keep the birdbath firmly in place. My birdbath has seen a couple of rainstorms, and it is still in its place. I didn't even notice any crook in it.
The basin of the birdbath uses some sort of reinforced glass for its material. It uses UV-resistant paint, so it will not fade even when placed under the sun for hours at a time. The fact that it uses glass for its material also means that it is easy to clean.
In fact, I just rinse mine using a garden hose. It also helps that you just place the basin on top of the base, so you can place it under the faucet to clean it easily.
I also liked how nice the birdbath looks. The paint colors used are bright and vivid. This makes the bird bath look like a large flower. Aside from looking good, the bright colors also attract all kinds of birds to my yard.
Before I would only see robins and a couple of finches. Now, there are hummingbirds, orioles, and lots more. I am thinking of getting another one as it seems that they are overcrowding the one I have.
If you are worried about assembly, there are only a couple of pieces that you need to deal with. You do not even need tools to put them together. Just assemble the base first, and then hammer the spikes into the ground.
After that, place the basin on top of the base. I think I was able to assemble and position my birdbath in just fifteen minutes after opening the box.
Here is a warning if you live up north or in a place where the winters regularly go below zero. The glass does not do well in freezing temperatures. This means that it will most likely crack. I suggest that you bring the birdbath inside at the start of the winter season and take it out once spring arrives.
Pros
Has built-in metal stakes that keep it secured and stable
Made from glass, making it easy to clean
Has a lot of bright colors that help attract all kinds of birds
Features a large-diameter basin to accommodate more birds
Easy to install, disassemble, and reposition
Cons
Does not do well in freezing conditions
It will not work in loose, sandy soil
This is a beautiful birdbath. It looks like a giant flower sprouting in the middle of my garden. Even though it uses glass as its main material, it is still quite sturdy and durable.
8. Urban Deco Deck Bird Feeders and Bird Baths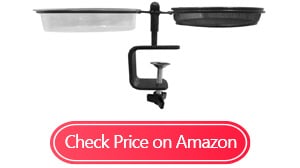 If you do not have that much free space in your yard but still want a birdbath, this item might just be the right fit for you. This is both a birdbath and a bird feeder in one. The bracket comes with two dish holders and two different dishes – one is mesh for birdseed while the other is solid plastic for the water.
These materials are great for those who do not have a large backyard. The reason is that it just clamps onto railings or exposed beams.
Speaking of installation, you can have this birdbath good to go without using any tools whatsoever. The bracket uses a simple clamp to hold onto the railing, which can be as thick as 2 inches. Upon tightening the clamp, you just need to put the dishes into the receptacles and you are good.
Because the bowls are removable, it makes them easier to clean. The birdseed holder uses a wire mesh material, so you just need to turn it over and give it a couple of good taps to clean. The water basin uses non-porous plastic, so cleaning it will be a breeze. I just rinse it under some running water and most of the gunk washes off.
Another nice thing about this item is that you can adjust the positions of the bowls. You can rotate the positions of the bowls and then tighten them when you are satisfied with where they are.
I like to place them where they hang off and away from the railing, with the birdbath pointing away from the deck. This makes it so that most of the bird droppings would fall away from the deck.
I do have a bit of an issue with this birdbath, though – the biggest of which is that the bowls are so light and without any way to secure them on the bracket. This is especially true for the birdbath bowl made of plastic.
The bowl that came with my birdbath got blown away when most of the water spilled out. Fortunately, I was able to retrieve it. Now, I have it tied down using a bit of wire to prevent it from happening again.
Pros
The product is a birdbath and feeder all in one
Can be installed without any tools
You can position the bowls at different angles
The bowls are easy to clean
Capable of holding a good amount of birdseed
Cons
It was set a bit too low from the railing
Bowls not secured on the bracket
This is the ideal solution if you want a birdbath, but don't have enough room in your backyard for one on a stand. This clamps onto any railing without the need to drill anything. However, keep in mind that the dishes that come with them are quite light, so you need to figure out a way to keep them from getting blown off by the wind.
9. Glitzhome Stone Bird Bath Patio Fountain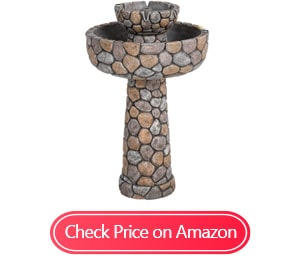 The thing that I liked the most about this item is that it looks just like it utilizes real stone for its main material. The colors and texture of this birdbath/fountain look almost precisely like shaped and stacked stones. Once you inspect the joints between the "stones", you will find that the fountain has several pieces of plastic resin.
Speaking of resin, the plastic resin used to make this birdbath is quite durable. This is not like the thin plastic used for making cheap kids' toys. The resin shell is quite thick, allowing it to take a beating without even cracking. The paint used on this fountain is UV-resistant. This means even if you leave it under the sun, it will not fade or chip.
Also, unlike most of the other bird baths that you can find, especially the ones made from plastic, this one has a wide base and is nicely weighted. No need to worry about this birdbath wobbling and toppling over. However, I highly suggest placing this on hard and compact soil.
I also liked the two-tier design of the fountain. I love the sound that the water makes when it trickles from the smaller basin down to the wider bird bath underneath it. Even when there are no birds at the birdbath, I like to just listen to the sounds of the fountain and the breeze blowing through the branches.
Although I like listening to the sounds of the fountain, I was not that satisfied with the power of the pump. I discovered that the pump was a bit undersized for the fountain. When I touch the plug and the pump, the excessive heat coming from them is evidence that the pump is working too hard.
I had to replace the water pump (which was thankfully an easy job) with a bigger pump because I have a feeling that the one that came with the birdbath would burn out soon.
Pros
Looks just like real stone
Made from durable resin plastic
Has a beautiful two-tier design
Comes with a water pump
Nicely weighted and stable construction
Cons
Will crack when exposed to freezing temperatures
The pump that came with the fountain is underpowered
Notwithstanding the undersized water pump, I enjoy having this birdbath. After replacing the water pump, it is now working much better at circulating the water.
The overall design and construction of the resin shell are more than worth replacing the water pump. If you want to add a nice centerpiece to your garden, I urge you to consider getting this.
10. Bond Y98881 Ashboro Zen Fountain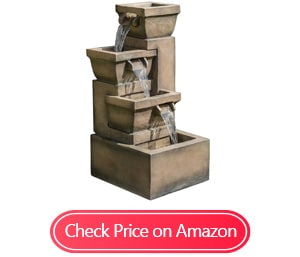 I was quite impressed at how this fountain looked. This might look like its main material is cast concrete, but it is Envirostone. This item also uses sand as its component, but instead of cement as a binder, it has powdered plant glue. This means there is no need to worry about harmful chemicals leaching into the water and poisoning the birds.
Zen philosophy also inspired its design, which is quite simple but still makes the fountain beautiful. It fits in nicely in any garden regardless of the design aesthetic that you used. I placed mine right below the porch in between two rose bushes and it fits well.
This fountain also has waterproof LED ambient lights, so even at night, you can still admire it. Although not that many birds are attracted to this water fountain (more on this issue later), just listening to the sounds made by the cascading water is quite relaxing. It has four tiers. When it has enough water, you will see solid streams of it.
Unlike most of the birdbaths that you might have seen until now, this one has considerable weight to it. This weight and the considerably wide base ensure that this will not wobble, let alone topple over. Especially when it is full of water, you will not be able to accidentally make it tip over. You might not even do it on purpose.
I originally bought this item to use as a birdbath. However, the water flow is a bit too strong to allow birds to wash their feathers on the upper basins. The base tier's water flow is a lot weaker, but the problem is that it is not big enough for smaller birds like finches and the like.
Pros
Looks like authentic cast concrete
The design is quite beautiful and can be a great centerpiece for any garden
The sound made by the cascading water is quite therapeutic
Has a lot of heft, but not so heavy that you cannot relocate it easily
Highly durable and can withstand whatever nature can throw at it
Cons
The water flow is a bit too strong for most birds
You need to top up the water to keep it from splashing
Although this is not the best bird bath fountain, this Zen fountain will still be a great addition to your garden. It will still attract some birds to come and drink. The problem is that small birds may not find it that appealing. I was a bit disappointed at first, but the fountain did grow on me, mainly because I love the way it looks.
What to Look For When Buying a Bird Baths for Attracting Bird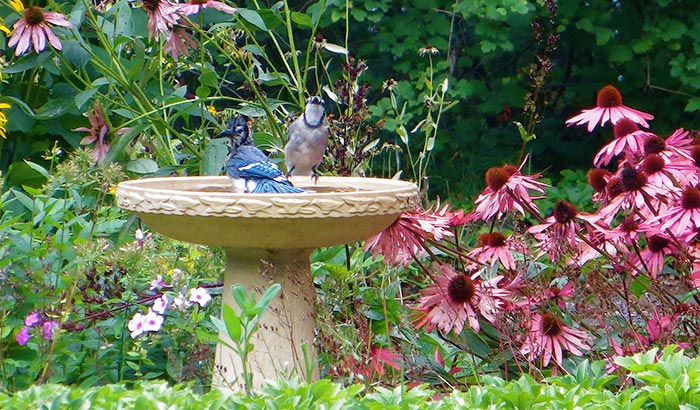 Here are a couple of things you should think about when you are having trouble choosing the product that you think will make you happiest.
Design and Aesthetics
Are you looking for a birdbath that has a minimalist design, or one with bright colors and striking designs to help attract more birds to your yard? If you don't have a lot of space, you should get a birdbath that attaches to your railings.
If you are looking for a centerpiece or just a good conversation piece, you can get the larger birdbath. In case your goal is to attract different kinds of birds into your garden, go for one that has bright colors.
Ease of Assembly and Installation
If you are not fond of knock-down furniture or anything that requires an extensive assembly process, you should get a simple yet effective birdbath. You will find many bird baths that come with just two or three main components. Most of them do not even need a screwdriver to assemble.
Durability
The birdbath will get exposed to the mercy of the elements for most of the year, so you should get one guaranteed not to get brittle after just a month or two of direct sunlight.
If you are planning to get one that has a metal base, make sure that it has anti-rust paint. Also, if you live where it snows a lot during the winter, make sure to get a product that will not crack due to extreme cold.
Stability
You would not want your birdbath to topple over, so get one that has a wide base and a substantial heft to keep it anchored on the ground. Speaking of anchoring, if you will be getting one of those lightweight plastic birdbaths, make sure that it features stakes. This will anchor the base onto the ground.
Frequently Asked Questions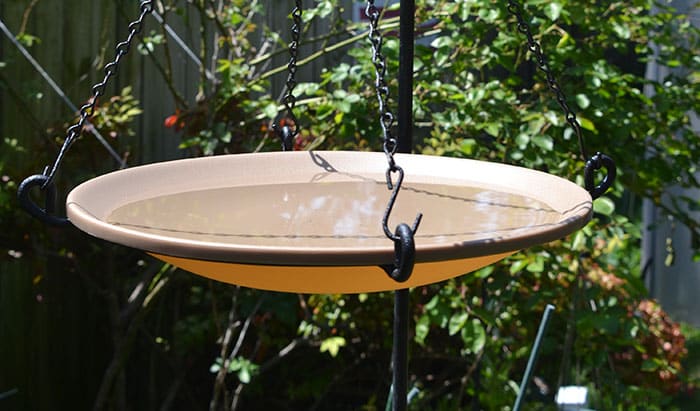 What Color Attracts Birds to a Bird Bath?
According to experts, most birds are attracted to the color red. This means that the key to attracting birds to bird baths is to add a splash of red to them. You may also just pick a birdbath that already has this color in it. However, some small birds also tend to get attracted to blue and silver.
Also, the best location for bird bath is somewhere that gets plenty of shade during the day. Exposing the water to sunlight will encourage the growth of algae, which will make the water cloudy.
When do Birds use Bird Baths?
Although called birdbaths, birds also drink from the basin aside from cooling themselves in the water. This is why you should replace the water regularly because it gets fouled by bird droppings.
You will typically find birds using your birdbath during the hottest days in the summer.
Conclusion
Aside from bird feeders, another surefire way to make birds flock to your garden is by using a birdbath. Now, don't think that all birdbaths are expensive because they are not unless you are thinking about the ones carved out of stone. Even if you're strapped for cash, you can find a birdbath that can still fit your limited budget.
If you follow the buying guide and check out the product reviews mentioned above, you will know what you need to look for when you are shopping. You will know you bought the most outstanding bird baths for attracting birds when you see a lot of happy birds splashing about in the water almost right after you set it up.