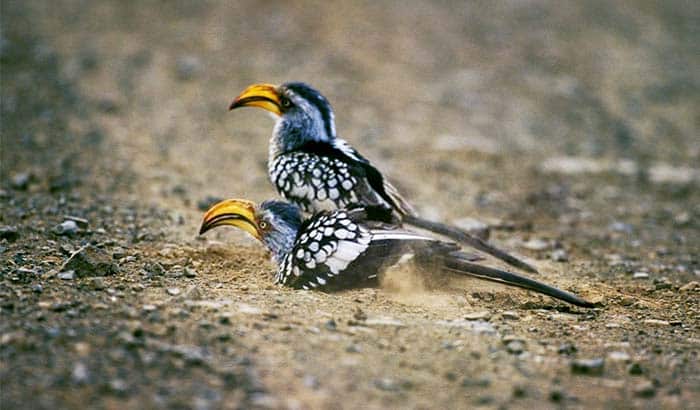 If you have been bird watching for a long time or having a bird as your pet, there is a great chance that you see this weird bird habit of rolling or playing in the dust. I remember the very first time I saw it; I thought that the bird was physically ill or there was a problem related to the bird's health. But after seeing the same scenario repeatedly, I realized that this was just a natural habit for the bird.
But why do birds roll in the dirt? There is no need to worry when you see similar action since the bird is simply taking a dust bath. There is definitely no physical issue nor any related health issues that need to be taken care of. But why do birds do this? How thus a dust bath benefits his overall health? Let's find out as we go along in this article.
Why Do Birds Take Dust Baths?
Dust bath, which is also known as sand bathing, dirt baths, or dusting, is just part of the plumage and preening maintenance of the bird. The primary purpose of the bird's taking a dust bath is to keep their feathers in excellent condition. The dust will then go straight to the bird's feather, where it will absorb all the excess oil to eliminate the feather from being greasy. The oil-soaked dust will then keep helping keep the feeders clean and flexible.
Another purpose of birds doing sand bathing is to eliminate dry skin and remove all unnecessary debris in their bodies. Dusting is also used to eliminate, if not reduce lice, feather mites, and other parasites living in the bird's feather. It will help keep the birds' physical aspect in excellent health, particularly the feathers and the skin.
Many bird species have been observed to do dusting regularly. But how often they do it will all depend on the time of the year and the local climate conditions. There are birds that do frequently dusting, such as wild turkeys and sparrows. Other birds which have minimal source also uses sand bathing to keep themselves clean.
How Do Birds Dust Bath?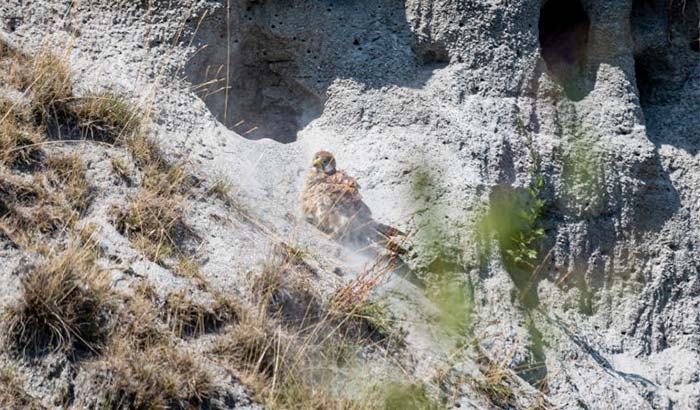 In locations where the water is very scarce or the source of water is minimal, you will see a lot of birds taking dust baths. A similar scenario will happen during hotter seasons where the water for bathing may not be enough. But please note that dusting can take place anytime and anywhere whenever the birds feel to be cleaned and keep their feather well-groomed, and there is an appropriate place to do it.
But how do they take a bath in the dust? A bird starts by scraping the sand to make a wallow. Then, the bird will begin lowering the breast to the sand then start rolling and swaying to deepen the wallow. Then, it will flip its wings aggressively, just like what they do when taking a bath in water, spreading the dust all over the body.
While also doing those movements, the feathers may be fluffed while spreading the tail so that the dust can reach the skin more easily. Sometimes, the bird will also rub its head to the sand, coating the shorter feather on the cheeks. During this sand bathing process, the bird will sometimes rest or trying to look around, but the whole bathing process may be repeated until such time that the bird is sufficiently coated in the dust.
Assisting the Birds in Sand Bathing
If you have a bird as your pet or you have been opening your yard to some of them, adding a dust bathing area in your home can bring a lot of advantages to you as a birder. Doing this action will attract more birds to your place while giving you more entertaining views that only those birds can offer. If some of the visitor birds already start using a portion of your place, I highly suggest preserving and keeping it for their use.
However, if there is still no similar area in your backyard, building s sand bathing area can be an excellent idea for you as a bird watcher. You can make a dust bath area by allocating a sunny and dry area that is built with finely-grained soil without plants and rocks. You can also put some rocks on the border to contain the soil or the dust within the area. Make sure to provide a space that is huge enough to accommodate a number of birds which should be expected.
Meanwhile, always keep the soil of the bird's bathing area dry and free from dirt clumps for it to be attractive to birds always. You can even put a sheltered area designed to protect the birds if and when any threats will come during the bathing. Doing this way will make the bird feel safe and can attract more birds in the future.
Conclusion
Why do birds roll in dirt? When you see a bird doing it does not mean that it is physically ill, but this is just part of a natural process by the bird to clean themselves. These constant movements may look like the bird has some physical problem, but thrust me, this is just a natural way for the bird to clean themselves apart from taking a bath in water.
Most birds take regular sand baths because it is an integral part of their preening regimen. As a birder, it can be an excellent view if you know the purpose of what the bird is doing. If you are a backyard birder, it is also your responsibility to allocate an area for the sand bathing activity of the birds coming into your backyard. It is a unique experience watching the birds cleaning themselves not with water but with dust.