The Crested Tit, sometimes called the European crested tit, is a Scotland ancient Caledonian forest native bird with a distinctive punk-style crest. Initially known as Parus cristatus, the crested tit bird species has received a genus and is now scientifically referred to as the Lophophanes cristatus.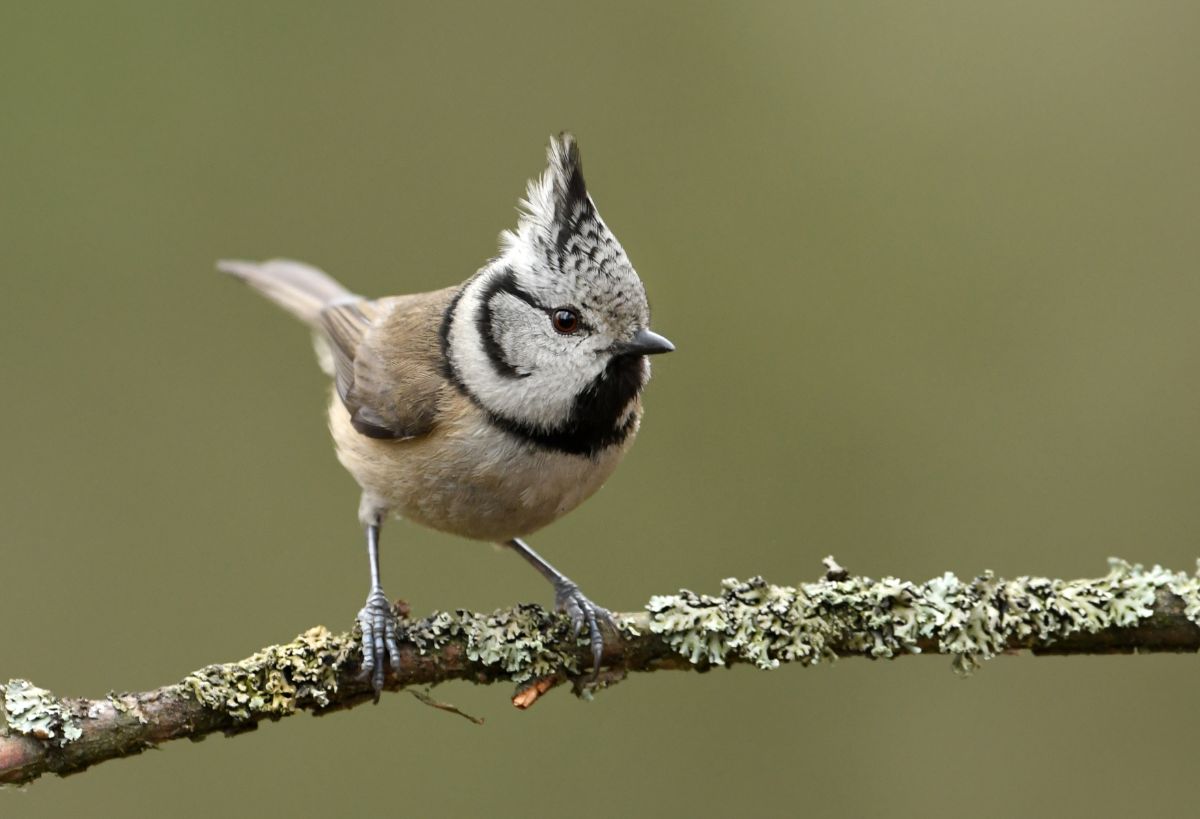 These birds live in coniferous forests in northern and central Europe and deciduous woodland in the Iberian Peninsula and France. Their preferred habitats are pine trees in Strathspey and Inverness, Scotland.
This article has all the facts you need to know about this bird species, including its diet, song, and behavior.
| | |
| --- | --- |
| Classification | Measurements |
| Scientific Name: Lophophanes cristatus | Length: 11.5cm to 12cm |
| Other Names: European Crested Tit | Wingspan: 17cm to 20cm |
| Family: Paridae (tits) | Weight: 10g to 13g |
| Conservation Status: Green | Average Lifespan: ~2 years |
| When To See | Where To See |
| Between March and June | Forests, highlands; Northern Europe and Scotland, specifically |
What Do Crested Tits Look Like?
These birds got their scientific name, Lophophanes cristatus, from the Ancient Greek word "lophos," which means "crest," and "phaino," meaning "to show." The species name, "cristatus," is a Latin term meaning "crested."
They're easy to distinguish between the others in their flock, thanks to their distinguishing short, pointed, speckled black-and-white crest.
Also, the thin black collar-like stripe distinguishing the head feathers from the rest of the body and a visible eye line running the back of their head stands out as sufficient distinguishing features.
Crested Tit Colors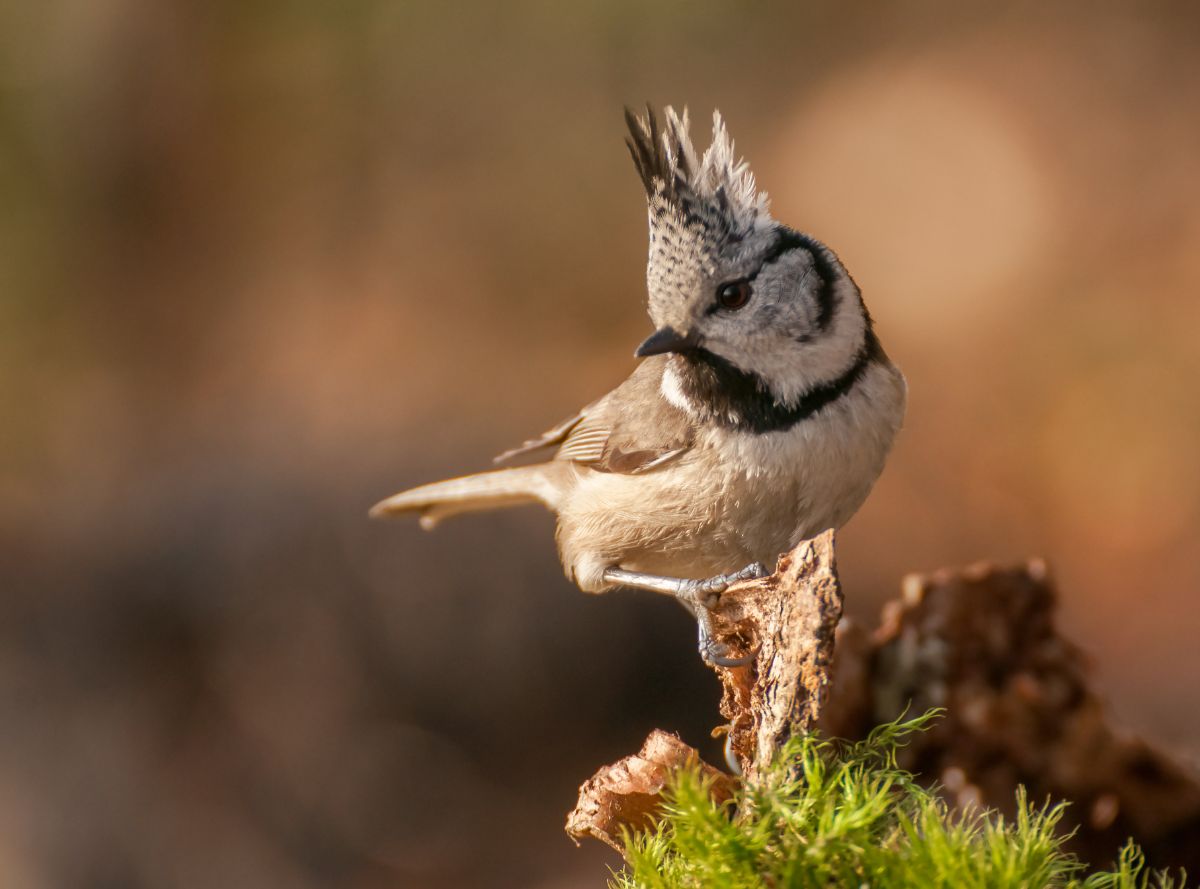 Crested tits are less colorful than the other members of the tit family, with males having grayish-brown on the upper parts, buff-colored breasts, and black-colored chin and throat. Crested tits have brownish-gray tails with dark brown color at the edges.
Their light-brown to dark-red eyes, black bills, and gray-blue hues in their legs and feet blend perfectly with their overall appearance. Apart from the collar-like black stripe and the visible eye line, the rest of the crested tit is creamy white.
The Female, Male, and Juvenile Crested Tit Appearance
There are no major differences in size and coloration between adult male and female crested tits. However, the male crests are longer than females, and the stripe of feathers on their heads is wider than their female counterparts. Female crested tits also have darker flanks and a more buffish tinge-appearing crown and crest.
Young crested tits have shorter crests and have more brown colors than adult family members. Their gray hues will appear as they grow up.
The Size of Crested Tits
Crested tits are slightly smaller than their close relative, the blue tit, and similar in size to the mash tits and coal tits. Compared to other small garden birds, the crested tit is marginally smaller than a sparrow or chaffinch. These birds are larger than wrens.
Crested tits grow to a height of 11 to 12cm (4.5-4.7 in) and a weight of 10 to 13g (0.4-0.5 oz). Their wingspan ranges from 17 to 20 cm (6.7 to 7.8 in).
What Do Crested Tits Sound Like?
The crested tit calls with a thin, ascending, "zee-zee-zee-cheera-cheera" sound, typically followed by a low purring "choorrr" or "brrrrr, t-brrrr."
Sometimes, you'll also hear a thin, shrilling "see" in series or a squeaking "sith-sith-silililili." The crested tit song is ascending and descending, buzzing "sih-hu-chorrr" in rapid and frequent repetitions.
Crested Tit Behavior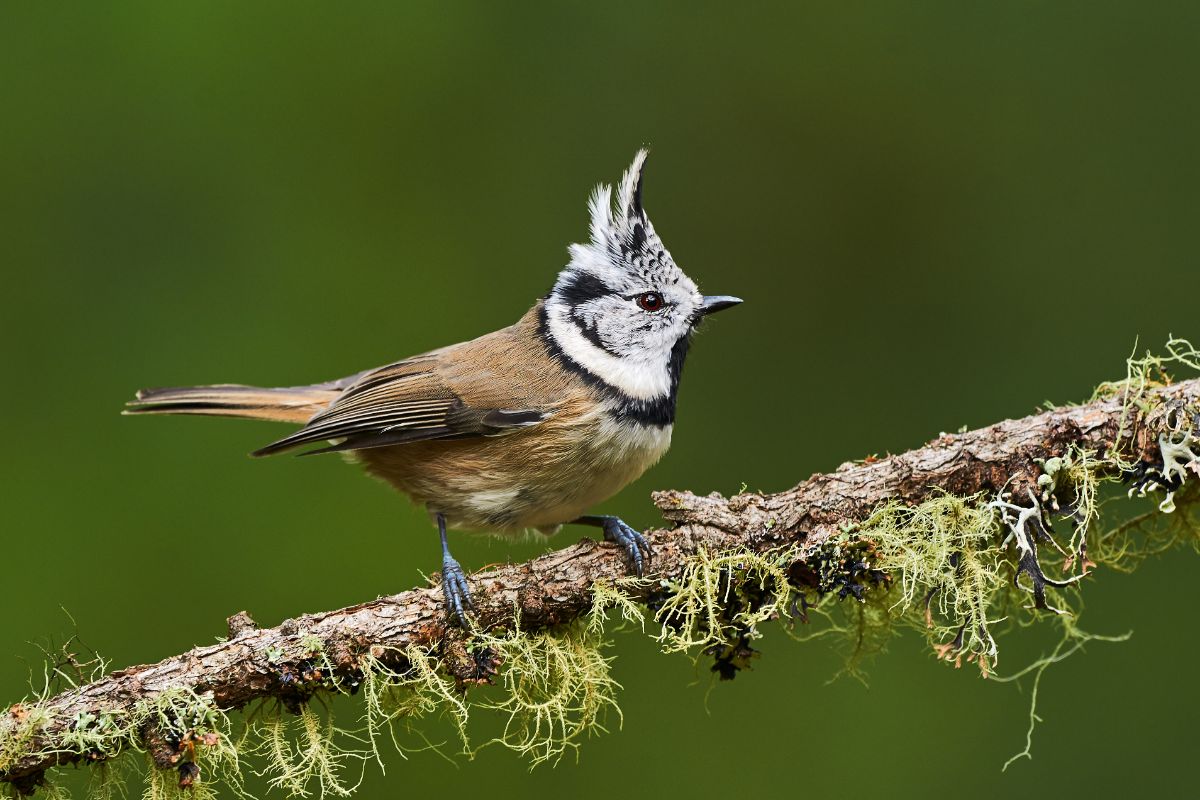 Crested tits are generally omnivorous, feeding on spiders, small invertebrates, and their larvae, They eat bugs during nesting in particular to satisfy the high-energy needs of their chicks. Beyond the nesting phase, these birds feed on some fruits and seeds.
These small birds get active foraging for food and insects, especially during breeding. They store their foods for future use in bark crevices and holes by wedging them in place and covering them using saliva or spider webs. They store the insects alive but partially paralyzed or decapitated to eat them later.
The crested tits aren't territorial and typically forage food in flocks. They typically store their foods in hunting areas and any flock member can exploit the stores during winter.
Where Do Crested Tits Live?
Crested tits prefer coniferous or mixed woodland habitats. They're mostly available in Scotland's ancient pine plantations, with conifers making up their primary habitats. However, these birds can also settle in woodland, deciduous trees, especially alder and birch.
Crested Tit Breeding and Nesting
Crested tits breed between March and June. The females lay between five and ten eggs in one or two clusters annually. The eggs take between 13 and 18 days to incubate, while the young birds will require 16 to 22 days after hatching to fledging. Even after fledging, the young crested tits rely on their parents to provide them with food for more than 23 to 25 days.
The crested tits are monogamous and make pair bonds that last long. Both parents will typically help each other to care for and feed their chicks, primarily with some pine seeds and spiders.
These birds nest in holes in dead or decaying tree trunks, stumps, or branches. Also, the birds will use the old woodpecker holes. The birds will use any existing hollow available. These skilled hollow-makers will drill a cavity for themselves if they find none.
After helping each other excavate the holes, the female crested tit will build the nest using animal hair, wool, spider webs, feathers, lichens, and moss. The crested tit nests are typically cup-like structures about three meters above the ground.
Crested tits typically produce one brood per season but occasionally have two.
Crested Tit Lifespan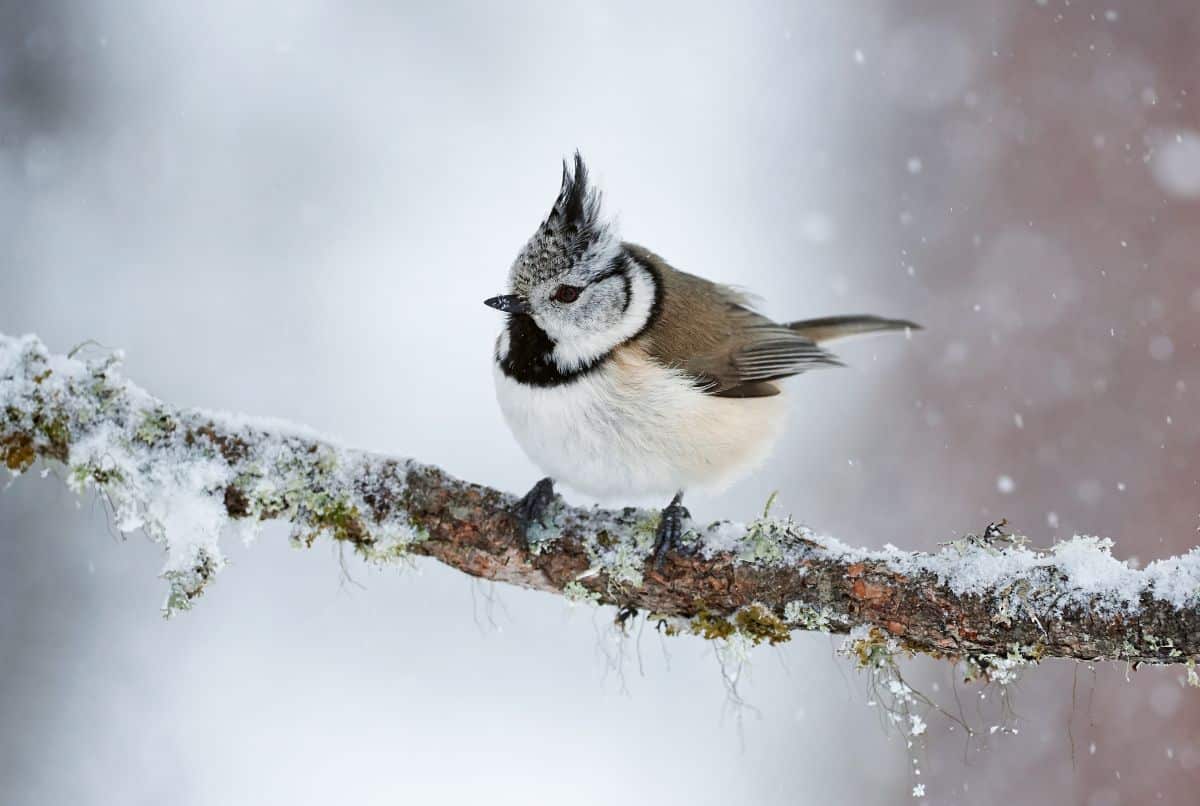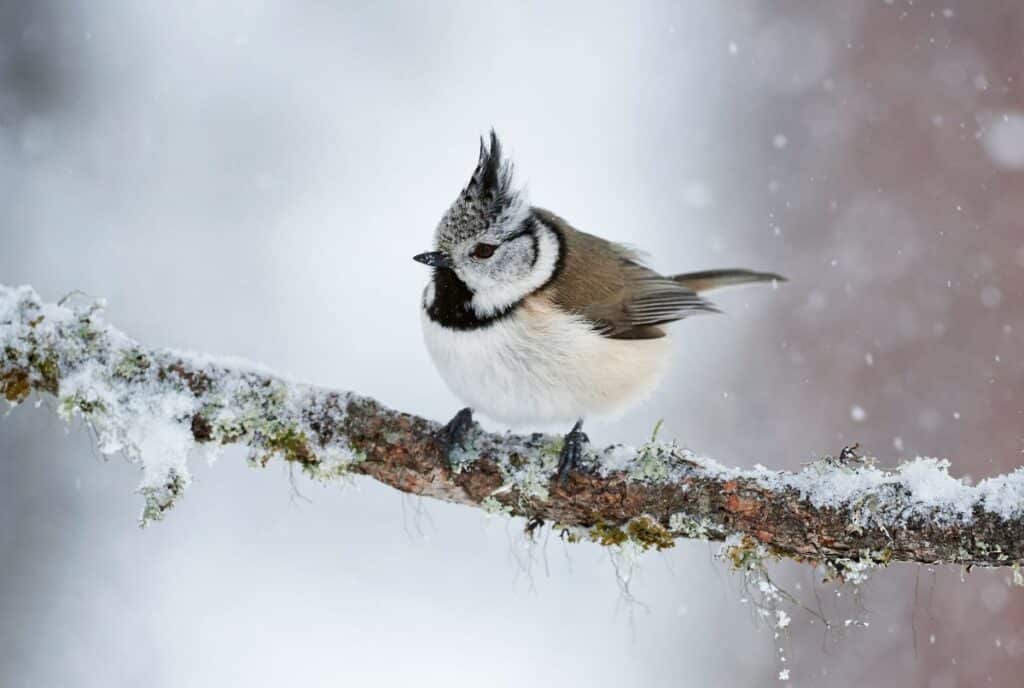 Records indicate that crested tits have survived for as long as seven years and 11 months. However, predators such as sparrow hawks, pine martens, and red squirrels pose a major threat to these birds' lifespans.
The starvation that comes with winter also makes it hard for the birds to live longer. Given the factors, crested tits have an average lifespan of 2 years.
Crested Tit Diet
A crested tit's main diet constitutes of small invertebrates like small dragonflies, damselflies, bugs, grasshoppers, stoneflies, earthworms, snails, mayflies, flies, moths, ants, beetles, spiders, small bees, and wasps. They also feed on the larvae of these insects and worms.
When not breeding, you'll also see the birds eat conifer seeds, the sap of birch, berries, maple, aspen, and some fruits.
Baby crested tits eat more insects, worms, and larvae than seeds. At a young age, the chicks consume the small insects to compensate for their energy needs. After that, these young birds will join their parents in foraging for food.
Crested tits will also cache their food, especially the seeds they gather in spring and larvae they collect in autumn for use in winter.
Do Crested Tits Migrate?
Crested tits are generally resident birds. However, they may sometimes migrate to warmer climates during winter. That's to ensure they have enough food and escape starvation. The Scottish crested tit remains in their territories despite the seasons.
However, you can often see flocks of vagrant crested tit birds arriving on various sides of the British Isles from the northern European countries. These birds can go up to 100 kilometers from their birthplaces after the nesting duration.
Where To See Crested Tits
Crested tits are among the few residential birds in Europe. They're limited to some Scottish Caledonian pine plantations and forests in Strathspey, Easter Ross, the Beauly catchments, and the Moray Firth coasts.
Wrap Up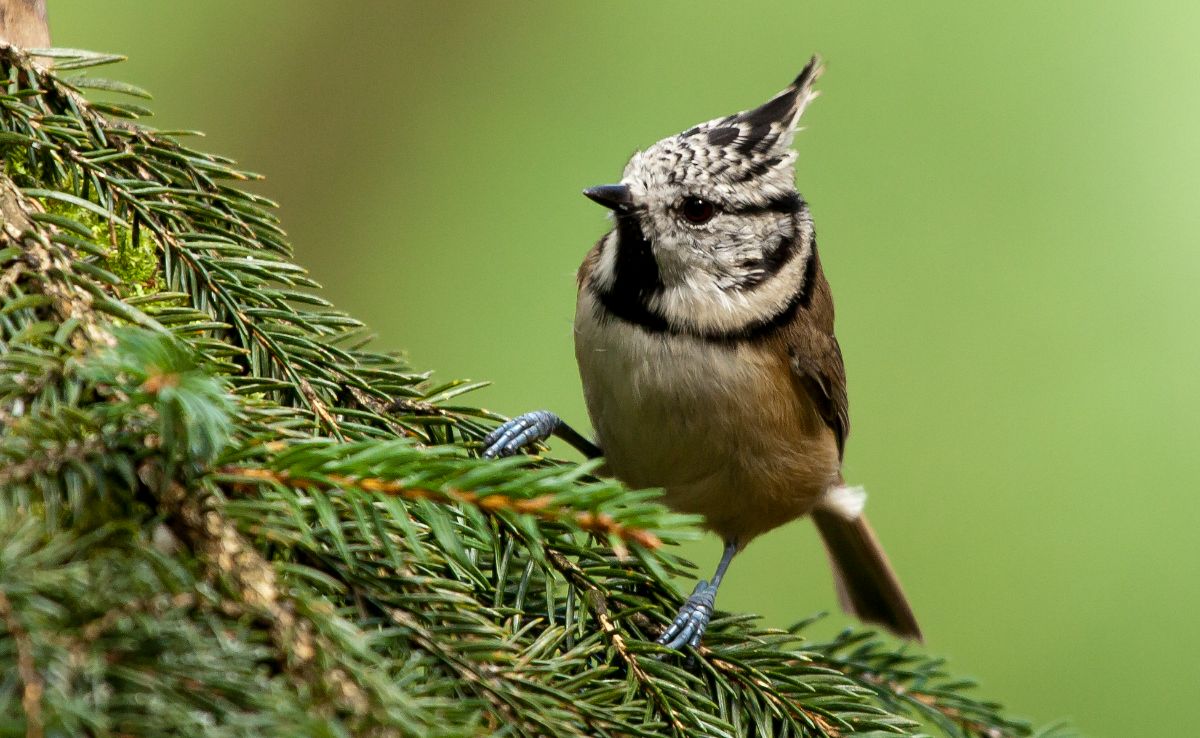 Thanks to their unique, spiky crests, the crested tit species stands out among all the other birds in the family. They're rare compared to blue tits and great tits, but they are a type of bird you won't want to miss.