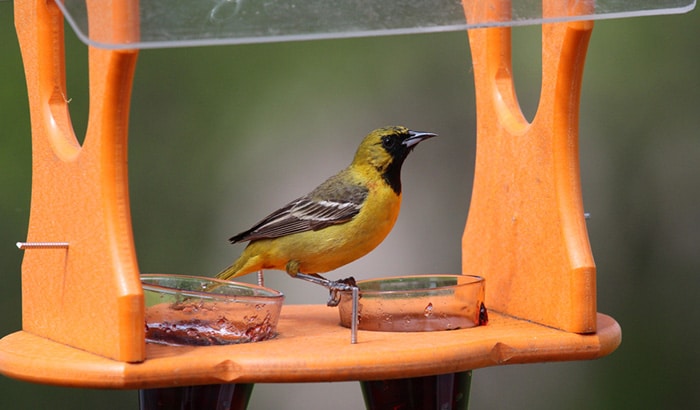 Urban dwellers are choosing birds among a plethora of pets to keep at home for many reasons: easy maintenance, colorful feathers, and non-essential pet vaccines. For the busy worker, this light and feathery pet is the perfect companion after a day's work.
Orioles are well-liked bird species for its strong blend of colors, orange and black, easily seen from afar. They populate the Northern Hemisphere in winter but scatters in the Southern hemisphere when spring comes. For novice birders or bird watchers, it is important to know what to expect, what to feed them, and ultimately how to enjoy having them around during their seasonal stay.
Best Oriole Feeder Reviews
1. Perky-Pet 253 Oriole Jelly Bird Feeders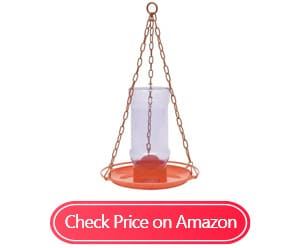 Generally, Baltimore orioles like being in the tropics or in good feeding trees so birders have to be sensitive to such need. But thanks to the Perky-pet oriole jelly feeder, this expectation of feeding has become easier to manage.
There are many benefits of this oriole jelly bird feeder by Perky-pet, one of the most trusted brands when it comes to the needs of our feathery friends.
What I love about it the most is the fact that I don't need to worry about ants getting into the jelly faster than the birds. Perky-pet placed a cup holder that you can hang before the feeder. Once filled with water, there is no way ants will be able to get their share of that sweet bird treat.
Here are the many pros and few cons of this product. perky pet oriole jelly feeder
Pros
The circular shape allows a more comfortable feeding time for multiple orioles
The tight grip for the jelly jar, keeping the jelly preserved intact even for a long time
It has a built-in jelly stirrer to make sure the jelly remains moist
The feeder can hold a 32 oz of jelly jar
The base plastic is durable so it is worth the investment
The flat plate surface makes it easy to clean
Cons
The strong orange color fades under direct sunlight so try to hang it under a nice tree or a feeder holder.
Too much heat (from the sun) also liquifies the jelly and drips through the holes attracting ants and bees. Again, hang under a shaded tree.
With many choices for Baltimore oriole feeders in the market nowadays, this product is probably one of the most trusted ones so far. It might be a little pricey as but I believe it is all worth it as it saves me from filling the cup or the plate with jelly every hour. And perky-pet rarely goes wrong.
2. Birds Choice Flower Oriole Bird Feeders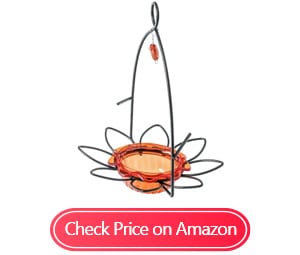 Every birder knows that Baltimore orioles need special care and this includes a special oriole bird feeder . This is because they are naturally sociable as compared to other bird species. This means that eating with another oriole or a group of orioles is a normal sight – a beautiful one too!
I love this oriole Bird's Choice bird feeder for two things: design and purpose. It is simple enough to hang as a decorative piece in a garden or a house balcony but it is very functional according to the needs of your orioles.
I also love the open cup design which allows birders to combine jelly flavors such as marmalade for hummingbirds or grape jelly for orioles. A quick check on consumer advice placed this flower baltimore oriole feeder among top choices.
Another thing that makes this feeder stand out is because of the colorful orange cup in the middle of the flower mesh, which is used for perching, making feeding more comfortable. By nature, orioles are attracted to strong colors so adding this strong orange is going to make sure your backyard will be a top choice for the migrating orioles.
Some of the pros and cons of this product include:
Pros
It is very colorful so it attracts orioles even from afar
You can combine jelly flavors because of its open cup
Design is simple but very decorative. It adds value to your curated garden
It's simple design only requires a place to hang, an oriole feeder stand or a tree to hang it after purchase. No assembly required
Cons
The cup can only be filled with 3 oz of jelly so you might need some more of this in your backyard if you do not wish to refill every hour
Bird's Choice is great at making beautiful yet functional bird feeders and this flower oriole bird feeder is of no exception. It ranks high among birders that have tried it and I couldn't agree more. Among the many baltimore oriole bird feeders out there, I'd love to have this hanging in my garden, with or without the orioles.
3. First Nature 3088 Oriole Feeders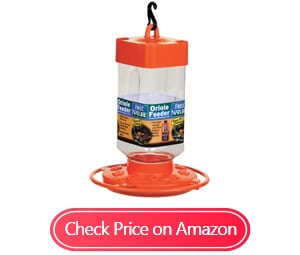 Many birders face two major issues: ants and bees. Sometimes, there are occasional tiny animals that come to the garden but nothing is more annoying than these little sweet tooth creatures. This means that choosing a suitabl oriole feeder that is bee proof has to be done and done fast.
First Nature is amazing in this aspect. Their 3088 oriole feeder is both elegant and functional and can add life to any bird garden. The strong orange color, as well as its flat base for perching, invite orioles to feed all at once. The flowery ports, 10 in total mean that each oriole gets a chance to be fed comfortably.
Personally, I love the smooth transparent design as it allows me to know when exactly does it need a refill. It's wide-mouth container also makes refilling a tad easier than others. What's more, I can simply throw it in the dishwasher or on the sink with soapy water for thorough cleaning. I need to clean it once a week but can last two if you are away.
Unlike other bird brands, first nature considers many things: designs, functionality and even the price. Made out of polymer, this light and cute oriole feeder is an important investment for every bird enthusiast.
Pros
Easy to clean
The polymer feature makes it durable, last for a long time
Round perch design with flower ports for each oriole. It can accommodate 10 birds during feeding time
Anti-leak so ants and bees might not get attracted
S-hook – no installation needed
Cons
Exposure to sun damages the bright orange color, causes fading and brittleness of the plastic material
Some bigger orioles have a hard time accessing the nectar through the ports
Ultimately, the first purpose of having even the perfect oriole feeder with bee guard is to attract orioles so this one is big Yes for me, and I would probably not change the product for quite some time.
4. Heath Outdoor Products CF-133 Oriole Feeders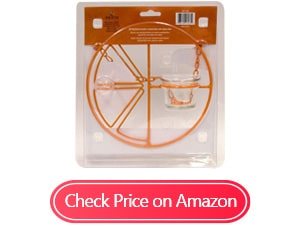 I love Heath products and it is easy to reason out why – the designs are trendy and playful – perfect for my small flower garden. And since I am not out to attract a flock of birds, I am very happy to offer orange slices, jelly, and nectar to my feathery guests.
By design, the feeder resembles an orange half that surely adds more value to my green plants. I like that it is easy to hang and the cup for jelly is small yet just enough for some beautiful orioles to enjoy.
The color orange surely attracts the orioles easily and I have seen so many of them pecking on the orange halves greedily. It's every birder's dream to watch them feed in frenzy.
The only small downside will be 'constant' refilling since the cup is pretty small, only 3 oz.
There are many pros and almost no cons for this product:
Pros
The small glass allows flexibility on what bird to attract; nectar for hummingbird and jelly for orioles. It is usable whichever season
Bright orange color attracts orioles faster
Open glass for easy cleaning
Hanging chain for easy placement. No installation needed
Powered coated steel so you can leave it under the rain
Cons
Bees like sweets too so they might be around to taste the jelly since glass cup has no lid
This well-loved product has been receiving good reviews and they are never wrong. Since it is a space saver, you can have few of this in your garden and watch the orioles come flapping their wings while feasting on the orange and the jelly treats. One last tip to make it a 100-percent success – change the jelly and the orange slice often. Well, even birds want fresh produce for their meal.
5. Backyard Nature Products Birds Choice 1009 Feeders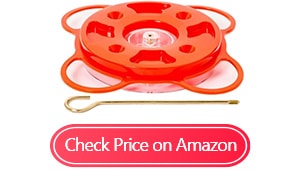 Don't be deceived by the title. A homemade oriole feeder does not literally mean homemade as this beautiful oriole fest feeder by Birds Choice is, in fact, a beautifully crafted flat and rounded feeder with perch.
One very functional feature of this feeder that sets it aside from other feeders in the market is its flexibility and functionally – it can accommodate nectar, jelly and even one half of an orange.
To attract the migratory birds, this Birds Choice oriole feeder made of solid orange base does the trick. I certainly like the idea of a mult-functional feeder as some other birds come into the yard during the same season such as hummingbirds and woodpeckers. This fest feeder is surely a feast in the eye when it's occupied.
The only thing that can be considered a flaw in the design is its lightness so when a heavier oriole land on one side, the feeder might tip.
Some of the benefits of this feeder are:
Pros
Easy to clean as everything else is detachable
Multiple feeding ports, jelly cups and nectar
Hanging rod also doubles as a skewer for orange halves
Can accommodate at least 6 cups of nectar
Cons
Can tip over if birds don't maintain balance
With the very minor flaw, it is no wonder this feeder constantly gets high ratings from user reviews. For some novice birder like I am, I really think I need some more of this durable polycarbonate oriole feeder in my outdoor garden. The only thing left to do is to know the best placement in that wide green space. It is not a homemade feeder by Bird's Choice is surely made well for homes looking forward to migrating birds.
6. Perky-Pet Opus Plus Plastic 449-2 Oriole Feeders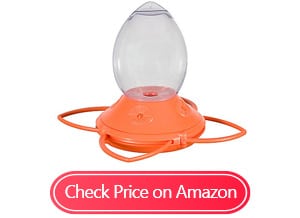 If you can't get a slice of orange, here is the remedy – perky pet oriole feeder, with orange placement. This beauty will surely be a great addition to your backyard garden. When hit by the sunlight, the glass shatterproof nectar container emanates that classic look. It is also very easy to clean and fill.
I surely like the orange shape as it is perfect for my kitchen window view. It is easy to spot even from afar.
I also love the clear container as I can place water, nectar or perhaps even jelly and change the color as different birds come to perch and feed. Of course, the adjustable ports allows me to cater to as many orioles as possible.
Sadly, if there is one downside, the beeguards does not work well under the flat base. The ports have to be adjusted manually too.
Pros
Easy to fill and clean
Adjustable perch to cater to varieties of orioles
The clear container makes it easy to monitor the level of jelly or nectar
Cons
The bee guard does not work as expected due to manual adjustment of the ports
If design is a consideration, then this Perky-Pet product could be the perfect choice for every bird watcher out there.
7. Songbird Essentials SE905 Oriole Feeders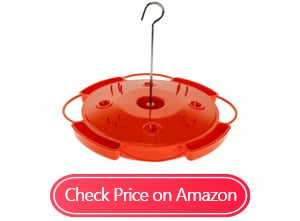 Who does not like fresh fruits. None. Even the migrant orioles would love to taste fresh produce such as cut oranges.
To spoil the orioles, Songbird Essentials included four ways to make the birds enjoy their feeding sessions in this oriole feeder placement. This creative solution includes a flat disc design with enough space for four orange halves as well as grape jelly containers.
The combo is perfect for all the feeding needs of the orioles. Sometimes, throwing in an additional oriole nectar feeder doubles the number of birds visiting your backyard.
One thing I really like about this product design is the container that can hold at least a quart of nectar for the hummers who might be flying alongside the beautiful orioles.
The flat disc design is filled with creativity that the surface also includes four flower bends that the orioles can use to perch during feeding.
While I love the design, the overexposure of the orange cuts to the sun can dry it up easily and may be ignored by birds. Changing the halves regularly is advisable. Yes, the orange color also helps attract orioles to your yard.
Pros
Easy to clean
Built in ant moat
Easy to hang. No installation needed
Holds nectar, orange halves and grape jelly for various birds
Cons
The halves are directly under the sun and can dry up fast. Change regularly
With the generous serving of the sweet orange halves, it is no surprise why the orioles love coming back every birding season – spring time. For birders new to oriole feeding, you can never go wrong with giving them the sweetest treat using this awesome oriole feeder.
8. Birds Choice SNOF Poly-Recycled Oriole Feeders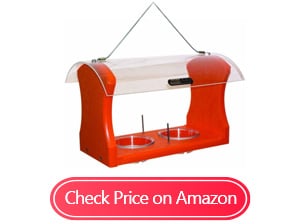 Birdwatchers hate the bees that come to steal the nectar and the jellies intended for the migratory birds. As a remedy, Birds Choice came up with this beautiful oriole feeder that can accommodate both jelly and orange halves.
Unlike many bird feeders in the market, this design even have a clear roof to protect both the bird food and the orioles from elements.
The recycled plastic which was used for this oriole jelly feeder is definitely one of the upside as well as the creative design of roofing, jelly and orange cuts. Birders like me, as well as the birds, will all enjoy the creative construction of this oriole feeder.
The design also makes it a leading bee proof oriole feeder.
One downside is the discoloration of the bright orange color due to sun exposure.
Pros
Combination of jelly and orange halves
Clear roofing for visibility and protection
Easy to clean and fill
Bee proof
Cons
Discoloration from prolonged exposure to the sun
This bee proof feeder is perfect to adorn your backyard while providing food supply to orioles passing by.
9. Songbird Essentials SERUBFJF Oriole Feeders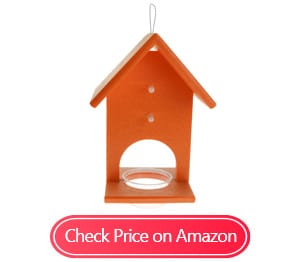 Grape jelly is undoubtedly the orioles favorite food. So, having a ready supply of the sweet jelly around your yard is the best way to attract as much orioles during their migration process. Songbird has the answer to it, a creative little house complete with jelly, orange halves and a roof to protect the food and the birds from the elements.
I love the design, a combination of the classic and elegant birdhouse. It is very functional too and easy to hang anywhere else. I love looking at this grape jelly for orioles container from my glass window and watch the birds enjoy their food while I enjoy my cup of coffee.
But with the price, I didn't expect it to be perfect so when I see the thin cup, I knew that's the only flaw. Songbird essentials provide extra grape jelly cups in the set but it can also be replaced by any round cups when it breaks. Mild discoloration of the bright orange color can happen after much exposure to the sun too!
Pros
Easy to clean
Made out of recycled but durable plastic
Elegantly designed
Easy to hang. No installation needed
Cons
The thin jelly cup needs to be replaced often
Every birder dreams of seeing a bird feeder that orioles will love and in my opinion, I think Songbird Essentials just delivered it with this fruit and jelly oriole feeder set.
10. Akerue Woodlink NAO1 Audubon Oriole Feeders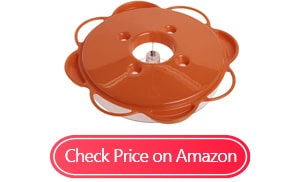 Tried and tested bird feeders are usually the ones that come in simple designs. This flat-based oriole jelly feeder from Woodlink is a good example.
I like that the bright orange top is wide enough to be seen by orioles flying by attracting them in the process. While the design is a classic filled with jelly and hangs in the backyard, it is very functional and orioles of all kinds love it.
I also like the ant guard feature which makes sure that all the sweet stuff is enjoyed fully by the birds – an ultimate bee proof oriole jelly feeder quality. What a sight it is every day to see a clean, bee and ant-free jelly feeder.
If there's a downside of this classic audubon oriole feeder, it is probably the design as it is way too simple for the well-curated garden, and the four jelly ports can be too small for bigger orioles when an orange cut is placed in the middle. But there are still more benefits than disadvantages.
Pros
Easy to fill and clean
Strong orange color attracts more orioles
Ant protected
Flat classic design for traditional gardens
Cons
Small jelly ports. Can be too cramped with an orange half in the middle
Overall, Woodlink did a great job at making sure that orioles have a delight during feeding time by including a perch area for them to rest comfortably while enjoying the sweet treats.
11. Songbird Essentials SEBCO212 Fliteline Oriole Feeders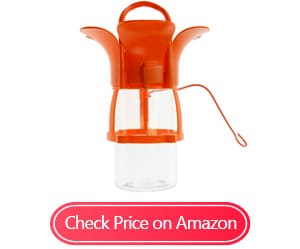 Possibly two of the most notable bird companies are Songbird Essentials and Perky-Pet. They always produce creative pieces that are both functional and elegant.
This SEBCO212 jelly fliteline oriole feeder design by Songbird Essentials is definitely a head turner – great addition to a beautiful backyard garden.
I love that it is of cylinder type which means that it can save space and perfect for urban gardening or even on high rise buildings. Placing it under the tree, just outside the window or a small balcony for apartments will be a good use of it. I love the heavy flower design – elegantly done.
Perhaps the only downside is that the hook for hanging isn't long enough but it works for small spaces anyway. The jelly container has to be tightly secured to avoid leaking of those precious sweets.
Pros
Easy to hag, use and clean
The flower design adds value to your garden
Easy to fill with a new glass of jelly or jams
Strong orange color attracts orioles easily
Cons
Prone to leaking as it is hard to keep a glass jelly/jam in place
But Songbird Essentials sure did a great job at making birdwatchers happy with this cylinder design. An added value is its strong blossom design – so elegant!
12. More Birds 61 Oriole Vintage Feeders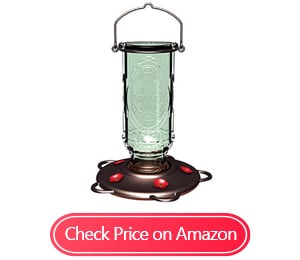 I love glass. I love cylinders too. No wonder I fell in love with this jelly oriole feeder from More Birds Company. The crafted glass bottle gives that vintage look and it is very elegant. Its cylinder shape is also a space saver so it is perfect for small spaces, urban gardens and even adornments in balconies.
There are many good features of this vintage feeder: its metal brace which keeps the entire product both elegant and safe, easy to clean glass jelly container and the metal extenders for perching. It is no wonder birdwatchers consider this one of the best products to keep the birds coming.
If there's a downside, the tiny orange flowers are cute but makes the bigger orioles might have difficulty getting the sweets out as the space between the perch and the ports are too close.
Pros
Very elegant vintage glass bottle
Glass bottle is good for visibility and easy fill
Combination of plastic and metal design. More durable
Easy to clean
Cons
Not enough space between the jelly ports and the perch metal design
For cylindrical jelly feeders, Songbird Essentials creativity in this feeder is a thumbs up and I would choose it any day
13. Stokes Select More Birds Oriole Feeders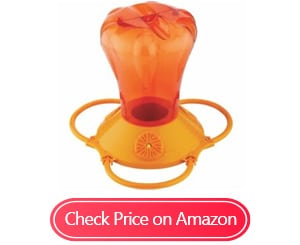 It's orange everywhere. This Strokes Select feeder makes it perfect for any birdwatcher who wish to attract orioles and the occasional hummers in their garden. So far, that's the most important upside of this product – color and design. The curved perch, the durable plastic as well as the nectar capacity are additional features I truly like about this feeder.
However, the orange color makes it hard to see when to fill the container. It is recommended to check it every two days.
Another thing I probably do not like about this feeder is the perch. It is not adjustable, which means that since it has enough space between the nectar and the perch, sometimes starlings or even bigger birds might come and occupy the space scaring the orioles away.
As a remedy, place this feeder near other feeders so larger birds that are looking for food have someplace to go. Bird watchers know that limited feeders in a vast garden results in bird territorial issues. Surely, you don't wish to scare those beautiful orioles away.
Pros
Easy to clean
Full bright orange color attracts orioles easily
Nectar container can accommodate 34 ounces for orioles and hummers
Large, spacious feeding perches
Cons
Dark orange container makes it hard to see when to fill it up
While the use of bright overall orange is good, a little less of it will still yield the same result. I wonder if it is possible to have a clear container instead. Overall, a great addition to a lively backyard garden.
14. Kettle Moraine Recycled Oriole Bird Feeders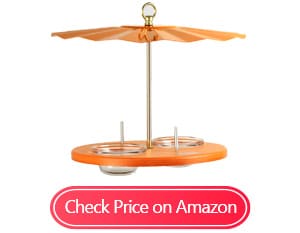 Kettle Moraine does not mass produce bird products as fast as others but when they do, they do it well. This recycled orange oriole fruit, jelly, mealworm bird feeder is the ultimate treat to any new or even expert birders. This well-designed pet product is probably wild birds unlimited oriole feeder.
The 3 in 1 feeder allows various kinds of birds such as orioles, hummers and woodpeckers. I like it because there is no need to change bird feeders for specific kinds of birds.
Without a doubt, I love the design. It looks like a picnic area for orioles. The full bright orange, the roof protecting the jelly and the birds is a functional addition to this already well-designed feeder.
The only downside is the paint has the tendency to peel in the galvanised steel roof.
Pros
Easy to clean
Glass jelly cup can be used to carry nectar or mealworm for other birds
Can accommodate two orange halves for orioles
Design includes a roof to protect food and birds from elements
Cons
Paint of the galvanised steel roof peels off under the sun
Overall, this is possibly the ultimate oriole feeder to hang confidently in my garden. It created a friendly, happy and picnic-like atmosphere amidst the sea of greens in the backyard.
15. Heath Outdoor Products CF-131 Oriole Feeder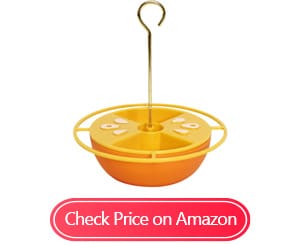 Looking for a buffet for your favorite orioles? This is the solution. Yes. I love this bowl of goodness and I certain my feathery guests love it too.
Heath Outdoor Products did a great job by producing a bowl that can accommodate as much variety of bird food as possible: grape jelly, nectar or mealworms.
I like the idea that you can change your bird treats depending on which birds come flying by, which means that I do not need to buy multiple bird feeders but just stock on the sweet goodness for whichever bird. At times, I put all sort of food and birds take their pick. I love watching different bird variety at once. Makes my day for sure.
I find this product very creative and very functional. The sugar content when this happens is overflowing making my birds surely energetic. If there's a downside, the diameter may not be enough to accommodate more than 4 birds comfortably during feeding time. But everything else is excellent.
Pros
Easy to fill, use and clean
Multiple bird food at one time
Has ant guard component
Bright orange attracts orioles easily
Cons
Diameter may not be enough to accommodate many birds at one time
With more features as bird perch, a deeper bowl that can be chucked into a dishwasher, a bright orange durable plastic that can stand weather conditions, this citrus buffet oriole feeder is a great addition to a curated garden.
16. Kettle Moraine Single Oriole Fruit Feeders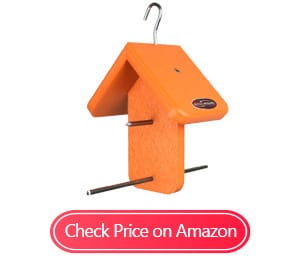 A classic bird feeder makes every backyard garden more elegant. This is made even more true by Kettle Moraine with their classic little bright orange house bird feeder.
I love two things about this product: made of recycled plastic and it accommodates two orange halves. Of course, the presence of the aluminium rod for perching is an additional feature that makes birds stretch their neck upwards when feeding. Such design makes every birder watch the coloroful orioles in full length.
Orioles can be very picky so giving them the sweet nectar from a freshly sliced fruit is possibly the best choice. It also provides them with just enough sweet for their well-being.
The only downside is it is exclusive for orioles so if your area is visited by a variety of birds during migrating, hatching season, it is advisable to get some extra bird feeders.
Pros
Clean, sturdy aluminum perch
Easy to maintain. No need for deep cleaning
Roof to protect the birds and the orange halves from elements
Bright orange color attracts orioles easily
Cons
It is exclusive for orioles
For oriole lovers, this is probably the best product around. However, if you are like me who is open to having other birds in the backyard, you need more than this product in your backyard.
What is The Most TrustworthyOriole Feeder?
A good oriole feeder has three main components: practicality, design, and durability.
There are three types of oriole feeders usually sold in the market these days including exclusive ones (just fruit halves), buffet (variety of bird food) and a combination of both. However, some with functional features such as a roof to protect the jelly from being too watery or too dry are considered good feeders as well.
Many feeders are made of durable plastic materials that can withstand the harsh weather conditions. This allows birds to be continuously well-fed even during the cold months. Some of the best products so far are the ones produced by Birds Choice, Perky Pets and Songbird Essentials. However, when it comes to design, Kettle Moraine probably tops the rank.
How does It Work?
Orioles are a tidy tad picky when it comes to feeding. Baltimore orioles usually ignore other fruits such as apples in favor of the more deeper colored sweets or fruits such as oranges and berries. Hanging an oriole feeder that can accommodate grape jelly and orange halves will assure birdwatchers a steady stream of these beautiful feathery guests on their way to hatching season.
Most oriole bird feeders found on amazon or your local bird shop carry a hanging rod that can simply be used after purchase. Most do not need complicated installation procedures.
To get the most out of your feeders, hang them where the orioles can see them right away. Most of them come in various shades of orange for an easy spot on. Having a sturdy feeder pole in the middle of your backyard is advisable for most oriole feeders.
In my case, placing the oriole feeder needs a bird bath or even a fountain is a good strategy as orioles tend to drink water to flush down the sweet treats after a successful feeding session.
What are The Different Types of Oriole Feeders?
There are two main types of oriole feeders: one that is exclusive for orioles and one that is "buffet" style feeders.
The first one focuses on food orioles such as orange halves and grape jelly. It normally comes with a cup for jelly and a skewer to secure the orange cuts.
The second type is more common and more practical as it can accommodate different kinds of nutritious bird food such as nectar, jelly, mealworm and some fruits such as orange halves, apple slices or assorted berries.
Every birder knows the variety of birds that visit a particular place. Baltimore orioles usually fly over the eastern US in the early part of the year before they settle somewhere in the central american forests for the hatching season.
Why do You Need an Oriole Feeder?
People have their own hobbies and bird watchers are no exemption. Baltimore orioles are stunning in their strong black and orange combination making them one of the most notable birds among the ones migrating from East all the way to West. They end up somewhere in Central America in time for the blooming of flowers and proliferation of fresh insects.
With birds flying your way, most people would want them to stay for a while for their enjoyment. Waking up to the sound of chirping birds in your backyard is definitely a good way to start your day. But to be able to keep them stay, there is a need to find the ultimate oriole feeder.
Factors to Consider When Buying a Oriole Feeder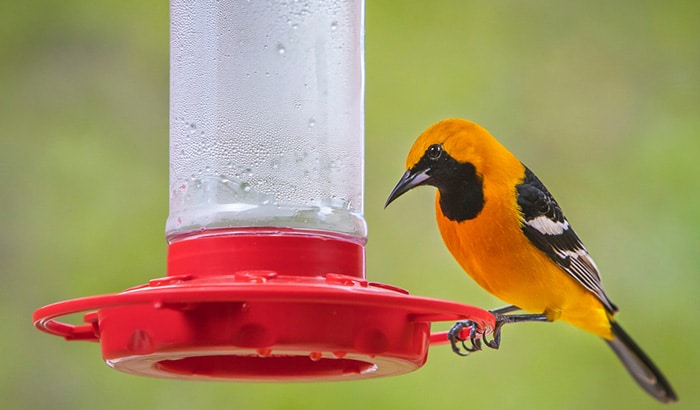 With the many kinds of oriole feeders around, it is sometimes a tasking experience to choose which one is the perfect one for your garden, and for your orioles. Some criteria are rank in relation to importance: functionality, durability, product design, and price. Depending on one's budget, choosing the right one for your orioles should come first.
Here's my take on what should be considered before any purchase:
Is it The Right Size?
Orioles are normally bigger and larger in size than hummers or woodpeckers so they deserve to have their own feeding station. While "buffet" style oriole feeders seem practical, consider the comfortability of the orioles that will be using it.
Can It Carry Enough Food?
Bird feeders dedicated to orioles only need a jelly cup and perhaps skewers for orange halves. Since it is only for one type of bird, you may have to consider checking on it constantly for refill. Orioles fly in in great number during spring.
Does it Complement My Garden?
If you are like orioles, a little picky, then you might have to consider design elements. Some of the most popular designs are by perky pets and Songbird Essentials. Classic ones, a tiny bird house model is often produce by bird product companies such as Kettle Moraine. See the pictures,read the reviews before purchasing.
Do I Have a Variety of Birds?
Yes, some birds are naturally social so they might come with other bird friends. If your area is frequented by a plethora of other birds, you are lucky. Consider buying the buffet style bird feeders by Heather Outdoor. You can have 3/ 4 in 1 fun of watching different bird varieties feasting on your sweet treats.
Flat or Cylinder?
I am personally attracted to cylinder type bird feeder but I am not surprised to know more bird watchers prefer the flat based round feeders as it can accommodate more orioles at one time.
Online or Shop Bought?
This is another consideration as most of the unhappy shoppers are the ones that didn't get to see the product in real. So before you put in that credit card details or that purchase button, consider reading all the possible reviews of verified users.
Buying a bird feeder seems easy if you have thought of creating a checklist of what makes a good one. Ranking them in order of preference or of importance will surely help you decide which one to buy for your beautiful garden.
Care and Maintenance
Seasoned bird watchers know that a dirty and moldy bird feeder can cause diseases. They attract mice, ants and even some wildlife you don't want to be seen in your backyard. Taking great care to your feeders therefore is important.
Different oriole feeders may need different ways of care and maintenance. Easy to clean feeders should be part of your buying guide. Some designs may require extra care but generally all oriole feeders require soap and water to clean.
Plastic oriole feeders are the easiest to maintain. Feeders from common brand such as Birds Choice, Songbird Essential, Perky-pet and Heather Outdoor are made from recycled plastic and these requires simple dishwashing. Remove all hardened jelly and bird poops.
Wooden oriole feeder looks nice in the garden but are harder to maintain. The wood part absorbs water and soaking them on soap frequently will cause damage overtime.
For feeders that has plenty of hardened food or debris, soaking them in 1 part bleach and ¾ part water will not only clean it but sanitize the feeder as well. Dirty feeders can result in bird flu.
Wash all parts and regularly. Cleaning your oriole feeder once a week is encouraged. This will ensure that the new set of birds are protected from possible diseases brought in by the last set of users. When cleaning or washing bird feeders, wear proper gloves and eye protection. Birds of all sorts excrete ammonia that is dangerous to human.
Dry all parts under the sun to kill remaining bacteria. During winter, you can dry them near the fireplace before assembling them back together. During rain season, clean the bird feeder every fortnight.
While some bird feeders can be washed through a dishwasher, it is important to remove all excess water, soap and sanitise the dishwasher after cleaning the feeder. This will avoid cross contamination between human and birds.
Frequently Asked Questions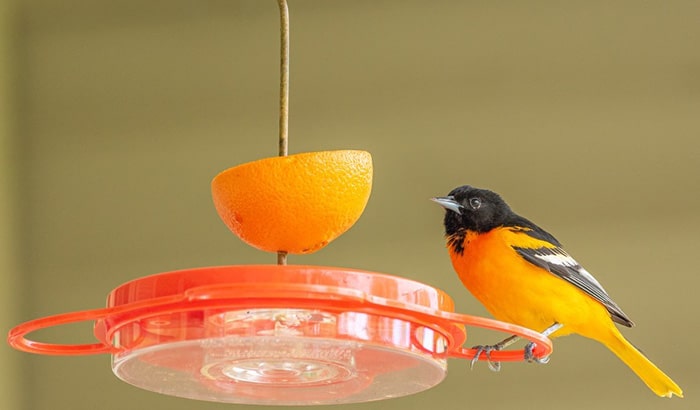 What are The Most Trusted Oriole Feeder Brands?
Birdwatchers have their own favorite brands but some consideration when it comes to which one is worth investing on is based on need. Orioles have a very different diet and need during feeding time.
Among the ones on amazon, Birds Choice Poly-Recycled Oriole Feeder SNOF
could be on top of the rank of the most popular and best one so far. The hanging feeder with clear plastic roof protects the jelly cups from the elements and there's enough space for orioles to feed even on rainy days.
Songbird Essential can come in close second with their SE905 version. This flat dish with enough space for four orange halves is perfect for areas that get a multitude of orioles at one time. I believe that going for "buffet" style feeder is practical, functional and economical.
When it comes to design, Kettle Moraine tops the list. The picnic looking feeder produced from recycled orange plastic with galvanised roofing is the perfect addition to a curated garden. It is both functional and elegant.
Where is The Best Place to Put an Oriole Feeder?
Most orioles fly high, mostly perch on tree tops too. So when hanging an oriole feeder, make sure that it is high enough for the birds to find. Do not hang it under a lush bush or a wide tree.
If you wish to make it a part of your beautiful garden, putting up a feeder pole to hang it on is advisable. Orioles, like most birds, need water so placing it near a fountain or a pond is an added attraction to the orioles. They love the sound of water.
When should You Stop Feeding Orioles?
Birds of all kinds have their own timetable. In the Eastern part of the US, they arrive late in the year and leave by early May. That means almost half a year of flying up high and searching for those sweet treats.
They will stop coming and feeding when the daytime becomes shorter and they begin to be restless. By then they'll migrate towards the Western part. So keep those feeders hanging up and you'll know when to stop filling up the jelly cup when they are gone.
What Kind of Jelly Orioles Like?
Orioles love sweets, particularly grape jelly. Store bought bird grape jellies are perfect and some feeders even come in the exact same bottle size for easy fill. The sugary treats are needed for the orioles to build their energy while preparing for the breeding and the hatching season in the middle of the year. An all-natural grape jelly is encouraged as they have less sugar, which affects their mood. An additional treat will be placing tiny slices of grapefruit to the jelly cup.
Will Hummingbirds Use an Oriole Feeder?
Certainly. Hummers love sweets too. What's good with the new designs from Birds Choice and Songbird Essentials are the combination of nectar and jelly in the same feeder. This practical solution to the varieties of birds during one birding season ensures that every bird is welcomed and well fed.
How to Attract Orioles to Your Feeders?
Attracting birds successfully is the only measure of a good oriole feeder. The first consideration when trying to attract orioles is to "think of the orioles". What do they want or need? Here are some ways to attract a large number of orioles to your feeder:
Grape Jelly
Over any other sweet treats, buy grape jelly for the orioles. They come because they are hungry and the food is the first stop.
Comfort
A feeder with a place to perch so they can enjoy their meal comfortably is one way to tell them that you care for them. You'll be surprised how many come back to your oriole feeder next spring.
Friendly Feeders
The feeder should be practical for all kinds of birds – hummers, orioles, woodpeckers. The oriole feeder is friendly to other birds as orioles as extremely social. The bright orange color of feeders attracts orioles too.
Location
To attract the most coveted orioles, make sure that it is placed conspicuously. Place it near the trees, garden, near the water source or hang on a feeder pole for the orioles to see easily.
How to Make Oriole Nectar?
While it is easy to simply buy jellies, it is good to produce oriole nectar for the the beautiful black-orange birds before they flew West. To create a homemade oriole nectar, there are three basic ingredients: 1 part granulated sugar, 6 parts water and a container.
To make the oriole nectar,you need to:
Boil the water
Mix the granulated sugar
Stir well and let cool
Fill your clean feeder
How to Keep Bees Away from Oriole Feeders?
Birders are always troubled by three things: squirrels, ants and bees. For oriole feeders, keeping it away from bees is a gargantuan task. Most bird feeders have their own built-in bee guards but if it is not enough, here are some more tips:
Bees are attracted to water so keep a bird bath nearby
Hang the oriole bird feeder far from flowering plants. Most birds are attracted to the nectar of flowers
Hang the oriole feeder higher than the flowers in the garden
Use oriole feeders that has adjustable ports
How to Care & Wash?
Most oriole feeders can be easily cleaned by water, soap and disinfectant. Weekly, take the oriole feeder down and clean it with running water. Water pressure should soften the hardened jelly and bird poop before washing it with soap.
The bird poop excretes ammonia that is harmful to human health to wearing a mask and gloves while cleaning it is necessary. Rinse well and dry under the sun to kill all kinds of bacteria. Assemble it back when it is fully dried up.
Where to Buy?
Meticulous birders know the difference of a working bird feeder than one that is just simply pretty for the picture. Again, it is important to compare products and seeing actual sizes, colors and function makes better decisions on which one is appropriate for one's garden.
Some of the most famous places to buy them are at the pets or the sections of the oriole feeder at Walmart, Lowes and Home Depot. For the more savvy consumers or those buying a second piece, buying oriole feeders from Amazon can be the best option. It is easy, convenient and a time saver.
Conclusion
For many bird watchers spread across the Eastern to the Western hemisphere, starting early is the key to enjoying these beautiful black-orange when spring comes. Thus putting up the best oriole feeder in the right spot at the right time will surely magnet the best birds there are.
Overall, the best characteristics of a oriole feeder are design, functionality, practicality and price.